CGPSC Books for reference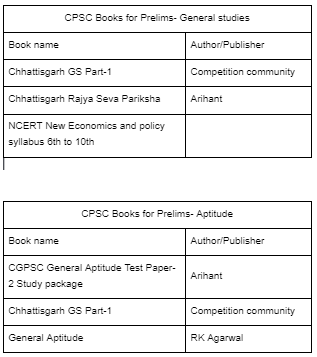 CGPSC Books for Mains - Language
General English by Pratiyogita Saransh

Chhattisgarhi Bhasha Avam Vyakaran by Hariram Patel

Compulsory English by A P Bhardwaj

Essays For CGPSC civil Services Examinations by Ramesh Singh
CGPSC Books for Mains - History, Constitution and Public Administration
Age of Revolution 1789-1848 by Eric Hobsbawm

India After Gandhi by Ramchandra Guha

Modern History by Competition Community

Ancient and Mediaeval History by Competition Community
CGPSC Books for Mains - Science, Technology, and Environment
Technology by Competition Community

Environment by Competition Community

Physics, Chemistry, and Biology by NCERT books from 6th to 12th standard

Encyclopaedia of General Science by Arihant
CGPSC Books for Mains - Geography
NCERT VI – X (Old Syllabus)

NCERT XI, XII (New Syllabus)

Indian Geography by Competition Community

Certificate Physical Geography – G C Leong
CGPSC Books for Mains - Economics
Indian Economy by Dr Manoj Agrawal

Policies in India and Economic Development – Jain & Ohri

Economy by Competition Community

Indian Economy by Ramesh Singh
One can refer to books of your choice which you feel comfortable with. You can search it on google.
Similar exams include:
Office of the Collector Kanker Recruitment 2022 for 199 Assistant Grade-III and Peon Posts.

DSDA Bijapur Recruitment 2021 – Apply for 400 Security Guard, Supervisor Posts.

The National Health Mission (NHM)1 will conduct the NHM Chhattisgarh Recruitment 2022 process.
One can look for all this information on this topic by searching the internet. There are many such exams you can search for according to your interest.
CGPSC Latest Updates include:
14 December 2021: CGPSC Answer Key 2021 for Asst. Prosecution Officer post released.

9 December 2021: CGPSC Forest Guard Recruitment 2021 Online Application Invited.

3 December 2021: CGPSC Recruitment 2021-Apply 91 Assistant Professor, Demonstrator Post.

2 December 2021: CGPSC Recruitment 2021 for 386 Senior Resident Posts.

29 November 2021: CGPSC 2022 Application Process will Start Soon.