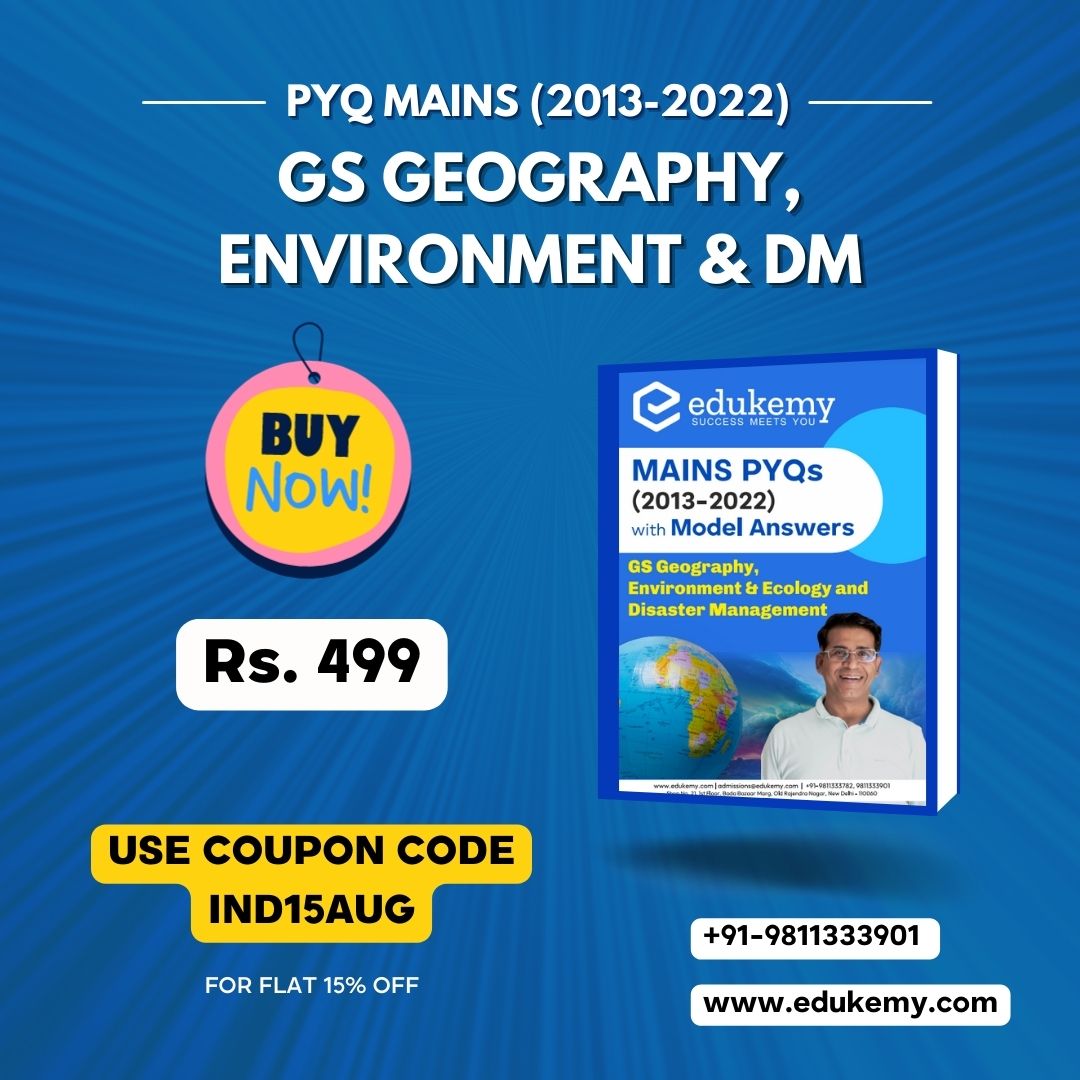 The Indian Desert:
The western fringes of the Aravali Hills house the Indian desert, characterized by rolling terrains adorned with elongated dunes and crescent-shaped sand formations known as barchans.
With an annual rainfall of less than 150 mm, this region experiences an arid climate, resulting in sparse vegetation cover.
The scarcity of precipitation coupled with high evaporation rates creates a water-deficient environment.
During the monsoon season, temporary streams may emerge, while the Luni River remains the sole major river in this area.
Geological evidence, such as the presence of wood fossils in Aakal's fossil park and marine deposits near Brahmsar close to Jaisalmer, supports the belief that this region was once submerged under the sea during the Mesozoic era.
Notable land features found here include mushroom rocks, shifting sand dunes, and oases.
The desert itself can be divided into two sections:
The northern portion slopes towards Sindh.
The southern part faces the Rann of Kachchh.
Chief Characteristics
The Marusthali, often referred to as the "dead land," is a desert region characterized by its arid climate and sparse vegetation. Generally, the eastern part of Marusthali consists of rocky terrain, while the western part is dominated by shifting sand dunes.
Moving westward from the Aravalli Range, we enter the Bagar region, a semi-desert area with a relatively thin layer of sand. The southern part of Bagar is drained by the Luni River, while the northern section boasts several salt lakes.
In Rajasthan's Bagar region, there are numerous short seasonal streams that originate from the Aravalli Range. These streams nurture agriculture in specific fertile patches known as Rohi.
Even the most significant river in the region, the Luni, behaves as a seasonal stream. The Luni River originates in the Pushkar valley of the Aravalli Range, near Ajmer, and flows southwestward into the Rann of Kutch.
North of the Luni River lies the Thali, a sandy plain. Some of the streams in this region disappear after flowing for a certain distance, illustrating a unique case of inland drainage as they join lakes or playas, such as the Sambhar Lake. These lakes and playas contain brackish water, which serves as the primary source of salt production.
FAQs
Q1. What are some popular types of desserts enjoyed worldwide?
Ans. Desserts come in various forms and flavors, satisfying different taste preferences. Some popular types of desserts include cakes, pies, ice cream, cookies, pastries, puddings, custards, and chocolates. These desserts can be further categorized based on their cultural origins and ingredients, making them an integral part of many culinary traditions around the world.
Q2. What are some unique characteristics of the Thar Desert in India?
Ans. The Thar Desert, located in the northwestern part of the Indian subcontinent, is known for its vast stretches of sand dunes, arid climate, and extreme temperatures. It is characterized by its undulating sand dunes, sparse vegetation, and a unique ecosystem that supports a variety of desert flora and fauna. The desert is also recognized for its rich cultural heritage, with many indigenous communities residing in the region.
Q3. What is the meaning of the term "desert" in general usage?
Ans. In a general context, the term "desert" refers to a barren, arid region characterized by a lack of precipitation, sparse vegetation, and extreme temperatures. Deserts are typically dry environments with limited access to water, making them challenging places for human habitation and supporting only specific types of flora and fauna adapted to survive in such harsh conditions.
Q4. What is the meaning of the term "desert" in Hindi?
Ans. The term "desert" translates to "मरुस्थल" (Marusthal) in Hindi. It refers to a vast arid region characterized by limited vegetation, high temperatures, and minimal rainfall. Deserts, or "मरुस्थल," can be found in various parts of the world, and they often possess unique landscapes and ecological features, which have adapted to the challenging environmental conditions.
Q5. What are some examples of animals that are commonly found in deserts worldwide?
Ans. Deserts are home to a diverse array of animal species that have adapted to survive in the harsh desert conditions. Some common desert animals include camels, scorpions, rattlesnakes, lizards, coyotes, foxes, vultures, and various species of rodents and insects. These animals have developed specific physiological and behavioral adaptations to conserve water and withstand extreme temperatures in their arid habitats.

In case you still have your doubts, contact us on 9811333901.
For UPSC Prelims Resources, Click here
For Daily Updates and Study Material:
Join our Telegram Channel – Edukemy for IAS
Visit our YouTube Channel – here