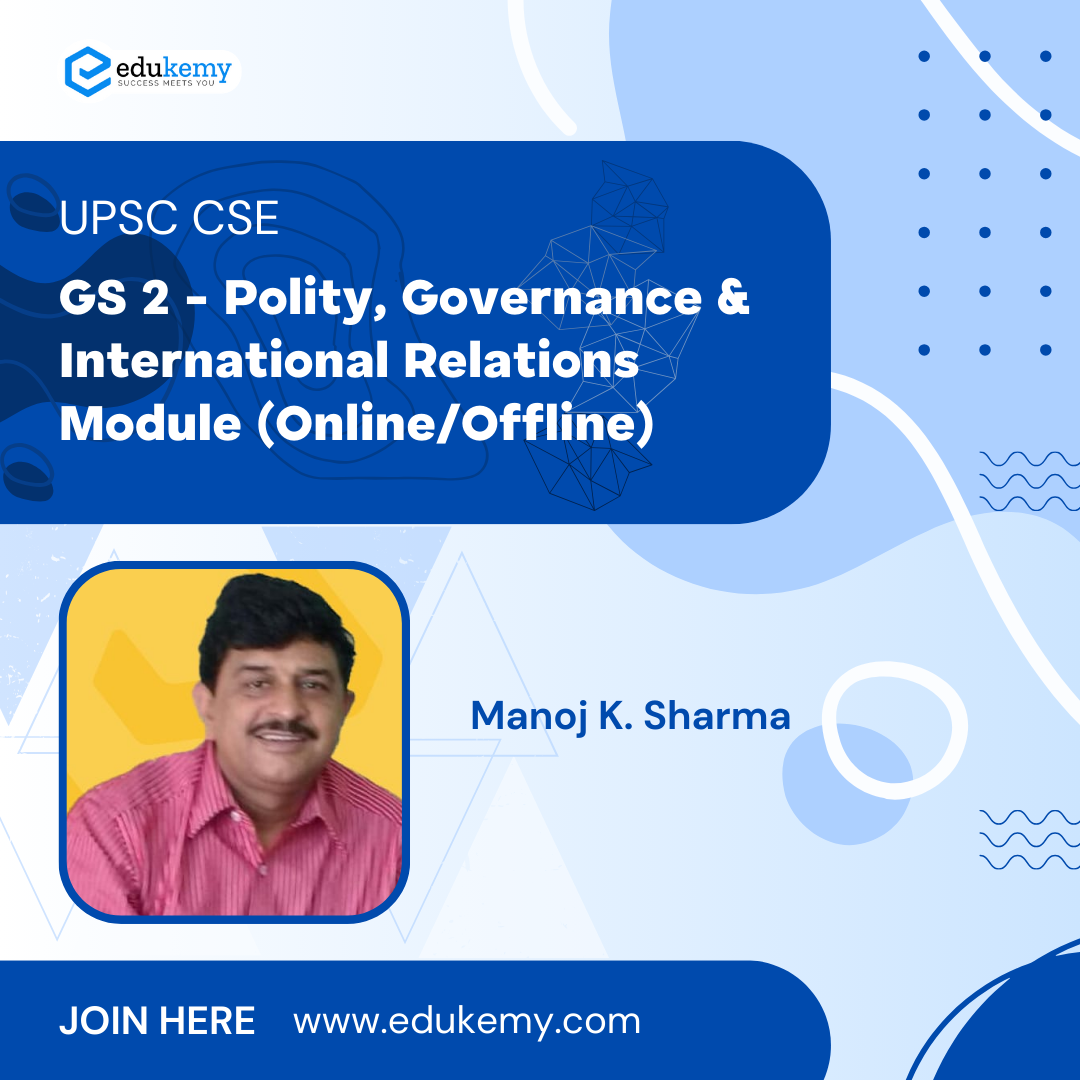 Local Government
Local government is the government at the village, Mandal, and district levels. Because they are closer to the people, these forms of government are also known as grassroots government. They deal with day-to-day grievances and have powers and functions delegated to them by state governments.
What exactly is a local government?
Local self-government entails the devolution of power to the political hierarchy's lowest levels.
It is a form of democratic decentralisation in which even the most fundamental members of society participate in the administrative process.
Local Self Government is the management of local affairs by such local bodies that have been elected by the local people.
The local self-government includes both rural and urban governments.
It is the third level of the government.
Local Government Evolution
In 1959, Rajasthan established the first Panchayati raj system in India in the Nagaur district, followed by Andhra Pradesh.
Following that, the majority of the status quo adopted the system.
The design of local self-government, the amount of power to be devolved, and financing were all critical issues.
The respective union governments formed several committees to find a solution.
Some of the important committees are:
Balwant Rai Mehta Committee
Ashok Mehta Committee
G V K Rao Committee
L M Singhvi Committee
Thungon Committee
Gadgil Committee
Many committees, including the L M Singhvi, Thungon, and Gadgil Committees, emphasised the importance of Panchayat Raj Institutions having constitutional status.
The Constitutional Amendment phase began with Rajiv Gandhi's introduction of the 64th Amendment Bill (1989), which attempted to strengthen the PRIs but was rejected by the Rajya Sabha.
The Constitution (74th Amendment) Law (a joint bill for PRIs and municipalities) was introduced in 1990 but never debated.
While P.V. Narasimha Rao was Prime Minister in September 1991, a comprehensive amendment in the form of the Constitution 72nd Amendment Bill was introduced.
In December 1992, Parliament ratified the 73rd and 74th Constitutional Amendments. As a result of these changes, local self-government was established in both rural and urban India.
Local Government Structure in India
Local government in India is broadly classified into two types:
Panchayati Raj and Municipalities
The Panchayati Raj system
In India, the term Panchayati Raj refers to a system of rural local self-government and development.
It was established in all Indian states by state legislature acts to build democracy at the grass-roots level, and it was constitutionalized by the 73rd Constitutional Amendment Act of 1992.
Rajasthan was the first state to implement Panchayati Raj in 1959, followed by Andhra Pradesh, which also implemented the system in 1959.
Panchayati Raj Institution (PRI): The Panchayati Raj Institution (PRI) is an Indian system of rural local self-government.
The PRI was established by the 73rd Constitutional Amendment Act of 1992 to foster democracy at the grassroots level and was tasked with rural development in the country.
This act added a new Part-IX to the Indian Constitution. This section is titled 'The Panchayats,' and it contains provisions from Articles 243 to 243 O.
Furthermore, the act added a new Eleventh Schedule to the Constitution. This schedule includes 29 panchayat functional items. It is concerned with Article 243-G.
PRI has been in existence for 30 years in its current form and structure. However, much more needs to be done to further decentralise and strengthen democracy at the grassroots level.
Municipalities
Municipalities are the urban areas' local self-government units.
In India, the term urban local government refers to the governance of an urban area by the people through their elected representatives.
Urban Local Governments: Urban Local Governments were created to facilitate democratic decentralisation.
Municipal Corporation, Municipality, Notified Area Committee, Town Area Committee, Cantonment Board, township, port trust, and special purpose agency are the eight types of urban local governments in India.
The following three Ministries are in charge of 'urban local government' at the central level.
In 1985, the Ministry of Urban Development was established as a separate ministry (now the Ministry of Housing and Urban Affairs).
In the case of cantonment boards, the Ministry of Defense.
In the case of Union Territories, the Ministry of Home Affairs.
The 74th Amendment Act pertaining to urban local government was passed during the regime of P.V. Narasimha Rao's government in 1992. It went into effect on June 1, 1993.
Part IX-A was added, and it contains provisions from articles 243-P to 243-ZG.
The Constitution was amended to include a 12th Schedule. It contains 18 municipal functional items and addresses Article 243 W.
An urban local government's jurisdiction is limited to specific urban areas delineated for this purpose by the state government. The Ministry of Housing and Urban Affairs (States), the Ministry of Defence (cantonment boards), and the Ministry of Home Affairs all have jurisdiction over 'urban local government' (Union Territories).
Eight types of urban local governments in India
MUNICIPAL CORPORATION
For the administration of big cities.
Three authorities – Council (legislative wing), standing committee (to facilitate the working of the council) and commissioner (chief executive authority).
The council consist of councillors directly elected by the people and is headed by a Mayor.
Municipality
For administration of towns and smaller cities.
Known as the municipal council, municipal committee, municipal board, borough municipality, and city municipality.
Unlike Municipal corporations, the head of the council is called President /chairman and in place of the commissioner, they have a chief executive officer/chief municipal officer.
Notified Area Committee
Created for the administration of fast developing town and a town which does not yet fulfil all the conditions necessary for the constitution of a municipality,
Created by notification and unlike the municipality.
An entirely nominated body, by the state government.
Neither a statutory body nor an elected body.
Town Area Committee
Set up by a separate act of state legislature for a small town.
Semi-municipal authority entrusted with limited civic functions.
Maybe wholly elected or wholly nominated or partly elected and partly nominated as provided by the state government.
Cantonment Board
Municipal administration for the civilian population in the cantonment areas.
Set up under the provisions of the Cantonment Act, of 2006 by the central government.
Under the ambit of the Defence ministry of the central government. It is
Partly elected and partly nominated
Ex-officio President – Military officer commanding the station.
Vice president – Elected amongst the elected members of the board.
Executive officer – Appointed by the PRESIDENT OF INDIA.
Township
Established by public enterprises to provide civic amenities to its staff and worker.
It is not an elected body and all members are appointed by the enterprise
Port Trust
Consists of both elected and nominated
To manage and protect the ports and to provide civic amenities.
Created by an Act of Parliament.
Special Purpose Agency
To undertake designated activities or specific functions.
These are function-based, not area based.
Known as 'single purpose', 'uni-purpose' or 'special purpose' or 'functional local bodies'. E.g. Delhi Metro Rail Corporation.
Established as statutory bodies by an act of state legislature or as departments by an executive resolution.
Function as an autonomous body and are not subordinate agencies to local municipal bodies.
NOTE – ULBs do not exist in Arunachal Pradesh.
Metropolitan area
An area in the country where the population is above 10 Lakh. (Article 243P)
Presently (as of 2019) there are a total of ten tribal areas (autonomous districts) in the four states of Assam (3), Meghalaya (3), Tripura (1) and Mizoram (3). 6th schedule deals with the administration of tribal areas in the above four states.
Census Definition Of Urban Areas In India
Minimum population of 5,000;
At least 75 per cent of the male working population is engaged in non-agricultural pursuits;
Population density is at least 400 per Km.
Central Council Of Local Government
It was Set up in 1954. It was constituted under Article 263 (Inter-state council) of the Constitution of India by an order of the President of India as an advisory body.
Chairperson – Union Minister for Urban Development
Composition – It consists of the Minister in the Government of India and the ministers for local self-government in states.
Salient Features of the 73rd Constitutional Amendment
Mandatory Provisions
Gram Sabha Organization;
The establishment of a three-tiered Panchayati Raj structure at the Zila, Block, and Village levels;
Almost all positions at all levels will be filled through direct elections;
The minimum age for contesting elections to Panchayati Raj institutions is 21 years.
At the Zila and Block levels, the position of Chairman should be filled through indirect election.
Seats in Panchayats should be reserved for Scheduled Castes/Scheduled Tribes in proportion to their population, and for women in Panchayats up to one-third of the seats;
Each state will establish a State Election Commission to oversee elections to Panchayati Raj institutions.
Panchayati Raj institutions have a five-year tenure; if dissolved earlier, new elections must be held within six months; and each state has a State Finance Commission that meets every five years.
Voluntary
Giving voting rights to members of the Central and State legislatures in these bodies;
Providing reservations for backward classes; and
The Panchayati Raj institutions should be given financial powers in relation to taxes, levy fees etc. and efforts shall be made to make Panchayats autonomous bodies.
Salient Features of the 74th Amendment Act
Compulsory
Constitution of nagar panchayats, municipal councils, and municipal corporations in small, medium, and large urban areas;
Reservation of seats in urban local bodies for Scheduled Castes / Scheduled Tribes based on population;
Reservation of up to one-third of the seats for women;
The State Election Commission, established to oversee elections in Panchayati Raj bodies (see 73rd Amendment), will also oversee elections in urban local self-government bodies.
The State Finance Commission, which was established to oversee the financial affairs of Panchayati raj bodies, also oversees the financial affairs of local urban self-government bodies.
The tenure of urban local self-governing bodies is set at five years, and if they are dissolved earlier, new elections are held within six months.
Voluntary
Giving members of the Union and State Legislatures voting rights in these bodies;
Providing reservations for backward classes; granting financial authority over taxes, duties, tolls, fees, etc.
Making municipal bodies autonomous and delegating powers to them to perform some or all of the functions enumerated in the Twelfth Schedule added to the Constitution by this Act, as well as to prepare economic development plans.
Panchayat (Extension of the Scheduled Areas) Act, 1996
Background
The 73rd and the 74th Amendments to the Indian Constitution passed in 1992 took the three-tier Panchayati Raj governance structure to rural and urban parts of the country and came into force in April 1993.
However, scheduled areas, predominantly inhabited by the tribal population, were exempted from the new amendments.
Given low human development indicators, there was a huge demand to empower local governance in the scheduled area as well.
Thus, the government of India constituted a committee in 1994 to look into the need for such laws and modalities and how it can be extended. Chaired by Dilip Singh Bhuria, a parliamentarian from Madhya Pradesh, the committee highlighted the plight of the tribal communities and the exploitation they faced and submitted its recommendations in 1995.
Panchayat Extension to Scheduled Areas Act, 1996
The Parliament enacted special legislation called Panchayat (Extension to Scheduled Areas) Act (PESA) in 1996 and came into force on 24th December 1996.
It is now applicable in the Fifth Schedule areas, which deal with the administration of the districts dominated by the tribal communities, and is in force in 10 states of the country.
These states include Jharkhand, Chhattisgarh, Odisha, Andhra Pradesh, Gujarat, Himachal Pradesh, Madhya Pradesh, Maharashtra, Rajasthan and Telangana.
Objectives
To extend the provisions of Part IX of the Constitution relating to the Panchayats to the Scheduled Areas with certain modifications.
To provide self-rule for the bulk of the tribal population.
To have village governance with participatory democracy and to make the Gram Sabha a nucleus of all activities.
To evolve a suitable administrative framework consistent with traditional practices.
To safeguard and preserve the traditions and customs of tribal communities.
The Gram Sabhas under PESA Act were entrusted with wide-ranging powers to:
Enforce prohibition or regulate or restrict the sale and consumption of any intoxicant.
Ownership of minor forest produce.
Prevent alienation of land in the Scheduled Areas and take appropriate action to restore any unlawfully alienated land of a Scheduled Tribe.
Manage village markets by whatever name is called.
Exercise control over money lending to the Scheduled Tribes.
Exercise control over institutions and functionaries in all social sectors.
Control over local plans and resources for such plans including tribal sub-plans.
In 2013, while hearing a case, the Supreme Court of India referred to the PESA and asked the Odisha government to go to the Gram Sabha to get permission for bauxite mining in Kalahandi and Rayagada districts.
Local forest dwellers were asked whether bauxite mining will affect their religious and cultural rights and they decided against the mining on Niyamgiri hills which led to the cancellation of a huge project.
The case is considered a milestone that shows the power of the Gram Sabhas but this is one of the rare achievements of PESA even as it underlines the possibilities the Act carries.
Significance
It aimed to decentralise power and empower indigenous communities, paving the way for participatory democracy & envisaged that each tier of the local government is independent.
It is based on the cardinal principle of governance that human communities are the best agency to handle most of their survival challenges, manage their affairs and progress towards growing emancipation through the instrumentality of participatory deliberative democracy.
It also calls for creating the appropriate levels of Panchayats similar to the 6th Schedule Area, where the administrative boundaries are autonomous enough for self-rule.
The act is constructed around the Gandhian concept of Gram Swaraj which was included in the Constitution as Article 40 (organisation of village panchayats) and came alive only when PESA was adopted.
While the 73rd Amendment, which inserted Article 243, made the terms Gram (village) and Gram Sabha (village assembly) a part of the Constitution for the first time, PESA gave shape to the concept of self-governance, by devolving power and authority to them.
Hence the first substantive section of PESA begins with the legal presumption that the 'Gram Sabha' is 'competent' and calls upon the state governments to ensure legal, procedural and administrative empowerment as a means of deepening democracy.
The principle that underlies PESA has two corollaries in relation to development namely
Any community can best decipher advancement and modernity when it is grounded in the strength of its own culture and way of life.
Any community can negotiate both advancement and modernity only when it is founded on the bedrock of its own culture and way of life.
Its provisions appeared to come as a saviour that is designed to erase the historical injustice done to the tribal community and was perceived as a restoration of their dignity and tradition of self-governance.
Challenges
The act has now been termed "toothless" with the erosion of its spirit.
Till now 40 per cent of States have not formulated necessary rules regarding PESA which highlights the apathetic attitude of the state governments towards it.
Four states (Chhattisgarh, Jharkhand, Madhya Pradesh and Odisha) have not even framed the rules for the implementation of the act yet.
Not a single state has currently amended the Panchayat Raj Act as required per PESA.
Even in the states where the rules were formulated, they performed quite poorly in ensuring their implementation.
After enacting PESA, the Union Government brought several other legislations and included many provisions of PESA into these laws, shadowing its purpose and significance.
For instance, the Land Acquisition Act, of 2013 empowered Gram Sabhas immensely.
Similarly, the Forest Right Act, of 2006 has provisions of PESA and now when people need to protect their rights and resources, they look up to these laws.
Violations of the self-governance aspects of the Gram Sabhas with respect to customary resources, minor forest produce, minor minerals, minor water bodies, selection of beneficiaries, sanction of projects and control over local institutions continue.
Currently, no Gram Sabha can function without going through revenue officers at various levels and in a majority of cases, required sanctions are denied by inordinate delays or outright refusals.
No stretch of common property can in any way be rightfully owned and controlled by any village, community, group, or people.
And the gram sabha's power to accord such ownership is never recognised.
While the constitution of Gram Sabhas was made mandatory in states, the powers and functions of the Gram Sabhas have been left to the discretion of the state legislatures. As a result, different states have developed powers and functions for this body differently.
From the land acquired and the clearing of villages for the Statue of Unity in Gujarat, where 121 villages were notified for the project in a blatant disregard for PESA.
Another example was the criminalisation of the Pathalgadi movement, wherein Adivasis erected stone slabs to demarcate the area of their villages.
PESA laws of maintenance of autonomy and tribal culture remained obscure.
The infringement of the provisions of PESA outlined with it a disregard for the rights of forest-dwellers, mostly tribal communities which constitute around nine per cent of India's population.
Violations of the Act and its dilution highlight a pattern of developments which show the Centre and states' lack of commitment towards strengthening gram sabhas.
Instead, there has been a push for corporate entry and control of resources, making it easier to surpass gram sabha consent.
The biggest challenge is the degradation of the spirit of PESA as the formulation of rules did not take place for varied reasons giving rise to increased conflict.
The traditional Gram Sabhas and the State structured Panchayats are in conflict with one another.
Way Forward
Structures above Gram Sabha should be patterned on the Sixth Schedule.
Scheduled areas should have had a structure where the powers of the State could be allocated in such a way that the Gram Sabha is not overridden but empowered.
There is a need to pledge plausible and time-bound actions to implement PESA in letter and spirit.
The conflict and the inconsistencies between the Gram Sabhas and the Panchayats need to be ironed out.
State governments need to change their laws in order to comply with PESA and laws relating to land acquisition, excise, forest produce, mines and minerals, agri produce market and money lending need to be amended.
PESA is good legislation but it will only make sense only if taken seriously and implemented well.
It is hoped that in its 25th year of implementation, serious efforts would be pledged to identify the pitfalls and promote policies that pave the environment for the establishment, prevalence and persistence of a system of tribal self-rule in the Fifth Schedule Areas.
Successes of Decentralisation in India
Introduction
Democratic decentralisation is the process of devolving state functions and resources from the centre to elected representatives at lower levels in order to allow for greater direct citizen participation in governance.
The Indian Constitution envisions devolution as more than just delegation.
It entails that precisely defined governance functions are formally assigned by law to local governments, supported by the adequate transfer of a basket of financial grants and tax handles and that they are given staff to carry out their responsibilities.
Related Constitutional Provisions
Because local government, including panchayats, is a state subject under the Constitution, the devolution of power and authority to panchayats has been left to the discretion of states.
The Constitution requires panchayats and municipalities to be elected every five years and requires states to delegate functions and responsibilities to them through legislation.
The 73rd and 74th Amendments mandated the establishment of panchayats and municipalities as elected local governments in India by constitutionally establishing Panchayati Raj Institutions (PRIs).
Part IX titled "The Panchayats" (added by the 73rd Amendment) and Part IXA titled "The Municipalities" were added to the Constitution as a result of these amendments (added by the 74th Amendment).
Panchayats' powers, authority, and responsibilities are outlined in the 11th Schedule. Municipalities' powers, authority, and responsibilities are outlined in the 12th Schedule.
Article 40: Establishment of a village panchayat
What are the Major Achievements of the Local Bodies?
Rising Female Representation: Since the passage of the 73rd Amendment Act, the proportion of elected female representatives has steadily increased.
India currently has 260,512 Panchayats with 3.1 million elected representatives, including a record 1.3 million women.
While women have only 7-8% representation in Parliament and State Assemblies, they make up 49% of elected local representatives (in states like Odisha, it has surpassed 50%).
Rising Female Representation: Since the passage of the 73rd Amendment Act, the proportion of elected female representatives has steadily increased.
India currently has 260,512 Panchayats with 3.1 million elected representatives, including a record 1.3 million women.
While women have only 7-8% representation in Parliament and State Assemblies, they make up 49% of elected local representatives (in states like Odisha, it has surpassed 50%).
What are the Issues with Local Governments in India?
Inadequate Funding: The money given to local governments is insufficient to meet their basic needs.
A number of factors limit the use of money, including rigidity in spending the allocated budget.
There has been little investment in empowering and strengthening local governments to levy their own taxes and user fees.
Infrastructure Issues: Some Gram Panchayats (GPs) share space with schools, Anganwadi centres, and other organisations because they do not have their own building.
Some have their own building but lack basic amenities such as toilets, running water, and an electricity connection.
While GPs have internet access, it is not always operational. Panchayat officials must visit Block Development offices for data entry purposes, which delays the work.
Lack of Personnel: Local governments lack the personnel to carry out even the most basic tasks.
Furthermore, because most staff are hired by higher-level departments and placed on deputation with local governments, they do not feel accountable to the latter; they work as part of a vertically integrated departmental system.
Elections are frequently postponed and delayed by states, in violation of the constitutional mandate of five-yearly elections to local governments.
The local government's role has been reduced to that of an implementation mechanism rather than a policy-making body for local development. Technology-enabled schemes have further diminished their importance.
Corruption: Criminal elements and contractors are drawn to local government elections by the large sums of money that are now available to them. As a result, a market chain of corruption operates, involving a collaboration between elected officials and officials at all levels.
However, there is no evidence that decentralisation has increased corruption.
Way Forward
Revitalization of Gram Sabhas: In order to achieve the goal of real-world participation, Gram Sabhas and ward committees in urban areas must be revitalised.
Strengthening Organizational Structure: The organisational structures of local governments must be strengthened with adequate manpower.
To ensure the smooth operation of panchayats, serious efforts should be made in the recruitment and appointment of support and technical staff.
Comprehensive Taxation Mechanism: Create a comprehensive taxation system at the local level. Gram Panchayats cannot be held accountable without local taxation.
Funding: The Ministry of Panchayati Raj should keep track of the release and expenditure of Finance Commission grants to ensure that they are not delayed.
It should also be ensured that grants are used properly and effectively.
Panchayats should also be encouraged to conduct regular local audits in order to avoid delays in Finance Commission grants.
In case you still have your doubts, contact us on 9811333901.
For UPSC Prelims Resources, Click here
For Daily Updates and Study Material:
Join our Telegram Channel – Edukemy for IAS
Visit our YouTube Channel – here