In forging a formidable and unified ASEAN, the region must prioritize collaborative efforts that transcend geopolitical differences and historical tensions. The roadmap to a strong ASEAN requires a commitment to fostering economic integration, bolstering regional security, and promoting shared values among member states. Economically, a focus on trade liberalization, infrastructure development, and digital connectivity can enhance the collective prosperity of ASEAN nations. Simultaneously, addressing security concerns through diplomatic dialogue and joint defense initiatives will contribute to regional stability. Furthermore, fostering cultural exchanges and educational cooperation can bridge historical divides, fostering a sense of shared identity and common purpose. The success of a unified ASEAN lies in the ability of member states to rise above individual interests and work collaboratively towards a prosperous, secure, and interconnected future for the entire region.
Tag: GS Paper-2: Important International Institutions; Regional Groupings; Groupings & Agreements involving India and/or Affecting India's interests. 
Exam View:
Challenges for ASEAN; ASEAN's vision; India's role.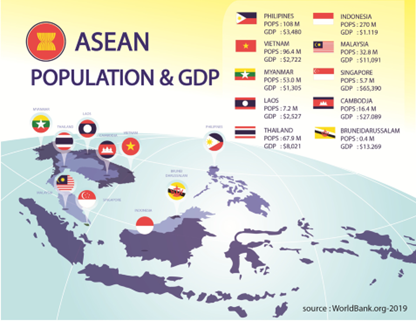 Context:
An in-depth study of various outcome documents, particularly the joint communiqué of the 56th Foreign Ministers Meeting (FMM), is indicative of ASEAN's brave attempts to navigate through transformative changes in the present decade. 
Decoding the Editorial:
An elaborate institutional architecture created by ASEAN has become an inclusive platform that draws nations from near and far, engaged in shaping the strategic contestation in a vast region stretching from east Africa to the South Pacific.
Challenges for ASEAN
The impact of the COVID-19 pandemic 
Economic slowdown 
The Ukraine war 
Climate change 
Internal differences on Myanmar 
The grouping is unable to forge unity in the Myanmar situation. 
It has led ASEAN to bar a member-state (Myanmar) from all its political-level discussions. 
In the run-up to the FMM, Thailand, defying ASEAN's official policy, ran its own dialogue with the military government which permitted the Thai Deputy Prime Minister and Foreign Minister to have a meeting with Daw Aung San Suu Kyi, much to the discomfiture of Indonesia, the ASEAN chair. 
Without unity, ASEAN centrality loses much of its credibility. 
China  
It enjoys close political and economic relations with the ASEAN states.
At least three of them, i.e., Laos, Cambodia and Myanmar, are its virtual dependencies.
While the Philippines has become more assertive of late in its claims in the South China Sea, the central players, Indonesia, Malaysia, Singapore and Thailand, are all favourably disposed towards Beijing.
This explains why none of them raises its voice against China's delaying tactics in negotiating an enforceable code of conduct concerning the South China Sea.
For many years, ASEAN and China have called for "an early conclusion of an effective and substantive" code of conduct; they did it this year too, but are content to leave the matter there.
No indication of a timeline is given.
It is hard to find a similar example of diplomatic doublespeak.
Debate between the U.S. and Chinese governments  
ASEAN's desire to lead the region and shape its agenda stands jeopardised by the strained relationship between the U.S. and China.
The Chinese argument is that the U.S. is solely responsible for poor relations because it steadily refuses to accept and accommodate itself to China's 'peaceful rise.'
The U.S., on the other hand, is no longer willing to turn a blind eye to Chinese aggressiveness and coercion in the Indo-Pacific and beyond.
A North Atlantic Treaty Organisation's Vilinius summit communiqué stated, "The People's Republic of China's stated ambitions and coercive policies challenge our interests, security and values."
ASEAN's vision
ASEAN is portrayed as "the Epicentre of Growth".  
It has a well-chiselled vision with three interrelated dimensions:  
creating a political community that ensures regional peace and a just, democratic and harmonious environment;  
an economic community focused on achieving a well-integrated and connected regional economy within the global economic system; and  
a socio-cultural community to enhance the quality of life of ASEAN's citizens as well as sustainable development of the region. 
ASEAN's ability to manage regional and global dynamics depends on two critical ingredients that promote its unity and centrality.  
It should maintain its credibility by adhering to the ASEAN Charter, and  
It should stay in the driver's seat while navigating regional dynamics.  
Anxious over "the intensifying geopolitical tensions in the region," ASEAN prefers to promote the ASEAN Outlook on the Indo-Pacific (AOIP). Its four identified areas are  

maritime cooperation,  
connectivity,  
UN Sustainable Development Goals 2030 and  
economic cooperation. 
India's role
A "strong and unified" ASEAN is important in the emerging dynamic of the Indo-Pacific.
The convergence between the AOIP and India's Indo-Pacific Oceans Initiative has also become very important.
To build on the comprehensive strategic partnership between India and ASEAN, India has suggested that the two sides work in newer areas such as cyber, financial and maritime security domains.
Though it appeared that ASEAN did not make much progress, and no new ground was broken, its persistence with dialogue, internally and externally, prevented geopolitical temperatures from rising.
Source: The Hindu
Frequently Asked Questions (FAQs)
Q: What is the significance of a strong and unified ASEAN?
A strong and unified ASEAN holds significant importance as it promotes regional stability, economic growth, and collective resilience against global challenges. It enhances the geopolitical influence of Southeast Asian nations and fosters cooperation in addressing shared concerns.
Q: How can ASEAN achieve economic integration for greater strength?
Economic integration within ASEAN involves initiatives such as trade liberalization, infrastructure development, and the harmonization of economic policies. By removing barriers to trade and investment, member states can collectively boost their economies and enhance the overall prosperity of the region.
Q: What role does security cooperation play in strengthening ASEAN?
Security cooperation is pivotal in maintaining stability within ASEAN. Joint defense initiatives, diplomatic dialogue, and the establishment of mechanisms for conflict resolution contribute to a secure environment, allowing member states to focus on economic development and mutual cooperation.
Q: How can ASEAN address historical tensions among member states to achieve unity?
Addressing historical tensions within ASEAN requires a commitment to fostering cultural exchanges, educational cooperation, and diplomatic dialogue. By promoting understanding and a shared sense of identity, member states can overcome historical divides and work towards a more cohesive and united ASEAN.
Q: What challenges might ASEAN face in its pursuit of unity, and how can they be addressed?
Challenges in achieving unity within ASEAN may include divergent political interests, economic disparities, and differing cultural perspectives. Overcoming these challenges necessitates open communication, compromise, and a commitment to the collective well-being of the region. Regular dialogues and diplomatic efforts can help address and mitigate potential obstacles on the path to a strong and unified ASEAN.
In case you still have your doubts, contact us on 9811333901.
For UPSC Prelims Resources, Click here
For Daily Updates and Study Material:
Join our Telegram Channel – Edukemy for IAS
Visit our YouTube Channel – here