Creative industries have emerged as a powerful driver of economic growth and innovation in recent years. From film and fashion to music and design, these sectors not only contribute significantly to a nation's GDP but also stimulate job creation and cultural diversity. The ability of creative industries to capture the imagination of consumers across the globe means that they can be a valuable export commodity, bringing in foreign revenue. Moreover, these industries are at the forefront of technological advancements, pushing boundaries in fields such as virtual reality and digital marketing. As governments increasingly recognize the potential of creative industries, they should continue to support and invest in these sectors to harness their full economic potential.
Tags: GS Paper – 3 – Growth & Development.

GS Paper – 2 – Government Policies & Interventions
Exam View:
Creative industry in India; Boosting economies: India and the UK.
Context:
Arts and culture exchanges between India and the UK contribute to economic growth and foster understanding between cultures.
Decoding the editorial: Creative industry in India
Prime Minister (PM) in his opening address to the G20 Culture Ministers' summit in Varanasi spoke of the value artists and craft workers contribute to the economic success of creative industries.
The G20 Leaders Declaration emphasizes how culture is a key driver of the SDGs.
The Nataraja, a statue of Hindu lord Shiva as the cosmic dancer, installed next to 'Bharat Mandapam', the main venue of the G20 Summit, is pictured in Delhi.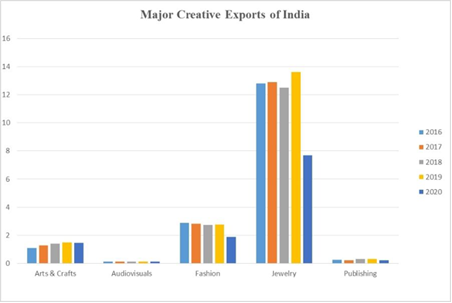 Boosting economies: India and the UK
Cultural exchange: Arts and culture make tangible the "living bridge" between these countries.

India's Symphony Orchestra is touring concert halls across the UK later this year.
The renowned Aditi Mangaldas dance company is premiering its new dance show at Sadler's Wells Theatre in London in October.
Aakash Odedra from Leicester, UK will be performing in Delhi as part of a new series of events led by the Kiran Nadar Museum of Art.
The recent partnerships with the UK's science museum group and the National Council for Science Museums for an exhibition on vaccines and their evolution.

It shows how the mutual exchange of skills, talent, and creativity can enrich lives in India and the UK.
It is a first-of-its-kind creative fellowship for skills exchange to develop young art talent in Scotland and India between Edinburgh Printmakers and Flow India, the Natural History Museum, and the Bihar Museum.
The "Econario" sculpture graces the G20 Together We Art exhibition.

Economic benefits: The contribution of the individual artists and those who support them to the economy should not be underestimated.

In the pre-Covid period, India's creative industries contributed 2.5% to India's Gross Domestic Product (GDP) and the UK's creative industries contributed 6% to the UK's GDP.
The UK's creative industries have grown 1.5 times faster than other industry sectors in the past decade.
In Bengaluru and Hyderabad, the growth in tech, arts, gaming, and Artificial Intelligence coupled with India's rapid digital transformation over the last five years has led start-ups to scale up.
This is echoed in the UK government's vision for creative industries which aims to add one million jobs in MSMEs and creative start-ups by 2030, an increase of 43%.

Collaborations:

The UK can learn from the sustainable practices of the Indian arts sector and from the cultural practices in Indian cities.
The India-UK collaboration in the creative sectors has great potential to inform cultural policy development for the future.
The British Council is enabling enduring connections between both countries catalyzing this exchange.
The UK minister of arts and heritage, had met cultural policymakers, artists, and arts sector leaders in Delhi before heading to the G20 Culture Ministers meeting in Varanasi in August.
The creative economy is set to get a huge boost with the culture ministry's G20 vision for One Family working together to deepen opportunities for all through the cultural industries and the UK's longstanding commitment to India.
Frequently Asked Questions (FAQs)
FAQ: How do creative industries contribute to the economy?
Answer: Creative industries contribute to the economy by generating significant revenue through activities such as film production, design, and entertainment. They also create jobs and stimulate economic growth.
FAQ: What role do creative industries play in international trade?
Answer: Creative industries often export their products and services, contributing to a country's trade balance. Films, music, fashion, and other cultural exports can be major sources of revenue from foreign markets.
FAQ: Can creative industries promote innovation and technological advancement?
Answer: Yes, creative industries are often at the forefront of innovation. They drive technological advancements in fields like virtual reality, digital marketing, and design, which can have spillover effects on other sectors of the economy.
FAQ: How do creative industries contribute to cultural diversity?
Answer: Creative industries celebrate and preserve cultural diversity by producing a wide array of content and art that reflects different backgrounds, traditions, and perspectives. This diversity can be a source of national and international pride.
FAQ: What government support is available to boost creative industries?
Answer: Governments often provide funding, tax incentives, and policy support to nurture creative industries. These measures help promote growth, protect intellectual property, and foster a conducive environment for artistic and cultural expression.
In case you still have your doubts, contact us on 9811333901.
For UPSC Prelims Resources, Click here
For Daily Updates and Study Material:
Join our Telegram Channel – Edukemy for IAS
Visit our YouTube Channel – here