Cleantech, an ever-evolving and crucial facet of the global energy landscape, has garnered significant attention in recent years. As the world grapples with the urgent need to address climate change and reduce greenhouse gas emissions, cleantech solutions have emerged as a beacon of hope. These innovative technologies and sustainable practices offer not only the promise of a greener future but also economic opportunities and job creation. From solar and wind energy to electric vehicles and advanced waste management systems, cleantech innovations are reshaping industries and catalyzing a transition towards a more sustainable and environmentally responsible society. Governments, investors, and businesses are increasingly recognizing the potential of cleantech, and it is imperative that they continue to support and invest in these technologies to drive the necessary transformations in our energy infrastructure and combat the pressing challenges of climate change. Cleantech isn't just an option; it's a fundamental pillar of our journey towards a more sustainable and resilient planet.
Tags: GS Paper – 3: Solar Energy; Renewable Energy. 

GS Paper – 2: Government Policies & Interventions. 
Exam view:
Green economy; Cleantech solutions for the hinterlands; Steps to scale up. 
Context:
Cleantech can deliver on development and climate action in the country's rural areas. 
Decoding the editorial: Green economy
The green economy paradigm provides an optimistic pathway to align development and environmental outcomes.  
Building a solar park or an electric vehicle charging station helps expand the much-needed infrastructure in a developing economy while furthering climate action.  
Reviving millets helps improve farm incomes in rain-fed areas while making our agriculture climate resilient.  
But the critical issue is taking this green economy paradigm to the heart of our development needs in the form of youth looking for jobs, women seeking income opportunities, or farmers waiting to diversify their incomes. 
Cleantech solutions for the hinterlands
India's rural economy that comprises 120 million farmers and 34 million micro-enterprises often struggles with unreliable electricity access and a dependence on expensive and imported diesel. 
Cleantech solutions that are powered by renewable energy can help India reduce its diesel imports, avoid the loss of perishable food and enhance rural livelihood opportunities while posing an investment opportunity worth $50 billion for investors and financiers. 
Examples from recent years 
Solar dryers converting throwaway tomatoes into sun-dried ones in Andhra Pradesh,  
Biomass-powered cold storages helping farmers in Maharashtra selling lemons make a gain that is three to five times that of the original price, or  
Solar silk reeling machines reducing drudgery for thigh-reelers and doubling their income in Odisha. 
Research at the Council on Energy, Environment and Water (CEEW) shows that just 12 such cleantech solutions have the potential to impact at least 37 million livelihoods or about 16% of our rural population. 
But this silent revolution now needs a structural boost. There needs to be a three-fold approach to traverse this journey from 50,000-plus to tens of millions.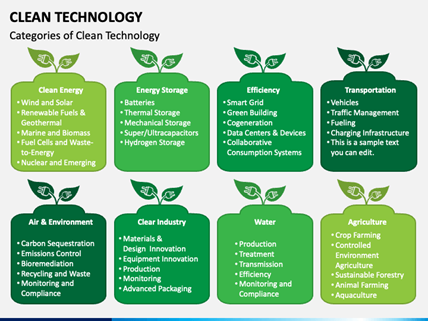 Steps to scale up
Leverage existing government programmes supporting livelihoods.  
For instance, the Pradhan Mantri MUDRA Yojana can be used to enable the adoption of cleantech solutions.
The Pradhan Mantri Formalisation of Micro food processing Enterprises (PM-FME) scheme can be used to unlock support for solutions such as a solar dryer, an energy-efficient multipurpose food processor or a solar grain mill.
The Pradhan Mantri Matsya Sampada Yojana can be leveraged towards adopting solar refrigerators and dryers for fishing communities.
The Agriculture Infrastructure Fund, which has only seen a 15% fund utilisation against a target of ₹1,00,000 crore, can support the adoption of biomass-powered cold storage and beyond.
Enable large-scale financing of cleantech solutions.  
It requires supporting bankers' capacity on credit assessment for cleantech because they have not come across such solutions and the associated cash flows before to make an informed assessment.  
Their risks need to be hedged in the initial stages of the market through partial guarantees.  
Adopting some of these principles helped 'Powering Livelihoods', a CEEW-Villgro initiative, unlock 300-plus loans for cleantech solutions to women, self help groups, farmer producer organisations and individual micro-entrepreneurs in rural areas. 
Enable multi-actor partnerships.  
The challenges faced include  

low product awareness,  
high customer acquisition cost as users need to touch and feel these products before adoption,  
low density of customers for such products in a given area, and 
limited after-sales service and market linkage of the final processed products. 

A holistic ecosystem where  

distributors work with manufacturers to enable technology access at the last mile,  
service providers ensure after-sales services, and  
market-linkage players enable the connection to the market to create a thriving ecosystem for cleantech to impact rural livelihoods at scale.  

For instance, there are solar dyer companies that are not only deploying dryers but are also enabling financing for users to adopt the dryers and buying back the final produce from them to ensure market linkages.  
By focusing on cleantech for livelihoods and jobs, especially in rural areas, we can make that green future inclusive.
Source: The Hindu 
Frequently Asked Questions (FAQs)
Q: What is cleantech?
A: Cleantech, short for "clean technology," refers to innovative solutions and practices that aim to reduce environmental impact, improve sustainability, and promote energy efficiency. It encompasses a wide range of technologies and processes designed to address environmental challenges and combat climate change.
Q: How does cleantech contribute to reducing carbon emissions?
A: Cleantech technologies, such as renewable energy sources like solar and wind power, energy-efficient appliances, and electric vehicles, significantly reduce the reliance on fossil fuels and lower carbon emissions. By promoting cleaner and more sustainable alternatives, cleantech plays a crucial role in mitigating climate change.
Q: What are some key examples of cleantech innovations?
A: Cleantech innovations encompass a diverse range of solutions, including solar panels, wind turbines, energy-efficient LED lighting, smart grid systems, electric vehicles, waste-to-energy processes, and sustainable agriculture practices. These technologies aim to minimize resource consumption and environmental impact.
Q: How can individuals and businesses get involved in cleantech initiatives?
A: Individuals and businesses can engage with cleantech by adopting energy-efficient practices, investing in renewable energy systems, reducing waste, and supporting sustainable products and services. For businesses, partnerships with cleantech startups and incorporating green technologies into their operations can further their contributions to environmental sustainability.
Q: What role does government policy play in advancing cleantech adoption?
A: Government policies and regulations can have a significant impact on the cleantech sector. They can provide financial incentives, tax breaks, and subsidies to promote cleantech adoption, set emissions reduction targets, and establish environmental standards. These policies can create a favorable environment for cleantech innovation and help accelerate the transition to a more sustainable and low-carbon economy.
In case you still have your doubts, contact us on 9811333901.
For UPSC Prelims Resources, Click here
For Daily Updates and Study Material:
Join our Telegram Channel – Edukemy for IAS
Visit our YouTube Channel – here