To minimize climate risk, a multifaceted approach is imperative, blending policy initiatives, technological advancements, and societal engagement. Governments must take proactive measures to enforce stringent environmental regulations, incentivize sustainable practices, and invest in renewable energy sources. Simultaneously, fostering innovation in clean technologies and promoting international cooperation are pivotal in addressing the global nature of climate change. Moreover, public awareness and participation play a crucial role; educating communities about the impact of individual choices on the environment can lead to a collective shift towards eco-friendly lifestyles. Closing the gap between awareness and action, backed by comprehensive policies, is essential to navigate the intricate challenge of climate change and secure a sustainable future for the planet.
Tag: GS Paper-3: Agricultural resources; Water resources; Food security.
Exam View:
India's food security; India's food insecurity; Water in agriculture; Strategy with respect to water in agriculture.
Context:
October 16 is observed as World Food Day to mark the founding of the United Nations Food and Agriculture Organisation (FAO) in 1945. This year's theme for the World Food Day is "Water is Life. Water is Food".
Decoding the editorial: World Food Day
The World Food Day theme requires evaluation of India's success in food security and water sustainability.
India's food security
Cereals

Having been through a journey of "ship to mouth" in the mid 1960s, India has come a long way.
Only in the last three years, 2020-21 to 2022-23, India exported 85 million tonnes (MT) of cereals, mainly rice, wheat and corn.
It did this even after giving free food (rice or wheat) to more than 800 million people under the PM Garib Kalyan Yojana.

Milk

India has also made major strides in milk production which has shot up from 17 MT in 1951 to 222 MT in 2022-23.
The country is the largest producer of milk by far.

Poultry and fishery

Since 2000-01, poultry and fishery production has been growing at a fast rate.
India has now ushered in a pink (poultry) and blue (fishery) revolution.
India's food insecurity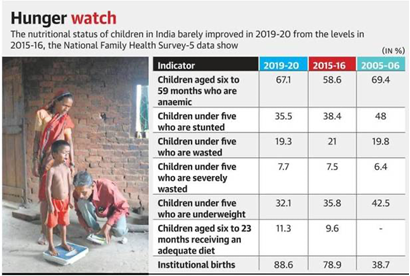 India will not be able to achieve its Sustainable Development Goal (SDG) of zero hunger (including malnutrition) by 2030.
Water in agriculture
Water deficiency: While India is home to almost 18 percent of the world's population, it has only 4 percent of global freshwater resources.
Much of this water is used in agriculture. While FAO puts this figure at 90 percent, the Indian Central Water Commission says it is 78 percent.
Structural problems: India has not succeeded in attracting private sector investments in reservoirs and canal networks as water is almost free.
The government does not have enough funds to invest in this, after doling out large food and fertiliser subsidies costing more than Rs 4 lakh crore.
The state governments do not have the political will to charge for power that is used for groundwater irrigation.
Strategy with respect to water in agriculture
On the supply side, India must augment buffer stocking of water during the monsoon season in its reservoirs, and recharge groundwater through check dams and watersheds, etc.
While almost half of India's gross cropped area is irrigated today, we need to take it to at least 75 percent if we have to cope with weather vagaries associated with climate change.
India must work on the demand side to ensure more rational allocation and efficient use of water across crops.
This calls for not only institutional reforms in the Indian irrigation sector but also in the pricing of water and power for irrigation.
Focus needs to shift from land productivity to water productivity.
Research at ICRIER on water productivity of 10 major crops showed significant results.
It was found that while in Punjab land productivity of rice is one of the highest, its irrigation water productivity is the lowest.
On top of this, Punjab also emits the highest levels of carbon emissions (CO2eq), almost 5 tonnes/ha of paddy cultivation.
In this research on Punjab, it was found that the subsidy from power and fertilisers in paddy cultivation amounts to roughly Rs 30,000/ha.
This amount can be given to farmers in Punjab who are willing to switch from paddy to pulses, oilseeds, and millets.
This will create a level playing field across crops and would be good for the environment as well as nutrition.
Above all, it will save Punjab from water disaster as roughly 78 percent of its blocks are over-exploiting groundwater.
Certain farming practices can be rewarded
Direct seeded rice (DSR),
Alternate wet and dry (AWD) irrigation,
Zero till, and
Drip irrigation.
The bottom line is that unless we use water efficiently, ensuring sustainable food security is difficult.
Frequently Asked Questions (FAQs)
FAQ: What role do individuals play in minimizing climate risk?
Answer: Individuals can contribute significantly by adopting sustainable practices such as reducing energy consumption, using public transport, and minimizing waste. Small lifestyle changes collectively make a substantial impact on mitigating climate risk.
FAQ: How can businesses contribute to minimizing climate risk?
Answer: Businesses can play a crucial role by embracing sustainable practices, investing in renewable energy, and adopting eco-friendly technologies. Implementing green supply chain strategies and reducing carbon footprints contribute to a more resilient and sustainable future.
FAQ: What policies are effective in minimizing climate risk on a governmental level?
Answer: Governments can implement and enforce policies that promote renewable energy adoption, regulate emissions, and incentivize sustainable practices. International cooperation on climate agreements is also vital for addressing the global nature of the issue.
FAQ: How does deforestation contribute to climate risk?
Answer: Deforestation exacerbates climate change by reducing the number of trees that absorb carbon dioxide. Trees act as carbon sinks, and their removal intensifies the greenhouse effect. Protecting and restoring forests are critical steps in minimizing climate risk.
FAQ: Why is transitioning to renewable energy sources essential in climate risk mitigation?
Answer: Transitioning to renewable energy sources, such as solar and wind, reduces dependence on fossil fuels, which are major contributors to greenhouse gas emissions. Renewable energy not only decreases environmental impact but also promotes a more sustainable and resilient energy infrastructure.
In case you still have your doubts, contact us on 9811333901.
For UPSC Prelims Resources, Click here
For Daily Updates and Study Material:
Join our Telegram Channel – Edukemy for IAS
Visit our YouTube Channel – here