We are in the Test Prep success business. We have to fundamentally increase our learners chances of success in UPSC exams. That's our promise. We think we can provide online classes and tests and students will do the rest.  So plethora of classes and followed by tests. That seems plain wrong. At least for UPSC – the mother of all exams. Awareness of subject matter and our analysis of it is only a part of the whole story. Yet the whole industry has been all about this. It seems to be all about the content we produce and the tests we take. Class and Test papers. It's a solution that's been there since ages. I have heard this since my school days. From over 30 years. Yes, you guessed my age!
Applied Learning – What UPSC demands
We have dumbed down learning to devastatingly low levels. We have screwed with education. This is why students can't answer 'applied learning' questions like the following. This is from an actual UPSC paper in the recent past.
Though women in post-independent India have excelled in various fields, the social attitude towards women and the feminist movement have been patriarchal. What can be done to change it?
To answer this question, simply awareness and analysis will not be sufficient. We are all aware of the feminist movement, patriarchal attitudes and Indian social situation over last 200 years. We have done some degree of analysis. But that's not enough. So what is the real demand of this question? How can we be successful at it?
To answer this question, you need to look deep inside. It needs an examination of the people who have led the feminist movement, their approach. It needs understanding of Patriarchal societies, and what kind of changes help change it, with example of different nations. Who checked the box, and who really moved things along. What were some of the big boulders. This is a question that requires application of knowledge. It demands character building. It requires composure to make the argument in a compelling way. It needs clear thinking on the approach (What can be done to change it, the question is asking us). Difficult, isn't it.
You will build a nation – expectations are high
Has to be difficult. Expectations are high – you are going to build a nation after all. One can argue that this requires
A) a person of outstanding character
B) who has a deep understanding of the problem
C) who has a vision for the nation
D) is clear about the approach that she wants to take
Wow, that's a lot. Well, I can tell you with confidence, that it exactly mirrors the expectation of the UPSC commission. That's what we need from future bureaucrats. It's a demand. It's rigorous. We are talking about nation building. Not merely passing an exam here!!
Edukemy's YUVA framework for success
At Edukemy, we take these things incredibly seriously. This is the core of our thinking behind YUVA – your success framework. Learners have to internalize this for success , end to end.
Y – YOU (your personality and projection)
U – your UNDERSTANDING (Awareness and analysis of current events)
V – your VISION (Vision for India)
A – your APPROACH (how will you make it happen)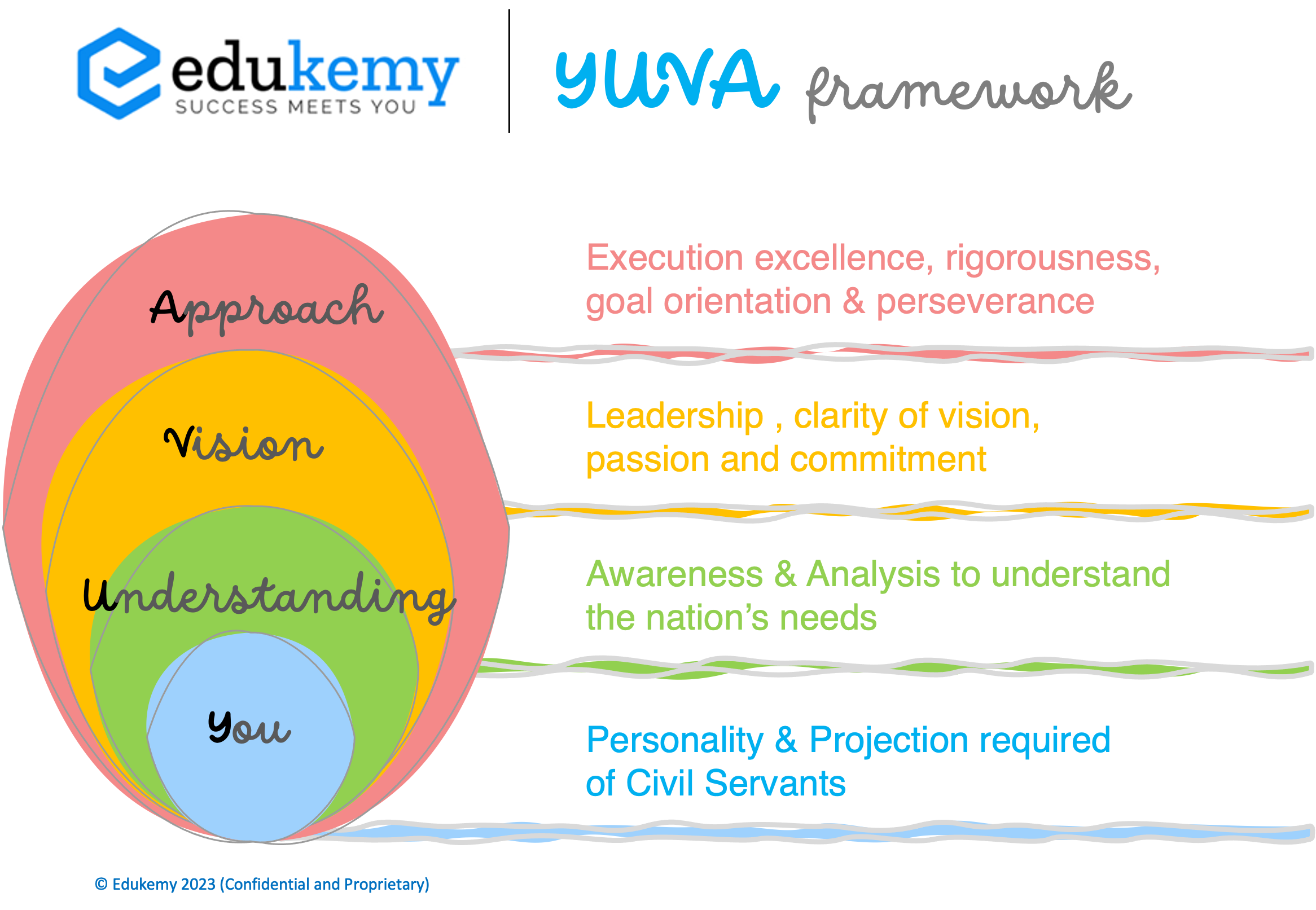 It starts with YOU. your beliefs, your personality and your projections. A lot of learners don't ask themselves WHY. Why do they want to be civil servants? Remember Simon Sinek ?!
Learners have to think about all 4 dimensions to be a success in UPSC. They have to develop a personality (This is not a slight change in tactics between Mains and Interview). They need to write down their vision for the nation and their approach to get there. 
Yes, you can't teach everything. There's something to be said about nature and nurture, building careers etc etc. We know that. Our learners know that too. They are serious. They know why they want it. They are trying very hard. However, they haven't been guided properly so far. They have been given subject matter and tests. That's the end of what the industry has to offer. It's a pity.
We are changing that. Brick by Brick. We are making YUVA a part of our offerings and our products, and we are training our teachers to be enablers to this end to end vision. In our workshops, we are changing the conversation. It's because we deeply care about success of our learners.
Success has no short cuts. It's always Brick by Brick.
It is a difficult thing. But so are all good things, aren't they? .