Geography Strategy – UPSC CSE Prelims Preparation
The UPSC syllabus has coverage of all essential areas of a country such as Economy, History, Geography, Science, Technology, Environment, Ecology, etc. Geography among them holds a significant weightage in the Civil Services Examination.
As a Civil Servant, you are anticipated to have a thorough understanding of Indian and World geography. If you are appointed as the deputy commissioner of a district in a hill state, for example, it is crucial that you are well-versed in all aspects of the area. You should be well-versed with the features of that area, including its morphology, topography, major crops cultivated there, agricultural activities conducted there, and rivers that pass through it.
Consequently, it is essential to study geography for Prelims and get a thorough understanding of the subject. There is no doubting that geography is a difficult subject with a constrained syllabus, yet with constant effort, one can easily achieve decent marks in it. Additionally, it is covered in General Studies Paper I for the main exams,
This article will answer the most frequently asked question among IAS candidates, "How to study Geography for UPSC?" and provide some guidance on how to best or ready for the UPSC Prelims Geography test. Let us first look at the course syllabus.
How to Approach Geography for General Studies for UPSC CSE?
Syllabus
The following topics make up the geography syllabus at the Prelims level:
1. Physical, Social, and Economic Geography of India
2. Physical, Social, and Economic Geography of the World
Additionally, it includes topics that overlap, like Economics (Iron Steel industries), Environment (Types of Vegetation, National Parks), Demography with Map, and Current Affairs. The final round of the interview will also likely include a question on geography. As a result, you should study it comprehensively.
Topics to focus on
1. Indian Geography
| | |
| --- | --- |
| Topics | Sub Topics |
| Basics of India | Location, latitude, longitude, time zone, etc. Neighbour states and their position States with international boundaries |
| Physical Features | The Himalayas-geological formation, climate, vegetation, soil, biodiversity, physiographic divisions, major passes, significance. The Great North Indian Plains-geological formation, physiographic divisions, climate, vegetation, soil, biodiversity, significance. Peninsular Plateau-geological formation, Central Highlands, Deccan Plateau Western Ghats, Eastern Ghats, Indian Desert, Coastal plains, and islands |
| River Systems | Himalayan rivers Peninsular rivers River basins Regional development and planning Hydropower projects, Major dams West-flowing and East-flowing rivers Interlinking of rivers |
| Climate | Monsoons-driving mechanism, El Nino, La Nina Seasons Cyclones |
| Minerals and Industries | Mineral Distribution Industrial Policies Location |
| Agriculture | Land utilisation Types of agricultural practices Green revolution Soils and crops Irrigation Land reforms Animal husbandry Government schemes |
| Flora and Fauna | Classification of natural vegetation Rainfall distribution Biosphere reserves, national parks, etc. Red-listed species |
| Economic Infrastructure | Transportation (highways, inland waterways, etc.) Power and energy sector Conventional and non-conventional sources of energy Energy conservation |
| Human Geography | Demographics (Poverty, Hunger, Literacy Rates, Unemployment, etc) Recent Census |
2. World Geography
Major natural regions, Regional geography of developed countries and developing countries and the regional geography of South Asia.
3. Physical Geography
| | |
| --- | --- |
| Topics | Sub Topics |
| Geomorphology | Origin of the earth Interior of the earth Types and characteristics of rocks Folding and Faulting Volcanoes, earthquakes Interior of the earth Weathering Landforms formed by fluvial, aeolian and glacial actions |
| Climatology | Atmosphere structure and composition Temperature Pressure belts Wind systems Clouds and types of rainfall Cyclones and anti-cyclones Major climatic types |
| Oceanography | Ocean relief Temperature, salinity Ocean deposits Ocean currents El Nino and La Nina Waves and tides |
| Biogeography | Soil-origin and types Major biomes of the world Ecosystem, food chain Environmental degradation and conservation |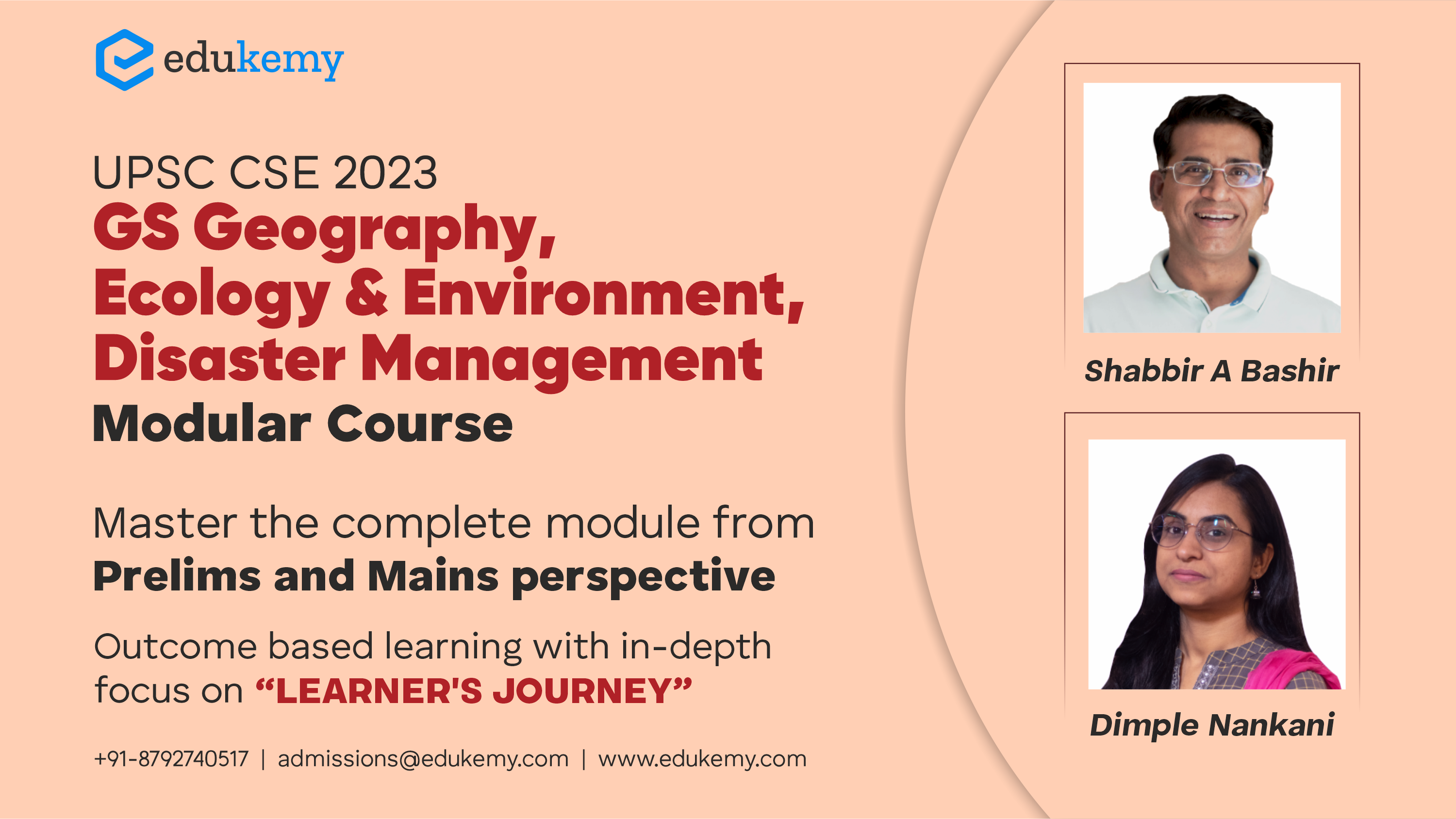 Tips to prepare effectively
Use NCERT for a solid foundation to study Geography. Covering classes VIII to XII in NCERT for Geography will cover the basics and fundamentals on all topics in an easy and comprehensible way.
2. Additional resources
Once you are done studying using NCERT, get an in-depth understanding of the topics in geography using guides and additional texts. The ones given below are highly recommended:
1. Certificate Physical and Human Geography by Goh Cheng Lehong
2. India: A Comprehensive Geography by DR Khullar
3. Physical Geography by Savindra Singh
4. Models in Geography by Majid Husain
5. Geographical Thought by R D Dixit
3. Map preparation
Maps are vital to study for in Geography and most questions are directly or indirectly linked with maps so have a thorough knowledge about maps to ensure you get good scores. Study the maps in NCERT books and additional resources and try to test yourself for practice.
Mapping Strategy: How to Attempt Map Related Questions in UPSC CSE Preparation?
it is imperative you test yourself by doing past question papers since it will show you what type of questions are being asked. By solving multiple question papers, you can figure out a pattern behind the questions and what topics are asked more regularly. You will also find out what type of answers they are expecting.
Make sure you connect current affairs to Geography since they will expect you to do so during the exams. So many articles in newspapers have direct connections to geography so ensure you read it.
Make sure to make notes on all the topics to use during the last few months before the exams to revise. Having notes to constantly look over also ensures you retain the information you have studied.
The Civil Services Examination is not easy. It requires dedication, time, challenging work, and a lot of preparation. Make sure too not take it lightly and prepare well.

For UPSC Prelims Resources, Click here
For Daily Updates and Study Material:
Join our Telegram Channel – Edukemy for IAS
Visit our YouTube Channel – here