Infrastructure investments are often touted as a key driver of job creation, but recent trends suggest that the relationship between the two may be more complex than previously thought. While these investments are crucial for long-term economic growth and improving public services, the immediate impact on job creation might not be as robust as anticipated. One reason for this discrepancy is the increasing use of automation and technology in infrastructure projects, which can reduce the need for labor-intensive tasks. Additionally, bureaucratic hurdles, lengthy planning processes, and delays in project implementation can hinder the timely creation of jobs. To maximize the job-creation potential of infrastructure investments, policymakers must strike a delicate balance between modernizing infrastructure and ensuring that these projects generate employment opportunities, especially in regions where job opportunities are scarce.
Tag: GS Paper – 3: Employment; Growth & Development; Education; Skill Development; Human Resource. 
Exam View:
The coexistence of high economic growth and high unemployment; Physical infrastructure vs Human infrastructure; Challenges to education; Way forward. 
Context:
For a young country like India, high growth and unemployment is not a reflection of automation or artificial intelligence, but lopsided development policies that have resulted in fewer jobs being created for millions who join the labour force every year. 
Background:
The coexistence of high economic growth and high unemployment 
As the fastest-growing large economy in the world, India's high growth has attracted headlines.  
But, with nearly a quarter of the youth being unemployed, India's youth unemployment has also attracted attention.  
India has the largest concentration of illiterate people in the world.  
More than one-third of India's adult population remains illiterate.  
More than 50 percent of India's population is below the age of 25 and more than 65 percent is below the age of 35.  
India's young demographic is an asset in an ageing world, and changes in the trajectory of globalisation have opened new doors for India. 
Decoding the editorial: Physical infrastructure vs Human infrastructure
Physical infrastructure in the absence of good human infrastructure has slowed the pace of job growth. 
India needs good infrastructure, both physical and human, to create more jobs.  
Physical infrastructure investments are focused on urban areas, but the manufacturing sector is de-urbanising to remain cost-competitive.  
In the early 1990s, India's manufacturing sector walked hand in hand with urbanisation.  
This process has reversed from 2000 onwards, with the pace of de-urbanisation of manufacturing gathering momentum.  
However, poor physical and human infrastructure in rural areas has constrained the growth drivers and limited the size of the manufacturing sector in India. 
Most of the jobs are created by new enterprises, and enterprises, both domestic and foreign, look for both skilled workers and a good physical infrastructure.  
Education and skills are becoming more important as new enterprises make their location decisions based on the education and skills of the local workforce. 
There are well-understood limits to the pace with which India can accumulate physical infrastructure.  
But there are no limits to the pace at which India can accelerate human capital. 
Returns to investment in education are much higher than the returns to investment in physical investment.  
The average social rate of returns to primary education is nearly 20 percent and returns to higher education are increasing rapidly.  
Challenges to education
They are multidimensional — access, quality, relevance, finance and governance. 
The challenges are enormous in rural areas.  
There are a few excellent public and private universities in India.  
Concerns have been raised about the quality of education due to a huge variation in the quality of graduates from both the public and private systems.  
Effective systems of quality assurance do not exist, either for the public or the private sector.  
There is a shortage of qualified faculty due to  

poor compensation, 
rigidities in the number of places allocated to different disciplines in the public system, 
outdated curricula and 
pedagogical methods that still rely too much on rote learning rather than creative thinking and problem-solving and teamwork that is needed by the market. 
Way forward
The governance of the education system needs to be improved as the education system becomes more complex with multiple players and multiple pathways. 
It needs better incentives, monitoring, performance assessment, and accountability both for the internal processes of the education process as well as for students.  
Scaling up tertiary education will increase the cadres of professionals who can create new enterprises and maximise job creation.  
Tertiary education increases the dissemination of knowledge beyond universities, through interactions between firms and the rest of society. 
The future of economic growth will be in tier II cities. 

It will not be in tier I cities, which are already dense with India's best and brightest.  
New cities have the potential to generate 70 percent of the country's new jobs and GDP over the next 20 years, a process that could drive a four-fold increase in per capita incomes.  

India needs a broader focus on rural structural transformation to accelerate job creation.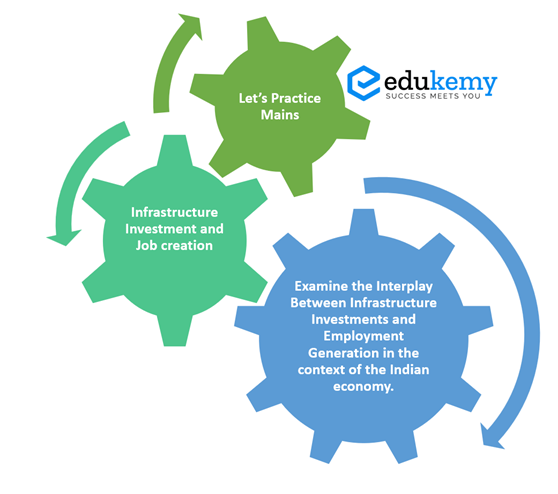 Source: Indian Express
Frequently Asked Questions (FAQs)
FAQ 1: Why do some argue that infrastructure investments can slow down job creation?
Answer: Infrastructure investments can be perceived as slowing job creation because they often involve complex planning and implementation processes. These projects may not provide immediate job opportunities, leading to concerns about their impact on employment.
FAQ 2: Do all infrastructure investments have a negative impact on job creation?
Answer: Not necessarily. The impact on job creation varies depending on the type and scale of the project. While some infrastructure investments may not yield quick job growth, others, such as labor-intensive construction projects, can create jobs more rapidly.
FAQ 3: How can automation and technology affect job creation in infrastructure projects?
Answer: Automation and technology can reduce the need for manual labor in infrastructure projects. Tasks that were once done by workers are now being automated, which can limit job opportunities and potentially slow down job creation in the construction and maintenance phases of infrastructure projects.
FAQ 4: What role do bureaucratic hurdles play in slowing down job creation in infrastructure investments?
Answer: Bureaucratic obstacles and lengthy permitting and approval processes can delay the start of infrastructure projects. These delays can hinder the timely creation of jobs, making it a challenge to realize immediate job benefits.
FAQ 5: How can policymakers address the issue of job creation in infrastructure investments?
Answer: Policymakers can address this issue by prioritizing projects that have the potential to create jobs quickly, particularly in regions with high unemployment rates. They can also explore policies that encourage the use of local labor and engage in comprehensive workforce planning to ensure job opportunities are maximized in conjunction with infrastructure investments.
In case you still have your doubts, contact us on 9811333901.
For UPSC Prelims Resources, Click here
For Daily Updates and Study Material:
Join our Telegram Channel – Edukemy for IAS
Visit our YouTube Channel – here