The Pahari region encompasses the present-day state of Himachal Pradesh, some adjoining areas of Punjab, the Union Territory of Jammu in Jammu and Kashmir State, and Garhwal in Uttar Pradesh.
This area was divided into small states ruled by Rajput princes who were often engaged in warfare.
From the latter half of the 17th to nearly the middle of the 19th century, these states were centers of great artistic activity.
The school of painting in this region is characterized by a coarsely flamboyant style that eventually evolved into the most exquisite and sophisticated style of Indian painting.
Basohli School of Painting
Raja Kripal Pal was a patron of the Pahari school of painting.
Notable paintings from this school include:

Miniatures depicting the Rasamanjari illustrations executed by artist Devidasa in 1694 AD.
An illustration from a series of Gita Govinda painted by artist Manaku in 1730 AD.
The paintings show changes in the facial type and tree forms, which may be due to the influence of Mughal painting.
Other notable features of the paintings include the use of strong and contrasting colors, monochrome background, large eyes, bold drawing, use of beetles wings for showing diamonds in ornaments, narrow sky, and a red border.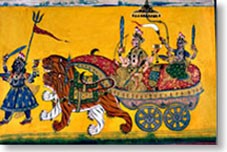 Kangra School of Painting
The group of paintings known as the Kangra style are named after the portraits of Raja Sansar Chand of Kangra due to their stylistic resemblance. The Nainsukh family is primarily attributed to the creation of Kangra style paintings. During the early 19th century, some Pahari painters received patronage from Maharaja Ranjit Singh and the Sikh nobility in Punjab. They executed modified versions of Kangra style portraits and miniatures which remained popular until the mid-19th century.
The Kangra style is known for its delicate drawing and naturalistic quality, making it the most poetic and lyrical of Indian art styles. The paintings exude serene beauty and feature a distinct delineation of the female face, characterized by a straight nose aligned with the forehead. This feature became popular in the 1790s and remains the hallmark of the Kangra style. Popular themes of Kangra style paintings include the Bhagvata Purana, Gita Govinda, Nala Damayanti, Bihari Satsai, Ragamala, and Baramasa.
For UPSC Prelims Resources, Click here
For Daily Updates and Study Material:
Join our Telegram Channel – Edukemy for IAS
Visit our YouTube Channel – here
For Admissions, talk to our Mentor – 9811333901, 9811333782