In today's daily current affairs briefing for UPSC aspirants, we explore the latest developments that hold relevance for the upcoming civil services examination. Our focus today includes a critical analysis of recent policy changes, international affairs, and national developments, all of which play a pivotal role in shaping the socio-political and economic landscape of India. Stay informed and stay ahead in your UPSC preparations with our daily current affairs updates, as we provide you with concise, well-researched insights to help you connect the dots between contemporary events and the broader canvas of the civil services syllabus. 
Significance and legacy of Parliament in India's democracy
Tag: GS-2 Polity and Constitution 
In News:
Recently, the Speaker said that Parliament has created an elegant symphony of democracy, that rises above the occasional. 
About
The Indian Parliament is the highest deliberative body and supreme representative institution of the largest working democracy in the world. It is in its Chambers that the destiny of a nation of a billion-plus people is shaped, and their expectations, concerns, problems, and dreams are fulfilled. It is in this temple of democracy that the members of the two Houses of Parliament keep the Executive accountable at all times and closely monitor the policies and programs for national welfare.
Significance of Parliament in India's democracy:
Historical Legacy: Deeply rooted in India's historical and cultural heritage, reflecting participative governance for millennia. For example, India is widely regarded as the "mother of democracy". Ancient texts and local self-governance traditions—Sabhas, Samitis, Republic.
Founding Fathers' Vision: India's founders had faith in people's wisdom, leading to the adoption of an enlightened Constitution. For example, adoption of a democratic system post-independence.
Accommodative Democracy: Effective management of conflicts, celebration of diversity, and promotion of unity for development and prosperity. For example, Unity in diversity is a fundamental national ethos.
Watchdog of Public Exchequer: Oversight of public finances, budget approval, and accountability of the Executive. For example, Approval of budgets and financial allocations.
Voice of the People: Platform for citizens to raise concerns, and promote socio-economic change through legislation and debates. For example, the issue of the Manipur crisis discussed in Parliament sessions.
Living Institution: Vibrant representation of the will of over a billion Indians, dedicated to citizens' welfare and unity. For Example, Consistent legislative work for national progress.
Symphony of Democracy: Creation of an elegant symphony of democracy, upholding constitutional values and national interests. For example, successful parliamentary functioning despite disagreements.
Evaluation by Parliamentary Committees: Detailed scrutiny of bills, budget proposals, and ministries, enhancing oversight and accountability. For example, Committees' role in policy evaluation and formulation.
Autonomy and Parliamentary Privileges: Protection of members' autonomy and dignity through immunity and privileges for free expression. For example, Immunity from prosecution for parliamentary speech.
Accountability: Parliament is entrusted with securing accountability of the Executive through various instruments such as the Rules of Procedure and Conduct of Business, tradition and well-settled precedents.
Empowering the Grassroots: India's democracy is not confined to the national level alone; it extends to the grassroots through a vibrant system of local self-governance. For example, Panchayati Raj institutions in decentralizing power and involving citizens in the decision-making process.
Use of Technology: In the digital age, technology has transformed the way democracy's function. Technology makes parliamentary proceedings more accessible to the public and bridge the gap between citizens and their elected representatives.
Parliament shows the enduring elegance of Indian democracy, emphasizing unity in diversity, resilience, cooperation, accountability, and technological progress. India's democratic model continues to inspire and serves as a testament to the enduring strength of democratic principles.
Source: Indian Express
BS 6 Stage II 'Electrified Flex Fuel Vehicle'
Tags: GS – 3: Environment and Ecology (Environmental Pollution and Degradation) 
Why in News:
Recently, Toyota Kirloskar Motor has launched the world's first prototype of a BS 6 Stage II 'Electrified Flex Fuel Vehicle' in India. 
Flex Fuel Vehicles (FFVs):
It is designed to run on a flexible combination of fuels, typically gasoline and ethanol.
These vehicles are equipped with engines that can adjust their fuel mixture based on the available fuel blend E.g., E20 (20% ethanol and 80% gasoline) or even higher percentages.

Electrified Flex Fuel Vehicles:
They are a more advanced version of FFVs that offer the advantage of being able to operate on both ethanol-based fuels and electricity.
They provide higher fuel efficiency and potentially reducing emissions compared to traditional gasoline-only vehicles.
Bharat Stage (BS6) Norms:
The BS regulations are based on the European emission standards and the Central Pollution Control Board implements these standards.
Presently, every newly sold and registered vehicle in India is required to adhere to the BS-VI version of emission regulations.
BS6 Stage II Norms:
These are even stricter emission limits compared to the initial BS6 norms.
BS6 (Stage II) incorporates Real Driving Emissions (RDE) and Corporate Average Fuel Economy (CAFE 2) and On-Board Diagnostics.
The new RDE test figures will provide a more realistic estimation of the amount of emissions likely to be produced by vehicles in real traffic conditions with frequent changes in speed, acceleration, and deceleration.
Onboard diagnostic (OBD) systems monitor and report the status and performance of various vehicle subsystems and sensors.
Significance of Flex Fuel Vehicles:
These vehicles offer higher ethanol use and better fuel efficiency similar to Strong Hybrid Electric Vehicles (SHEVs).
Electrified Flex Fuel Vehicles use minimal advanced chemistry batteries to reduce dependence on imports.
It reduces reliance on conventional fuels, contributing towards sustainable transportation and India's 'Aatmnirbhar Bharat' initiative as production of ethanol increases.
The vehicle represents a significant stride towards decarbonization and greener mobility, aligning with global efforts to combat climate change.
Challenges with FFVs:
Higher cost of ownership and running cost for customers, which may affect their acceptance unless retail fuel prices are competitive. 
Developing FFVs requires significant effort and calibration with multiple fuel blends, making them less viable without widespread fuel availability. 
Source: PIB Gov.
Protect world heritage sites to conserve biodiversity: United Nation
Tags: GS – 3: Environment and Ecology (Biodiversity) 
Why in News:
According to the UNESCO and IUCN, protecting world heritage sites can help conserve biodiversity and meet the targets set by the Kunming-Montreal Global Biodiversity Framework (GBF). 
World Heritage Sites (WHS):
These are landmarks or areas of cultural, historical, scientific, or natural significance that are recognized and designated by the United Nations Educational, Scientific and Cultural Organization (UNESCO). 
These sites are considered to be of outstanding value to humanity, and their preservation is of global importance. 
There are two main types of World Heritage sites: 

Cultural Heritage Sites: These include historical buildings, cities, monuments, archaeological sites, and cultural landscapes that hold cultural and historical significance. E.g., Pyramids of Egypt, the Historic Centre of Rome, and the Great Wall of China, etc. 
Natural Heritage Sites: These encompass natural areas, ecosystems, and geological formations that are of exceptional natural beauty or scientific importance. E.g., the Galápagos Islands, the Great Barrier Reef in Australia, and Yellowstone National Park in the United States, etc. 
Biodiversity in UNESCO WHS:
The total of 1157 World Heritage sites take up only 1 per cent of the earth's surface. 
UNESCO World Heritage sites (WHS) are home to 75,000 species of plants, and over 30,000 species of mammals, birds, fish, reptiles and amphibians — a fifth of all the species mapped globally. 
Today, up to 1/3rd of remaining elephants, tigers and pandas can be found in these sites, as well as at least one in 10 great apes, giraffes, lions and rhinos. 
They are home to all remaining Javan rhinos, vaquitas (the world's smallest cetacean) and pink iguanas, as well as more than half of all Sumatran rhinos, Sumatran orangutans and mountain gorillas. 
Threats to these WHS: 

Agricultural expansion, 
Infrastructure development, 
Poaching, 
Overexploitation of resources and 
Proliferation of invasive species. 
Source: Down to Earth
Artifacts to grace G-20 corridor 
Tags: GS – 2 Groupings & Agreements Involving India and/or Affecting India's Interests 
Why in news?
Several objects of cultural significance will be displayed at the special Culture Corridor which will be set up at the venue of the G-20 summit in New Delhi. 
About: 
A copy of the Magna Carta, United Kingdom's famous charter of rights, a 15th century bronze statue of Belvedere Apollo from Italy, and an 18th century Fahua-lidded jar from China would be Some of the physical items on display.
India's contribution would be Panini's Ashtadhyayi, the ancient text.
Notable digital contributions include France's Mona Lisa, Germany's Gutenberg's Bible, and Mexico's statue of the deity 'Coatlicue'.
The Culture Corridor-G-20 Digital Museum has been conceptualised by the Ministry of Culture to represent and celebrate the shared heritage of G-20 members and invitee countries and will create a "museum in the making".
The Culture Corridor-G-20 Digital Museum will be unveiled at the G-20 Leaders' Summit venue, 'Bharat Mandapam,'.
This project is based on India's G20 theme Vasudhaiva Kutumbakam' and the Culture Working Group's (CWG) hallmark campaign 'Culture Unites All".
More Information:
Submissions were requested from G-20 countries and nine guest nations under five categories:  

Object of Cultural Significance (as a physical display); Iconic Cultural Masterpiece (as a digital display); Intangible Cultural Heritage (digital display); Natural Heritage (digital display); and Artefact Related to Democratic Practices (physical or digital display). 
Source: The Hindu
Gramodyog Vikas Yojana
Tags: GS – 2 Government Policies & Interventions 
Why in news?
Recently, The Chairman of the Khadi and Village Industries Commission (KVIC), recently, distributed toolkits and machinery to artisans in Bhubaneshwar, Odisha, as part of the Gramodyog Vikas Yojana. 
About:
During this event, Electric Wheels were distributed to 100 potters, Footwear Toolkits were provided to 75 Leather Artisans and Paper Massey Machines were given to 60 artisans.
Gramodyog Vikas Yojana (GVY)
Gramodyog Vikas Yojana was launched in March 2020. 
It is one of the two components of Khadi Gramodyog Vikas Yojana, which aims to promote and develop the village industries through common facilities, technological modernization, training etc. 
The other component of Khadi Gramodyog Vikas Yojana is the Khadi Vikas Yojana (KVY) which includes two new components such as Rozgar Yukt Gaon, Design House (DH). 
Included Activities: 

Agro Based & Food Processing Industry (ABFPI) 
Mineral-Based Industry (MBI) 
Wellness & Cosmetics Industry (WCI) 
Handmade Paper, Leather & Plastic Industry (HPLPI) 
Rural Engineering & New Technology Industry (RENTI) 
Service Industry 

Components  

Research & Development and Product Innovation 
Capacity Building 
Marketing & Publicity 
KVIC
It is a statutory body established under the Khadi and Village Industries Commission Act, of 1956. The KVIC is charged with the planning, promotion, organisation and implementation of programmes for the development of Khadi and other village industries in the rural areas in coordination with other agencies engaged in rural development wherever necessary. Nodal Ministry: Ministry of Micro, Small and Medium Enterprises
Source: PIB Gov.
Omission of disability-related questions from NFHS-6 
Tags: GS – 2 Health 
Why in news?
The decision to omit disability-related questions from the sixth round of the National Family Health Survey (NFHS-6) has raised concerns about the understanding and representation of disability issues in India. 
About:
Persons with disabilities make up around 2.21% of the country's population, which is approximately 2.68 crore people according to the 2011 Census.
Disability related questions included in the NFHS Survey:
The questions on disability were included for the first time in the NFHS-5 which was carried out during 2019-21.
Based on the NFHS-5 report, it was observed that disability prevalence was only 1% for rural areas and 0.9% for urban areas.
However, National Sample Survey Office (NSSO) estimates for the year 2018 showed 2.3% for rural areas and 2% for urban areas.
NFHS-6 decided to omit disability-related questions:
According to the Ministry of Health, the disability related questions are not included in NFHS-6 as the disability data will not change very fast and there is no reason to collect this data every time.
This decision has been criticized as the persons with disabilities make up around 2.21% of India's population, totaling about 2.68 crore people according to the 2011 Census.
The Census data does not fully represent the current disabled population due to population growth over the past decade and the limited categories of disabilities recognized in the Census.
Reasons for under representation of Persons with Disabilities:
Limited Understanding of Disability: Ministry of Statistics and Programme Implementation report on 'Persons with Disabilities (Divyangjan) in India — A Statistical Profile: 2021' refers to only eight categories of disabilities.  
It fails to acknowledge and account for the 21 categories of disabilities recognised in law after the enactment of the Rights of Persons with Disabilities Act, 2016 (RPWDA). 
Invisible disability not acknowledged: Niti Aayog's visionary blueprint, 'Strategy for New India @ 75', which delineates the government's goals for 2022-23, recognises the challenges posed due to a lack of detailed data in drafting policies for persons with disabilities.  
However, the document lacks measures for those with invisible disabilities such as mental health conditions. 
Issues because of under representation of Persons with Disabilities:
Lack of Accurate Data 
Invisibility of Invisible Disabilities 
Limited Policy Insights 
Exclusion from Development Goals 
Barriers to Accessing Services 
Underreporting of Disabilities 
Stigmatization and Discrimination 
Missed Opportunities 
Source: Indian Express
Largest indigenously developed Nitrogen plant
Tags: GS – 3 Biotechnology, Indigenization of Technology 
Why in news?
The third unit of the indigenously developed 700-megawatt electric (MWe) nuclear power reactor at the Kakrapar Atomic Power Project (KAPP3) in Gujarat, has started operations at full capacity. 
About:
The Kakrapar Atomic Power Project (KAPP3) is situated in the Kakrapar in Gujarat, India. 
The plant boasts a total installed capacity of 1,950 MWe, comprising three units, each with a capacity of 700 MWe. KAPP3 represents the third unit of this facility. 
The primary power source employed by the plant is Pressurized Heavy Water Reactors (PHWRs).  
These PHWRs utilize natural uranium as fuel and heavy water as both moderator and coolant. 
KAPP3 is anticipated to generate sufficient electricity to meet the annual power needs of approximately 4 million people. Furthermore, it is poised to contribute to reducing India's reliance on fossil fuels for power generation. 
To ensure safety, the plant is equipped with several key features, including a containment building, a reactor pressure vessel, and a cooling system.  
These features are meticulously designed to prevent the release of radioactive materials in the event of an unforeseen accident. 
The Nuclear Power Corporation of India Limited (NPCIL) is the entity responsible for operating the plant.  
NPCIL is a government-owned enterprise tasked with the development and operation of nuclear power plants throughout India. 
More Information:
This marks a significant achievement in India's civilian nuclear program, as it is the country's first 700 MWe unit and represents a scale-up in technology. 
The reactor uses Pressurized Heavy Water Reactor (PHWR) technology and is seen as a milestone in India's effort to expand its nuclear power capacity to 22,480 MWe by 2031. 
The reactor design also incorporates enhanced safety features, including a Passive Decay Heat Removal System. 
Source: Indian Express
Micronesia and COFA
Tags: GS – 1 Geography 
Why in news?
Recently, The United States signed agreements with Micronesia to extend economic assistance to the island state.  
About:
The U.S. is also signed a renewed COFA agreements with Palau and the Marshall Islands. 
Aim: The agreements were part of a strategic pact that the U.S. is using to counter China in the Pacific. 
Micronesia:
Micronesia is a region of islands in the western Pacific Ocean.
It is made up of thousands of islands, atolls, and reefs.
It is divided roughly along cultural and linguistic lines into the states of—from west to east—Yap, Chuuk, Pohnpei, and Kosrae.
The capital of Micronesia is Palikir, which is located on the island of Pohnpei.
To the west of the Federated States of Micronesia lies the Republic of Palau, also in the Caroline archipelago, and to the east is the Republic of the Marshall Islands.
The Compact of Free Association (COFA)  
The Compact of Free Association (COFA) is an international agreement between the U.S. and the three Pacific Island states (Micronesia, Palau, and Marshall Islands).
The COFA allows the U.S. to base troops in these countries in exchange for economic and migratory benefits.
The COFA also denies military access to these countries by any outside party without U.S. consent.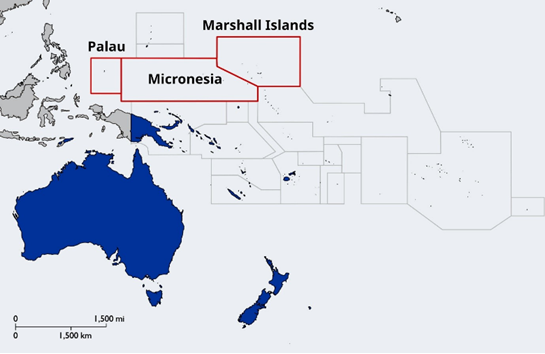 Source: Reuters
Kigali (Rwanda) 
Tags: GS – 1 Geography 
Why in news?
Recently, The International Solar Alliance (ISA) hosted its 5th regional meeting in Kigali, Rwanda. 
About:
Kigali, city and capital of Rwanda.
It is located in the centre of the country on the Ruganwa River.
Rwanda is a landlocked country in the Great Rift Valley of Central Africa, where the African Great Lakes region and Southeast Africa converge.
Located a few degrees south of the Equator, Rwanda is bordered by Uganda, Tanzania, Burundi, and the Democratic Republic of the Congo.
More About the News:
ISA grants have facilitated the implementation of nine solar power demonstration projects in Uganda, Comoros, and Mali. These projects included the solarization of rural healthcare centres and primary schools in these countries.
ISA also launched the SolarX Startup Challenge, promoting entrepreneurship and clean energy in Africa.
The Global Solar Facility aims to boost innovative solar technologies in Africa through private investment and guarantees.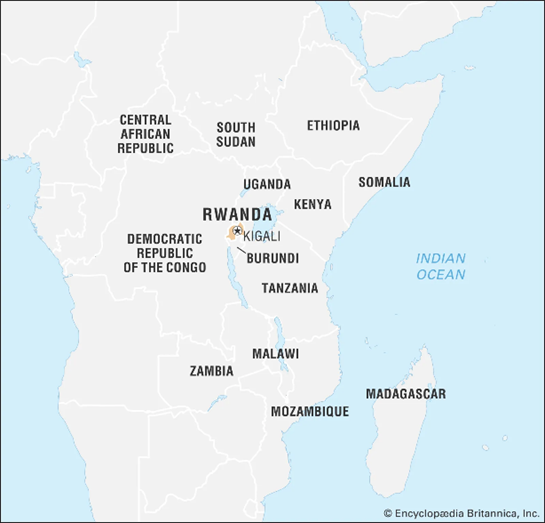 Source: PIB Gov.
Frequently Asked Questions (FAQs)
Q: What are daily current affairs?
A: Daily current affairs refer to the most recent and relevant events, developments, and news stories that are happening around the world on a day-to-day basis. These can encompass a wide range of topics, including politics, economics, science, technology, sports, and more.
Q: Why is it important to stay updated with daily current affairs?
A: Staying updated with daily current affairs is crucial because it helps individuals make informed decisions in their personal and professional lives. It enables people to understand the world around them, stay aware of significant events, and engage in informed discussions about important issues.
Q: Where can I access daily current affairs information?
A: There are various sources for daily current affairs, including newspapers, news websites, television news broadcasts, radio programs, and dedicated apps or newsletters. Social media platforms are also widely used to share and access current affairs information.
Q: How can I effectively incorporate daily current affairs into my routine?
A: To incorporate daily current affairs into your routine, consider setting aside specific times each day to read or watch news updates. You can also subscribe to newsletters or follow news apps to receive curated content. Engaging in discussions with peers or participating in online forums can further enhance your understanding of current events.
Q: What are some tips for critical analysis of daily current affairs?
A: When analyzing daily current affairs, it's essential to cross-reference information from multiple sources to ensure accuracy. Additionally, consider the source's credibility and bias, if any. Develop the ability to identify the main points and implications of news stories, and critically evaluate the significance and impact of the events reported.
In case you still have your doubts, contact us on 9811333901.
For UPSC Prelims Resources, Click here
For Daily Updates and Study Material:
Join our Telegram Channel – Edukemy for IAS
Visit our YouTube Channel – here