India-Saudi Arabia Relationships 
Tag: GS-2 Bilateral Groupings & Agreements; Effect of Policies & Politics of Countries on India's Interests 
In News:
The relationship between New Delhi and Riyadh has been improving steadily. During the recent visit of Crown Prince Mohammed bin Salman, India is engaging with Saudi Arabia on a multitude of issues.  
Background of India –Saudi relationship: 
The two countries established diplomatic relations in 1947, and since then there have been cordial and friendly relations reflecting their historical socio-cultural and economic ties. 
The visit of King Abdullah to India in January 2006 saw the signing of the Delhi Declaration, which laid the framework for upgrading ties to the level of "strategic partnership" in 2010 by the Riyadh Declaration.  
The visits of the Indian PM to Riyadh in 2016 and the conferment of Saudi's highest civilian honor to the Indian PM indicated the mutual importance of India and Saudi Arabia for each other.  
The 2019 visit of the Crown Prince brought an investment of approximately $100 billion in India. An agreement was also signed to pave the way for Saudi Arabia to join the International Solar Alliance (ISA) 
The Indian PM's visit to Riyadh again in October 2019 led to the signing of the Strategic Partnership Council (SPC) Agreement, which established a high-level council to steer the Indo-Saudi relationship.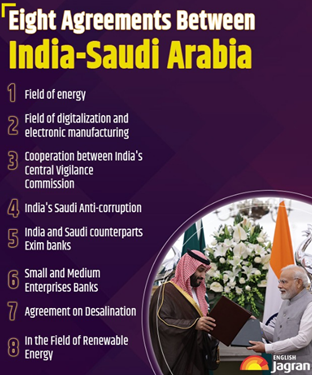 The Crown Prince visited New Delhi for the G20 Leaders' Summit, where he, along with the Indian PM and US President, announced the India-Middle East-Europe Economic Corridor.
The Crown Prince and Indian PM co-chaired the first meeting of the India-Saudi Arabia Strategic Partnership Council.
Eight agreements were signed between the two sides, which include upgrading their hydrocarbon energy partnership to a comprehensive energy partnership for renewable, petroleum, and strategic reserves, and creating a joint task force for $100 billion in Saudi investment.
Possibility of trading in local currencies, and expediting negotiations for a free trade agreement between India and the Gulf Cooperation Council was also discussed.
Pillars of the India- Saudi Arabia relationship: 
Economic Ties
Trade Ties: India is Saudi Arabia's second-largest trade partner; Saudi Arabia is India's fourth-largest trade partner. Trade with Saudi Arabia accounted for 4.53% of India's total trade in FY23 and bilateral trade was valued at $52.76 billion. 
Indian Companies in Saudi: Around 2,800 Indian companies are registered as joint ventures/ 100% owned entities with investments worth $2 billion in Saudi. Indian companies such as L&T, Tata, Wipro, TCS, Shapoorji Pallonji etc. have strong presence in Saudi. 
Investment in India: Saudi's direct investments in India amounted to $3.15 billion (March 2022) with major investors being Aramco, SABIC, Zamil, e-holidays, Al Batterjee Group. 
Saudi Arabia's Public Investment Fund (PIF) has invested in several Indian startups such as Delhivery, FirstCry, Grofers, Ola, OYO, Paytm, and PolicyBazaar through SoftBank Vision Fund. 
Proposed Investments: A major proposed investment is the $44 billion West Coast Refinery & Petrochemicals Project in Maharashtra is being jointly built by Saudi Aramco, Abu Dhabi National Oil Company, and an Indian consortium (IOCL, HPCL, BPCL). 
Energy Cooperation
Crude and Petroleum imports: Saudi Arabia was the third largest crude and petroleum products source for India in FY23. India sourced 16.7% of India's total crude imports in FY23 from Saudi.
India's LPG imports from Saudi Arabia stood at 11.2% of its total petroleum product imports, in FY 23.
Defence Partnership
Defence Exercises: There is extensive naval cooperation between India and Saudi Arabia. There have already been 2 editions of the bilateral naval exercise, Al Mohed al Hindi.
Defence Cooperation: There is an increasing defence cooperation, and both sides have agreed to continue working together to consider possibilities of joint development and production of defence equipment.
Diaspora in Saudi
Diaspora as a Living bridge: The Indian community in Saudi is more than 2.4 million strong, widely respected for its contribution to the development of Saudi Arabia. 
Support to Indian diaspora: Supporting the evacuation of Indian nationals stranded in Sudan through Jeddah under Operation Kaveri, and facilitating Indian Hajj & Umrah pilgrims. 
Source: The importance of Saudi Arabia to India | Explained News – The Indian Express
2023 World Trade Report: Re-globalization 
Tags: GS – 3: Indian Economy (Globalization)
In News:
Recently, the World Trade Organization (WTO) published its World Trade Report 2023 which emphasizes the role of International Trade in building a more secure, inclusive, and sustainable world. 
Key Highlights of the Report: 
The report promotes "re-globalization," which would include extending trade integration to additional economies, individuals, and problems. 
It places a focus on political objectives outside trade efficiency, such as world peace, security, alleviating poverty, and sustainability. 
The paper discusses the change in the globalization narrative. 
The COVID-19 pandemic highlighted the importance of resilient supply chains. 
Global trade trends have been influenced by geopolitical tensions such as the crisis in Ukraine, and the emergence of China. 
Geopolitical boundaries are progressively being followed in trade. Trade flows are increasing more quickly inside fictitious geopolitical "blocs" than they are between them, pointing to a move towards friend-shoring. 
Despite challenges, bilateral trade between China and the United States reached record highs. 
During the COVID-19 pandemic, international supply networks were crucial in addressing supply shortages. 
Millions of people have been rescued from poverty via trade integration. Trade may promote sustainability by making green technology more accessible. 
Re-Globalization: 
Re-globalization is a theory that promotes increasing and bolstering global economic and trade interconnectedness with an emphasis on making it more equitable, secure, and sustainable. 
It emphasises the requirement for more international collaboration and trade integration in order to handle today's global concerns, such as geopolitical conflicts, economic inequality, and climate change. 
Benefits: 

It may spur economic growth and lower the rate of poverty, as was the case in India from 1994 to 2005. 
It can help reduce poverty by enhancing economic possibilities and income distribution, as seen by the roughly 1.5-point drop in the headcount poverty rate. 
International cooperation on environmental issues can be facilitated by re-globalization. 
As seen in India between 1990 and 2010, resource reallocation from inefficient to efficient enterprises can result in a substantial reduction in emission intensity. 
Role of WTO in encouraging Re-Globalization: 

By enforcing trade regulations and agreements among member nations, WTO can support multilateral trading laws. 
Addressing Global Challenges by Promoting Policies to Reduce Poverty and Inequality Through Trade and Facilitating Discussions on Trade's Role in Peace and Security. 
Increasing Economic Security by Stressing the Value of Crisis-Resilient Supply Chains. 
Implementing agreements like the Fisheries Subsidies Agreement and the Trade Facilitation Agreement will facilitate trade. Reducing trade costs for middle and low-income nations is the key to addressing trade cost disparities. 
Libya Flood Reason for High Death Toll 
Tags: GS – 3: Disaster Management (Flash Flood) 
In News:
Recently, over 5,000 individuals have died and thousands are missing after a disastrous flood in Derna, eastern Libya, caused by broken dams and flash floods brought on by the Mediterranean storm Daniel. 
Mediterranean storm: 
A Mediterranean storm or Mediterranean cyclone is a weather condition formed over the Mediterranean Sea.
Although the strength and effects of Mediterranean storms can vary, they frequently produce large amounts of precipitation, which can cause flooding, landslides, and other weather-related dangers.
Derna City of Libya: 
Derna is a port city in eastern Libya with a population of around 85,000 to 90,000. 
Libya is a country in the Maghreb region of North Africa. 
The Mediterranean Sea forms its northern boundary, and Algeria, Egypt, Sudan, Chad, and Tunisia make up its western, eastern, southern, and southernmost borders, respectively. 
Flash Flood: 
Excessive or continuous rainfall over a period of days or during particular seasons, can lead to stagnation of water and cause flooding.
Flash floods occur in a much shorter span of time (say, when rainfall creates flooding in less than 6 hours) and are highly localized.
Flash floods can also be caused by factors apart from rainfall, like when a dam overflows.
Reasons for Flood in Libya: 
Despite being a port city there was a lack of a functioning weather agency and early warning system.
Lack of maintenance of dam which caused the failure of the dam.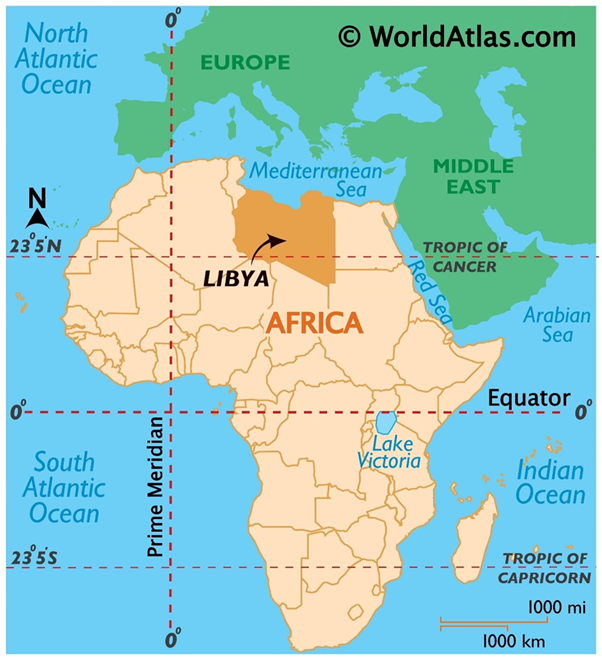 Business Responsibility and Sustainability Reporting (BRSR) 
Tag: GS-2 Governance 
In News:
IICA and UNICEF jointly organize a workshop on Business Responsibility and Sustainability Reporting (BRSR) 
About 
In 2021, SEBI (Securities and Exchange Board of India) introduced the Business Responsibility and Sustainability Reporting framework.  
This framework requires the top 1000 publicly listed companies in India to disclose their performance across a range of environmental, social, and governance (ESG) dimensions.  
It draws its foundation from the nine principles outlined in the National Guidelines for Responsible Business Conduct (NGRBC). 
What is Environmental, Social, and Governance (ESG)? 
Environmental, Social, and Governance (ESG) goals are standards for ethical, sustainable business practices.  
They cover environmental stewardship, social responsibility towards employees and communities, and effective corporate governance, including leadership and shareholder rights. 
Salem sago 
Tag: GS-1 Geography 
In News:
The Salem Starch and Sago Manufacturers Service Industrial Cooperative Society Ltd (popularly called SAGOSERVE) received a Geographical indication tag or GI tag for Salem sago. 
About 
Sago, derived from raw tapiocas, is in the form of small hard globules or pearls and is pearl white in color. 
Tapioca is a major horticulture crop cultivated on nearly 3 lakh hectares in Tamil Nadu, producing 60 lakh tonnes of the crop. 
Sago is manufactured from the wet starch powder crushed from tapioca roots. 
The wet starch powder is used for producing sago and the dry powder has been used as a raw material for industrial purposes. 
Sago was produced first in Salem district, which is the main center for sago production in the country, on a cottage scale basis.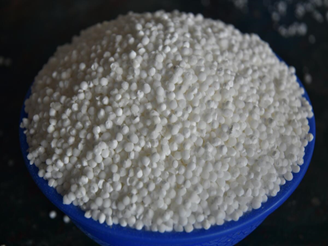 Eastern Maritime Corridor (EMC) 
Tag: GS-3 Economy Infrastructure 
In News:
Recently, the Ministry of Ports extended an invitation for an Indo-Russian Workshop on Eastern Maritime Corridor in Chennai 
About 
The Eastern Maritime Corridor (EMC) is a proposed sea route that would connect the Indian port of Chennai with the Russian port of Vladivostok.  
This corridor is expected to reduce the transportation time between Indian and Russian ports in the Far East Region by as much as 40 percent, bringing it down from the current 40 days to 24 days. 
Currently, the trade route between Mumbai, India, and St. Petersburg, Russia, covers a distance of 8,675 nautical miles.  
EMC is projected to cover a distance of approximately 5,600 nautical miles, which is significantly shorter than the existing route via the Suez Canal.  
Once completed, the EMC is expected to facilitate the transportation of goods from India to Far East Russia in just 24 days, which is a significant improvement over the current journey duration of over 40 days. 
For India, the EMC holds the potential to offer a more efficient and shorter route to access the markets of the Far East, including countries like China and Japan. This improved connectivity can have positive implications for trade and economic relations in the region.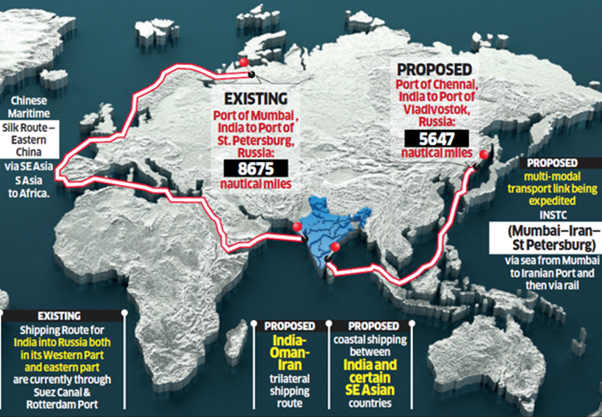 Harami Nala (Sir Creek, Gujarat) 
Tag: GS-3 Security 
In News:
The Union Home Minister's visit to Harami Nala on the India-Pakistan border last month highlights the enhanced security measures in place. 
About 
Harami Nala is a 22-kilometer tidal channel that serves as a natural demarcation line between India and Pakistan.  
This channel plays a vital role in carrying water and sediment, and it is home to protected marine species. 
The area around Harami Nala consists of extensive marshy mudflats, where temperatures can soar to over 50°C during the summer. 
Sir Creek, originally known as Ban Ganga, is a 96-kilometer tidal estuary situated in the uninhabited marshlands of the Indus River Delta. 
It lies on the border between India and Pakistan, ultimately flowing into the Arabian Sea. This creek serves as a geographical divider, separating India's Gujarat state from Pakistan's Sindh province.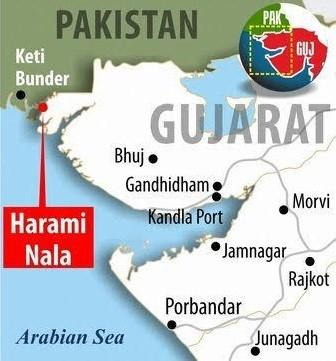 Green path to G20 development goals 
Tag: GS Paper – 3: Environmental Pollution & Degradation; Disaster Management; Food Security. 
Exam View: The Leaders' Declaration; Green Development Pact; Foundations of the Pact; The four-part relay.
Context:
The new GDP, Green Development Pact, can serve as a bridge between the Global South and the North.  
Decoding the editorial: The Leaders' Declaration 
In the G20 Leaders' Summit, the adoption of the Leaders' Declaration on the first day. 
It is a sign that India could bridge divisions and deliver a cooperative and collaborative outcome, rather than a combative stalemate, at a time when multilateralism seemed particularly fractured. 
The 83-paragraph Declaration, with consensus among all member countries, underscores peace, prosperity, people and the planet, and bringing it all together is an important pact. 
Green Development Pact 
The G20 comprises the world's largest economies accounting for over 80% of global gross domestic product (GDP).  
Through the Leaders' Declaration, however, New Delhi has given "GDP" a new meaning, a Green Development Pact. 
This does not choose between development and environment but seeks to align people-centric growth with planetary sustainability. 
Foundations of the Pact 
It focuses on resource efficiency and sustainable consumption.  

The G20 unanimously adopted the High Level Principles on Lifestyles for Sustainable Development.  
It's a push for sustainable lifestyles to lower our resource footprints and it sends out the signal to create circular economies at scale, from metals and minerals to plastics and packaging.  

The emphasis on an inclusive energy transition.  

This is crucial for bringing the energy transition closer to people.  
The pact endorses a target to triple renewable energy capacity and notes the voluntary action plan to double the rate of improvement in energy efficiency by 2030.  
It announces a Global Biofuels Alliance.  
It seeks transparent and resilient global markets for hydrogen.  
And it calls for diversified and responsible supply chains for critical minerals and semiconductors. 

It focuses on climate and sustainable finance.  

The Leaders' Declaration finally endorses the need for trillions of dollars for the billions of people living in the Global South, in particular $5.9 trillion needed by developing countries to achieve their climate targets by 2030, as well as $4 trillion needed per year for clean energy.  
Recognising the importance of leveraging the role of multilateral development banks, the pact calls for blended finance and risk-sharing facilities.  

It links the triple planetary crises by drawing attention not only to the climate crisis but also reducing plastic pollution and preserving biodiversity.  

These include the G20 Global Land Initiative to reduce land degradation, the HighLevel Principles for a Sustainable and Resilient Blue/Ocean-based Economy, and sharing of best global practices on water.  

It focuses on building disaster-resilient infrastructure.  

India introduced a Disaster Risk Reduction Working Group into the G20.  
It will be incumbent on member countries, all of whom have faced weather extremes, to ensure robust early warning systems and include people as stakeholders in and enablers of resilient infrastructure. 
The four-part relay 
While there is a language to phase down unabated coal power, efforts to get an agreement on a phase-down of all fossil fuels could not get consensus.  
If these seeming contradictions have to be squared, the G20 Leaders' Summit must be viewed as the first leg of a four-part relay.  

India has kicked off this race with a comprehensive Leaders' Declaration, which includes the Green Development Pact.  
The next leg is the UN General Assembly and the UN SDG Summit next week, when non-G20 leaders can propose their visions for doubling down on the energy transition and climate sustainability.  
Next, the baton will pass to the World Bank annual meetings in Marrakech in October.  

G20 leaders have called for the reform of the MDBs.  
Close to $200 billion of additional lending could be possible with the proposed reforms. 

The anchor of the race will be the COP28 climate meetings in Dubai in November-December.  
There is a need for effective multilateralism and hard resources to show solidarity with the vulnerable and commit to the planet.
Source:https://epaper.hindustantimes.com/Home/ShareArticle?OrgId=1597b5de6bd&imageview=0 
In case you still have your doubts, contact us on 9811333901. 
For UPSC Prelims Resources, Click here
For Daily Updates and Study Material:
Join our Telegram Channel – Edukemy for IAS
Visit our YouTube Channel – here