In today's daily current affairs briefing for UPSC aspirants, we explore the latest developments that hold relevance for the upcoming civil services examination. Our focus today includes a critical analysis of recent policy changes, international affairs, and national developments, all of which play a pivotal role in shaping the socio-political and economic landscape of India. Stay informed and stay ahead in your UPSC preparations with our daily current affairs updates, as we provide you with concise, well-researched insights to help you connect the dots between contemporary events and the broader canvas of the civil services syllabus. 
CAG Report on National Social Assistance Programme
Tag: GS-2 Polity and Governance 
In News:
According to the CAG report (2017-2021) government diverted funds from the National Social Assistance Programme for publicity of other schemes. 
About
NSAP was introduced as a centrally sponsored scheme on August 15, 1995. The NSAP is an important step in achieving the Directive Principles outlined in Articles 41 and 42 of the Indian Constitution.
NSAP aims to offer assistance to elderly people, widows, disabled people, and bereaved families from below-poverty-line households who have lost their primary earner.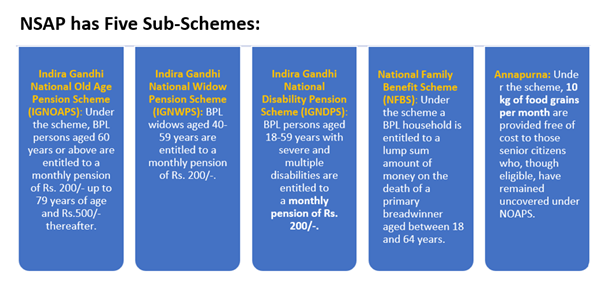 Implementation:
The Ministry of Rural Development works with the state/UT governments to implement NSAP. To transfer money to beneficiaries' bank accounts or postal accounts, NSAP uses the Direct Benefit Transfer (DBT) mode.
Impact of NSAP
The NSAP has aided in lowering poverty, raising living standards, and boosting the recipients' sense of dignity and empowerment.  
The Sustainable Development Goals (SDGs) pertaining to poverty eradication, social protection, and inclusion have all been advanced thanks in part to NSAP.  
Between 2017 and 2021 approximately 4.65 crore beneficiaries relied on old age, widow, disability, and family benefits each year. 
Key Findings from the Report
Misuse of Pension Funds for Publicity:
The Ministry of Rural Development (MoRD) redirected funds designated for the National Social Assistance Programme (NSAP) – aimed at providing pensions – to finance publicity campaigns for different ministry initiatives.
Allocated funds for NSAP were meant for pension disbursement and administrative costs, including 3% for administration.
Instances of fund diversion were identified both at the ministry level and within state/union territory administrations.
In 2017, MoRD initiated a publicity campaign using billboards to promote various ministry programs.
Approximately Rs 39.15 lakh was sanctioned for billboards, and around Rs 2.44 crore was approved for campaigns in multiple states.
The campaign funds were originally intended to be sourced from the National Rural Employment Guarantee Scheme but were instead drawn from NSAP resources.
Discrepancies in Advertisements:
The Comptroller and Auditor General (CAG) discovered that advertisement work orders excluded NSAP schemes from mention but emphasized schemes like Pradhan Mantri Awaas Yojana – Gramin (PMAY-G) and Deen Dayal Upadhyaya Grameen Kaushalya Yojana (DDU-GKY).
States Involved in Fund Diversion:
Six states – Rajasthan, Chhattisgarh, Jammu & Kashmir, Odisha, Goa, and Bihar – were identified as diverting funds that were originally intended for pension schemes.
Impact on Implications and Beneficiaries:
Planned Information, Education, and Communication (IEC) endeavors under NSAP suffered due to the diversion of funds.
Funds totaling Rs 2.83 crore, initially allocated for NSAP IEC activities, were repurposed to promote other initiatives of the ministry.
Source: Indian Express
Centre's Bill on Election Commission Appointments
Tags: GS – 2: Indian Polity (Constitutional Bodies, Election) 
Why in News:
Recently, the Government has introduced a bill in the Rajya Sabha which aims to change the process of appointing the Chief Election Commissioner (CEC) and Election Commissioners (ECs). 
Current Provisions for appointment of CEC and ECs:
The Supreme Court (SC) in March 2023 ruled that CEC and ECs will be appointed by the President of India on the advice of a Committee consisting of the Prime Minister, and Leader of Opposition in the Lok Sabha, and the Chief Justice of India until a law is enacted by Parliament on their appointments.
Currently, there is no specific legislative process defined in the Constitution for the appointment of the CEC and ECs.
Article 324 of the Constitution vests the "superintendence, direction, and control of elections" in an Election Commission consisting of the CEC and other ECs as determined by the President from time to time.
Before the Supreme Court ruling of March 2023, the CEC and ECs were appointed by the President on the recommendation of the government.
Key features of the Bill:
The Selection Committee will consist of the Prime Minister as Chairperson, the Leader of the Opposition in Lok Sabha as member and a Union Cabinet Minister nominated by the Prime Minister as member.
If the Leader of Opposition in Lok Sabha has not been recognised, the leader of the single largest opposition party in Lok Sabha will assume the role.
The Bill proposes the establishment of a Search Committee to prepare a panel of five persons for consideration for the positions of CEC and ECs.
The Search Committee will be headed by the Cabinet Secretary and will also include two members not below the rank of Secretary who have knowledge and experience in matters related to elections.
The proposed Bill repeals the Election Commission (Conditions of Service of Election Commissioners and Transaction of Business) Act, 1991.
The 1991 Act provides that the salary of the ECs will be equal to that of a Supreme Court judge. The Bill provides that salary, allowance, and service conditions of the CEC and other ECs will be the same as that of the Cabinet Secretary.
Issues with the Bill:
The Bill potentially gives the Executive dominance in appointments, undermining the independence of the Election Commission. 
The Bill reduces judicial representation in the committee by replacing the Chief Justice of India with a nominated Cabinet Minister and might affect impartiality. 
The Bill allows the Selection Committee to choose anyone from outside the shortlisted candidates, undermining the purpose of the shortlisting process. 
The rank of Election Commissioner is being reduced in the warrant of precedence. This could impact their stature. 
Source: Indian Express
Fertilizer Availability and Local Production
Tags: GS – 1: Indian Geography (Agriculture) 

GS – 3: Indian Economy (Agriculture) 
Why in News:
Recently, the Standing Committee on Chemicals and Fertilizers has presented its reports highlighting concerns about fertilizer availability, subsidies, and GST rates on fertilizer components. 
Fertilizers used in India:
A fertiliser is a natural or artificial substance containing chemical elements (such as Nitrogen (N), Phosphorus (P) and Potassium (K)) that improve the growth and productiveness of plants.
There are 3 basic fertilisers in India – Urea, DAP and Muriate of Potash (MOP).
In India, urea is the most produced, imported, consumed and physically regulated fertiliser of all. It is subsidised only for agricultural uses.
The price of non-urea fertilisers is fixed by the companies. All Non-Urea based fertilisers (such as DAP and MOP) are regulated under the Nutrient Based Subsidy (NBS) Scheme.
Concerns raised by the Committee:
India heavily depends on imported fertilizers like urea, DAP, MOP, NPK, etc. (30% of urea, 100% muriate of potash, 60% Diammonium phosphate imported)
Irregularities in fertilizers sale such as diversion, black marketing, hoarding, sub-standard quality etc.
Current NBS policy excludes urea from subsidies. This creates price control for urea, unlike other fertilizers.
GST rate for fertilizers: 5%; GST rate for raw materials (sulphuric acid, ammonia): 18%; This highlights the inconsistency in GST rates between fertilizers and their raw materials.
Recommendations from the Committee: 
Increase local fertilizers production (especially urea) by facilitating investments for public, cooperative and private fertilizers manufacturers. 
Creating a separate tariff code for urea used for non-agricultural purposes. Develop a central monitoring mechanism to conduct random checks. 
Review NBS policy to remove disincentives for using other fertilizers and promote balanced use. 
Lower GST on raw materials to support fertilizer manufacturing and farmers. 
Implement purchase policy reforms. Advocated for long-term import contracts for fertilizers and raw materials. 
Source: The Hindu
National Policy on Official Statistics
Tag: GS-3 Growth and development, Planning
In News:
The Ministry of Statistics and Programme Implementation (MoSPI) unveiled the revised draft national policy on official statistics, which focused on creating an overarching framework for the creation and release of statistics in the country using big data analytics, artificial intelligence and machine learning. 
About the draft National Policy on Official Statistics (NPOS): 
The revised NPOS is introduced five years after the government released its draft policy based on suggestions from the National Statistical Commission and United Nations Fundamental Principles of Official Statistics. 
This policy will provide an overarching framework for providing reliable, timely and credible social and economic statistics to assist decision-making within and outside the Government. 
The Indian Official Statistical system is required to reorient their strategies with the emerging technologies including AI/ ML dovetailed with commensurate instruments of data collection, compilation processing, storage, integration, analysis and dissemination. 
Besides its focus on technology, the new policy envisages the creation of an integrated data system, optimisation of administrative statistics, innovation in surveys to reduce the burden on respondents and continuous augmentation quality of official statistics. 
National Statistical Commission (NSC) and central ministries have prepared a list of core statistics in eight domains: "National Income, Production & Services sectors, Budgetary Transactions, Money and Banking, Capital Market, Indices and other short-term indicators, External Sector, and Demography, Social and Environment Sectors. 
Different Plans suggested by NPOS:
Short Term Plan: Guidelines for designation of statistical advisers and finalisation of core statistics are its short-term plan to be completed within 1-2 years.
Medium Term Plans: Integrated data systems, the creation of the National Data Sheet for a uniform format of data on a system, and the innovation of surveys are medium-term projects.
Long term Plans: Coordination with sub-national governments and training form part of the long-term plan.
Source: Economics Times
CAG Report on Railway Finance
Tag: GS-3 Infrastructure- Railways 
In News:
According to a new Comptroller Auditor General (CAG) report, the Indian Railways' finances have slipped into a "concern zone", with the railways spending ₹107 to earn ₹100 during 2021-22. 
About the CAG Report Findings:
The report said that the Operating Ratio (OR) of the Railways was 107.39% in 2021-22 as against 97.45% in 2020-21.  
Operating Ratio is a measure to calculate the ratio of working expenses to earnings. Higher ratio indicates lower ability to generate a surplus. 
Indian Railways could not generate a net surplus during 2021-22 as it had done in 2020-21. 
The report also found that the total expenditure (revenue and capital heads) of the ministry of railways was ₹3,96,658.66 crore (35.19% more than the previous year), which was comprised of ₹1,90,267.07 crore (22.61% more than the previous year) of capital and 2,06,391.59 crore (49.31% more than the previous year) of revenue expenditure. 
The railways incurred around 75.47% of the total working expenses on staff costs, pension payments and lease hire charges on rolling stock. 
The report found that the Railways was not able to follow the guidelines for digital payment/limited cash transactions and made cash transactions of Rs 2,395.52 crore from 2017-18 to 2021-22. 
Reasons for lower surplus generation:
Inadequate generation of internal resources resulted in greater dependence on Gross Budgetary Support (GBS) and Extra Budgetary Resources (EBR). 
Cross subsidising of passenger fares through profits generated on freight operations. This cross-subsidisation continues to be a concern, as railways has not been able to raise fares in the sleeper class.
Higher appropriation to pension funds in the FY 2021-2022 led to decline in profits,
The overall loss decreased over the previous year but the entire profit of ₹36,196 crore from freight traffic was utilised to cross-subsidise and compensate the loss on operation of passenger and other coach services.
Source: Hindustan Times
Zayed Talwar
Tags: GS – 3 Security 
Why in news?
Two ships of the Indian Navy, INS Visakhapatnam, and INS Trikand have arrived in Dubai to conduct the bilateral exercise 'Zayed Talwar' with the UAE Navy.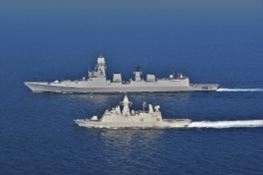 About: 
Zayed Talwar is a Bilateral Exercise between India and UAE Navy.
The aim of the exercise is to enhance interoperability and synergy between the two navies.
The ships will undertake professional interactions with the UAE Naval Force on multiple elements of maritime operations during their visit.
The visit seeks to strengthen the maritime partnership, share best practices, and foster a common understanding of security challenges in the region.
INS Visakhapatnam:
It is the lead ship and the first of the Indian Navy's Visakhapatnam-class stealth guided-missile destroyers. 
It was commissioned on November 21, 2021, is one of the largest destroyers in Indian Navy service. 
Features: 

Displacement: 7,400 tonnes. 

Propulsion: It is propelled by four powerful Gas Turbines, in a Combined Gas and Gas (COGAG) configuration. 
Speed: It is capable of achieving speeds in excess of 30 knots. 
The ship is equipped to fight under Nuclear, Biological and Chemical (NBC) warfare conditions. 
Other exercises between India and UAE:
Exercise Desert Flag (Air Force) In-UAE BILAT (bilateral naval exercise) Desert Eagle (bilateral air force exercise)
Source: Hindustan Times
Indonesia's Aceh Province 
Tags: GS – 1 Geography, GS – 2 International Relation 
Why in news?
Recently, Authorities in Indonesia's Aceh province have issued an order requiring men and women not immediately related or married to stay apart in vehicles and public spaces. 
About: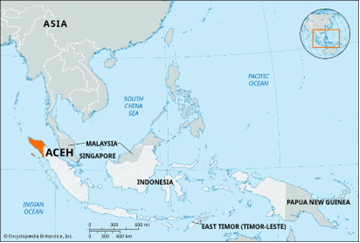 This move aims to enforce stricter adherence to Islamic law in the ultra-conservative province of Aceh. 
Aceh Province
Aceh is a province in Indonesia located on the northwestern tip of Sumatra Island.  
Aceh is surrounded by water on three sides: the Indian Ocean to the west and north and the Strait of Malacca to the east. 
Its boundary with the province of North Sumatra (Sumatera Utara) to the southeast extends north-south from Salahaji, on the northeastern coast just north of Aru Bay, to a point on the southwestern coast about midway between Singkil and Barus.  
The capital is Banda Aceh. 
Source: The Hindu
Hawaii, USA
Tags: GS – 1 Geography, GS – 3 Climate Change 
Why in news?
Recently, A devastating wildfire swept through Maui, Hawaii, leading to destruction, fatalities, and evacuations. 
About: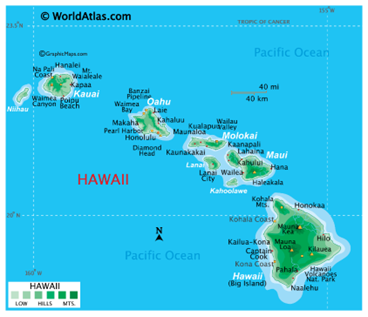 The Hawaiian Islands are an archipelago of eight major volcanic islands, several atolls, and numerous smaller islets in the North Pacific Ocean. 
The eight major islands at the eastern end of the chain are, from west to east, Niihau, Kauai, Oahu, Molokai, Lanai, Kahoolawe, Maui, and Hawaii. 
The capital is Honolulu, located on the island of Oahu. 
Formation:  
The Hawaiian Islands were formed by a hot spot occurring in the middle of the Pacific Plate. While the hot spot itself is fixed, the plate is moving. So, as the plate moved over the hot spot, the string of islands that make up the Hawaiian Island chain was formed. 
Maui is an island in the Central Pacific, part of the Hawaiian archipelago.  
Source: The Hindu
RBI launches new features for UPI
Tags: GS – 3 Economy 
Why in news?
Recently, The Reserve Bank of India (RBI) announced a clutch of measures aimed at deepening the scope of digital payments. 
About: 
A unified payment system (UPI) powers multiple bank accounts into a single mobile application, merging several banking features like Instant transfer of funds, bill-sharing facility, etc.
It has been developed by: National Payments Corporation of India.
New features for UPI:
Conversational Payments with AI: The RBI is launching "conversational payments" (audio interaction with AI bots) on UPI, enabling users to interact with an AI-powered system to initiate and complete transactions safely. 
This innovative mode aims to enhance ease of use and expand UPI's reach. 
Transaction Limit Increase for Small-Value Payments: The transaction limit for small-value offline digital payments will be increased to ₹500. 
Offline Transactions with Near Field Communication (NFC): The RBI proposes enabling offline transactions using NFC technology.  
This approach supports digital payments in scenarios with weak or no internet connectivity, enhancing speed and accessibility. 
Expansion of UPI-Lite: The UPI-Lite wallet introduced by RBI, aimed at optimizing processing resources for banks, now processes over 10 million transactions a month, enhancing transaction reliability. 
UPI-Lite is an on-device wallet service that enables low-value transactions without utilizing a Remitter bank's core banking systems in real-time. 
Digital Public Tech Platform: The Reserve Bank Innovation Hub is developing a digital platform for frictionless credit delivery with open architecture and APIs, allowing seamless connectivity for all financial sector players. 
Source: Livemint
Deflation
Tags: GS – 3 Economy 
Why in news?
Recently, China has officially slipped into deflation for the first time in two years as the country struggles with post-pandemic recovery.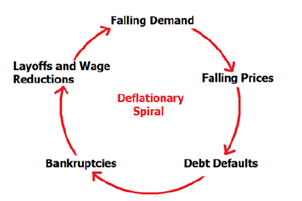 About: 
Deflation is the economic term used to describe the drop in prices for goods and services.
It normally takes place during times of economic uncertainty when the demand for goods and services is lower, along with higher levels of unemployment.
Deflation slows down economic growth by causing businesses to cut jobs, freeze hiring, and offer discounts to maintain sales.
It is the opposite of inflation, where prices tend to rise over time.
Reasons for deflation in China:
China's post-COVID-recovery momentum has faltered as domestic demand weakens. 
Government intervention in IT, Real state industries 
Geopolitical tensions leading to the trade war with the USA. 
Crackdown on polluting industries 
Rising wages in China 
Consumer Price Index (CPI) Dropped in China 
Product Price Index (PPI) Decline: The product price index, a measure of wholesale prices, continued its downward trajectory. 
Source: DW
Katchatheevu Island (Tamil Nadu)
Tags: GS – 1 Geography 
Why in news?
Recently, Prime Minister Narendra Modi, in his speech in the Parliament mentioned the island of Katchatheevu.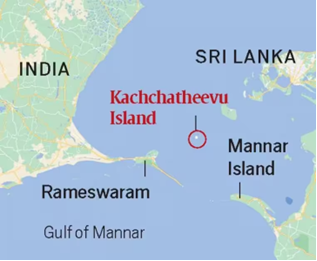 About: 
Katchatheevu Island is a tiny uninhabited landmass located in the Palk Strait between India and Sri Lanka.  
It is between Tamil Nadu and Sri Lanka. 
Formation: It was formed due to volcanic eruptions in the 14th century. 
Katchatheevu is not suited for permanent settlement as there is no source of drinking water on the island. 
History: 
In the early medieval period, it was controlled by the Jaffna kingdom of Sri Lanka. 
In the 17th century, control passed to the Ramnad zamindari based out of Ramanathapuram. 
It became part of the Madras Presidency during the British Raj. But in 1921, both India and Sri Lanka, at the time British colonies, claimed Katchatheevu in order to determine fishing boundaries. 
In 1974, Indira Gandhi made attempts to settle the maritime border. 
As a part of this settlement, known as the 'Indo-Sri Lankan Maritime agreement', Indira Gandhi 'ceded' Katchatheevu to Sri Lanka. 
Today, the uninhabited island is administered by Sri Lanka. 
Source: Indian Express
FAQs
Q: What are daily current affairs?
A: Daily current affairs refer to the most recent and relevant events, developments, and news stories that are happening around the world on a day-to-day basis. These can encompass a wide range of topics, including politics, economics, science, technology, sports, and more.
Q: Why is it important to stay updated with daily current affairs?
A: Staying updated with daily current affairs is crucial because it helps individuals make informed decisions in their personal and professional lives. It enables people to understand the world around them, stay aware of significant events, and engage in informed discussions about important issues.
Q: Where can I access daily current affairs information?
A: There are various sources for daily current affairs, including newspapers, news websites, television news broadcasts, radio programs, and dedicated apps or newsletters. Social media platforms are also widely used to share and access current affairs information.
Q: How can I effectively incorporate daily current affairs into my routine?
A: To incorporate daily current affairs into your routine, consider setting aside specific times each day to read or watch news updates. You can also subscribe to newsletters or follow news apps to receive curated content. Engaging in discussions with peers or participating in online forums can further enhance your understanding of current events.
Q: What are some tips for critical analysis of daily current affairs?
A: When analyzing daily current affairs, it's essential to cross-reference information from multiple sources to ensure accuracy. Additionally, consider the source's credibility and bias, if any. Develop the ability to identify the main points and implications of news stories, and critically evaluate the significance and impact of the events reported.
In case you still have your doubts, contact us on 9811333901.
For UPSC Prelims Resources, Click here
For Daily Updates and Study Material:
Join our Telegram Channel – Edukemy for IAS
Visit our YouTube Channel – here