Welcome to our monthly current affairs update for August 2023. In this ever-changing world, staying informed about the latest events, trends, and developments is crucial. This month, we'll take you on a journey through the most significant and noteworthy happenings across the globe. From politics to technology, from culture to the environment, we'll cover it all. Join us as we explore the stories shaping our world and the issues that demand our attention. Our goal is to provide you with a concise and insightful overview of the events that are shaping our times, enabling you to engage in informed conversations and make well-informed decisions. So, without further ado, let's dive into the whirlwind of current affairs for this month.
Nikah Halala 
In News:
Muslim Law Board's stand sought on nikah halala. 
About 
"Nikah" and "Halala" both are Arabic terms where "Nikah" means Marriage and "Halala" means to make something halal or permissible.
As per Muslim Law, a man cannot remarry his wife after he divorces her, unless the wife is married to another man and gets divorced from that man (second husband) or after the death of the second husband.
The process of making the woman permissible for her first husband by giving her marriage to a third person with a pre-condition is known as Nikah Halala also known as Tahleel marriage.
In this process, the third person consummates the marriage with the object to make the woman permissible for her first husband.
There is no sanction in the Holy Quran for such marriages.
Casteism in Indian Society
Tag: GS-1 Indian Society 
In News:
The task of decolonizing the Indian mind-set needs to be complemented with the task of de-casting the society. And the first step in this direction would be acknowledging the existence of caste in Indian society. 
About Casteism in India:
Casteism can be defined as a practice of systemic marginalisation, discrimination, unequal access to opportunities and hierarchical division of society on the basis of birth.
The caste system is a social hierarchy in India originally based on a person's occupation and birth. It divides society into different groups called castes, which are further subdivided into sub castes.
Decasting is a process which refers to the dismantling and eliminating of the entrenched caste-based discrimination, inequalities, and social hierarchies present in society. It involves challenging and overcoming the practices, biases, and prejudices associated with the caste system.
Steps taken to eliminate the practice of caste based discrimination:
Constitutional protection: Prohibition of untouchability as enshrined in Article 17 and ensuring equality of opportunity and prevention of discrimination as established by Article 14 and 15 are some meaningful efforts to eliminate casteism.
Legislations: Legislations like the Scheduled Castes and the Scheduled Tribes (Prevention of Atrocities) Act, 1989, provide protection against violence and discrimination faced by marginalised communities.
Social Movements: Various social reform movements, led by activists, organisations, and leaders, have aimed to challenge and change traditional caste-based norms and practices.
Affirmative action: Policies have been implemented to provide reparations to the historically marginalised sections of society in the form of reservation in educational institutes, employment and political representation.
Evidences of continued existence of caste based discriminations:
Manual Scavenging: Despite prohibitions of manual scavenging, it is observed that mostly lower caste people are employed in this profession and the profession has been associated with their caste identity.  
Caste based politics: Caste based mobilisation during elections is a true depiction of the continued existence of casteism in the society. 
Hidden discrimination: Despite reaching to important constitutional positions, caste discrimination can be seen in inclusion of lower castes in closed groups such as clubs, elite institutions, intellectual spaces and media.  
Changing nature of caste identities where different caste groups are asserting their separate distinct identity in a more vocal way is creating caste fissures in the society. 
Credibility bias: Often lower caste doctors are avoided, lower caste engineers are searched to place responsibility for failure of projects etc. because of the societal bias against reserved category professionals.  
Source: Indian Express
Nutrition's Role in Tuberculosis Prevention
Tags: GS – 1: Indian Society (Poverty and developmental Issues) 

GS – 2: Social Justice (Issues related to poverty and hunger) 
In News:
New studies conducted by the Indian Council of Medical Research (ICMR) and published in The Lancet and The Lancet Global Health journals provide evidence that improved nutrition can significantly reduce tuberculosis (TB) incidence and mortality in India. 
Tuberculosis:
Tuberculosis (TB) is an infectious disease caused by the bacterium Mycobacterium tuberculosis. 
It primarily affects the lungs but can also affect other parts of the body. 
Transmission: It is an airborne infection that spreads through close contact with the infected, especially in densely populated spaces with poor ventilation. 
Symptoms: Common symptoms of active lung TB are cough with sputum and blood at times, chest pains, weakness, weight loss, fever and night sweats. 
Treatment: 

Anti-TB medicines have been used for decades and strains that are resistant to 1 or more of the medicines have been documented in every country surveyed. 
Multidrug-resistant tuberculosis (MDR-TB) is treatable and curable by using second-line drugs such as Bedaquiline. 
Extensively drug-resistant TB (XDR-TB) is a more serious form of MDR-TB caused by bacteria that do not respond to the most effective second-line anti-TB drugs, often leaving patients without any further treatment options. 

Status of TB in India and the world: 

As per the WHO Global TB Report 2022: India's TB incidence for the year 2021 is 210 per 100,000 population (a decline of over 18% from 2020) 
India has a large burden of the world's TB, with an estimated economic cost of US$100 million lost annually due to this disease. 
As per the WHO Global TB Report 2022, TB cases are attributable to five risk factors — undernourishment, HIV infection, alcohol use disorders, smoking and diabetes. 
Major findings of the Studies: 
The Reducing Activation of Tuberculosis by Improvement of Nutritional Status (RATIONS) trial conducted in Jharkhand (the state has a high TB burden) revealed: 
Better nutrition among patients with lung TB can lead to a 39% reduction in all forms of TB and a nearly 49% reduction in infectious TB. 
Underweight TB patients who experience early weight gain can have their risk of mortality reduced by 60%. 
Nearly 30 households would need to be provided nutritional supplementation to prevent one case of TB. 
Significance of the Studies:
The trials' findings are particularly significant as undernutrition has emerged as a leading risk factor for TB worldwide. 
These results could have policy implications and contribute to India's goal of eliminating TB by 2025. 
Source: Indian Express
Teaching in the mother tongue
In News:
Recently, IMF's executive Director has called the CBSE's decision a right call. Their Bhasha, Their Future- Research has shown teaching in the mother tongue leads to better skilling as well as a better grasp of English. 
Efforts made by India to teach children in their mother tongue:
Historical Efforts: 

Mahatma Gandhi believed that English as a primary medium created a divide between elites and the masses, hindering knowledge dissemination. 
Leaders like C Rajagopalachari, Bal Gangadhar Tilak, Gopal Krishna Gokhale, and Annie Besant stressed an Indian-controlled education system that values the country's ethos. 

Government of India Efforts: 

The Central Board of Secondary Education (CBSE) issued a directive, emphasizing the use of the mother tongue for instruction and displaying its commitment to native language education. 
The National Education Policy also encapsulates the intent to promote mother tongue instruction. 
UNESCO Findings on Mother Tongue Instruction:
Global Advocacy: Since 1953, UNESCO has consistently promoted mother tongue education through its Global Education Monitoring Reports.
Learning Impact: Being taught in a language other than one's own can have negative effects on learning, especially for children from poor backgrounds.
Duration Recommendation: At least six years of mother tongue instruction is necessary to reduce learning gaps for minority language speakers.
Pedagogical Reasoning: A background study for the 2005 UNESCO report emphasized that mother tongue-based bilingual schooling is rarely challenged based on its educational logic.
Way Forward:
Implement the CBSE's directive to prioritize mother tongue instruction.
Address challenges in teacher recruitment, curriculum development, and teaching materials to accommodate linguistic diversity.
Government schools like Kendriya Vidyalayas and Navodaya Vidyalayas should lead in implementing mother-tongue instruction.
Paharis and Paddaris
In News:
The government has brought a Bill to include four communities, namely, "Gadda Brahmin", "Koli", "Paddari Tribe", and "Pahari Ethnic Group" in the list of Scheduled Tribes (STs) in Jammu and Kashmir.  
About the Paharis and Paddaris:
Pahari Ethnic Group: 
The Pahari Ethnic Group includes Hindus, Muslims, and Sikhs, with some Kashmiri-origin settlers in Rajouri and Poonch districts. 
The Advisory Board for Development of Pahari Speaking People defined Paharis as all people living in Rajouri and Poonch except those who were STs. 
Paddari Tribes: 
They live in the remote Paddar area of the hilly Kishtwar district. The Paddari homeland borders Zanskar (Ladakh) in the north and the east, Pangi in Himachal Pradesh in the south, and the rest of J&K in the west.
The 2011 census recorded the Paddari population at 21,548, comprising 83.6% Hindus, 9.5% Buddhists, and 6.8% Muslims. The people of the area speak the Paddari language.
Issue with proposed bill:
The proposed bill has been opposed by Gujjars and Bakerwals, the dominant ST communities in J&K, who apprehend that inclusion of Paharis and Paddaris would lead to shrinking of their share of the quota benefits pie.
The Gujjar-Bakerwal are the third largest group after Kashmiris and Dogras in J&K, with a population of almost 18 lakh. They were given ST status in 1991, along with the two smaller groups of Gaddis and Sippis.
This entitled these four communities to 10% reservation in government jobs and admission to educational institutions. In 2019, they were empowered politically after the Centre announced a 10% quota for them in Lok Sabha and Assembly seats in J&K.
The Gujjar-Bakerwal oppose their inclusion in the ST list on the argument that they do not constitute a single ethnic group and are a mix of individuals from different castes and religions who speak a particular language.
Climate change contributes to violence against children
In News:
In a recent study on the intersections of climate change, environmental degradation and violence against children found that climate change contributes to violence against children. 
About the Study:
It explored both direct violence — physical, sexual and emotional — and structural violence; that is, rooted in inequitable and unjust systems and institutions.
It identified five themes: hazards and disaster risk reduction; gender; climate-induced mobility or immobility; child labour; and health.
Key Findings:
Hazards and disaster risk reduction: Natural disasters create stressful environments, leading to higher risks of violence against children in relief shelters or at home. In post-disaster situations, children might be forced into labour for recovery efforts. 
Gender: The effects of climate change and environmental degradation are not gender neutral. Climate change can exacerbate child marriage in certain regions due to drought-induced economic pressures, affecting girls disproportionately. 
Mobility and Immobility: Climate migrants face increased risks of violence, and separation from families or caregivers makes children vulnerable. Immobility, as in slum areas, can lead to child abuse and violence. Fear of violence in shelters can lead women to remain at home after natural hazards, increasing children's risk of harm from the hazard or other forms of violence. 
Child Labour: Natural disasters and climate-change-related industries (agriculture, mining, etc.) contribute to child labour, which can expose children to exploitation and violence. 
Health: As temperatures rise, infants will bear the greatest burden of malnutrition and rising food prices. Children will suffer most from the rise in infectious diseases. Climate-related mental health issues can lead to increased perpetration of violence against children, as eco-anxiety and fear of consequences contribute to domestic violence. 
Way Forward:
Understanding these interlinkages is essential for informing policies and interventions that can protect and support children, particularly those most vulnerable to the impacts of climate change and environmental shocks.
Early warning systems should be installed for climate-related disasters that specifically consider children's vulnerabilities.
Provide Psychosocial support like counselling, therapy, and mental health services to help children cope with anxiety and stress.
Focus on preventing child marriage, human trafficking, and gender-based violence exacerbated by climate change.
Integrate climate change awareness and preparedness into school curricula to empower children with knowledge and skills to face climate-related challenges.
Design and set up shelters that prioritize the safety and well-being of children during emergencies.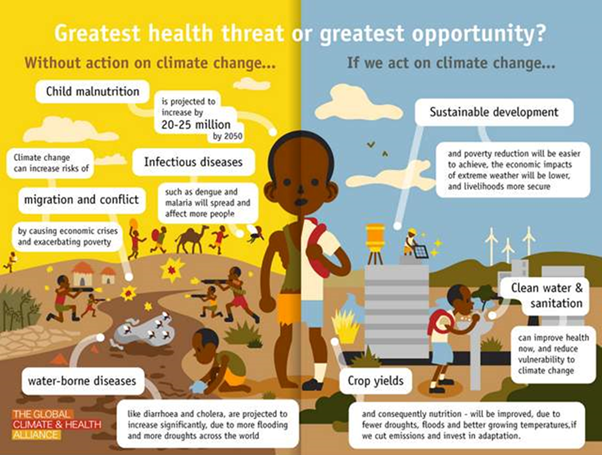 Children and Domestic Labour
In News:
In a recent incident, a couple faced accusations of employing a 10-year-old girl as a stay-at-home caretaker for their 4-year-old son and abused her physically and mentally on multiple occasions. 
About
Child labour in domestic work refers to situations where domestic work is performed by children below the relevant minimum age (for light work, full-time non-hazardous work), in hazardous conditions or in a slavery-like situation. 
The International Labour Organization has highlighted specific hazards that pose a significant threat to domestic workers, with children in domestic service being particularly vulnerable.  
Most prevalent risks faced by children are extended and exhausting working hours, exposure to harmful chemicals, the burden of carrying heavy loads, handling hazardous objects like knives and hot pans, and inadequate access to nutritious food and proper accommodation.  
These dangers become even more severe when a child resides in the same household where they are employed as a domestic worker. 
Status of Child Labour in India
According to the National Crime Records Bureau Report of 2022, approximately 982 cases were reported in 2021 under the Child Labour (Prohibition and Regulation) Act of 1986. The state of Telangana had the highest number of registered cases, followed by Assam. 
A study conducted by the Campaign Against Child Labour (CACL) revealed a concerning trend: the proportion of working children among the 818 surveyed children surged from 28.2% to 79.6%. This increase was primarily attributed to the impact of the Covid-19 pandemic and the closure of schools. 
The states in India with the highest number of child labour employers are Uttar Pradesh, Bihar, Rajasthan, Madhya Pradesh, and Maharashtra. 
Reason for the prevalence of Child Labour in India:
Poverty and economic vulnerability: Many families in India live in poverty and struggle to make ends meet. Children may be forced to work in domestic settings to contribute to the family income, as their labor is often cheaper than that of adults.
Lack of education: Limited access to quality education in certain regions results in a large number of children dropping out of school. Without proper education, they are more likely to engage in child labor, including domestic work.
Informal and unregulated nature of domestic work: Domestic work is often carried out within private households, making it difficult for authorities to monitor and enforce child labor laws effectively. This informal nature also makes it challenging to identify cases of child labor and provide the necessary support.
Traditional cultural norms: In some communities, it is seen as acceptable for children, especially girls, to work in domestic roles from a young age. Gender norms may perpetuate the idea that girls should stay at home and assist with household chores.
Migration and urbanization: Rural-to-urban migration is common in India, and families often move to cities in search of better opportunities. However, the lack of affordable housing and basic services in urban areas may lead to vulnerable living conditions, which can increase the likelihood of child labor.
Weak enforcement of child labor laws: India has laws in place to protect children from exploitative labor practices, but implementation and enforcement remain inconsistent in certain areas. This allows some employers to take advantage of child labor without facing consequences.
Demand for cheap labor: Domestic work is seen as an inexpensive source of labor, leading some households to employ children as domestic help, perpetuating the cycle of child labor.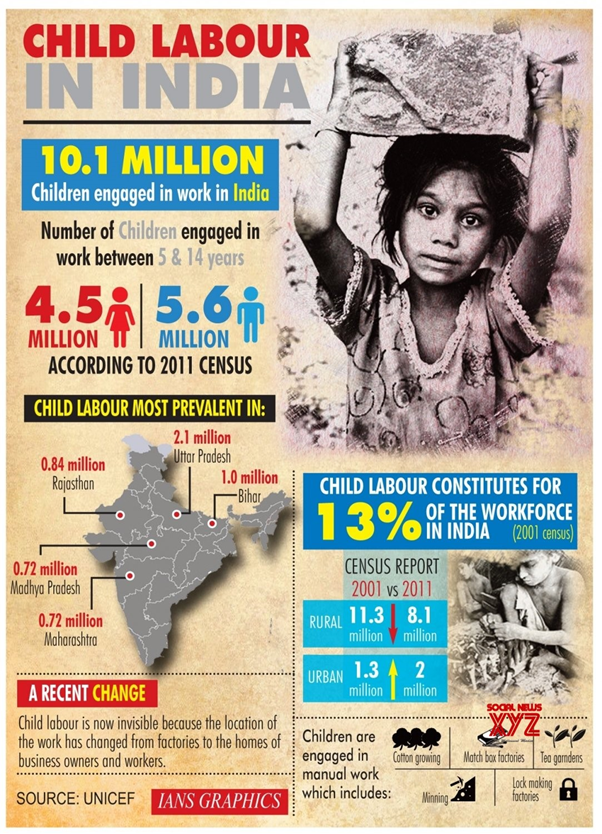 Socio-Economic Impact of Child Labour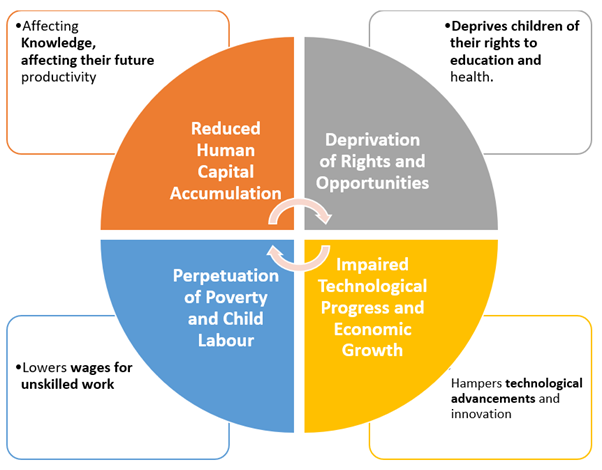 Source: The Hindu
FAQs on Monthly Current Affairs – August 2023
Q1: What are monthly current affairs?
A1: Monthly current affairs refer to the latest and most significant events, developments, and news stories that have occurred within a particular month. These events encompass a wide range of topics, including politics, economics, science, technology, culture, and more. They are a reflection of the dynamic nature of our world and provide a snapshot of what's happening globally or within a specific region during a given month.
Q2: Why are monthly current affairs important?
A2: Monthly current affairs are important for several reasons:
Informed Citizenship: Staying updated with monthly current affairs is crucial for informed citizenship. It empowers individuals to make well-informed decisions, including voting in elections, advocating for causes, and engaging in meaningful discussions about societal issues.
Professional Relevance: Professionals, such as journalists, policymakers, and business leaders, need to be aware of current affairs to make strategic decisions, create informed content, and respond to changes in their respective fields.
Academic and Competitive Exams: Many academic institutions and competitive exams assess students' knowledge of current affairs, making it essential for academic and career success.
Cultural Awareness: Understanding current events helps individuals appreciate and understand different cultures, societies, and global interconnections.
Safety and Preparedness: Some current affairs, such as natural disasters or public health emergencies, can directly impact personal safety and require timely awareness and preparedness.
In case you still have your doubts, contact us on 9811333901.
For UPSC Prelims Resources, Click here
For Daily Updates and Study Material:
Join our Telegram Channel – Edukemy for IAS
Visit our YouTube Channel – here