In today's daily current affairs briefing for UPSC aspirants, we explore the latest developments that hold relevance for the upcoming civil services examination. Our focus today includes a critical analysis of recent policy changes, international affairs, and national developments, all of which play a pivotal role in shaping the socio-political and economic landscape of India. Stay informed and stay ahead in your UPSC preparations with our daily current affairs updates, as we provide you with concise, well-researched insights to help you connect the dots between contemporary events and the broader canvas of the civil services syllabus.
Deficiency in micronutrients in soil linked to the health of children and women
Tags: GS – 1: Indian Geography (Soil), GS – 3: Indian Economy (Agriculture)
In News:
Recently, a new study titled "Soil micronutrients linked to human health in India," has revealed a significant connection between soil micronutrients and the nutritional well-being of individuals, particularly children and adult women.
Key findings of the Study:
Impact on Child Stunting and Underweight: In districts where soil zinc samples were found to be more prevalent, there were notably lower rates of child stunting and underweight.
Height Increase in Women: The study found that the soil zinc availability is also associated with an increase in the height of women.
Soil Iron Availability and Anaemia: The study suggested a strong relationship between soil iron availability and anaemia among women and haemoglobin levels among children and women.
Significance of the Study for India:
With over 35 percent of the nation's soil grappling with zinc deficiency and approximately 11 percent facing iron deficiency.
This study aligns with the Global Nutrition Report's findings, revealing that nearly a third of the world's population faces micronutrient deficiency.
The study's revelation that around 39 percent of children suffer from stunting underscores the urgency of addressing malnutrition.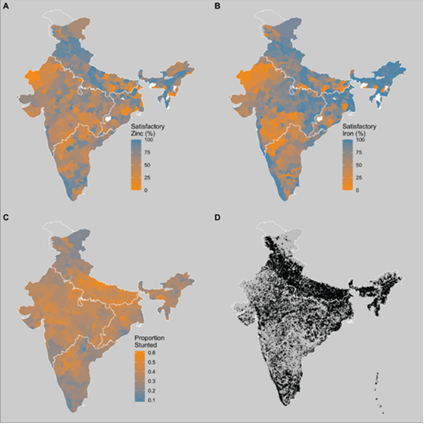 Source: Down To Earth
Bharat New Car Assessment Programme
Tags: GS – 2: Governance (Government Policies and Interventions)
In News:
Recently, the Ministry of Road Transport and Highways, Government of India, has introduced the Bharat New Car Assessment Programme (Bharat NCAP).
Bharat New Car Assessment Programme (Bharat NCAP):
Vehicles, particularly passenger cars, will be subjected to rigorous crash testing procedures, and based on their performance, they will be assigned a safety rating ranging from one to five stars.
The program aims to provide consumers with a tool for comparing the crash safety of different motor vehicles available in the market.
Manufacturers can voluntarily submit their cars for testing according to Automotive Industry Standard (AIS) 197.
Based on the test results, vehicles will be assigned star ratings for both Adult Occupants (AOP) and Child Occupants (COP) safety.
The programme is applicable to passenger vehicles with not more than eight seats in addition to the driver's seat with gross vehicle weight not exceeding 3,500 kgs.
Test Procedure and Parameters:
The test procedure involves Frontal Offset Test, Side Impact Test and Pole-Side Impact Test.
Bharat NCAP evaluates vehicles based on three crucial parameters:
Adult Occupant Protection: This parameter assesses the level of protection a vehicle offers to adult passengers in the event of a crash.
Child Occupant Protection: This parameter gauges a vehicle's effectiveness in safeguarding young passengers during collisions.
Safety Assist Technologies: Modern vehicles are equipped with a range of safety assist technologies. This parameter examines the presence and effectiveness of these technologies in preventing accidents or minimizing their impact.
Evolution of Bharat NCAP:
The Bharat NCAP draws inspiration from the Global NCAP, a project initiated by the U.K.-based NGO Towards Zero Foundation.
The Global NCAP acts as a collaborative platform for new car assessment programs worldwide including countries such as the U.S. which has the world's oldest crash testing regime since 1978.
Over the years, India's testing protocols have evolved, with more than 50 crash test results published for the Indian market. Tata achieved India's first 5-star car rating in 2018.
Challenges to Bharat NCAP:
Diverse Road Conditions: India's road infrastructure varies greatly, from congested urban roads to poorly maintained rural highways. Different road conditions can impact the way vehicles behave during crashes.
Affordability and Market Dynamics: A substantial portion of the Indian population seeks budget-friendly vehicles, which might pose a challenge for manufacturers in implementing advanced safety features.
Variety of Vehicles: Designing crash tests that effectively evaluate safety across this diversity, from compact cars to SUVs, requires thorough consideration of different vehicle dynamics.
Way Forward:
There is a need to establish safety research and development hubs for India specific conditions in collaboration with academic institutions and manufacturers.
There is a need to collaborate with local artists to create safety-themed public art installations near accident-prone areas that can raise awareness about the importance of safe driving.
Insurance companies can assign a safety score to each vehicle model based on its NCAP rating. This safety score can be displayed prominently on advertisements and dealerships, making safety a focal point of consumer decisions.
Source: The Hindu
20th ASEAN-India Economic Ministers' Meeting
Tag: GS-2 Bilateral Groupings & Agreements, Important International Institutions
In News:
20th ASEAN-India Economic Ministers' meeting was held on 21st August 2023 in Semarang, Indonesia and co-chaired by India and Indonesia.
About ASEAN
ASEAN is a regional grouping established in 1967 at Bangkok through the signing of the Bangkok Declaration.
It promotes economic, political, and security cooperation among the member nations.
India and ASEAN concluded a Free Trade Agreement in 2010, after which the bilateral trade which was $ 57 billion in 2010-11, rose to $131.5 billion in 2022-23.
The 10 member nations of ASEAN are Brunei, Cambodia, Indonesia, Laos, Malaysia, Myanmar, the Philippines, Singapore, Thailand and Vietnam.
Highlights of the Meeting:
Review of bilateral trade and Investment:

The Ministers reviewed the bilateral trade and investment relations between India and ASEAN and expressed their commitment to strengthen and enhance the economic partnership.
The leaders resolved to ensure that the ASEAN-India Comprehensive Strategic Partnership delivers meaningful benefits for both sides, particularly in the post-pandemic era.

Interaction with ASEAN-India Business Council (AIBC):

The Ministers interacted with the AIBC and took note of the activities undertaken by AIBC in 2023.
Non-Tariff Barriers flagged by the businesses were noted and exchange of information and concerns between the stakeholders from both sides was appreciated.

Regional and Global challenges

Views were exchanged on the regional and global challenges, such as the multidimensional impact of the COVID-19 pandemic, climate change, heightened volatility in the global financial market, inflationary pressures, and geopolitical tensions.
Both sides identified resilient supply chains, food security, energy security, health and financial stability as priority areas of cooperation.

ASEAN-India Trade in Goods Agreement (AITIGA)

Timely review of AITIGA, signed in 2009, was the main agenda of this year's meeting.
AITIGA Joint Committee meeting deliberated the roadmap for the review and finalised the Term of Reference and the Work Plan of the AITIGA Review Negotiations.
The review of AITIGA was a long-standing demand of Indian businesses and early commencement of review would help in making FTA facilitative & mutually beneficial.
The review of AITIGA is expected to enhance and diversify trade while addressing the current asymmetry in the bilateral trade.
Source: PIB Gov.
India's Interest Arctic Region and the Northern Sea Route
Tag: GS-1 Geography and Trade Routes.
In News:
Murmansk, popularly called the capital of the Arctic region and the beginning point of the Northern Sea Route (NSR), is witnessing rising Indian involvement in cargo traffic. In first seven months of 2023, India got 35% of 8 million tonnes of cargo handled by the Murmansk port.
About the significance of Arctic region for India:
The vulnerability of the Arctic region to unprecedented changes in the climate may have an impact on India in terms of economic security, water security and sustainability.
The region also constitutes the largest unexplored prospective area for hydrocarbons with an estimated reserves of 40%of the current global reserves of oil and gas.
India's Arctic Policy of 2022 mentions the country's approach to economic development of the region in accordance with UN Sustainable Development Goals.
India's engagement with the Arctic can be traced to the signing of the Svalbard Treaty in February 1920. Later, India established a research station, Himadri, at Svalbard, in 2008.
What is the Northern Sea Route?
Northern Sea Route (NSR), the shortest shipping route for freight transportation between Europe and countries of the Asia-Pacific region.
It spans 5,600 km, and the route begins at the boundary between the Barents and the Kara seas (Kara Strait) and ends in the Bering Strait (Provideniya Bay).
In theory, NSR can save as much as 50% of the distance as compared to the currently used shipping lanes via Suez or Panama.
The route got attention after the 2021 blockage of the Suez Canal.
However the navigability of NSR has been a major concern since Arctic Oceans remain icebound during most of the year.
Russia is the only country in the world with a nuclear-powered icebreaker fleet. Today the Russian icebreaker fleet comprises of seven nuclear-powered icebreakers, apart from one nuclear container ship.
Factors driving India's Participation in the NSR development:
Increasing supply of energy resources: NSR is facilitating reliable and safe supplies of crude oil and coal from Russia, which is critical for the Indian economy.
Strategic Transit Route: India's geographical location and reliance on sea transportation make the NSR a crucial transit route
Reduction of transport time through Chennai-Vladivostok Maritime Corridor (CVMC): The CMVC project passing through the Sea of Japan, the South China Sea and Malacca Strait, will bring down transport time to 12 days, almost a third of existing St. Petersburg-Mumbai route of 16,000 km.
Geopolitics: India would like to complement China and Russia's potential collective influence over NSR
Source: The Hindu
India's Ageing Workforce
Tags: GS-III: Important reports
In News:
India's population despite being youthful sees a shift in demographics impacting employment and productivity dynamics.
About India's ageing Population:
Economic Think-tank Centre for Monitoring Indian Economy (CMIE) has recently released "Economic Outlook data" report highlighting India's demographic paradox with its workforce.
The report suggests that despite a youthful population, India's workforce is experiencing an ageing trend with share of older workers (above 45) in the workforce is increasing steadily.
Factors such as longer life expectancy, delayed retirement due to financial concerns and changing social norms are contributing to ageing workforce.
Key findings:

Share of young workers decreasing from 25% in 2016-17 to 17% (2022-23) while middle age group also experiencing share decline from 38% to 33%.
Rise of older workforce with oldest age category's share growing from 37% to 49% in just seven years while young workers aged under 30 dropped from 10.34 crore to 7.1 crore.
Decline in Youth Participation with total employed individuals dropping from 41.27 crore to 40.58 crore which is the sharpest fall among all categories.
Youth Employment Rate (ER) falls from 29% to 19% with employed youth decline by 3.24 crore despite an increase in Youth population.
Shortage of skilled workers besides lack of sufficient new job opportunities for young people makes experienced older employees more valuable.
Skills gap between older and newer generations due to changing technology puts potential strain on social welfare systems as ageing workers retire.

However, the report raises apprehensions that older workers might face age-related discrimination in hiring and promotion besides health issues and reduced physical abilities affecting productivity.
Overall, addressing the challenges of an ageing workforce is crucial for India's economic sustainability and the policies should focus on promoting inclusivity, skills development, and intergenerational collaboration.
Source: Indian Express
Scientific Authenticity of Nano Liquid Urea
Tags: GS-III: Agriculture
In News:
An opinion paper for critical examination scrutinizing IFFCO's claims on Nano Liquid Urea
About scientific authenticity of Nano urea:
Scientists from Europe have recently released an opinion paper titled "Is India's largest fertilizer manufacturer misleading farmers and society using dubious plant and soil science?"
The paper has questioned the IFFCO's claims about nano liquid urea regarding its scientific basis and efficacy of the fertilizer.
Concerns have also been raised about its potential negative impacts on crop yield, food security besides efficacy in enhancing crop productivity.
Nano Liquid Urea were introduced by Indian Farmers and Fertiliser Cooperative (IFFCO) as an alternative to traditional urea.
Major findings:

Field Performance of Nano Liquid Urea has shown increased input costs for farmers with minimal results.
Quality and properties based on existing scientific evidence shows no evidence supporting dramatic crop yield improvements.
IFFCO's yield improvement claims have been criticized for lack of clear reference points to support yield improvement claims.
Doubts about the effect of nano urea raise concerns about product pricing as nano liquid urea price seems excessive given scientific uncertainties.

Government and IFFCO are planning to open 10 new factories for nano urea production with an aim to increase annual production capacity to 440 million by 2025.
Government has also planned to export liquid nano urea to 25 countries, mainly in Asia, Africa, and South America.
Previously, IFFCO has claimed that nano zinc, nano copper, and nano di-ammonium-phosphate having positive impacts on crop yield and environmental sustainability.
However, lack of scientific claims about positive environmental effects of nano urea my release excess nitrogen causing environmental issues like climate change and species loss.
Overall, there is need to further study the Nano fertiliser's behavior, its impact and scientific validation in evaluating new agricultural technologies before advocating their widespread adoption.
Source: Down To Earth
First ABDM Microsite
Tags: GS –2, GS– 3 Health, Government Policies & Interventions, Central Sector Schemes
Why in news?
Recently, The National Health Authority (NHA) had announced 100 Microsites project for accelerated adoption of Ayushman Bharat Digital Mission (ABDM) across the country.
About:
Mizoram has achieved a remarkable feat by becoming the first state to operationalize an ABDM Microsite in its capital city, Aizawl.
Under this, all healthcare facilities including the private clinics, small hospitals and labs in the region shall be made ABDM-enabled and will offer digital health services to the patients.
ABDM Microsites:
The ABDM Microsites are defined geographical regions where focused outreach efforts would be made to onboard small and medium scale private healthcare providers.
These Microsites are primarily managed by State Mission Directors of ABDM, with NHA providing financial resources and guidance.
Patients can link their health records generated at these facilities with their Ayushman Bharat Health Accounts and access and share these records through ABDM-enabled Personal Health Record applications.
Besides Mizoram, other states including Andhra Pradesh, Madhya Pradesh, Uttar Pradesh, Maharashtra and Chhattisgarh have also made significant progress regarding implementation of ABDM Microsites.
Ayushman Bharat Digital Mission
The Ayushman Bharat Digital Mission (ABDM) is a national initiative that aims to develop the digital health infrastructure of the country. It was launched in September 2021. Ayushman Bharat is a flagship scheme of India which was launched as recommended by the National Health Policy 2017, to achieve the vision of Universal Health Coverage (UHC).
Source: PIB Gov.
ASTRA Beyond Visual Range air-to-air missile
Tags: GS – Science and Technology, Defence
Why in news?
Recently, Light Combat Aircraft (LCA) LSP-7, known as "Tejas," successfully launched the indigenous Beyond Visual Range (BVR) air-to-air missile called ASTRA.
About:
The missile was fired from the aircraft at an altitude of approximately 20,000 feet and achieved all test objectives flawlessly.
ASTRA Missile:
ASTRA is an indigenous Beyond Visual Range (BVR) air-to-air missile.
It is to engage and destroy highly maneuvering supersonic aerial targets.
It is designed and developed by Defence Research and Development Laboratory (DRDL), Research Centre Imarat (RCI) and other laboratories of DRDO.
The indigenous Astra BVR firing from home grown Tejas fighters is a major step towards 'Aatmanirbhar Bharat'.
LCA Tejas
It is the lightest, smallest and tailless multi-role supersonic fighter aircraft in its class. This aircraft is designed to carry a range of air-to-air, air-to-surface, precision-guided, weapons. It has the air-to-air refueling capability. The maximum payload capacity of Tejas is 4000 kg. Speed: Mach 1.8.
Source: PIB Gov.
FIDE Chess World Cup 2023
Tags: Sport
Why in news?
Recently, In the FIDE World Cup finals, Magnus Carlsen secured his first-ever title, defeating Indian chess prodigy R. Praggnanandhaa in Baku, Azerbaijan.
About:
The World Cup 2023 is organised by the International Chess Federation (FIDE), the governing body of chess in the world.
It's constituted as a non-governmental institution.
FIDE currently has its headquarters in Lausanne (Switzerland), but it was initially founded in 1924 in Paris under the motto "Gens Una Sumus" (Latin for "We are one Family").
FIDE World Cup:
The FIDE World Cup, established in 2000 by the International Chess Federation (FIDE), encompasses various iterations.
Since 2005, it's been a 128-player single-elimination chess tournament, a vital part of the World Chess Championship qualification.
The format includes 7 rounds of "mini-matches" with 2 games each, followed by rapid and blitz tiebreaks if needed. The final consists of 4 games before tiebreaks.
More About the News:
Praggnanandhaa has become the second Indian after Viswanathan Anand to reach a World Cup final.
Praggnanandhaa's spirited performance earned him a spot in the prestigious Candidates Tournament, despite his loss.
He achieved significant victories such as winning the World Youth Chess Championship (under-18) in 2019 and emerging victorious in the Asian Continental Chess Championship (open) in 2021.
More Information:
World Chess Championship: It determines the world champion in chess. Ding Liren (China) won the 2023 championship, defeating Ian Nepomniachtchi, while Magnus Carlsen opted not to defend his title.
Candidates Tournament: It has been organized by FIDE since 1950 and determines the challenger for the World Chess Championship. The winner faces the reigning World Champion. Historically held triennially until 1992, since 2013, it follows a 2-year cycle.
Source: The Hindu
Khelo India initiative
Tags: GS – 2 Government Scheme and Policies
Why in news?
Recently, Union Minister of Youth Affairs and Sports inaugurated 33 Khelo India centres in the State of Rajasthan at the Sawai Mansingh Stadium in Jaipur. 
About: 
Khelo India initiative/Scheme was introduced by the Indian government in 2017 to give a platform to grassroots athletes and build sports infrastructure across India, resulting in turning India into a sporting nation. 
The Khelo India Scheme is the flagship Central Sector Scheme of the Ministry of Youth Affairs & Sports.  
It encompasses the: 

Khelo India Youth Games (KIYG) (commenced 2018): Annual national competition for youngsters representing states. 
Khelo India University Games (KIUG) (commenced 2020): Showcases university students' talent in sports. 
Khelo India Winter Games (Commenced 2020): Promotes winter sports in India. 

Part of the Khelo India State Centres of Excellence (KISCE) scheme: It aims to enhance sports infrastructure by supporting existing training facilities. It provides financial aid, staff, equipment, and resources at the grassroots level. 
More About the News:
National Center of Excellence with a dedicated sports science centre will be set up in Rajasthan along with an additional 18 Khelo India centres, thus taking the total number of Khelo India centres in the State to 51. 
Future competitions will be organised between Khelo India Centers while the Coaching the Coaches programme will also be extended to the Khelo India Center Coaches as well and the KIC coaches will be trained by getting them attached to national & international coaches. 
Source: Business Standard
Panama Canal
Tags: GS – 1 Geography 
Why in news?
Recently, A severe drought in Panama is causing extensive delays for cargo ships transiting the Panama Canal, a vital route connecting almost 2,000 ports across 170 countries. 
About: 
Panama Canal is a constructed waterway that connects the Atlantic and Pacific oceans across the Isthmus of Panama. 
It is approximately 82 kilometers long. 
It is one of the two most strategic artificial waterways in the world, the other being the Suez Canal.  
It allows ships to avoid the lengthy and dangerous voyage around Cape Horn.  
Panama itself forms an isthmus (a narrow land strip connecting two larger landmasses) between North and South America. 
Originally under French control in the late 1800s, the United States completed the project in 1914 and managed it until 1999 when Panama took over. It's now operated by the Panama Canal Authority. 
The Panama Canal consists of a series of locks that raise and lower the water level to facilitate the passage of ships through the continental divide. 
Source: We Forum
Project Worldcoin
Tags: GS – 3 Science and Technology IT & Computers 
Why in news?
Recently, a project called Worldcoin has been launched by OpenAI, an Artificial intelligence company.  
About:
The project claims to be building the world's largest identity and financial public network.
Project Worldcoin: 
Worldcoin is an initiative to create a digital network in which everyone can claim some kind of stake and join the digital economy. 
The initiative uses a device called "Orb" to collect biometric (iris) data and help participants get a World ID through the World app. 
With the app, participants can collect a cryptocurrency called Worldcoin [WLD]. 
Users need to be willing to scan irises and/or get their own irises scanned to make the Worldcoin network possible. 
Those who have their irises scanned and collect a World ID can use this to claim the WLD crypto, which they may use for transactions (if possible and legal) or hold on to the asset in the hope that its price might rise. 
Worldcoin claims that using biometric information to avoid duplication is a valid method for including everyone in its network. 
This process is called "proof of personhood" and makes sure that people do not sign themselves up multiple times in exchange for crypto. 
More Information:
Worldcoin lists 18 locations in India — largely in Delhi, Noida, and Bangalore — where Orb operators are scanning people's eyes. 
Source: The Hindu
FAQs
Q: What are daily current affairs?
A: Daily current affairs refer to the most recent and relevant events, developments, and news stories that are happening around the world on a day-to-day basis. These can encompass a wide range of topics, including politics, economics, science, technology, sports, and more.
Q: Why is it important to stay updated with daily current affairs?
A: Staying updated with daily current affairs is crucial because it helps individuals make informed decisions in their personal and professional lives. It enables people to understand the world around them, stay aware of significant events, and engage in informed discussions about important issues.
Q: Where can I access daily current affairs information?
A: There are various sources for daily current affairs, including newspapers, news websites, television news broadcasts, radio programs, and dedicated apps or newsletters. Social media platforms are also widely used to share and access current affairs information.
Q: How can I effectively incorporate daily current affairs into my routine?
A: To incorporate daily current affairs into your routine, consider setting aside specific times each day to read or watch news updates. You can also subscribe to newsletters or follow news apps to receive curated content. Engaging in discussions with peers or participating in online forums can further enhance your understanding of current events.
Q: What are some tips for critical analysis of daily current affairs?
A: When analyzing daily current affairs, it's essential to cross-reference information from multiple sources to ensure accuracy. Additionally, consider the source's credibility and bias, if any. Develop the ability to identify the main points and implications of news stories, and critically evaluate the significance and impact of the events reported.
In case you still have your doubts, contact us on 9811333901.
For UPSC Prelims Resources, Click here
For Daily Updates and Study Material:
Join our Telegram Channel – Edukemy for IAS
Visit our YouTube Channel – here