Old Parliament Building
Tags: GS – 1: Art & Culture (Architecture)
Why in News:
From September 19, the ongoing special House session moved to the new Parliament building. The old Parliament will be turned into a museum.
Old Parliament Building
It is a 164 pillared building designed by British architects Edwin Lutyens and Herbert Baker.
The building is surrounded by large gardens and the perimeter is fenced off by sandstone railings (jali).
The foundation stone was laid on February 12, 1921, by the Duke of Connaught.
On January 18, 1927, Lord Irwin, the viceroy of India at the time, officially opened the building. At first, it served as the Imperial Legislative Council's office.
After India gained its independence, it served as the country's Constituent Assembly. Later, after the Constitution had been signed and the country became a republic, it became the Lok Sabha and the Rajya Sabha's home in the Indian Parliament.
When they needed inspiration, Viceroy Lord Hardinge directed Lutyens and Baker to tour the majority of northern and central India's ancient and mediaeval monuments, including Mandu, Lahore, Lucknow, Kanpur, and Indore. As a result, the Rashtrapati Bhavan, the Parliament, and other structures combine Indian and Western architectural styles.
The Chamber of Princes in the Parliament Building was also used by the Federal Court of India before independence. Afterwards, it served as the Supreme Court's location for over ten years before the court moved to its own building.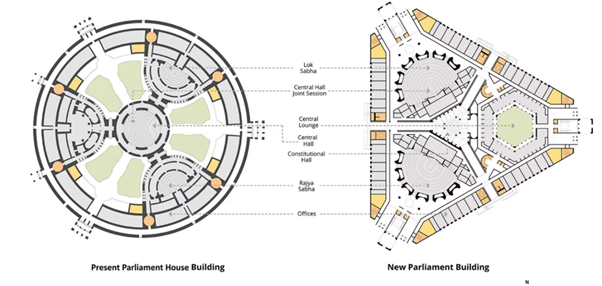 Chausath Yogini Temple
The grand Chausath Yogini temple stands atop a hillock in Mitaoli, in the Morena district of Madhya Pradesh.
It was built around 1323 by King Devapala of the Kachchhapaghata dynasty.
Dedicated to the 64 (chaunsath in Hindi) yoginis, its architecture is different from the temples dedicated to one deity.
The temple is circular having diameter of 125 feet, with 64 chambers dedicated to the 64 yoginis, and a central shrine dedicated to Shiva.
The 64 yoginis are believed to be powerful warriors and sorceresses. According to mythology, a demon, Raktabija, had a boon that made him almost impossible to kill — everytime a drop of his blood fell on the floor, hundreds of offspring would be born off it. However, when Goddess Durga went to battle him, she unleashed an army of 64 yoginis who drank off his blood before it could touch the floor, and Raktabija was finally killed.
While most Hindu temples have a shikhara, or projecting dome, the Mitaoli temple, like other Chausath Yogini temples, is hypaethral, which means it has no roof.
The Parliament-like pillars are on the inside of the stone temple complex.
The central shrine has a slab with perforations, for excess rainwater to drain off.
The Temple is in a Seismic Zone 3 area. Since its construction in the 1300s, the temple has withstood many an earthquake with almost no visible damage.
The idols and carvings that would have once adorned the 64 chambers are all gone.
Did the Chausath Yogini temple inspire the Parliament?
Though there is no evidence Lutyens or Baker ever visited it. They might have seen photographs collected by the Archaeological Survey of India. So even though there is no proof of them emulating Indian monuments, it is not inconceivable that they might have done so.
Gender Impact of Climate Change
Tags: GS – 2: Social Justice (Vulnerable Sections of the Society)
GS – 3: Environment & Ecology (Climate Change)
Why in News:
Climate change has impacted population groups unevenly and women face unique challenges due to the weather disruptions in Jharkhand.
Impact on Women and Girls:
Due to male migration for work because of poor productivity in agriculture, women have to take on extra chores traditionally carried out by men such as roof repair.
In case of health emergency, they are not willing to seek emergency medical services at night in male absence. This results in increased health risks due to limited access to healthcare.
Due to scarcity of resources like water and firewood, burden on girls have increased with more responsibilities leading to school dropouts and early marriages.
Due to limited awareness of migration safeguards, there have been cases of safety concerns, abuse and harassment during migration.
Women working in factories endure poor conditions, lower wages and health hazards which make them vulnerable to health hazards, skin reactions, etc.
Water and firewood scarcity increase the time spent collecting them by women, and cattle must graze in distant areas due to a lack of available grass (creating issues about the safety of girls).
When women migrate for work and leave their children in the care of their father or grandparents, caregiving gets disrupted in their absence.
Many times, the men use the money they send back for alcohol, which makes the children more vulnerable.
Due to scarcity of water, they are unable to maintain proper hygiene which makes them vulnerable to several diseases.
Solutions to tackle the problems due to climate change:
Rainwater harvesting systems
Reviving traditional eating habits
Promoting the cultivation of millets and local nutritious foods
Awareness and preparedness for climate change impacts
Awareness regarding legal safeguards regarding migration and harassment.
Parliamentary Conduct
Tag: GS-2 Functioning of Parliament; GS-4 Code of Ethics and Code of Conduct
Why In News:
On the occasion of inauguration of the new parliament, the question of declining parliamentary productivity and deteriorating parliamentary conduct needs a reflection.
About Indian Parliamentary Democracy:
The parliamentary democracy of India has been patterned on the lines of Britain's Westminster model. Few instances of continuing British traditions are:
Indian MPs still thump their desks in approbation, rather than applauding by clapping their hands.
Bills are put to a vote, an affirmative call is still usually "aye", rather than "yes"
Continuation of various British Parliamentary traditions in India such as Question hour and role of speaker.
Declining trend of Indian Parliamentary Conduct:
Creating ruckus in assembly: Some of the State Assemblies have witnessed scenes of furniture overthrown, microphones ripped out and slippers flung by unruly legislators.
Violation of Code of Conduct: The code of conduct applicable to all elected MPs such as including injunctions against speaking out of turn, shouting slogans, waving placards and marching into the well of the house etc. are routinely breached.
Violent actions: Fisticuffs and torn garments have also been observed during scuffles among politicians in these assemblies. Pepper spray was once released in the well by a protesting MP, resulting in the hospitalisation of some MPs.
Flouting of Parliamentary rules: MPs in the Upper and Lower Houses have been suspended from membership for such transgressions as charging up to the presiding officer's desk, wrenching his microphone and tearing up his papers.
Shrinking space for opposition:
Less space for opposition's views: In a system where party-line voting is made obligatory by the anti-defection law, standards have been allowed to slide, with adjournments being preferred to expulsions.
Democratic system under assault: Overweening government, media intimidation, the hollowing out of autonomous institutions and pressures by investigative agencies on political has made it difficult for opposition to present their views.
Erosion of Parliamentary conventions: All major parliamentary committees dealing with sensitive issues are chaired by MPs of the ruling party or its allies, in disregard of conventional practice where opposition members headed the committee. Example External Affairs Committee was always chaired by an Opposition MP, to show that the nation was of one mind on foreign policy.
Reforms in the Parliamentary Process:
Opposition Day: Opposition sets the agenda of a day in week a day. It permits Opposition parties to select specific policy areas or issues they want to bring to the floor of the House for debate. These debates allow the Opposition to focus on matters of political significance.
It provides Opposition parties with the opportunity to draw attention to issues they believe are important, criticise government policies, and propose alternatives.
Prime Minister's Question Time (PMQs): It provides MPs an opportunity to question the Prime Minister about various issues and increases the accountability of the executive.
Speaker's Role: The Speaker should reconsider the frequent rejection of adjournment motions and the practice of grouping proposed amendments to bills for voice votes without discussion.
Reconstructing an ancient 'stitched ship'
Tag: GS Paper-1: Ancient Indian History.
Why In News:
The Ministry of Culture has recently joined hands with the Indian Navy and Goa-based Hodi Innovations to reconstruct an ancient stitched ship, reminiscent of the ships that sailed the oceans on India's ancient maritime trade routes as many as 2,000 years ago.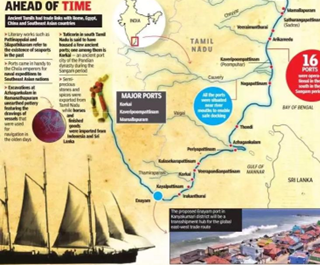 About the project:
Ministries involved:
While the Indian Navy is overseeing the ship's design and construction, the Ministry of Culture has fully funded the project.
The ministries of Shipping and External Affairs will be supporting in its execution stage.
It was approved by the National Implementation Committee, chaired by Home Minister.
The stitching work will be undertaken by a team of traditional shipwrights led by Babu Sankaran.
Stitching:
This age-old technique involves shaping the wooden planks using the traditional steaming method to conform to the shape of the hull.
Each plank will then be stitched to another using cords/ ropes, sealed with a combination of coconut fibre, resin, and fish oil, akin to the ancient Indian shipbuilding practice.
The ancient stitching technique almost became extinct after the Britishers came to India.
The earliest known example of a sewn boat is the 40+ metres long funerary boat in Egypt; dating back to 2,500 BC.
Sewn boat construction techniques were used in many parts of the world prior to the development of metal fasteners, and continued to be used for small boats to reduce construction costs where metal fasteners were too expensive.
The Voyage:
Once the ship is ready, the voyage with a seam of Indian Navy crew from Odisha's Cuttack will be sent to Bali in Indonesia, in 2025, to coincide with Kartik Purnima.
This also fits in with the larger decolonisation project undertaken, in the run-up to 2047, when independent India turns 100.
The navigation techniques used for the voyage will also be in consonance with old times, also aiming to show the sophistication India had achieved in this field at the time.
Project Mausam
Officials say this initiative is in synergy with the Ministry of Culture's Project Mausam.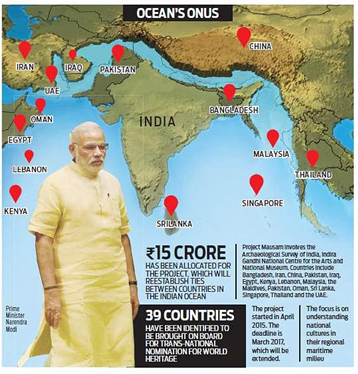 Project Mausam is said to be India's answer to the Maritime Silk Road of China, and India plans to move for UNESCO to award transnational heritage status to Project Mausam, which was launched by India at the 38th World Heritage Session at Doha in June 2014.
World Ozone Day
Tags: GS –3 Environmental Pollution & Degradation, Conservation
Why in news?
Recently, The Ministry of Environment, Forest and Climate Change (MoEF&CC) has celebrated the 29th World Ozone Day.
About: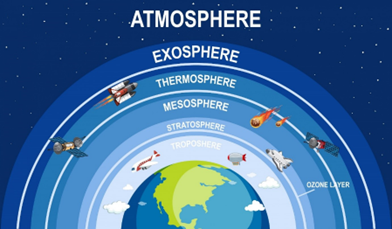 World Ozone Day is celebrated on 16th September each year to commemorate the signing of the Montreal Protocol.
Montreal Protocol an international environmental treaty for phasing out of production and consumption of Ozone Depleting Substances, that came into force on 16th September in 1987.
World Ozone Day is celebrated to spread awareness among people about the depletion of Ozone Layer and the measures taken/ to be taken to preserve it.
The theme for World Ozone Day 2023 is "Montreal Protocol: fixing the ozone layer and reducing climate change".
Ozone layer
It is located in the stratosphere between 10 and 40 kilometers above Earth's surface, shields us from harmful UV radiation.
This protective layer, known as stratospheric ozone or good ozone, prevents adverse health effects like cataracts and skin cancer and safeguards agriculture, forestry, and marine life.
However, man-made Ozone Depleting Substances have caused ozone depletion in the stratosphere.
The international community recognized the need for action, leading to the Vienna Convention in 1985 and the subsequent Montreal Protocol in 1987.
Vienna Convention
Vienna Convention is an international treaty on the protection of the Ozone Layer.
It came into force in 1985.
Under this convention, the Montreal Protocol came into force in 1987 to repair the ozone layer to protect the earth's Ozone Layer by phasing out production and consumption of Ozone Depleting Substances for end applications.
India's achievements in implementation of Montreal Protocol
India, a signatory since June 1992, has made significant strides in implementing the Montreal Protocol:
India successfully phased out ODS like Chlorofluorocarbons, Carbon Tetrachloride, Halons, Methyl Bromide, and Methyl Chloroform for controlled uses by 1st January 2010.
Hydrochlorofluorocarbons (HCFCs) are currently being phased out, with Stage-I completed from 2012 to 2016 and Stage-II in progress until the end of 2024.
India exceeded its target, achieving a 44% reduction in HCFCs by 1st January 2020, compared to the baseline's 35%.
India Cooling Action Plan (ICAP) launched in March 2019, focuses on reducing cooling demand, transitioning to alternative refrigerants, enhancing energy efficiency, and technological advancement.
It aims to maximize socio-economic and environmental benefits through synergies with existing government programs.
India has ratified the Kigali Amendment to the Montreal Protocol.
As per the Kigali Amendment, India will complete its phase down of production and consumption of HFCs for controlled uses in 4 steps from 2032 onwards with cumulative reduction of 10% in 2032, 20% in 2037, 30% in 2042 and 85% in 2047.
The Ozone Cell collaborates with the Indian Institutes of Technology to promote research and development of low global warming potential chemicals.
'Pralay' ballistic missiles
Tags: GS –3 Defence
Why in news?
Recently, India's defence ministry has approved the acquisition of a regiment of 'Pralay' ballistic missiles for deployment along the Line of Actual Control and the Line of Control.
About:
'Pralay' is a canisterised Tactical, surface-to-surface, short-range ballistic missile (SRBM) for Battlefield use.
It has been developed by the Défense Research and Development Organization (DRDO).
Features
'Pralay' has a strike range of 150 to 500 kilometres.
It can carry a conventional warhead of 350 kg to 700 kg.
It is highly versatile, capable of carrying different types of warheads, and features advanced technology to counter interceptor missiles.
It can alter its trajectory mid-flight and is powered by a solid propellant rocket motor.
'Pralay' will become the longest-range surface-to-surface missile in the Army's inventory and will form a key part of India's Rocket Force, alongside the BrahMos supersonic cruise missile.
Dhanush guns
Tags: GS –3 Defence
Why in news?
The Indian Army is on track to complete the induction of 114 Dhanush artillery guns by 2026, with one regiment already operational.
About:
Dhanush is the indigenously upgraded gun of the Swedish Bofors gun procured in the 1980s.
It is a 155 mm, 45-calibre towed artillery gun with a range of 36 km and has demonstrated a range of 38 km with specialized ammunition.
It is the first indigenously built long-range artillery gun.
It is an upgrade of the existing 155m, 39 calibre Bofors FH 77 gun.
The Advanced Weapons and Equipment India Limited, carved after corporatisation of the Ordnance Factory Board, is now manufacturing the Dhanush guns.
Features:
Equipped with an inertial navigation-based sighting system, and auto-laying facility.
An advanced day-night direct firing system.
Self-propulsion unit allows the gun to deploy itself in the field.
Data-driven innovations in agriculture
Tags: GS –3 Economy
Why in news?
Recently, United Nations Development Programme (UNDP) and the National Bank for Agriculture and Rural Development (NABARD) signed a Memorandum of Understanding (MoU) to co-create data-driven innovations in agriculture and food systems to support smallholder farmers.
About:
The partnership's focus is on improving climate resilience in agriculture, and it involves the dissemination of collaborative digital public goods such as DiCRA (Data in Climate Resilient Agriculture).
DiCRA provides open access to key geospatial datasets relevant to climate-resilient agriculture and is curated by UNDP and partner organizations.
This collaboration aims to enhance the lives and livelihoods of smallholder farmers by sharing open-source data for product development, technology transfer, and policy framing.
This is seen as a significant opportunity to leverage data and present it as a digital public infrastructure for India's rural farming community.
Open data innovations like this can promote best practices, optimize agricultural investments, and enhance the resilience of smallholders, especially women, against various risks.
In case you still have your doubts, contact us on 9811333901.
For UPSC Prelims Resources, Click here
For Daily Updates and Study Material:
Join our Telegram Channel – Edukemy for IAS
Visit our YouTube Channel – here