Nari Shakti Vandan Adhiniyam 2023/ Women Reservation Bill
Tag: GS-2 Indian Polity; GS-1 Role of women in Society
In News
Women Reservation Bill aka Nari Shakti Vandan Adhiniyam 2023 was passed in both Lok Sabha and Rajya Sabha with almost unanimous support (2 dissents in Lok Sabha).
About Nari Shakti Vandan Adhiniyam 2023
The 128th Constitution Amendment Bill, was introduced in Lok Sabha and passed with more than two-thirds majority. The Rajya Sabha witnessed the unopposed passage of the bill.
Now half of the state legislatures need to ratify the bill with a simple majority to enact the bill after the president's approval.
Key Provisions of the bill are:

Reservation Percentage and sub-categorization: It provides reservations to one-third of all seats for women in the Lok Sabha, the state legislative assemblies and the Legislative Assembly of the NCT. The reservation will also extend to the seats reserved for SCs and STs in Lok Sabha and state legislative assemblies.
Commencement of reservation: The reservation will be effective once the census conducted after the commencement of this Bill has been published. Based on the census, delimitation will be undertaken to reserve seats for women.
Duration of reservation: Reservation provided for a period of 15 years. However, it shall continue till such date as determined by a law made by Parliament.
Rotation of Seats: Seats reserved will be rotated after each delimitation, as determined by a law made by Parliament
Amendments in the articles of Constitution:

Article 330A and 332A inserted for one third reservation in Lok Sabha and State Assemblies respectively.
Article 330A inserts a clause for reserving one third of seats for women within SC and ST category seats of Lok Sabha.
Article 239AA inserts a subsection reserving seats for women in the legislative assembly of NCT of Delhi.
History of Women Reservation Bill
National Movement: The demand for political reservation of women was first raised during the freedom struggle, when three women bodies sent a letter to the British Prime Minister in 1931 seeking political reservation for women.
Constituent Assembly Debates: The issue of women reservation also came up in Constituent Assembly debates. But it was rejected saying that democracy is expected to give representation to all groups.
Committee of the Status of Women 1971: The committee recommended the reservation of women in local bodies.
The National Perspective Plan for Women in 1988: This plan also recommended the reservation of women in local bodies. Consequently, 73rd and 74th Constitutional amendments, mandated all State governments to reserve one-third of the seats for women in local bodies.
Efforts by different political Parties: The Women Reservation Bill was first introduced in 1996 as 81st Constitutional Amendment Bill. However the bill got lapsed. Later it was reintroduced in 2003, 20004 and 2010 but could not be passed due to several objections.
Arguments in the Favour of the enactment of Women Reservation Bill
Political empowerment of women: According to the Inter-Parliamentary Union (IPU) report India ranks lower than 140 other nations in terms of women representatives in the national legislatures. Reservations would empower women and provide an increased voice of women in policy making.
Significance of Women Leadership: Empirical evidence shows that women leaders focus on public goods related to women's concerns. Women legislators have been associated with improved economic outcomes and infrastructure development.
Decriminalization of politics as currently 159 MPs with charges of rape, murder, crime against women allegations in parliament. It can potentially reduce the presence of politicians with serious criminal charges.
Breaking stereotypical role of women: With more representation of women the perceived role of women as homemakers would break and give them more respect and voice in the society.
Breaking Patriarchy: Political representation would promote gender equality in political leadership and increase their self-worth.
Arguments against the Women reservation Bill
Concern of no separate OBC reservation: Bill provides reservation to SC & ST women within the existing one third reservation of seats. However OBC women constituting 60% of women population have not been provided separate reservation within the 33% reserved seats.
Reservation in Rajya Sabha and legislative Councils: Bill does not reserve seats in Rajya Sabha and Legislative councils which are being disputed.
Delayed Enactment of the Bill: Reservation for women in Parliament depends on the census and delimitation process. This can make actual implementation of the act politically sensitive.
Women as proxies: Similar to the trend of Pradhan Patis, Parishad patis, etc. it is feared that MP Pati and MLA pati system could emerge where women are just proxies of their male counterparts.
Homogeneity of Women as a group: Women are not a homogenous community like caste groups, making comparisons with caste-based reservations inappropriate.
Persuasion: Green Nudge
Tags: GS – 3: Environment & Ecology (Environmental Pollution)
Why in News
According to a Chinese research, awarding customers with "green points" and altering the default choice for no single-use cutlery in online food purchases resulted in a 648% rise in such orders.
Nudge Theory
Richard Thaler, an economist, devised the nudge theory, which underpins the idea of using minor stimuli to promote actions that are in the best interests of an individual over the long run.
He won the Nobel Prize in economics in 2017.
Nudge policies are gaining popularity in India as decision-makers explore for alternatives to typical command-and-control legislation to encourage constructive social and economic development.
Nudge policies used in programs such as Swachh Bharat Mission, GiveItUp campaign and Beti Bachao Beti Padhao (BBBP), etc.
Persuasion
Influencing someone's views, attitudes, or actions via argument and communication is the act of persuasion.
It entails persuading or inspiring others to embrace a specific viewpoint by presenting facts in a convincing way.
To accomplish its goals, it frequently relies on strong communication, empathy, trustworthiness, and the application of persuasive strategies.
To persuade people to make ecologically responsible decisions, Green Nudges employ persuasive strategies include public awareness campaigns, social norms marketing, and community-based projects.
Green Nudge
A Green Nudge is a subtle intervention or persuasion technique designed to influence individuals to make environmentally friendly choices without limiting their options.
These nudges encourage eco-conscious behaviour and have been effective in addressing environmental issues by guiding people toward sustainable decisions.
Green Nudge Examples:
India: Zomato's "no-cutlery" option; Government's LiFE movement, promoting environmentally conscious living, etc.
UK: "The Big Switch Off" campaign to save energy by encouraging people to turn off lights and appliances when not in use.
Netherland: "Pay as you throw" policy for garbage collection, where residents pay based on the amount of waste they produce, incentivizing reduced waste generation.
USA: San Francisco's ban on plastic bags discourages their use and promotes reusable alternatives.
Old Pension Scheme (OPS): Red Flag by RBI
Tags: GS – 2: Governance (Government Policies and Interventions), GS – 3: Indian Economy (Fiscal Policy)
Why in News
Recently, the Reserve Bank of India (RBI) has warned that reverting to the Old Pension Scheme (OPS) from the New Pension Scheme (NPS) can be a "major step backwards" in fiscal management.
Key Points of the Observations by RBI
Reverting to the Old Pension Scheme (OPS) might briefly reduce state expenses, but it will surpass the New Pension Scheme (NPS) contributions by the 2030s.
This shift could inflate the pension burden by around 4.5 times compared to NPS.
By 2060, this additional OPS burden could reach about 1% of GDP annually for states.
This action is seen as fiscally unsustainable and goes against the prevalent pattern of adopting defined contribution plans.
New Pension Scheme (NPS)
Proposed by the Project OASIS report became the basis for pension reforms and what was originally conceived for unorganized sector workers, was adopted by the government for its own employees.
The NPS was for prospective employees; it was made mandatory for all new recruits joining government service from January 1, 2004.
The defined contribution comprised 10 percent of the basic salary and dearness allowance by the employee.
In 2019, the government increased its contribution to 14 percent of the basic salary and dearness allowance.
Schemes under the NPS are offered by nine pension fund managers. It is sponsored by SBI, LIC, UTI, HDFC, ICICI, Kotak Mahindra, Aditya Birla, Tata, and Max.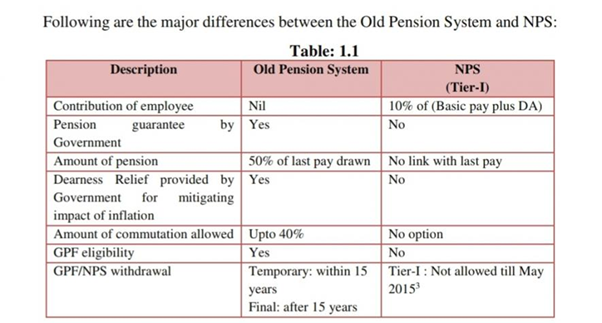 Advantages of New Pension Scheme
NPS subscribers have complete freedom to allocate their savings to equities, corporate bonds or government securities, or any combination of the three.
Risk-averse investors can simply allocate all their money to bonds or gilts in NPS, altogether skipping stocks.
A review of Nifty50 over the past 20 years reveals that while it commonly provided losses during one-year intervals, extending one's holding time to 10 years lowered the loss probability to zero while earning an 11–12% return.
Over the past ten years, NPS managers have achieved a 13–14% return on stocks and a 5–9% return on bonds and government securities, compared to the EPFO's struggle to report an 8–8.5% return on its "safe" debt portfolio.
With NPS, an employee has greater control over his pension as he can save more or allocate more to equities.
Paryushan 2023
Tags: GS – 1 Art & Culture
In News
Recently, Paryushan Parva 2023 has been celebrated by the Jain community.
About
Paryushan is one of the most important festivals of Jain community people.
Digambar and Shwetambar both celebrate this festival with great enthusiasm and happiness.
It takes place in the month of Bhadrapada (August or September in the Gregorian calendar) of the Jain calendar.
The festival is believed to have originated in the 6th century BC when the Jain teacher Mahavira taught his followers to abstain from violence and to focus on spiritual purity.
During this auspicious festival, people encourage each other to follow the path of spirituality. This festival is also known as the festival of forgiveness.
Significance
For both Shvetambara, who observe the ritual over eight days, and Digambars, for whom the festival lasts 10 days, this is a time for introspection, reflection, and purification.
It is a time for spiritual growth, with fasting, meditation, and purification rituals. Devotees attend speeches, practice non-violence, and seek forgiveness for their sins.
Five Duties of Paryushan include Samvatsari (forgiveness and reconciliation), Keshlochan (introspection and self-improvement), Pratikraman (seeking forgiveness for past wrongdoings), Penance (commitment to spiritual growth), and self-criticism and apology for past mistakes.
Hypertension
Tags: GS – 3 Science and Technology Health
In News
Recently, the World Health Organization (WHO) released its first-ever report on the global impact of high blood pressure (hypertension), stating approximately four in every five are not treated adequately.
About
Blood pressure is the force exerted by circulating blood against the walls of the body's arteries, the major blood vessels in the body.
Hypertension is when blood pressure is too high.
It is defined as having a systolic blood pressure level greater than or equal to 140 mmHg or diastolic blood pressure level greater than or equal to 90 mmHg or/and taking anti-hypertensive medication to lower his/her blood pressure.
Key highlights
The WHO report states that hypertension affects one in three adults worldwide.
Hypertension is a significant risk factor for death and disability in India, with less than one-fourth of hypertensive patients having their blood pressure under control during 2016-2020.
The prevalence of hypertension in India has increased, with 24% of men and 21% of women reported to have hypertension in the 2019–2020 National Family Health Survey (NFHS-5).
The number of people living with hypertension doubled from 650 million in 1990 to 1.3 billion in 2019, with nearly half of them unaware of their condition. Over three-quarters of adults with hypertension live in low- and middle-income countries.
The WHO recommends lifestyle changes, such as a healthier diet, tobacco cessation, and increased physical activity, as ways to lower blood pressure.
However, if countries can expand their coverage of hypertension treatment, it could potentially avert 76 million deaths between 2023 and 2050.
Azerbaijan (Nagorno-Karabakh)
Tags: GS – 1 Geography
In News
Recently, Azerbaijan launched an operation against Armenian forces in Nagorno-Karabakh.
About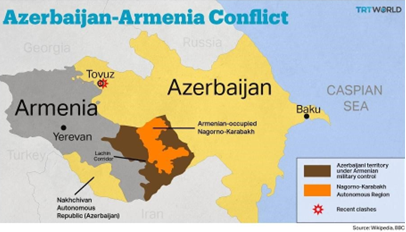 Azerbaijan
It is a former Soviet republic nation.
Occupying an area that fringes the southern flanks of the Caucasus Mountains, it is bounded on the north by Russia, on the east by the Caspian Sea, on the south by Iran, on the west by Armenia, and on the northwest by Georgia.
Its capital, Baku, is famed for its medieval walled Inner City.
Nagorno-Karabakh conflict
Nagorno-Karabakh is a mountainous and heavily forested region that under international law is recognized as part of Azerbaijan.
However, ethnic Armenians who constitute the vast majority of the population there reject Azeri rule (the legal system of Azerbaijan).
A ceasefire mediated by Russia in 1994 left the region under Armenian control, though it's still recognized as part of Azerbaijan.
The area is now governed by separatist Armenians and called the "Nagorno-Karabakh Autonomous Oblast."
Strategic Significance:

The energy-rich Azerbaijan has built several gas and oil pipelines across the Caucasus (the region between the Black Sea and the Caspian Sea) to Turkey and Europe.
In an open war between the two countries, the pipelines could be targeted, which would impact energy supplies and may even lead to higher oil prices globally.
Phosphorus
Tags: GS – 1 Geography
In News
India is running out of phosphorus, which is essential for fertilizers but also a major environmental pollutant.
Reasons for Phosphorous shortage:
Morocco and the Western Sahara region, control most of the world's phosphorus reserves, raising geopolitical concerns.
Coexistence of heavy metal cadmium with phosphorus in some deposits is a significant issue. Cadmium-laden fertilizers are often used in agriculture, leading to health concerns, including heart disease.
The phosphorus shortage is due to its limited availability in geological formations and its contamination of water bodies when not properly managed.
India is the world's largest importer of phosphorus, primarily from cadmium-laden deposits in West Africa.
Small portion of mined phosphorus is used in food production, with a significant amount lost to water bodies as agricultural runoff.
Phosphorus consumed by people ends up in sewage, exacerbating environmental problems like algal blooms and fish deaths.
To address the phosphorus scarcity, there is growing interest in mining urban sewage for high-quality phosphorus. This approach could create a sustainable source of phosphorus while mitigating environmental issues.
Collaborative Partnership on Forests
Tags: GS – 3 Environment
In News
Recently, the Collaborative Partnership on Forests (CPF) has issued a joint call to action looking ahead to 2030, stressing the immediate requirement for global efforts to unlock the potential of forests for the betterment of both people and the planet.
Key highlights
Significance of Forests: The CPF underscores the increasing recognition of the pivotal role forests play in attaining Sustainable Development Goals (SDGs). This involves their support for sustainable agricultural and food systems, their role in combatting climate change, reversing biodiversity decline, addressing desertification, and providing essential goods and services.
Progress and Obstacles: Swift action is essential to meet international goals and targets. This includes the imperative of expanding global forest cover by 3 percent by 2030. This expansion contributes to the preservation of carbon stocks, landscape restoration, and the creation of resilient ecosystems.
Four Key Focus Areas: The CPF outlines four primary areas of focus to tackle the challenges related to the protection, restoration, and sustainable management of forests.
Strengthening Policies and Governance 
Enhancing Accessibility to Data and Decision-Making Tools 
Increasing Finance and Investment 
Boosting Communication and Awareness 
In case you still have your doubts, contact us on 9811333901.
For UPSC Prelims Resources, Click here
For Daily Updates and Study Material:
Join our Telegram Channel – Edukemy for IAS
Visit our YouTube Channel – here