In today's daily current affairs briefing for UPSC aspirants, we explore the latest developments that hold relevance for the upcoming civil services examination. Our focus today includes a critical analysis of recent policy changes, international affairs, and national developments, all of which play a pivotal role in shaping the socio-political and economic landscape of India. Stay informed and stay ahead in your UPSC preparations with our daily current affairs updates, as we provide you with concise, well-researched insights to help you connect the dots between contemporary events and the broader canvas of the civil services syllabus.
Strengthening Multilateral Development Banks: The Triple Agenda
Tag: GS-3 Economy 
In News:
Independent Expert Group (IEG), appointed under the auspices of the India G20 Presidency, has recommended a triple agenda to harness the potential of multilateral development banks (MDBs). 
About
Multilateral Development Banks (MDBs) are international financial institutions comprising member nations from both developed and developing countries. Their primary role is to extend loans and grants to member nations, especially those in need, to finance projects aimed at fostering social and economic development within those countries.
The emergence of Multilateral Development Banks (MDBs) can be traced back to the aftermath of World War II, a period when there was a pressing need for reconstruction and development in war-torn countries.
The first and most prominent MDB is the World Bank, formally known as the International Bank for Reconstruction and Development (IBRD). It was established in 1944 at the Bretton Woods Conference in New Hampshire, USA.
Triple agenda to harness the potential of MDBs:
Adopting a triple mandate of eliminating extreme poverty, boosting shared prosperity, and contributing to global public goods;
Tripling sustainable lending levels by 2030; and
Creating a third funding mechanism that would permit flexible and innovative arrangements for purposefully engaging with investors willing to support elements of the MDB agenda.
Effective Implementation of Triple Agenda
Effective implementation of the triple agenda requires important changes in the ways that MDBs operate.  
Individually and collectively MDBs must become effective agents in all developing countries for integrating the development and climate agendas,  
Working with governments and the private sector to reduce, share and manage risks and thereby bring down the cost of capital.  
They must change their culture, become more client-responsive, and take more risk. 
Timelines for project preparation should be shrunk and procedures rationalised. They must also increase the scale and nature of their activities. 
Coordination between private and public sector arms of the MDBs on the use of the Cascade principles, guarantees, blended finance, political risk insurance, and foreign exchange hedging should be systematic rather than episodic. 
Functions of Multilateral development banks (MDBs)
MDBs play a vital role in global development. They provide financial and technical assistance to developing countries to help them achieve their economic and social goals. MDBs also work to promote good governance and sustainable development.
Providing loans and grants:  These loans and grants can help developing countries to build roads, bridges, and other infrastructure; improve agricultural productivity; provide access to education and healthcare; and reduce poverty.
Providing technical assistance: Technical assistance can cover a wide range of topics, such as project management, financial management, and environmental impact assessment.
Promoting good governance: MDBs promote good governance in developing countries by supporting reforms that strengthen the rule of law, improve transparency and accountability, and reduce corruption.
Promoting sustainable development: MDBs promote sustainable development by supporting projects that protect the environment and reduce poverty. This includes projects that promote renewable energy, improve water management, and protect biodiversity.
Multilateral development banks (MDBs)
World Bank: The World Bank is the oldest and largest MDB. It was founded in 1944 to help rebuild war-torn Europe. Today, the World Bank provides loans and grants to developing countries in all regions of the world. International Monetary Fund (IMF): The IMF is another important MDB. It was founded in 1944 to help stabilize the global financial system. The IMF provides loans to countries that are experiencing financial difficulties. Asian Development Bank (ADB): The ADB is the largest MDB in Asia. It was founded in 1966 to help promote economic development in Asia and the Pacific. The ADB provides loans and grants to developing countries in the region. Inter-American Development Bank (IDB): The IDB is the largest MDB in Latin America and the Caribbean. It was founded in 1959 to help promote economic development in the region. The IDB provides loans and grants to developing countries in Latin America and the Caribbean. African Development Bank (AfDB): The AfDB is the largest MDB in Africa. It was founded in 1964 to help promote economic development in Africa. The AfDB provides loans and grants to developing countries in Africa.
Source: The Hindu Business Line ; CG Dev
NATO Summit
Tags: GS – 2: International Relations (Global Groupings) 
Why in News:
Recently, NATO summit 2023 held in Vilnius, the capital of Lithuania. 
North Atlantic Treaty Organization (NATO):
NATO (founded: Washington Treaty, 1949; HQ: Brussels, Belgium) is also called the North Atlantic Alliance.
It is an intergovernmental military alliance between 31 member states (including Finland)– 29 European and two North American.
Its fundamental goal is to safeguard the Allies' freedom and security by political and military means.
Article 5 of the Washington Treaty states that an attack against one Ally is an attack against all.
Key Highlights of the Summit:
The launch of the NATO-Ukraine Council aimed to engage and support Ukraine. This council is intended to serve as a permanent body where the alliance's 31 members and Ukraine can hold consultations and call for meetings in emergency situations. 
Finland and Sweden's approval as NATO members showcased the alliance's commitment to expansion and deterrence against potential threats, including Russia. 
Ukraine won new security assurances from the U.S. and its allies. A joint declaration issued by the G-7, issued during the summit, lays the groundwork for each nation to negotiate agreements to help Ukraine bolster its military over the long term. 
The summit addressed China's malicious cyber operations, confrontational rhetoric, and disinformation, recognizing its emerging challenges to Euro-Atlantic security. 
Source: The Hindu
ED's powers to arrest and seek custody
Tags: GS – 2: Indian Polity (Statutory Body) 
Why in News:
Recently, the Madras High Court upheld the legality of Tamil Nadu Minister V. Senthilbalaji's arrest by the Enforcement Directorate (ED) in a money-laundering case linked to a cash-for-jobs scam. 
Enforcement Directorate (ED):
It is a multi-disciplinary organization mandated with the Investigation of offenses of money laundering and violations of foreign exchange laws. 
It works under the Department of Revenue, Ministry of Finance. 
Its headquarter is in New Delhi headed by the Director of Enforcement; has five regional offices in Mumbai, Chennai, Chandigarh, Kolkata, and Delhi; 10 zonal offices each headed by a Deputy Director. 
Director's tenure is of two years but can be extended from two years up to five years. 
Enforcement of Acts including: 

Conservation of Foreign Exchange and Prevention of Smuggling Activities Act (COFEPOSA), 1974 – Empowered to sponsor cases of preventive detention Foreign Exchange Management Act (FEMA), 1999. 
Prevention of Money Laundering Act (PMLA), 2002. 
Fugitive Economic Offenders (FEOA), 2018. 

As FEMA and PMLA apply to all of India, allowing ED to take action against any person. 
Madras High Court's Ruling:
The judge accepted that ED officials are not police officers as per the law laid down by the Supreme Court in Vijay Madanlal Choudhary v. Union of India (2022).
It was further highlighted that Section 167(2) CrPC enables the remand of an accused to 'such custody as the Magistrate thinks fit' during the first fifteen days and does not specify whether it has to be 'police custody' or 'judicial custody'.
ED can subject any person accused in a case booked under the Prevention of Money Laundering Act (PMLA) to custodial interrogation.
Previous Judgements of Supreme Court:
In Central Bureau of Investigation v. Anupam J. Kulkarni (1992), the Supreme Court laid down the law that no police custody can be allowed beyond the first 15 days from the date of arrest; any further remand during an investigation can only be in judicial custody. 
In its landmark 2022 ruling Vijay Madanlal Choudhary v. Union of India, the Supreme Court ruled that since the officers under the PMLA are not given powers of a police officer, they could not seek police custody. She noted that the officers empowered to arrest under Section 19 of the PMLA are required to produce the accused to the competent court within 24 hours of arrest and can only seek judicial remand. 
In Central Bureau of Investigation v. Anupam J. Kulkarni (1992), the Supreme Court laid down the law that no police custody can be allowed beyond the first 15 days from the date of arrest; any further remand during the investigation can only be in judicial custody. 
In P. Chidambaram v. Directorate of Enforcement (2019), the Supreme Court rejected a prayer for anticipatory bail with respect to an offence of money laundering and proceeded to grant custody to the ED. The court reasoned that in a case of money laundering which involves many stages of placement and layering of funds, a 'systematic and analysed' investigation is required which would be frustrated if pre-arrest bail is granted. 
Source: The Hindu
Credit Guarantee Scheme for Livestock Sector
Tags: GS-III: Agriculture 
In News:
Union government launches first ever "Credit Guarantee Scheme" for Livestock Sector 
About Credit Guarantee Scheme for Livestock Sector:
Ministry of Fisheries, Animal Husbandry & Dairying launches the first-ever "Credit Guarantee Scheme" for the Livestock Sector. 
The scheme aims to reboot rural economy by leveraging Micro Small Medium Enterprises (MSMEs) in the Livestock sector. 
It has been approved under the Prime Minister's AtmaNirbhar Bharat Abhiyan stimulus package as part of the "Animal Husbandry Infrastructure Development Fund" (AHIDF). 
The implementation of the Credit Guarantee Scheme will be overseen by the Department of Animal Husbandry & Dairying. 
Important features: 

A Credit Guarantee Fund Trust of Rs. 750.00 crores will be established to provide credit guarantee coverage up to 25% of credit facilities for eligible MSMEs. 
A Credit Guarantee Portal will be opened to facilitate the enrolment of eligible lending institutions, issuance/renewal of Credit Guarantee Cover, and Settlement of Claims. 
Loans of up to 90% of the total project cost can be obtained from Scheduled Banks and National Cooperative Development Corporation (NCDC). 
Additionally, an interest Subvention of 3% is provided for beneficiaries for timely repayments of loan installments. 
The credit will target investments in dairy processing, meat processing, animal feed plants, breed improvement, waste management, and veterinary vaccine/drugs manufacturing facilities. 
The scheme will act as a key enabler and risk mitigation measure for lending institutions and will facilitate collateral-free funding to the Livestock Sector. 

Overall, the scheme is expected to increase the participation of MSMEs in the livestock sector, enhance credit flow and strengthening of the Livestock sector's contribution to the overall rural economy. 
Source: PIB GOV.
India has a 3–5-year China+1 window
Tags: GS-II: IR
In News:
World Bank president Ajay Banga deliberates on India's opportunity to become an alternative to China in Manufacturing 
About India has a 3–5-year China+1 window:
World Bank President Ajay Banga recently visited India and emphasized the country's potential to become an alternative to China in manufacturing.
India has a limited window of three to five years to capitalize on this opportunity and establish itself as a viable manufacturing destination.
Key observations:
The changing global supply chain dynamics are prompting companies to explore diversifying their manufacturing locations, moving away from excessive reliance on China. 
India has an excellent opportunity to position itself as a preferred destination for companies seeking an alternative to China for manufacturing operations. 
India should act with determination and enthusiasm to seize this window of opportunity and attract manufacturing investments. 
| | |
| --- | --- |
| Challenges faced by China | Advantage India |
| The Covid-19 pandemic has led to dip in consumption, downtrend in the labor market Poor domestic demand and reduced profits have led to Unemployed and mass layoffs. The real estate in China is facing stagnation and developers struggling with reduced demand. Deflation leading to decreased consumer spending and reduced demand for goods. China's export-oriented growth has been impacted by the global economic slowdown, Tensions with the United States have also contributed to economic losses for China. China faces a trapped debt crisis with total debt payment due to a staggering $785 billion. | Collaboration between government and private sector for an investor-friendly environment. Leveraging demographic dividend, skilled labor force for manufacturing operations. Improving ease of doing business, infrastructure development, and policy reforms. Emphasizing innovation, R&D to attract high-value manufacturing investments. Investments in vocational training and skill development. Focus on promoting and supporting domestic manufacturing. Encouraging technology transfer and innovation within the country. |
Source: Economic Times
Oral Polio Vaccine 
Tag: GS-2 Issues related to health 
In News:
With the reporting of new polio cases in unvaccinated people of the U.S., U.K., and Israel, concern has been raised over the effectiveness of oral polio vaccines. 
About the Polio Vaccine types:
Polioviruses are enteroviruses that are transmitted primarily by the faecal-oral route. Its transmission is linked to water, sanitation and hygiene. 
Oral Polio Vaccine (OPV) is a live attenuated vaccine that contains weakened polioviruses (all three types – 1, 2, and 3) to induce an immune response in the human body without causing disease. 
Advantages of OPV:  

Inexpensive and easy to administer 
Triggers a robust immune response in the gut lining i.e. the mucosal immune response in addition to the systemic immune response. 
It is excellent at preventing disease as well as transmission. 
Easier to manufacture 
Drawback of OPV:  

It requires multiple booster shots since its uptake by the immune system is not as good. 
OPV can reverse the virus's neurovirulence in rare cases, leading to vaccine-associated paralytic poliomyelitis (VAPP) and vaccine-derived paralytic poliomyelitis (VDPVs). 
Injectable Polio Vaccine (IPV) contains inactivated polioviruses (all three types) and is administered by injection.  
It induces a strong systemic immune response, thus protecting against paralytic poliomyelitis, without any risk of VAPP or VDPV. 

Limitations:  

It hardly elicits mucosal immunity and is thus unable to prevent silent infections and transmission.  
Manufacturing the IPV requires a high level of biosafety measures, because wild viruses are chemically inactivated.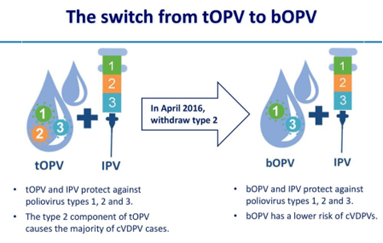 The Global Switch 
Since 90% of VAPP and VDPV cases were due to poliovirus type 2, present in the vaccine, it was decided that OPV type-2 be discontinued. Hence since 2016, the OPV has attenuated versions of types 1 and 3 of the virus.
This switch was accompanied by the introduction of IPV in countries that are still dependent on OPV.
However, the number of VDPV cases didn't come down after 2016 due factors like limited supply of IPV, cost/logistics, a sudden increase in the demand for IPV and interruption in routine immunisation due to COVID-19.
Hence a child vaccinated with only IPV will resist the virus's ability to cause a paralytic disease, but will still be at risk of being infected and contributing to silent transmission.
Therefore it would be dangerous and unethical to discontinue OPV in a hasty manner, but new alternatives such as novel OPV (nOPV) can be used.
Source: The Hindu
Solar STAR-C initiative
Tag: GS-3 Renewable Energy 
In News:
India is considering expanding its Solar Technology and Application Resource Centres (STAR -C) initiative to a number of Pacific Island countries 
About the STAR-C initiative:
The STAR-C is an initiative, run by the International Solar Alliance in partnership with the United Nations Industrial Development Organisation (UNIDO). 
The overall objective of the STAR-C initiative is to create a strong network of institutional capacities within ISA Member States to enhance quality infrastructure (QI) for the uptake of solar energy product and service markets, particularly in least developed countries (LDCs) and small island developing states (SIDS). 
The programme aims to boost capacity in developing countries by building solar workforces, standardizing products, setting up infrastructure and bringing greater awareness among policymakers. 
STAR Centre initiative caters to a Member Country's capacity-building needs in one or a combination of ways: 

Building capable solar workforces 
Sensitising policymakers and financial institutions 
Incubating enterprises, standardising products and services 
Creating a knowledge repository on information related to solar energy 

In its initial stages, the focus was on the Economic Community of West African States, the Pacific Island Forum (PIF) and the East African Community. 
Impetus for working with Pacific Islands:
The STAR Centre initiative currently runs in Tonga and after India's participation in a summit with Pacific Island countries, India is looking to enhance its diplomatic footprint in the region. 
Increased outreach by China in this region has prompted increased outreach by traditional partners like Australia and the Quad nations (US, Japan, Australia, and India) to place greater emphasis on engaging with Pacific Island countries to address shared challenges.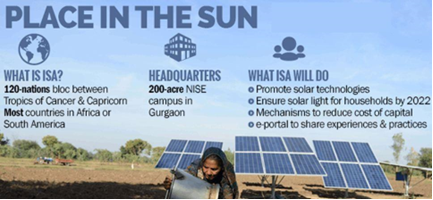 Pacific islands are the most vulnerable countries exposed to severe threats due to climate change.  
Source: Livemint 
Panel of Vice-Chairpersons
Tag: GS-2 Polity 
In News: 
Recently, Rajya Sabha Chairman nominates four women parliamentarians to panel of vice-chairpersons 
About
The appointment of four women in the panel of vice-chairpersons is a significant step to give equal representation to female in a panel of Vice-Chairpersons and remove gender inequality. This created a history as it is for the time when women were appointed to the panel of vice-chairpersons.
The Deputy Chairman heads the Panel of Vice-Chairpersons in Rajya Sabha.  
The members are nominated from the members of the Rajya Sabha by the Chairperson.  
Its role is to assist in passing bills and ensuring the effective functioning of the government. 
In case of the Chairman's absence, the same duty is delegated and executed by the house's deputy chairman. 
Source: The Hindu
Rule 267 Vs Rule 176 of the Rajya Sabha
Tag: GS-2 Polity 
In News:
The opening day of the Monsoon Session of Parliament the Opposition insisted that the Prime Minister make a suo motu statement followed by a discussion, suspending all business under Rule 267. 
About
Rule 176: Rule 176 enables any member of the Rajya Sabha to raise a short-duration discussion on a matter of urgent public importance. 
Rule 267: Rule 267 deals with the suspension of rules and is used when any member wishes to move that a particular rule be suspended in its application to a motion related to the business listed before the Council on that day.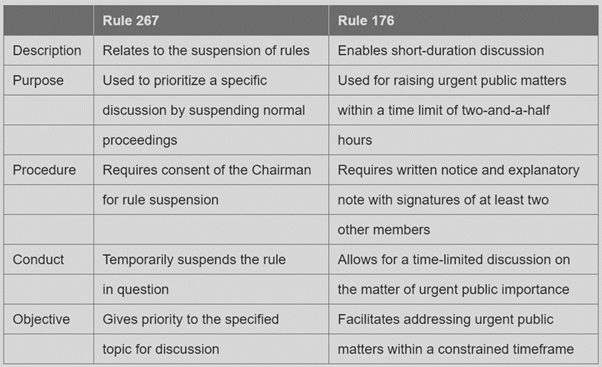 Source: Indian Express
Invest India 
Tag: GS-3 Economy 
In News:
Recently, Ms. Nivruti Rai appointed as Managing Director & CEO of Invest India. 
About
Invest India, set up in 2009, is a non-profit venture under the Department for Promotion of Industry and Internal Trade (DPIIT), Ministry of Commerce and Industry, Government of India. 
It is the national investment promotion and facilitation agency. 
Invest India focuses on sector-specific investor targeting and the development of new partnerships to enable sustainable investments in India. 
In addition to a core team that focuses on sustainable investments, Invest India also partners with substantial investment promotion agencies and multilateral organizations. 
Invest India also actively works with several Indian states to build capacity as well as bring in global best practices in investment targeting, promotion, and facilitation areas. 

Biofortified foods 
Tag: GS-3 Science and Technology 
In News:
As the global market of biofortification is projected to reach $217.21 million by 2030 from the current $100.84 million (in 2022), the government is seeking the private sector's help to popularise the access to nutrient-rich crops. 
About
Biofortification is a process that involves increasing the nutritional value of crops by enhancing the levels of essential vitamins, minerals, and other beneficial nutrients through traditional breeding techniques or modern biotechnology.  
It aims to improve the nutritional quality of staple foods and combat malnutrition, particularly in regions where people have limited access to a diverse diet and suffer from micronutrient deficiencies. 
Biofortification primarily focuses on staple crops like rice, wheat, maize, beans, and sweet potatoes, which are major sources of calories for millions of people worldwide. 
Biofortification offers a sustainable and cost-effective solution to address this problem. There are two primary methods of biofortification:
Conventional Breeding: This method involves selecting and crossbreeding plant varieties that naturally have higher levels of specific nutrients.
Genetic Modification: Also known as genetic engineering or genetically modified organisms (GMOs), this method involves introducing specific genes into the crop's DNA to enhance its nutritional content.
Some successful examples of biofortification include:
Golden Rice: A genetically modified rice variety engineered to produce beta-carotene, a precursor of vitamin A. Vitamin A deficiency can cause blindness and weaken the immune system, making Golden Rice a potential solution to combat this issue. 
Iron and Zinc-fortified Beans: Beans are a staple food for many communities, and fortifying them with iron and zinc can help address deficiencies of these vital minerals. 
High-Iron Pearl Millet: Pearl millet is a drought-resistant staple crop grown in arid regions. Biofortified varieties of pearl millet with increased iron content can aid in tackling iron deficiency anemia. 
Source: The Hindu
Surat Diamond Bourse (SDB)
Tag: GS-3 Infrastructure Development 
In News:
Recently, Prime Minister expected to inaugurate the Surat Diamond Bourse, claimed to be the world's biggest office space in a single project. 
About
The Surat Diamond Bourse (SDB) has planned to expand and shift the diamond trading business from Mumbai to Surat, the hub of cutting and polishing diamonds. 
The SDB has been built on an area of 66 lakh square feet at DREAM (Diamond Research and Mercantile) city. 
Surat's diamond trading market is located at present in Mahidharpra Hira Bazaar and Varachha Hira Bazaar. 
The SDB core committee has seven members with Vallabhbhai Lakhani, owner of Kiran Gems, the biggest diamond firm of Surat, as its chairman.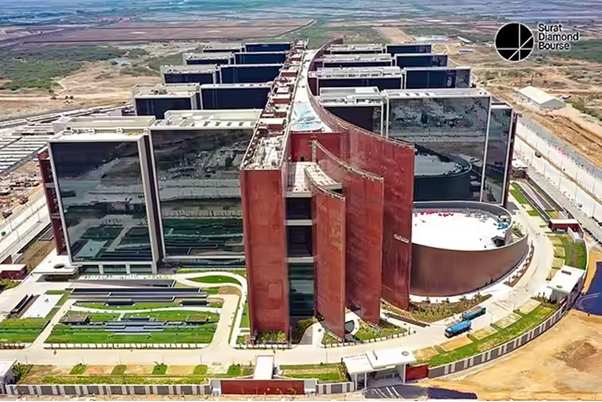 Source: Indian Express
Heat Index 
Tag: GS-1 Geography 
In News:
Recently, India Meteorological Department (IMD) has recently launched the Heat Index on experimental basis 
About
Heat Index has been launched by IMD to provide general guidance for the regions within India where, the apparent temperature/feels like temperature (considering the impact of humidity along with the temperature) are on the higher side causing discomfort for the people.  
At present, the heat index is derived using the heat index equation similar to what is used by National Weather Service, National Oceanic and Atmospheric Administration (NOAA), USA. 
Heat index provides information about the impact of humidity on high temperatures and thus provides a feel-like temperature for human beings which can be used as an indication of human discomfort. It provides guidance towards additional care to be taken by people to reduce discomfort. 
Experimental Heat Index are as follows:
Green: – Experimental heat Index less than 35 deg C 
Yellow: – Experimental heat Index in the range 36-45 deg C 
Orange: – Experimental heat Index in the range 46-55 deg C 
Red: – Experimental heat Index greater than 55 deg C 
Source: PIB GOV.
Frequently Asked Questions (FAQs)
Q: What are daily current affairs?
A: Daily current affairs refer to the most recent and relevant events, developments, and news stories that are happening around the world on a day-to-day basis. These can encompass a wide range of topics, including politics, economics, science, technology, sports, and more.
Q: Why is it important to stay updated with daily current affairs?
A: Staying updated with daily current affairs is crucial because it helps individuals make informed decisions in their personal and professional lives. It enables people to understand the world around them, stay aware of significant events, and engage in informed discussions about important issues.
Q: Where can I access daily current affairs information?
A: There are various sources for daily current affairs, including newspapers, news websites, television news broadcasts, radio programs, and dedicated apps or newsletters. Social media platforms are also widely used to share and access current affairs information.
Q: How can I effectively incorporate daily current affairs into my routine?
A: To incorporate daily current affairs into your routine, consider setting aside specific times each day to read or watch news updates. You can also subscribe to newsletters or follow news apps to receive curated content. Engaging in discussions with peers or participating in online forums can further enhance your understanding of current events.
Q: What are some tips for critical analysis of daily current affairs?
A: When analyzing daily current affairs, it's essential to cross-reference information from multiple sources to ensure accuracy. Additionally, consider the source's credibility and bias, if any. Develop the ability to identify the main points and implications of news stories, and critically evaluate the significance and impact of the events reported.
In case you still have your doubts, contact us on 9811333901.
For UPSC Prelims Resources, Click here
For Daily Updates and Study Material:
Join our Telegram Channel – Edukemy for IAS
Visit our YouTube Channel – here