UPSC Mains General Studies Paper – 1 Mains 2023
UPSC Mains Civil Services IAS Exam Question Paper – 2023
Introduction
The constitution of India mandates in articles 14,39A,22(1) mandates Free Legal aid for the poor and vulnerable sections of the society. In order to achieve this the government enacted the Legal Services Authority Act,1987 which led to the formation of the National Legal Services Authority.
Body
Entities under its ambit are:
Persons with disabilities
Women and children
Scheduled caste and scheduled tribes
Victims of poverty and human trafficking;
Industrial workmen
People under custody
Victims of natural disasters, caste or ethnic violence
LGBTQ's
People with annual income less than 1 lac.
Role of NALSA: NALSA is mandated to and lately has played an important role in creating a level playing field for accessible and affordable justice by:
Establishing Lok Adalat's: for disposal of matters at pre-litigation stage; 6.6 lac cases have been resolved.
Legal services mobile app: to enable easy access of legal aid and creating awareness.
Nyaya Bandu Scheme: to advance the culture of pro-bono legal services and create a framework for dispensation of free legal aid across the country.
Other innovative measures:
Framing rules for refund of court fees and execution of Lok Adalat's awards.
Sensitisation of judicial officers to legal services programmes.
Legal aid facility in jails.
Appointing "legal aid counsel" in all CJM courts in the country.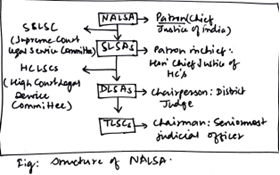 Conclusion
Therefore NALSA has been the lodestone for effectuating proper justice delivery in the country and facilitating the penetration of justice to the grassroot level such as the NALSA case, 2014 which ensured transgenders  a dignified life. New age reforms such as NARI ADALAT and Inspirations from  Eminent personalities such as K.Chandru (pro-bono case for irular tribe man) should be implemented to make it more efficient in serving the masses. 
In case you still have your doubts, contact us on 8792740517.
For UPSC Prelims Resources, Click here
For Daily Updates and Study Material:
Join our Telegram Channel – Edukemy for IAS
Visit our YouTube Channel – here