Women-led climate action is a powerful and increasingly essential force in the global effort to combat environmental challenges. As the world grapples with the urgent need to address climate change, women are emerging as influential leaders, driving innovative solutions and advocating for sustainability. Their involvement is not only a matter of gender equality but also a strategic imperative. Women, particularly in marginalized communities, are often disproportionately affected by the impacts of climate change. Therefore, empowering women to take a leading role in climate action not only fosters inclusivity but also enriches the diversity of ideas and approaches needed to address the complex and interrelated environmental issues we face. This burgeoning movement deserves our attention, support, and recognition for its vital contributions to a sustainable and resilient future.
Tag: GS Paper-2: Issues related to women. GS Paper-3: Growth & Development. 
Exam View:
Impact of climate change on women; Way forward. 
Context:
Women in the emerging countries are more vulnerable to climate change because of their dependence on natural resources and labour-intensive work.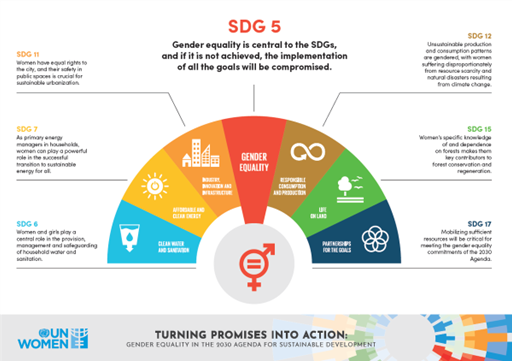 Decoding the editorial: Impact of climate change on women
Women across the world face severe risks to their health, safety, and quality of life.  
Women are more likely to live in poverty than men. 

It is just one of several social, economic, and cultural variables that makes them more susceptible to the effects of climate change.  
According to estimates, 130 million people could be pushed into poverty by 2050 due to climate change risks, natural disasters, and food inflation, impacting women's inequality.  

Women in developing and less developed countries are more vulnerable. 

It is because of their dependence on natural resources and labour-intensive work for their livelihood.  
According to the ILO, over 60% of working women in southern Asia and sub-Saharan Africa are still in agriculture, where they are often underpaid and overworked.  

Women in low-income countries engaged in climate-vulnerable occupations such as farming face further issues. 

Women own only about 10% of the land used for farming. 
Women engaged in agriculture do not have access to quality inputs and possess low education and technical knowledge.  
Heat stress affects workers a lot in this sector, especially in South Asia and Africa.  
Changing precipitation patterns and more frequent extreme weather events are just the beginning of the problems. 
Their effects on crop production and food security fall disproportionately on these people, who already face significant challenges in obtaining resources, expertise, and technology.  

Women from low-income households are more at risk. 

It is because they are more responsible for food, water, and other homely unpaid work. 

Women in rural areas are impacted disproportionately by climate change. 

Due to the climate crisis, more time and effort are needed to obtain basic necessities.  
Rural women often shoulder the burden of ensuring access to clean water, adequate cooking fuel, and nutritious food for their families.  
Women may be at increased risk for health and safety because they must travel long distances every day to collect water and fuel.  

Women are more likely to be displaced by climate-related disasters. 

According to a UN study, most (80%) of those displaced by climate-related disasters are women and girls. 

Women, especially those from vulnerable communities, face particular difficulties during and after natural disasters.  

When women are uprooted, they are more susceptible to prejudice and exploitation. 
For instance, after the earthquake in Nepal in 2015, the United Nations Population Fund (UNFPA) found women were more exposed to trafficking and exploitation.  
Separation from social networks, a higher risk of gender-based violence, and decreased access to employment, education, and essential health services, such as sexual and reproductive health care and psychosocial support, are just some gender-specific issues women face. 
Way forward
Invest in women's education, training 

Investments in women's education, training, and access to resources are essential if we are to be resilient to the impact of climate change.  
The negative impacts of climate change on people's living standards can be reduced by teaching them how to practise sustainable agriculture, water management, and energy generation.  
For example, in India, the Self-Employed Women's Association (SEWA) teaches women farmers how to respond to shifting climate patterns to support themselves better financially.  
Therefore, it is essential to support groups that educate the public, train people to adapt to climate change and invest in women's education and training in environmentally-friendly farming methods. 

Women's participation in climate policy decision-making at all levels 

As women face greater risks in climate change, gender parity in decision-making bodies is essential.  
One such programme in South Asia is the Gender and Climate Change Development Programme, which aims to increase women's influence in policy making by providing them with a stronger voice.  
Gender equality and environmental goals are mutually reinforcing and create a virtuous circle that will help accelerate the achievement of the SDGs.
Source: The Hindu 
Frequently Asked Questions (FAQs)
1. Why is women-led climate action important?
Answer: Women-led climate action is crucial because women are often disproportionately affected by the impacts of climate change, particularly in marginalized communities. Their leadership can bring unique perspectives, innovation, and solutions to address environmental challenges effectively.
2. What are some examples of women-led climate initiatives?
Answer: There are numerous examples, such as Greta Thunberg's global youth climate movement, grassroots women-led environmental organizations, and female leaders advocating for sustainable policies at local, national, and international levels. Women are making significant contributions to climate action across various sectors.
3. How can I support and empower women in climate action?
Answer: You can support women in climate action by promoting gender equality in environmental organizations, providing funding and resources to women-led initiatives, amplifying women's voices and stories in the climate discourse, and actively engaging with women leaders in the field.
4. What challenges do women face in climate action efforts?
Answer: Women often face barriers such as gender discrimination, limited access to resources, and traditional roles that hinder their participation in climate initiatives. Addressing these challenges requires systemic changes and promoting gender-inclusive policies and practices.
5. How can women-led climate action contribute to a more sustainable future?
Answer: Women-led climate action fosters inclusivity, diversity, and a broader range of perspectives. This, in turn, leads to more innovative and effective solutions to environmental challenges. Empowering women in climate action helps build a more sustainable and resilient future for all.
In case you still have your doubts, contact us on 9811333901.
For UPSC Prelims Resources, Click here
For Daily Updates and Study Material:
Join our Telegram Channel – Edukemy for IAS
Visit our YouTube Channel – here