UPSC Mains General Studies Paper – 1 Mains 2023
UPSC Mains Civil Services IAS Exam Question Paper – 2023
Introduction
According to the report 'Impact of Smartphones on Human Relations 2023 -80% (Four in every five) smartphone users are on their phones even when they're spending time with their kids, and a whopping 74% of Indian parents feel that their relationship with their kids may be hurt because of smartphones.
Body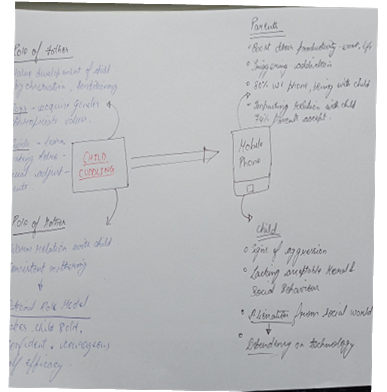 INCREASING USAGE OF MOBILE PHONES
Shift towards nuclear family – disintegration of joint family , focus on individual
Increased competition -with globalisation , rise in competition with improved technology and digitised world – phone has become a need .
Helps in Connectivity -84% of people agree that smartphones help them stay connected with their loved ones, boost their productivity and improve their quality of life.
Mobile phones have a wide range of applications- speedy communication , long distance connectivity , portable devices , answers available at 1 click – cooking , studies , entertainment etc. . 
IMPACT ON SOCIALISATION OF CHILD:
Reduced Emotional Bonding: Mobile phone usage diminishes physical and emotional bonding between parents and children, impacting emotional development.
Impaired Communication Skills: Excessive screen time hampers vital communication skills, essential for understanding and conveying emotions and thoughts.
Decreased Empathy: Spending more time on mobile devices hampers empathy development, which relies on understanding and responding to others' emotions.
Limited Real-world Exposure: Mobile phones confine children to a virtual world, limiting their exposure to diverse people, places, and experiences.
Cyberbullying and Online Risks: Digital engagement exposes children to cyberbullying and inappropriate content, risking their socialisation experiences and mental well-being.
Contact with other agencies of socialization -out of kin dependence -on peer group , educational institutions which may become detrimental for the child itself and the society  example – in Mumbai 17 yr old boy, 15 yr old girl booked for raping and impregnating a 12 yr girl . 
Dependence on technology– in modern times , children may develop an early dependence on screens and devices , having access to restricted content for children which may have harmful consequences – example – increasing cyber crime.
CASE STUDY -" BLUE WHALE CHALLENGE" 
Issue – with  no proper socialisation  by parents , the alienated child chooses engagement with mobile phone , may have detrimental consequences – 
Consequence -a game like BGMI , COUNTRE STRIKE, etc. , which allotted certain tasks to its  players , and final task was to commit suicide .it shows the emerging phenomenon of 'cybersuicide' . 
Conclusion
Hence, The substitution of child cuddling with mobile phones can have far-reaching consequences for the socialisation of children. Balancing screen time with face-to-face interactions and fostering empathy and effective communication skills remains essential in the digital age to ensure that children grow into well-rounded individuals who can navigate the complexities of human interaction.
In case you still have your doubts, contact us on 8792740517.
For UPSC Prelims Resources, Click here
For Daily Updates and Study Material:
Join our Telegram Channel – Edukemy for IAS
Visit our YouTube Channel – here