Going through some topper's copies made one thing clear – using a lot of examples definitely helps. Enriched Content has become more than just a buzzword; it is now necessary for success in the UPSC exam.
If you have been clearing Prelims, but flunking somewhere in Mains – it is clear that the answers that you are writing are not fetching enough marks!
Competition is tight – not getting 1-2 marks in even HALF of the Questions in any ONE of ALL FOUR GS Papers would ensure you are not on the list.
So what is required to handle such a case? Practice? You might already be doing that – but the practice is still in the wrong direction.
It doesn't matter if you are writing 500+ Questions before your Mains – if they don't have enough value additions, your writing Mains this time will hardly make any difference.
But, how do you ensure that you are adding more value to your answers?
You need to ensure that your answers give the impression that you can APPLY whatever you know through examples.
Consider this question:
1. Examine the major healthcare challenges encountered by India and analyze the importance of infrastructure support and a systematic approach to attaining universal healthcare.
Generic Introduction:
The healthcare provisions in India suffer from significant inadequacy, resulting in highly inequitable access to healthcare services. The lack of efficient public healthcare systems and the burden of out-of-pocket health expenditures limit individuals' capacity to invest in the human capital development of their children.
Value-added Introduction:
There has been a concomitant decline in out-of-pocket expenditure as a percentage of total health expenditure from 64.2% in 2013-14 to 48.2% in 2018-19. Despite this, the number of people getting access to healthcare facilities remains abysmally low.
Generic Body:
Inadequate public healthcare spending
Crumbling public health infrastructure
High out-of-pocket expenditure
Lack of health insurance coverage
Doctor density ratio
Shortage of medical personnel
Rural-urban disparity
Social inequality
Poor healthcare ranking
Commercial motives in the private sector
Lack of a level playing field between public and private hospitals
Flaws in healthcare schemes
Enriched Content Body:
Inadequate public healthcare spending: India's public healthcare spending is around 1.3% of the national income, far below the global average of 6%.
Crumbling public health infrastructure: Shortages and lack of quality in primary health centers and sub-health centers are forcing patients to seek private healthcare.
High out-of-pocket expenditure: Approximately 70% of medical spending is borne by patients themselves, leading to financial burden and pushing many into poverty.
Lack of health insurance coverage: About 76% of Indians do not have health insurance, resulting in high out-of-pocket expenses for healthcare.
Doctor density ratio: India has a low doctor density ratio of 8 doctors per 10,000 people, leading to inadequate access to healthcare services.
Shortage of medical personnel: There is a significant shortage of doctors and paramedical staff at all levels of care, including sub-health centers, primary health centers, and community health centers.
Rural-urban disparity: Rural areas have inadequate healthcare infrastructure compared to urban areas, leading to limited access to healthcare services in rural and remote areas.
Social inequality: Health facilities are disproportionately concentrated in urban areas, leaving rural and marginalized populations with limited access to modern healthcare services.
Poor healthcare ranking: India ranks low at 145th among 195 countries in terms of healthcare quality and accessibility.
Commercial motives: Lack of transparency and unethical practices in the private healthcare sector.
Lack of a level playing field: Unequal support between public and private hospitals hinders the active participation of private players in healthcare schemes.
Flaws in healthcare schemes: Issues persist with the National Health Mission and its declining share in the health budget, impacting the overall state of primary healthcare in the country.
While the generic introduction would fetch you maybe a 4-5 in the Mains Exam, the enriched introduction & body would definitely give you an edge – even if it is of 1-2 marks.
Consider getting 1-2 marks extra with the value-added content.
There are a total of 79 questions in all of GS. A generic answer would fetch you around 2-3 marks for a 10-marker question, and 4-5 for a 15-marker question.
For an answer which has analyzed all the aspects of the introduction & body with the relevant facts, figures, & examples, you would definitely get around 4-5 for a 10-marker question, and 6-7 for a 15-marker question.
| | | | |
| --- | --- | --- | --- |
| Answer Type | 10 Marker | 15 Marker | Total Marks |
| Generic Answer | 25 | 45 | 70 |
| Value-Added Answers | 45 | 65 | 110 |
You might either be getting around 70 or maybe 10-15 marks more. Why is that? It is because you have been writing only SOME of the answers with value-additions, instead of writing most of them.
There can be 2 factors that may be resulting in less value-addition in your answer:
Lack of Revision
Lack of Value-Added Content itself.
Think about it – most people are reading the same sources. What, then, is making the difference when it comes to your marks and the marks secured by the topper?
There are some methods, which we believe should be able to give you the edge required:
You must be well-versed with all the questions that have come in the Previous Year for Mains
You must be well-versed with all relevant facts, figures, examples and data-points on themes that keep coming in the exam.
You must write, revise and remember all the content/value addition required for Mains 2024 before going full-fledged with your Prelims Preparation.
Ideally, you must be starting with your Prelims preparation by December 2023.
All your preparation for Mains must be complete by January. Between June 2024 till August 2024, the focus should be only on writing answers of tests, the content of which you already know.
This is where our GS Advanced Program comes in.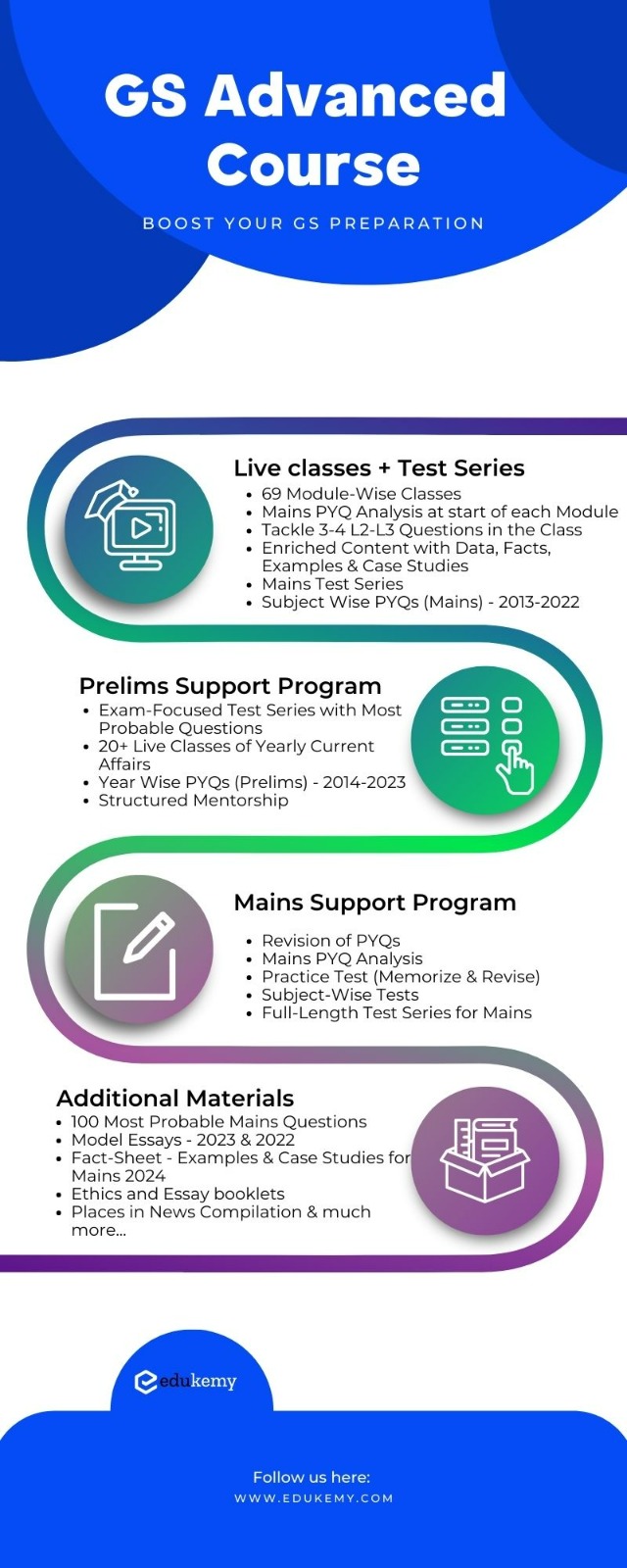 Starting from 2nd August, this is what we are planning:
Our focus for Mains will be on different subjects.
We will begin with the analysis of previous year's question papers (PYQs) from Mains (2013-2022).
By studying the PYQs, you will gain insight into the exact types of questions asked in the exam.
We will provide you with a booklet or PDF containing the Mains PYQs and their solutions, which you should read, revise, and memorize.
Starting from the second class, each session will include 3-4 questions of L2-L3 level, which will be discussed in detail.
You will have the opportunity to write and submit answers to these questions for evaluation by our Subject Matter Experts.
At the end of each module, you will be given a subject-wise test based on the class content and the provided PYQ solutions.
This approach ensures that by the end of January, you will have a thorough understanding of each subject, including the question patterns, enriched content required in your answers, and the use of relevant examples and case studies.
From December onwards, we will introduce our dedicated Prelims Support Program, focusing on extensive practice, analysis of previous year's Prelims questions, and providing practice tests that align with the level of UPSC.
This program aims to ensure you clear the Prelims comfortably, allowing you to focus on Mains revision without any hesitation.
Once the Prelims are over, we will immediately begin the GS Mains Support Program.
We will follow a similar cycle as the GS Mains Advanced program, with a focus on enhancing your answer writing skills and revising the topics you have studied.
To ensure you incorporate the most recent data points and examples, we will provide you with a "Fact-Sheet," a PDF equipped with topic-wise examples and data points essential for Mains success.
Additionally, we will share 3 Techniques Essay Writing Classes, supplemented by a booklet of Model Essays for 2023 and 2022, giving you a clear understanding of how to approach the essay paper effectively.
Our enrichment programs have helped numerous aspirants make it to the final list. Some examples include
See what feedback our top students have from the GS Advanced Program:
Some sample content as a part of the GS Advanced Program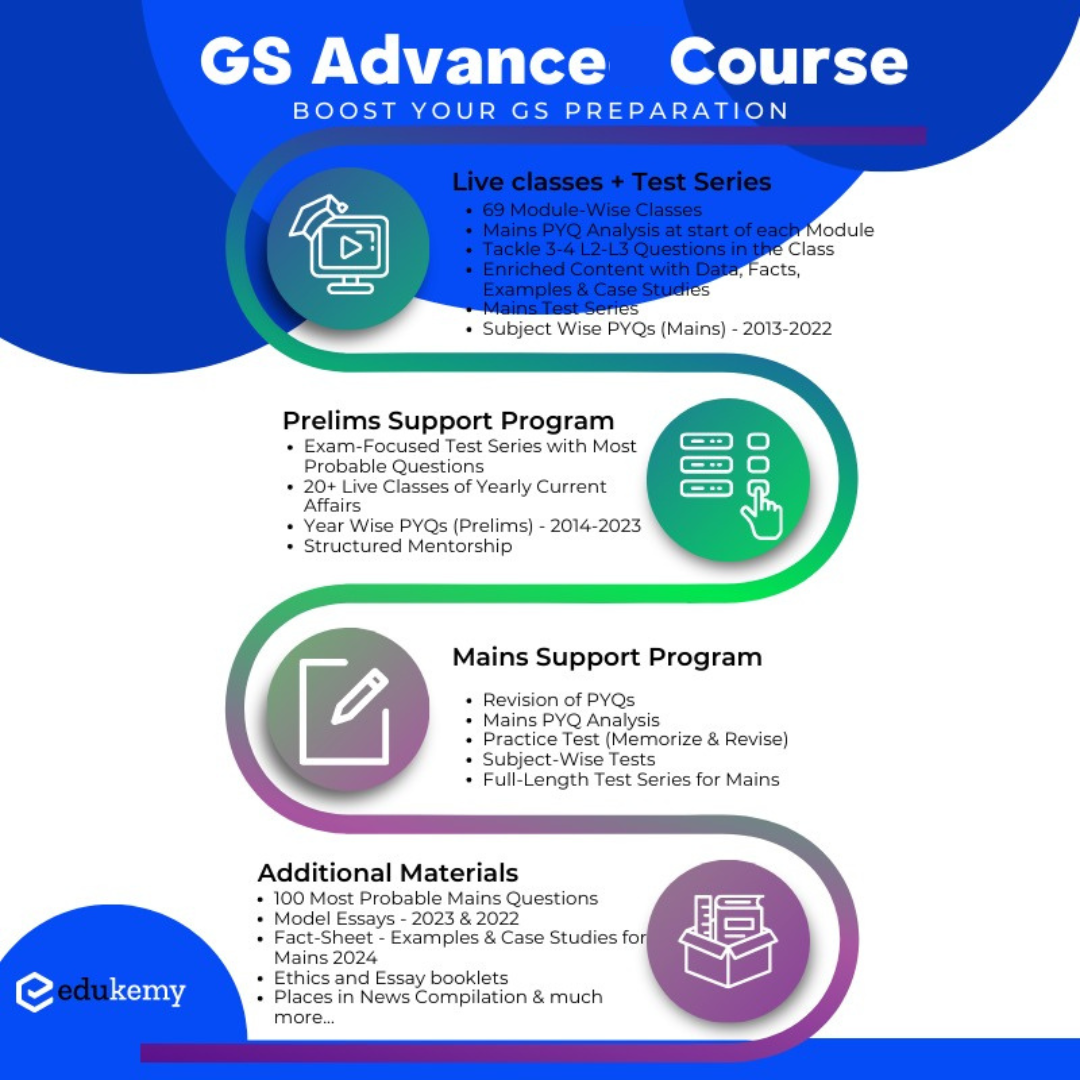 In case you still have your doubts, contact us on 9811333901.
For UPSC Prelims Resources, Click here
For Daily Updates and Study Material:
Join our Telegram Channel – Edukemy for IAS
Visit our YouTube Channel – here