How did Pratham Kaushik prepare for Geography Optional?
Here is the complete strategy on how Pratham Kaushik – Rank 5, 2017, prepared for Geography Optional. He scored 327 marks in total.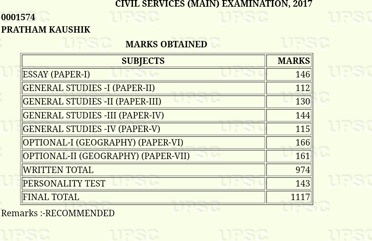 This is Pratham Kaushik's general overview of Geography Optional
Thoroughly read the Geography syllabus and remember all the topics as it will serve as a guide for your preparation.
For each topic, refer to a maximum of two to three sources, such as a textbook and classroom materials. Afterward, revise the material several times to reinforce your learning.
Once you complete a unit, consult the previous year's questions on that topic (New Vishal topic-wise questions) and attempt to frame answers. Doing so will allow you to identify the examiner's focus areas and your proficiency in that area. For example, in Geomorphology, the focus is on Exogenetic forces.
Avoid making notes on every topic, as it may be time-consuming. Instead, refer to your class notes and add additional information to them in your class notebook. For this purpose, use A4 sheets or leave adequate margins in your notebook. Prepare your self-notes only for the most challenging subjects.
For Paper 1, specialize in one section, either Physical Geography or Human Geography. Determine in advance from which section you will attempt three questions. For instance, Pratham focused extensively on Human Geography as he found it more rewarding.
For Paper 2, prepare brief bullet-point notes for frequently repeated topics from reputable sources.
Create region-wise maps of India by studying standard books that cover all aspects of a region, such as terrain, drainage, resources, agriculture, industries, and so on. This approach, known as the regional approach, may be applied to Paper 2.
Always attempt to link the material from Paper 1 and Paper 2. For example, read Climatology, Population and Settlement Geography, Regional Development, and Planning together for both papers and employ examples from one paper while writing responses in the other.
Pratham Kaushik's strategy for sources and preparation methodology for Paper 1
Geomorphology: Study the book "Geomorphology" by Savinder Singh. You can skip the Geomorphology portion of Physical Geography by Savinder Singh as it is well-covered in this book.
Prepare only the chapters mentioned in the syllabus, with a focus on Chapter 2 "Fundamental Concepts in Geomorphology" and Chapter 3 "Theories of Landform Development." This book provides extensive coverage of Geomorphology, resulting in a poor cost-benefit ratio. Therefore, prepare it selectively and create notes to help you recall the material.
Pay special attention to topics such as concepts of geomorphic cycles and landscape development, erosion surfaces, and slope development. Use plenty of diagrams to aid your understanding of these topics. For instance, in the Slope Analysis question this year, Pratham explained its limited application by creating diagrams for slope analysis of Davis, Penck, and King and outlining their drawbacks.
Pratham Kaushik's strategy for sources and preparation methodology for Climatology and Oceanography:
For Climatology and Oceanography, study the book "Physical Geography" by Savinder Singh.
For Climatology, use the book "Climatology" by D.S. Lal, but focus only on the specific topics that you want to prepare in detail.
Pratham Kaushik's strategy for sources and preparation methodology for Biogeography and Environmental Geography:
Use the class notes and test series notes of Shabbir Sir to prepare for Biogeography and Environmental Geography.
For Environmental Geography, study the book "Environmental Geography" by Savinder Singh, but focus only on the topics mentioned in the syllabus.
Pay special attention to Ecology topics and prepare them in great detail.
Use the internet to supplement your understanding of topics such as Social Forestry and Environmental Management, but be sure to prepare only pointers to avoid spending too much time on research.
Pratham Kaushik's strategy for sources and preparation methodology for Perspectives in Human Geography:
To excel in the Perspectives in Human Geography section of the geography exam, it's recommended to follow a specific path of study. Begin with reading the Test Series class notes by Shabbir Sir, which provides a broad understanding of the evolution of geographical thought. Then, read Geographical Thought by R D Dixit (Chapter 1-8, Chapter 11) and Fundamentals of Geographical Thought by Sudeepta Adhikari (Chapter 11, Chapter 13-16). You can refer to 500+ questions and notes for this topic by Himanshu Sir if needed.
This approach will help you to write exceptional answers, with precise definitions, theories, and examples provided originally by Geographers in their studies. It's recommended to use original quotes by Hartshorne, Febvre, Semple, etc., along with the names of their thesis or books. You should use chronological flowcharts while answering questions.
It's also recommended to prepare topics like Languages, Religions, Cultural Regions, and HDI and link them with Geographical Thought. For example, link HDI with Welfare Geography, and Languages and Religion with Diffusion and Cultural Landscape of American and German Geographers.
Lastly, it's crucial to be prepared for specific questions such as "Explain the concept of Time Geography." and "Discuss the contemporary paradigms of Geography." You can do this by making pointers for Time Geography, such as Torsten Hagerstrand and Space-Time Prism, Darwin's Theory of Evolution, and the Historical Geography of Radical Geographers. It's also important to have similar pointers for Contemporary Paradigms, such as Post QR Geographies, mainly Humanist Geography and its approaches, New Regional Geographies, and Offshoots like Environmentalism, Feminist Geography, and New Radical Geography.
Pratham Kaushik's strategy for sources and preparation methodology for Economic Geography and Regional Planning
Classnotes or 500+ notes of Himanshu Sir: These notes are comprehensive and cover a wide range of topics related to economic geography and regional planning. You can use them to build a strong foundation and gain a detailed understanding of the subject.
Classnotes of Shabbir Sir: Shabbir Sir's notes can be useful for gaining a broad understanding of the subject and for revising important concepts.
NCERT Class 11 and 12: The NCERT textbooks provide a good introduction to the subject and can be used for building basic knowledge.
Extensively use world maps and examples in your answers: Economic geography and regional planning involve a lot of spatial analysis and understanding of global economic patterns. Therefore, using world maps and examples can help you illustrate your points and enhance your answers.
Additionally, you can refer to the printed material of RDP topic by Himanshu Sir, which can provide a more structured approach to the topic. Remember to focus on important concepts such as industrial location theories, transport and communication networks, regional imbalances and disparities, and planning strategies for regional development.
Pratham Kaushik's strategy for sources and preparation methodology for Population and Settlement Geography
For Population and Settlement Geography, you should start by using the 500+ notes of Himanshu Sir and the class notes and Test Series notes of Shabbir Sir. You should also refer to Models in Geography by Majid Husain and Indian Geography by D R Khullar for Indian examples.
To do well in this topic, it's important to have a good presentation. Make sure you know the exact definitions of terms like Conurbation, Metropolitan region, Slums, Satellite towns, RUF, etc., along with the Human Geographers who have introduced these concepts. Use diagrams in settlement geography and maps in population geography as much as possible. Keep some statistics handy to make your answers on Population Geography more effective.
Make sure to prepare specific terms in the syllabus, such as Social well-being and quality of life, Population as social capital, etc. Use names of thinkers and examples from the present world. You can also use the internet to help you with this. Quality of life and Social Capital were asked this year, and questions from these topics might be repeated and diversified in the future.
Pratham Kaushik's strategy for sources and preparation methodology for Models and Theories
The topic of Models and Theories is the second most crucial area after Geographical Thought in the Geography syllabus. To present this topic in a better way, it is suggested to use diagrams, flowcharts, and maps in answering many questions related to models such as Rimland Heartland Theories, Von Thunen, Boundaries, Frontiers, etc. It is essential to memorize the postulates of each model and theory by heart.
Reading the book "Models in Geography" by Majid Husain will help to understand the models and theories. Link each model and theory to its original sub-topic. It is also important to use the names of geographers, their books, and a few examples from the present world like CPT, Von Thunen, Rostow, etc.
Systems Analysis is a favorite area of UPSC, and questions are becoming more diverse. For instance, questions on Geographical Systems, the Application of System Analysis, and the Importance of System Analysis are becoming popular. Prepare these topics using any class notes, Majid Husain's book, and some online resources. Once prepared, focus on presenting the answer with flowcharts of systems rather than excessive value addition in content.
Pratham Kaushik's strategy for sources and preparation methodology for Paper 2
To prepare for Paper 2 of geography, it is recommended to use "India: A Comprehensive Geography" by D R Khullar as the primary source for static material. It is advised to make specific pointers, short definitions, and simplify complex maps from the book for easy reference.
For current affairs, Vision PT 365 and Mains 365 can be used as examples. To prepare for case studies, magazines such as Yojana, Kurukshetra, and Geography and You can be used. It is essential to prepare at least 10 case studies that are simple, common, and explanatory.
For maps, it is not necessary to remember specific data for rainfall, population, road density, or agricultural productivity. Instead, simplify the maps provided in Khullar's book by using brackets, shading, flow maps, and arrows to indicate trade patterns, migration, and language diffusion. Practice drawing maps at home and label them appropriately.
Short notes should be prepared for common topics such as floods and droughts, epidemics, deforestation, soil erosion, and river linking. This will help answer questions in a lucid manner within the word limit.
Enrich your Answers
In addition to the rules of presentation mentioned above, there are other ways to enrich your answers:
Use examples: Examples can help to illustrate your points and make your answers more concrete. For instance, if you are discussing the impact of climate change on agriculture, you can mention specific crops that are affected and the regions where they are grown.
Include statistics: Statistics can add credibility to your answers and show that you have done your research. For example, if you are discussing urbanization, you can mention the percentage of the world's population that lives in cities and the rate at which cities are growing.
Use current events: Current events can provide relevant and up-to-date examples for your answers. For instance, if you are discussing the impact of COVID-19 on tourism, you can mention how travel restrictions and lockdowns have affected the industry.
Consider multiple perspectives: In many geography questions, there are multiple perspectives to consider. For example, if you are discussing the impact of globalization on developing countries, you can discuss both the benefits and drawbacks of globalization.
Use diagrams and graphs: In addition to maps, diagrams and graphs can help to illustrate your points and make your answers more visually appealing. For example, if you are discussing the relationship between temperature and precipitation, you can include a graph that shows how these variables are correlated.
By following these tips, you can create more comprehensive and nuanced answers that are more likely to earn higher marks.
It sounds like you have had experience with different coaching and test series programs for your UPSC preparation. Here is a summary of the pros and cons you mentioned for each.
Shabbir Sir's Test Series integrated with some classes
Pros: Excellent approach, good coverage of certain topics, test series class notes are good.
Cons: Answer copies not checked by Sir himself, specific topics not covered thoroughly as the program is meant as a test series and not classroom coaching.
Guidance 500+ program by Himanshu Sir
Pros: Excellent content coverage, closely resembles UPSC paper, answer booklet in UPSC format, question-answer based approach for easy revision, can substitute coaching class copy for most topics.
Cons: Answer copies not checked by Sir himself.
Shamim Sir's Test Series
Pros: Shamim Sir checks papers himself and marking is optimum, simple approach towards difficult questions.
Cons: Question paper resemblance to actual UPSC paper is low, not much emphasis on content as the program is a test series and not classroom coaching.
It's important to keep in mind that every coaching and test series program has its own strengths and weaknesses. It's up to you to decide which program works best for you based on your own learning style and needs. Good luck with your preparation!
For UPSC Prelims Resources, Click here
For Daily Updates and Study Material:
Join our Telegram Channel – Edukemy for IAS
Visit our YouTube Channel – here
For Admissions, talk to our Mentor – 9811333901, 9811333782