UPSC Mains General Studies Paper – 1 Mains 2023
UPSC Mains Civil Services IAS Exam Question Paper – 2023
Introduction
NCRB highlights "young women''(15-29 years of age) constitutes 34% of total suicide cases in India. These suicides may be related to a conflict between women's increasing education and empowerment and the persistence of their lower status in Indian society. This trend calls for urgent action as we seem to be losing the battle to protect the mental health and well-being of our future generation.
Increasing suicides young women – India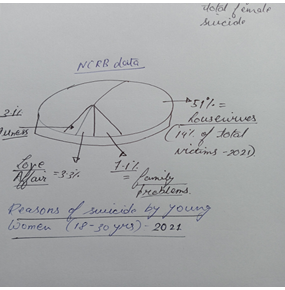 The proportion of female victims were more in 'Marriage Related Issues' (specifically in Dowry Related Issues'), and 'Impotence/Infertility'.The age group (18 -below 30 years). These age groups accounted for 34.5% and 31.7%suicides respectively. 'Family Problems'(3,233),'Love Affairs' (1,495) and 'Illness'(1,408) were the main causes of suicides among children (below 18 years of age).HIGHEST RANKING STATES -TAMIL NADU , MP , MAHARASHTRA.
REASONS –
Mental Health Issues: Mental health problems, such as depression, anxiety, and stress, are significant contributors to suicide rates. According to the National Mental Health Survey of India (2022-23), around 15% of Indian adults had a mental health disorder.
Gender Discrimination: Gender discrimination and unequal treatment of women in India can lead to feelings of hopelessness and despair. The Gender Inequality Index (GII) for India in 2023 was 0.524, indicating significant gender disparities.
Social Pressure: Every fourth woman aged 20-24 was married before 18, per NFHS-5, impacting autonomy, leading to unmet expectations. Around 70% of Indian women suffer domestic violence, Recent deaths of three young brides raised concerns about alleged dowry-related issues..
Economic Factors: Economic stress, unemployment, and financial instability can increase suicide risk. India faced economic challenges, including job losses, during the COVID-19 pandemic.
Access to Mental Health Services: Limited access to mental health services, especially in rural areas, can hinder early intervention and treatment. In 2023, there were only 0.3 mental health professionals per 100,000 population in India.
Media Influence: Exposure to sensationalized and graphic content related to suicides on social media and in the news can influence vulnerable individuals. Media reporting guidelines and awareness campaigns are essential.
Education and Awareness: The lack of awareness about mental health issues and available support services is a challenge. Educational programs and community outreach can help address this gap.
Cultural Factors: Cultural stigmatisation of mental health problems and seeking help can prevent individuals from seeking assistance when needed
CASE STUDY – SUICIDE EPIDEMIC IN BARMER
ISSUE -suicide among its young married women. They are jumping into wells or tankas due to forceful marriage , patriarchy .Barmer reported 48 women suicide cases in 2019, 54 in 2020, and 64 in 2021.
MEASURES TAKEN-The administration launched the Anmol Jeevan ,a 24-hour helpline service, after which started receiving around 15 to 20 calls every month. The suicide rate declined by 42 per cent, according to district administration data.
Conclusion
Hence, The increasing incidence of suicide among young women in Indian society take suicide Prevention India he government to continue and expand incentive like Foundation (SPIF), Beti Bachao, Beti Padhao scheme, The National Mental Health Policy (2014), The Mental Healthcare Act 2017,(PM-ASBY) etc. provide mental health support, promote gender equality, and create opportunities for young women.
In case you still have your doubts, contact us on 8792740517.
For UPSC Prelims Resources, Click here
For Daily Updates and Study Material:
Join our Telegram Channel – Edukemy for IAS
Visit our YouTube Channel – here