Welcome to our monthly current affairs update for September 2023. In this ever-changing world, staying informed about the latest events, trends, and developments is crucial. This month, we'll take you on a journey through the most significant and noteworthy happenings across the globe. From politics to technology, from culture to the environment, we'll cover it all. Join us as we explore the stories shaping our world and the issues that demand our attention. Our goal is to provide you with a concise and insightful overview of the events that are shaping our times, enabling you to engage in informed conversations and make well-informed decisions. So, without further ado, let's dive into the whirlwind of current affairs for this month.
Political Issue of Delimitation
In News:
Recently, the Women's Reservation Bill, providing 33 per cent quota to women in Lok Sabha and state Assemblies, was swiftly passed by both Houses of Parliament, but its fate hangs in balance because of its dependence on the delimitation exercise. 
Delimitation:
Delimitation is a Constitutional mandate, to be carried out after every Census, to readjust the number of seats and their boundaries on the basis of latest population data.
But the number of seats for the Lok Sabha and state Assemblies has remained frozen for the last 50 years, due of opposition from political parties from the South. This is because the population growth rate in the northern Indian states is more as compared to the southern states.
And they have no desire to enable delimitation even today, partly because this would result in a substantial increase in the number of Lok Sabha seats in the states of northern India, where population growth has been more pronounced.
Political connections between Women's Reservation Bill and Delimitation:
This bill provides 33 per cent quota to women in Lok Sabha and state Assemblies after delimitation.
One of the reasons women's reservation did not become a reality in the last 35 years was the fear among male politicians of having to let go of their seats.
A 33 per cent reservation in the current 545-member Lok Sabha would mean 182 seats being kept for women. Only 363 seats would be available for men. The current Lok Sabha has 467 men.
If, as a result of the delimitation exercise, the strength of the Lok Sabha increases to 770, as some calculations suggest, 257 seats would be reserved for women, and the remaining 513 could be available for men to contest.
Linkage with delimitation could delay the implementation of women's reservation even beyond 2029.
Delimitation is a contentious issue. But now, a resistance to the delimitation exercise ahead of 2029 polls would give a handle to the BJP to accuse the Opposition of creating hurdles for the women's reservation Bill
Some major concerns with Delimitation:
The main rationale of delimitation is to ensure that every state has equitable representation in the Lok Sabha on the basis of its population, with the same logic running down within the states for Assemblies. 
In the 1977 Lok Sabha, for example, every MP in India represented about 10.11 lakh people, on an average. While there are large variations, especially in small states, the attempt is to keep this number in as tight a range as possible. But there is no restriction on what this number should be. 
If we attempt to retain the same number as in 1977, the strength of the Lok Sabha would have to be expanded to nearly 1,400, due to the increase in population. But the new Lok Sabha has been built with the maximum capacity of 888 seats. That means the average population size of every constituency would have to go up. 
The number of Lok Sabha seats in states like Uttar Pradesh or Bihar are likely to jump much more than south Indian states. 
If the delimitation exercise had happened after every Census, as mandated in the Constitution, seats for the north Indian states would have gone up progressively and not all of a sudden. 
Delimitation continues to be a political hot potato. By linking it with women's reservation, BJP has tried to press its advantage, but the Opposition has not yet opened its cards.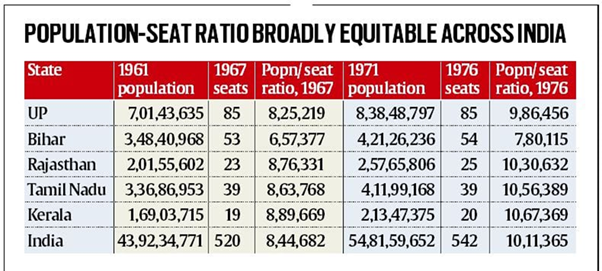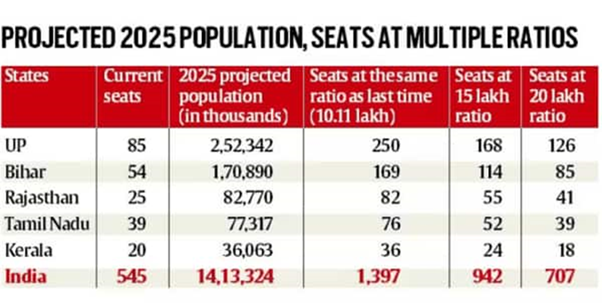 Immunity of legislators from bribery charges 
In News:
Recently, the Supreme Court has forwarded the question of whether legislators' legal immunity provided by Article 105(2) and 194(2) of the Constitution protects them from criminal prosecution in cases involving the offering or acceptance of a bribe to a seven-judge bench for consideration. 
About
Article 105 of the Constitution:
Article 105 deals with the "powers, privileges, etc. of the Houses of Parliament and of the members and committees thereof."
Article 105(2) of the Constitution:
Article 105(2) states that no member of Parliament shall be subject to any legal proceedings in any court for anything said or any vote cast by them in Parliament or any of its committees.
Additionally, no individual can be held liable for the publication, made under the authority of either House of Parliament, of any report, paper, votes, or proceedings.
Extension of Immunity under Article 105:
This legal immunity extends not only to members of Parliament but also to certain non-members who participate in parliamentary proceedings, such as the Attorney General of India or a Minister who may not be a member but delivers speeches in the House.
Power of the Speaker:
In cases where a member's speech or actions exceed the permissible boundaries of free speech, the Speaker of the House holds the authority to address such matters.
Article 194(2) of the Constitution:
Article 194(2) extends the same immunity provided by Article 105(2) to Members of Legislative Assemblies (MLAs) in the states. This means that state legislators, like their counterparts in Parliament, are protected from legal proceedings in connection with their statements or votes within the state legislative bodies.
Current Legal Issue:
The central question in the present case before the court is whether the legal immunity granted to parliamentarians and state legislators under Article 105(2) and Article 194(2) extends to protect them from prosecution in cases involving the demand for or acceptance of a bribe.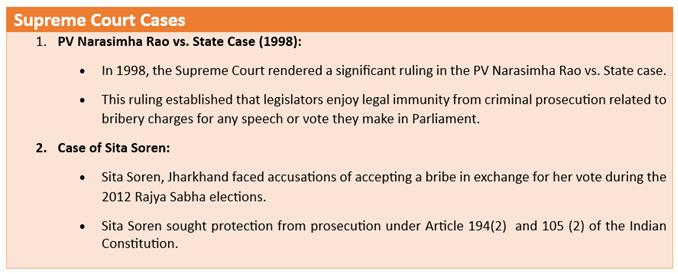 Parliamentary Conduct
In News:
On the occasion of inauguration of the new parliament, the question of declining parliamentary productivity and deteriorating parliamentary conduct needs a reflection.  
About Indian Parliamentary Democracy:
The parliamentary democracy of India has been patterned on the lines of Britain's Westminster model. Few instances of continuing British traditions are:
Indian MPs still thump their desks in approbation, rather than applauding by clapping their hands.
Bills are put to a vote, an affirmative call is still usually "aye", rather than "yes"
Continuation of various British Parliamentary traditions in India such as Question hour and role of speaker.
Declining trend of Indian Parliamentary Conduct:  
Creating ruckus in assembly: Some of the State Assemblies have witnessed scenes of furniture overthrown, microphones ripped out and slippers flung by unruly legislators.
Violation of Code of Conduct: The code of conduct applicable to all elected MPs such as including injunctions against speaking out of turn, shouting slogans, waving placards and marching into the well of the house etc. are routinely breached.
Violent actions: Fisticuffs and torn garments have also been observed during scuffles among politicians in these assemblies. Pepper spray was once released in the well by a protesting MP, resulting in the hospitalisation of some MPs.
Flouting of Parliamentary rules: MPs in the Upper and Lower Houses have been suspended from membership for such transgressions as charging up to the presiding officer's desk, wrenching his microphone and tearing up his papers.
Shrinking space for opposition:
Less space for opposition's views: In a system where party-line voting is made obligatory by the anti-defection law, standards have been allowed to slide, with adjournments being preferred to expulsions. 
Democratic system under assault: Overweening government, media intimidation, the hollowing out of autonomous institutions and pressures by investigative agencies on political has made it difficult for opposition to present their views.  
Erosion of Parliamentary conventions: All major parliamentary committees dealing with sensitive issues are chaired by MPs of the ruling party or its allies, in disregard of conventional practice where opposition members headed the committee. Example External Affairs Committee was always chaired by an Opposition MP, to show that the nation was of one mind on foreign policy. 
Reforms in the Parliamentary Process:
Opposition Day: Opposition sets the agenda of a day in week a day. It permits Opposition parties to select specific policy areas or issues they want to bring to the floor of the House for debate. These debates allow the Opposition to focus on matters of political significance. 
It provides Opposition parties with the opportunity to draw attention to issues they believe are important, criticise government policies, and propose alternatives. 
Prime Minister's Question Time (PMQs): It provides MPs an opportunity to question the Prime Minister about various issues and increases the accountability of the executive.  
Speaker's Role: The Speaker should reconsider the frequent rejection of adjournment motions and the practice of grouping proposed amendments to bills for voice votes without discussion. 
Nari Shakti Vandan Adhiniyam 2023/ Women Reservation Bill
In News:
Women Reservation bill aka Nari Shakti Vandan Adhiniyam 2023 was passed in both Lok Sabha and Rajya Sabha with almost unanimous support (2 dissents in Lok Sabha). 
About Nari Shakti Vandan Adhiniyam 2023
The 128th Constitution Amendment Bill, was introduced in Lok Sabha and passed with more than two third majority. The Rajya Sabha witnessed unopposed passage of the bill.  
Now half of the state legislatures need to ratify the bill with a simple majority to enact the bill after the president's approval. 
Key Provisions of the bill are:  

Reservation Percentage and sub categorization: It provides reservations to one third of all seats for women in the Lok Sabha, the state legislative assemblies and the Legislative Assembly of the NCT. The reservation will also extend to the seats reserved for SCs and STs in Lok Sabha and state legislative assemblies. 
Commencement of reservation: The reservation will be effective once the census conducted after the commencement of this Bill has been published. Based on the census, delimitation will be undertaken to reserve seats for women. 
Duration of reservation: Reservation provided for a period of 15 years. However, it shall continue till such date as determined by a law made by Parliament. 
Rotation of Seats: Seats reserved will be rotated after each delimitation, as determined by a law made by Parliament 

Amendments in the articles of Constitution:  

Article 330A and 332A inserted for one third reservation in Lok Sabha and State Assemblies respectively.  
Article 330A inserts a clause for reserving one third of seats for women within SC and ST category seats of Lok Sabha.  
Article 239AA inserts a subsection reserving seats for women in the legislative assembly of NCT of Delhi. 
History of Women Reservation Bill:
National Movement: The demand for political reservation of women was first raised during the freedom struggle, when three women bodies sent a letter to the British Prime Minister in 1931 seeking political reservation for women.
Constituent Assembly Debates: The issue of women reservation also came up in Constituent Assembly debates. But it was rejected saying that democracy is expected to give representation to all groups.
Committee of the Status of Women 1971: The committee recommended the reservation of women in local bodies.
The National Perspective Plan for Women in 1988: This plan also recommended the reservation of women in local bodies. Consequently, 73rd and 74th Constitutional amendments, mandated all State governments to reserve one-third of the seats for women in local bodies.
Efforts by different political Parties: The Women Reservation Bill was first introduced in 1996 as 81st Constitutional Amendment Bill. However the bill got lapsed. Later it was reintroduced in 2003, 20004 and 2010 but could not be passed due to several objections.
Arguments in the Favour of the enactment of Women Reservation Bill:
Political empowerment of women: According to the Inter-Parliamentary Union (IPU) report India ranks lower than 140 other nations in terms of women representatives in the national legislatures. Reservations would empower women and provide an increased voice of women in policy making.
Significance of Women Leadership: Empirical evidence shows that women leaders focus on public goods related to women's concerns. Women legislators have been associated with improved economic outcomes and infrastructure development.
Decriminalization of politics as currently 159 MPs with charges of rape, murder, crime against women allegations in parliament. It can potentially reduce the presence of politicians with serious criminal charges.
Breaking stereotypical role of women: With more representation of women the perceived role of women as homemakers would break and give them more respect and voice in the society.
Breaking Patriarchy: Political representation would promote gender equality in political leadership and increase their self-worth.
Arguments against the Women reservation Bill:
Concern of no separate OBC reservation: Bill provides reservation to SC & ST women within the existing one third reservation of seats. However OBC women constituting 60% of women population have not been provided separate reservation within the 33% reserved seats.  
Reservation in Rajya Sabha and legislative Councils: Bill does not reserve seats in Rajya Sabha and Legislative councils which are being disputed.  
Delayed Enactment of the Bill: Reservation for women in Parliament depends on the census and delimitation process. This can make actual implementation of the act politically sensitive. 
Women as proxies: Similar to the trend of Pradhan Patis, Parishad patis, etc. it is feared that MP Pati and MLA pati system could emerge where women are just proxies of their male counterparts. 
Homogeneity of Women as a group: Women are not a homogenous community like caste groups, making comparisons with caste-based reservations inappropriate. 
Parliamentary conduct
In News:
The members of India's Parliament frequently cause disturbances, which is characterised by their propensity for disruption over discussion. This undermines the efficacy and credibility of the legislative body and raises questions about the democracy in India. 
Indian Parliament:
The Parliament of India is the top legislative body of the Union government. 
Due to the adoption of the Parliamentary form of Government (often known as the "Westminster" model of government), it holds a dominant and important role in the Indian democratic political system. 
Part V of the Constitution deals with the organisation, membership, length, officials, processes, privileges, and powers of the Parliament in Articles 79 to 122. 
The Lower House (Lok Sabha), the Upper House (Rajya Sabha) and the President are the organs of the Indian Parliament.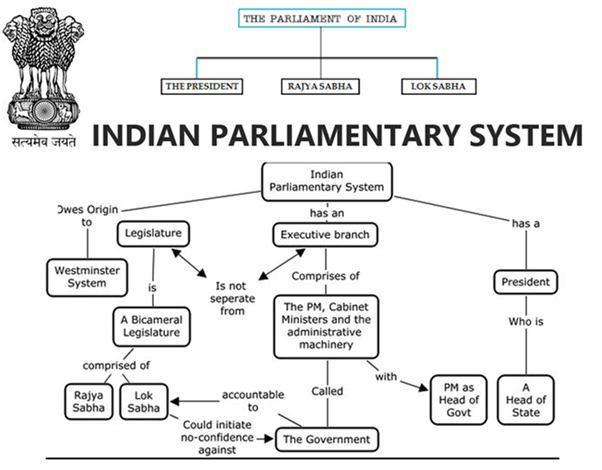 Issues in the Indian Parliament:
Frequent Disruptions: Instead of participating in productive debates, MPs engage in disruptive activity.
Declining Standards: Legislators frequently violate the rule of conduct, and parliamentary misbehaviour has become worse over time.
Impunity: There is a culture of impunity among legislators since their violations of the law frequently go unpunished.
Credibility Concerns: Disruptive behaviour may have damaged Parliament's legitimacy in the eyes of the people.
Inadequate Opposition Influence: Due to party-line voting and the anti-defection rule, opposition MPs have difficulty in influencing legislative decisions. While interruptions are accepted in order to give the opposition room, moral standards have been lowered.
Role of Speaker: Opposition representation is hampered by the Speaker's denial of adjournment motions, amendments, and division votes.
Potential Damage to Democracy: The legitimacy of India's democracy might be damaged by frequent disruptions and deteriorating quality.
Probable Solutions for the issues:
Through seminars and training, create a culture of productive discourse. 
Senior lawmakers should lead by example by maintaining the highest ethical standards during discussions and debates. 
Make sure that repercussions for wrongdoing are consistently applied, irrespective of party affiliation. 
Transparency, responsibility, and respect for legislative procedures will help to rebuild public trust. 
Establish consistent Prime Minister's Question Time (PMQs) to promote conversation and accountability. 
Granting the opposition access to establish the debate's agenda on a specific day each week. 
Enable spirited debates and guarantee the Speaker's judgments are unbiased. 
Put democratic principles and ideals first in order to win back the public's trust in the Parliament. 
Source: The Hindu
Business Responsibility and Sustainability Reporting (BRSR)
In News:
IICA and UNICEF jointly organize a workshop on Business Responsibility and Sustainability Reporting (BRSR) 
About
In 2021, SEBI (Securities and Exchange Board of India) introduced the Business Responsibility and Sustainability Reporting framework.
This framework requires the top 1000 publicly listed companies in India to disclose their performance across a range of environmental, social, and governance (ESG) dimensions.
It draws its foundation from the nine principles outlined in the National Guidelines for Responsible Business Conduct (NGRBC).
What is Environmental, Social, and Governance (ESG)?
Environmental, Social, and Governance (ESG) goals are standards for ethical, sustainable business practices.  
They cover environmental stewardship, social responsibility towards employees and communities, and effective corporate governance, including leadership and shareholder rights. 
Fraternity in India
In News:
Fraternity does not mean anything if it glosses over social inequalities and then invokes social solidarity.  

About the origins of 'fraternity'
In Plato's Lysis, the philosopher invokes the word philia (love) for the strong desire to pursue wisdom. 
That is, love and friendship with others become more meaningful through the sharing of knowledge.  
The emphasis is on 'share' which gives us an early idea of the discourse of fraternity in ancient Greece.  
In Aristotle, we see the emergence of the polis, the logical location of a man who remains, first and foremost, a political being, and hence is part of the polis and not of the wild. 
Justice and friendship among citizens came to be the most enduring features of the polis. 
This here, is the birth of the idea of political fraternity. 
In the Middle Ages, fraternity flourished mostly through religion, within the churning of Christian society in Europe.  
The concept of fraternity then eventually found its entry into politics with the French Revolution of 1789 in the triptych of 'liberté, égalité, fraternité'.  
Why did India adopt fraternity?
India's independence struggle and the subsequent emergence of constitutional democracy saw the necessity of liberty, equality, and fraternity. 
In this context, Ambedkar's stress on the inseparability of the three ideas and the underlining of fraternity cannot be emphasized enough.  
It was also necessitated by a complex Indian society at the precipice of becoming an independent republic, divided on the basis of various hierarchical social inequalities. 
What is the status of fraternity in India today?
Neglect of fraternity 
Fraternity happens to be the constitutional value that has received the maximum neglect both in the world of ideas and in the political field of action.
The current nature of India's fraternity is different from the political fraternity espoused in its Constitution.
Lack of shared past  
In community ties, as M. C. Williams in The Idea of Fraternity in America (1973) explains, one sees an integral value system which is the foundation of the idea of fraternity.
The privileging of the idea of community and the moral values associated with it, over the individual, gradually gave way to religious morality and its associated 'way of life'.
This elementary dimension of fraternity is missing when we assess fraternal ties in India.
For, in order to have fraternal bonding between individuals, they must have an amicable shared past, not drawn from ideological differences rooted in the vast social inequalities among different communities.
The shared history of India is marred by the caste system, and it militates against the principle of equality as well as the idea of liberty.
But the Constitution privileges the individual, ensconced in the liberty, equality, and fraternity troika, leading to everyday conflict with the community.
Therefore, the only conception of fraternity feasible for India must be rooted in politics. It is the only realm where caste privilege can be challenged.
The 'difference principle' 
John Rawls in his Theory of Justice (1971), stressed his 'difference principle'. It works towards maintaining certain equality in order to realize political fraternity.
The idea was and still is to create a level playing field between varying social groups, locked in structural hierarchies, to begin to understand what it takes to really actualize fraternal relations.
In the absence of this crucial understanding, what we have is caste consciousness of unity, which remains aloof to members of other caste groups, and is often hateful to members of so-called lower caste groups in particular.
India essentially then has fraternity within its caste communities, where forging political unity remains a forlorn goal.
What are the limits to fraternity?
Glossing over social inequalities and then invoking social solidarity, turns fraternity futile. 
The call of such a fraternity is increasingly replaced with the rhetoric of belligerent nationalism which castigates a homegrown religious minority as its arch-enemy.  
Any sort of fundamentalism jettisons the possibility of fraternity. 
A fanatic can be anything but fraternal in the true sense. 
In India, caste and the idea of political fraternity, given its social milieu, cannot coexist. One has to give way for the other to emerge.
Export Control of Dual-Use Items
In News:
Recently, the Director General of Foreign Trade emphasized the government's commitment to enhanced export control of dual-use items to prevent them from falling into the hands of non-state actors and terrorists. 
About:
These are items, technologies, materials, or equipment that serve both civilian and military or restricted purposes. While they are primarily designed for civilian use, they can also be employed for military or other prohibited uses. Some examples include precursor chemicals like sarin gas and components like centrifuges.
Currently, the Directorate General of Foreign Trade (DGFT) in India compiles a specialized list known as SCOMET (specialty chemicals, organisms, materials, equipment, and technologies) that encompasses these dual-use items. These items are subject to regulation in accordance with India's Foreign Trade Policy.
The new foreign trade policy places a strong emphasis on streamlining the SCOMET licensing process. This is done to ensure that sensitive and dual-use goods are traded in full compliance with international agreements, including the Missile Technology Control Regime.
Missile and Dual-Use Export Control Regimes 
These are cooperative agreements established by major supplier nations with the goal of averting the spread of specific military and dual-use technologies, especially those associated with Weapons of Mass Destruction (WMD).
These agreements operate separately from the United Nations and are exclusively binding on the nations that are part of them, without imposing any obligation on non-member countries to participate.
India is a member of three out of the four MECRs, excluding the Nuclear Suppliers Group.
The four MECRs include: 
Nuclear Suppliers Group (NSG) for nuclear technology control
Australia Group (AG) for chemical and biological technology control
Missile Technology Control Regime (MTCR) for rockets and aerial vehicles related to WMD delivery,
Wassenaar Arrangement for conventional arms and dual-use goods and technologies
Gramodyog Vikas Yojana
In News:
Recently, The Chairman of the Khadi and Village Industries Commission (KVIC), recently, distributed toolkits and machinery to artisans in Bhubaneshwar, Odisha, as part of the Gramodyog Vikas Yojana. 
About:
During this event, Electric Wheels were distributed to 100 potters, Footwear Toolkits were provided to 75 Leather Artisans and Paper Massey Machines were given to 60 artisans.
Gramodyog Vikas Yojana (GVY)
Gramodyog Vikas Yojana was launched in March 2020. 
It is one of the two components of Khadi Gramodyog Vikas Yojana, which aims to promote and develop the village industries through common facilities, technological modernization, training etc. 
The other component of Khadi Gramodyog Vikas Yojana is the Khadi Vikas Yojana (KVY) which includes two new components such as Rozgar Yukt Gaon, Design House (DH). 
Included Activities: 
Agro Based & Food Processing Industry (ABFPI)
Mineral-Based Industry (MBI)
Wellness & Cosmetics Industry (WCI)
Handmade Paper, Leather & Plastic Industry (HPLPI)
Rural Engineering & New Technology Industry (RENTI)
Service Industry
Components  
Research & Development and Product Innovation
Capacity Building
Marketing & Publicity
KVIC
It is a statutory body established under the Khadi and Village Industries Commission Act, of 1956. The KVIC is charged with the planning, promotion, organisation and implementation of programmes for the development of Khadi and other village industries in the rural areas in coordination with other agencies engaged in rural development wherever necessary. Nodal Ministry: Ministry of Micro, Small and Medium Enterprises
Significance and legacy of Parliament in India's democracy
In News:
Recently, the Speaker said that Parliament has created an elegant symphony of democracy, that rises above the occasional. 
About
The Indian Parliament is the highest deliberative body and supreme representative institution of the largest working democracy in the world. It is in its Chambers that the destiny of a nation of a billion-plus people is shaped, and their expectations, concerns, problems, and dreams are fulfilled. It is in this temple of democracy that the members of the two Houses of Parliament keep the Executive accountable at all times and closely monitor the policies and programs for national welfare.
Significance of Parliament in India's democracy:
Historical Legacy: Deeply rooted in India's historical and cultural heritage, reflecting participative governance for millennia. For example, India is widely regarded as the "mother of democracy". Ancient texts and local self-governance traditions—Sabhas, Samitis, Republic.
Founding Fathers' Vision: India's founders had faith in people's wisdom, leading to the adoption of an enlightened Constitution. For example, adoption of a democratic system post-independence.
Accommodative Democracy: Effective management of conflicts, celebration of diversity, and promotion of unity for development and prosperity. For example, Unity in diversity is a fundamental national ethos.
Watchdog of Public Exchequer: Oversight of public finances, budget approval, and accountability of the Executive. For example, Approval of budgets and financial allocations.
Voice of the People: Platform for citizens to raise concerns, and promote socio-economic change through legislation and debates. For example, the issue of the Manipur crisis discussed in Parliament sessions.
Living Institution: Vibrant representation of the will of over a billion Indians, dedicated to citizens' welfare and unity. For Example, Consistent legislative work for national progress.
Symphony of Democracy: Creation of an elegant symphony of democracy, upholding constitutional values and national interests. For example, successful parliamentary functioning despite disagreements.
Evaluation by Parliamentary Committees: Detailed scrutiny of bills, budget proposals, and ministries, enhancing oversight and accountability. For example, Committees' role in policy evaluation and formulation.
Autonomy and Parliamentary Privileges: Protection of members' autonomy and dignity through immunity and privileges for free expression. For example, Immunity from prosecution for parliamentary speech.
Accountability: Parliament is entrusted with securing accountability of the Executive through various instruments such as the Rules of Procedure and Conduct of Business, tradition and well-settled precedents.
Empowering the Grassroots: India's democracy is not confined to the national level alone; it extends to the grassroots through a vibrant system of local self-governance. For example, Panchayati Raj institutions in decentralizing power and involving citizens in the decision-making process.
Use of Technology: In the digital age, technology has transformed the way democracy's function. Technology makes parliamentary proceedings more accessible to the public and bridge the gap between citizens and their elected representatives.
Parliament shows the enduring elegance of Indian democracy, emphasizing unity in diversity, resilience, cooperation, accountability, and technological progress. India's democratic model continues to inspire and serves as a testament to the enduring strength of democratic principles.
Issue About RTI
In News:
Activists raises concerns about the dilution of the Right to Information (RTI) over the years 
About issues with RTI:
The Right To Information (RTI) Act was enacted in 2005 to grant citizens the right to request access to government-held data, documents, and information. 
It empowers citizens to access information to identify delays in public works, shortcomings in welfare schemes, and provided insights into government decision-making. 
Previously, India's RTI Act has been hailed as one of the world's most comprehensive public records access legislations. 
Major issues: 

The RTI (Amendment) Act, 2019 gave the Union Government unilateral power to decide the tenure and salaries of information commissioners who handle appeals against unsatisfactory RTI responses. 
The effectiveness of the RTI Act depends on subordinate Rules made by both the Union Government and State Governments, leading to inconsistencies in implementation. 
The choice of payment method for filing RTI requests varies by state, with some, like Tamil Nadu, not accepting convenient options like Indian Postal Orders. 
Delays in appointing information commissioners in Central and State Information Commissions have undermined confidence in the RTI framework, resulting in prolonged appeals. 

Amendments to RTI Act: 

The Digital Personal Data Protection Act, 2023, amended the RTI Act by introducing a blanket ban on disclosing personal data, raising concerns about transparency. 
The National Campaign for Peoples' Right to Information (NCPRI) highlighted that this amendment could hinder 'social audits' in ration distribution, preventing citizens from verifying beneficiaries. 
The amendment also raises concerns that powerful public officials could evade accountability by using the ban on disclosing personal information. 

While online RTI applications simplify the process, not all states have online portals, and some government bodies are not registered on these platforms. 
The Union Government's RTI portal, launched in 2013, has experienced technical issues, including the disappearance of past data and the removal of the account creation feature. 
There is a rising trend of first appeals being filed, indicating increasing dissatisfaction with the information provided by public officials. 
Weakening of the RTI Act is not solely due to changes in the law's text but also stems from institutional and implementation issues, hindering citizens' ability to conveniently access information. 
Concerns have also been raised about the RTI Act's limited applicability and broad exemptions for political parties, the judiciary, and intelligence agencies. 
Overall, there is need to increase the effectiveness of the RTI Act in holding public officials accountable and improving the transparency in functioning of Union and State Governments. 
"Special Session" of Parliament 
In News:
Union government announces a 'Special Session of Parliament' 
About Special session of Parliament:
The term "special session" is not defined in the Constitution and is typically used for specific occasions like commemorating milestones.
Previously, a committee in 1955 proposed a parliamentary session timetable, but it was never implemented.
As India's Parliament does not have a fixed calendar of sittings, the union government decides when Parliament meets, and the Cabinet Committee on Parliamentary Affairs makes these decisions.
The President is informed about the committee's decision, and Members of Parliament are summoned accordingly.
The Constitution mandates that no more than six months should elapse between two parliamentary sessions.
This provision was borrowed from the Government of India Act of 1935, aiming to prevent excessive taxation and evade legislative scrutiny.
Article 352 (Proclamation of Emergency) mentions a "special sitting of the House," added through the Constitution (Forty-fourth Amendment) Act, 1978.
It outlines procedures for convening a special meeting in the event of an Emergency if Parliament is not in session.
Key features:
A special session of Parliament is a unique and distinct session convened for specific purposes and occasions outside of the regular parliamentary calendar. 
These are often called to address pressing legislative matters that cannot wait until the next regular session such as emergency laws, financial bills, or critical policy decisions. 
It can also be convened to commemorate significant national milestones, anniversaries, or historical events of national values. 
In some cases, the Constitution or legal provisions may require a special session for specific purposes, such as the President's address at the beginning of a new parliamentary term. 
Special sessions follow the same parliamentary procedures as regular sessions including debates, voting, and discussions on bills and resolutions. 
The presiding officers of both Houses of Parliament—Lok Sabha and Rajya Sabha—oversee the proceedings during special sessions. 
The duration of a special session can vary widely, depending on the agenda and the issues being addressed. 
Before independence, the central assembly met for around 60 days a year, which increased to 120 days annually in the early post-independence years. 
Previously, various bodies including the conference of presiding officers and the National Commission to Review the Working of the Constitution, have recommended increasing the number of sitting days. 
The US Congress and parliaments of countries like Canada, Germany, and the UK meet throughout the year with fixed sitting day calendars. 
Overall, these sessions help government in pushing legislative agenda however, as it is not explicitly defined in the Constitution there is need to bring more transparency and consensus in its implications. 
One Nation, One Election
In News:
The Centre set up an eight-member committee to examine various legal and logistics aspects for implementing the "one nation, one election" idea.  
The Law Ministry has outlined seven terms of reference which include examining if a constitutional amendment to facilitate simultaneous polls would have to be ratified by the states.
About Simultaneous Elections/ One Nation, One Election:
Simultaneous Elections refer to restructuring the Indian election cycle in a manner such that elections to Lok Sabha and State Assemblies are synchronized together. Elections to Local bodies, which is a state subject, are not included in it.
The current electoral system holds separate polls for the Lok Sabha and state assemblies in a gap of five years, aligned to the respective conclusion of their five-year tenure.
If India implements simultaneous elections, India would be the fourth country to do so after Belgium, Sweden, and South Africa
Historically, Parliament and state elections were held simultaneously until 1967, but over the years as Assemblies and Lok Sabhas were dissolved before the end of their terms, the elections fell out of sync with each other.
Need for simultaneous elections:
Frequent elections: Elections are held in one or more states every year. Frequent elections divert precious time, energy, and resources of the nation and slow down developmental processes.
Implementation of Model Code of Conduct: Elections in states lead to the imposition of the Model Code of Conduct (MCC), which puts on hold the entire development programme and activities. Simultaneous elections would ensure consistent governance.
Affects social unity: Elections are also polarising events that perpetuate caste, religion, and communal issues because candidates are often forced to talk politically for the sake of electoral benefits. Simultaneous elections would prevent such incidents.
Reduced manpower: Crucial manpower is often deployed on election duties for a prolonged period of time. If simultaneous elections are held, then this manpower would be made available for other important tasks.
Reduced disruption of Public Life: Continuous election has an impact on the functioning of essential services. Simultaneous elections will limit the disruption to normal public life associated with elections such as rallies and traffic problems.
Provision for alternate government: The Law Commission has recommended that a no-confidence motion against a government should be followed by a confidence motion so that if the Opposition doesn't have the numbers to form an alternative government, the regime in office cannot be removed.
Challenges in implementing simultaneous polls:
Logistics challenges: Currently there are only 13.06 lakh control units (CUs) and 17.77 lakh ballot units (BUs) of EVMs. Simultaneous elections would require 30 lakh EVMs and VVPAT machines
Confusion for voters: Limited knowledge of voters about the process and lack of clarity about varying national and state issues might make the voters vote for the same parties at the Centre and State. This could result in marginalising regional parties.
Lack of manpower: There is a dearth of enough security and administrative officials to conduct simultaneous free and fair elections throughout the country in one go.
Complex Legislative Process: To implement the new election rules, five articles in the Constitution and Representation of the People Act (1951) would have to be amended. Every recognised state and national party would also have to agree to the change.
Against federal spirits: Assembly elections deal with local issues and parties are judged in the context of their work done in the state. Clubbing them with the general election could lead to a situation where the national narrative submerges the regional developments. 
Against multi-party democracy: Simultaneous elections may favour national parties and specially the parties in power which have more resources, potentially marginalising regional parties and issues.
Way Forward
As per the recommendations of the Parliamentary Standing committee, elections to some legislative assemblies whose term end within six months to one year before or after the election date could be held during the midterm of Lok Sabha .For the rest of the states, elections could be held along with the general elections to Lok Sabha.
Accomplishing one year, one election could be the first step towards one nation, one election.
"RAISE" for Business
In News:
Recently, Prime Minister Shri Narendra Modi addressed the B20 Summit India 2023 in New Delhi. 
Background:
The Business 20 (B20) is the official G20 dialogue forum with the global business community.
Established in 2010, B20 is among the most prominent Engagement Groups in G20, with companies and business organizations as participants.
The B20 works to deliver concrete actionable policy recommendations to spur economic growth and development.
B20 Summit India 2023:
The B20 Summit India is a platform for policymakers, business leaders, and experts to discuss policy recommendations for G20.  
Its theme is R.A.I.S.E – Responsible, Accelerated, Innovative, Sustainable and Equitable Businesses. 
R- Emphasizes the need for businesses to act responsibly and consider their impact on society and the environment. 
A- Refers to the need for businesses to drive economic growth and development through rapid progress and innovation. 
I- Highlights the importance of innovation in business strategies to adapt to changing global dynamics. 
S- Advocates for businesses to adopt practices that ensure long-term sustainability for both the economy and the planet. 
E- Focuses on promoting fairness and inclusiveness in business practices, ensuring benefits are shared widely. 
Key Points:
PM said it is about humanity, and about 'One Earth, One Family and One Future'.
The PM also proposed the idea of an "International Consumer Care Day" to strengthen trust between businesses and consumers.
The Prime Minister emphasized India's role in creating a trusted global supply chain and promoting sustainability.
He called for businesses to go beyond profit and focus on supply chain resilience and sustainability.
'Self-respect' marriages
In News:
Overview of the Supreme Court's order on the validity of 'Self-Respect' Marriages 
About 'Self-Respect' Marriages:
Supreme Court has recently clarified that there is no blanket ban on advocates solemnizing 'self-respect' marriages under Section 7(A) of the Hindu Marriage Act, 1955. 
The aim was to simplify weddings, allowing declarations in the presence of friends or family, and eliminating traditional ceremonial requirements. 
Key features: 

'Self-respect' marriages, also known as "suyamariyathai" or "seerthiruththa marriage," are solemnized between two Hindus. 
Amendment to Hindu Marriage Act in Tamil Nadu in 1968 introduced Section 7-A, recognizing "self-respect and secular marriages." 
Section 7-A allows marriages in the presence of relatives or friends, with a simple ceremony like exchanging garlands or rings. 
Under these marriages, the willing parties declare each other as husband and wife using a language understood by them. 
It legally acknowledges marriages between Hindus conducted without the need for priests, holy fire, or rituals and requires registration as per the law. 
Previously, in 2014 Madras High Court deemed such marriages invalid and stated that they couldn't be conducted in secrecy and declared such marriages conducted by advocates as invalid. 

Overall, the recent Supreme Court clarification affirms the legality of 'self-respect' marriages under the Hindu Marriage Act and upholds the principles of personal choice in marriage ceremonies. 
Minority Scholarship Scheme Scam
In News:
Central Bureau of Investigation (CBI) Registers FIR: Minority Scholarship 'Scam' Causing Rs 144 Crore Loss 
About Minority scholarship scheme scam:
The CBI on findings of National Council of Applied Economic Research (NCAER) has recently registered an FIR related to a minority scholarship 'scam' involving 830 "fake" institutions. 
These institutions were benefiting from the Pre-Matric Scholarship Scheme, resulting in a loss of over Rs 144 crore to the Ministry of Minority Affairs between 2017-18 and 2021-22. 
Key findings: 

The scholarship focuses on the Pre-Matric Scholarship Scheme for minority students with annual family income below Rs 1 lakh. 
Scholarships are awarded in two tiers viz., Class 1 to 5 students receiving Rs 1,000 per year, while Class 6 to 10 students receiving Rs 10,700 (hostellers) or Rs 5,700 (day scholars). 
Investigation has exposed collusion involving brokers, bank correspondents, school staff, and state government employees. 
The losses have been calculated for the period with "clean digitized data on NSP," but applicants from these institutions may have availed scholarships in earlier years. 
The findings highlight the misuse of the National Scholarship Portal (NSP) and the Public Finance Management System (PFMS) leading to fraud and corruption in scholarship distribution. 
Common irregularities included non-operational institutions benefiting from the scheme, fake beneficiaries, and manipulation of UDISE details. 
In Bihar cybercafé owners listed as INOs have likely submitted fake applications for coaching center students. 
Some schools in Madhya Pradesh reported registrations for students beyond Class 7, even though they were not recognized after that grade. 

Overall, the scholarship scam serves as a stark reminder of the challenges and the need for safeguarding public resources beside continuous vigilance to prevent such incidents in the future. 
Fali S Nariman on Basic Structure Doctrine
In News:
It was only in Kesavananda Bharati case (April 1973), that by a narrow majority of 7:6, in a bench decision of 13 judges, the basic structure doctrine was propounded and since then the basic structure doctrine has not been debated. 
Basic Structure Doctrine:
The doctrine of basic structure is a judicial innovation that puts a limitation on the amending powers of the Parliament.
The doctrine was propounded by the Supreme Court in Keshavananda Bharati v. State of Kerala (1973) and its objective is to ensure that the basic features of the Constitution remain unaltered and to preserve the core identity of the Constitution.
It was Influenced by German expert Dietrich Conrad's 1965 speech, emphasizing that a constitution's foundational pillars shouldn't be modified by the governing entity.
Evolution of Basic Structure Doctrine: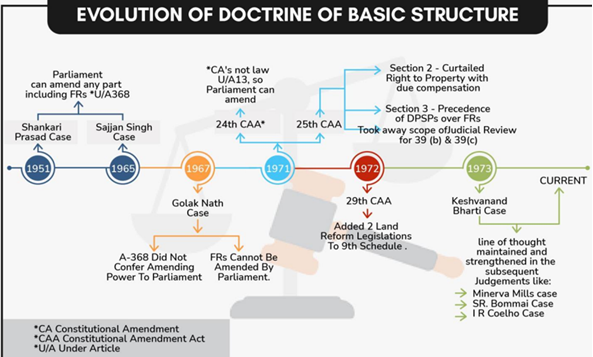 Upholding the Basic Structure Doctrine over the time:
1973: Kesavananda Bharati case introduces basic structure doctrine in a bench decision of 13 judges.
1975: Union of India seeks reconsideration of the doctrine; a bench of 13 judges convened in November. The bench dissolved without decision, indicating continued adherence to the doctrine.
1975: Constitution 39th Amendment passed, including Article 329A (4) attempting to validate Indira Gandhi's election.
1975: Supreme Court declares Article 329A (4) unconstitutional and void, reinforcing the doctrine's principles.
1978: Constitution 44th Amendment Act abolishes remaining clauses of Article 329A, cementing the doctrine's foundation.
1980: Minerva Mills vs. Union of India case reaffirms the basic structure doctrine in a Constitution Bench decision of five judges.
2007: IR Coelho vs. State of Tamil Nadu reaffirms the doctrine in a bench decision of nine judges.
Significance of Basic Structure Doctrine:
The Chief Justice of India D. Y. Chandrachud called Basic Structure Doctrine a North Star. This is because it guides and gives directions to law-makers, implementers and interpreters.
It prevents damage to the Constitution by ruling the majority's brute majority.
It limits constituent power to avoid totalitarian regimes.
It maintains founders' meticulously framed principles.
It ensures independent Judiciary, and separation of powers.
It allows adaptation over time, unlike rigid past judgments.
Criticism of Basic Structure Doctrine:
It is not found in the text of the original Constitution itself and therefore by inventing this test the judiciary is encroaching on the Parliament's powers.
The power of "unelected judges" to strike down amendments to the Constitution on the basis of this doctrine is "anti-democratic and counter-majoritarian.
SVAMITVA Scheme
In News:
Recently, SVAMITVA Scheme of Ministry of Panchayati Raj has been conferred with the prestigious National Award for e-Governance 2023 (Gold) for its innovative use of emerging technologies to provide citizen-centric services. 
About:
The award was presented at the 26th National Conference on e-Governance (NCeG), organized by the Department of Administrative Reforms and Public Grievances (DARPG), Government of India in Indore, Madhya Pradesh.
SVAMITVA stands for Survey of Villages Abadi and Mapping with Improvised Technology in Village Areas.
The scheme employs advanced technologies such as drones and GIS (Geographic Information System) to conduct surveys and mapping of inhabited areas in villages.
This allows property owners in rural regions to receive official ownership documents, known as Property Cards.
The Scheme is implemented with the collaborative efforts of Survey of India being the technology implementation partner, State Revenue and Panchayati Raj Departments, and NIC–GIS.
Benefits:
These cards have multiple benefits, including enabling property owners to access bank loans and other financial opportunities using their rural residential assets as collateral.
The technology aids in resolving land-related disputes through the creation of highly accurate maps with 5cm precision.
India's First Solar Roof Cycling Track
In News:
Recently, Hyderabad is embracing a sustainable shift towards cycling, with the introduction of an innovative solar roof cycling track (23 KM long) near the city's Outer Ring Road (ORR). 
About:
Cycling in a big city can be a real challenge with the pollution, uncontrollable traffic, and the risk of being knocked down by passing cars. 
Now, Hyderabad is leading the way with a first-of-its-kind sustainable solar roof cycling track near the Outer Ring Road. 
The track encompasses three lanes and consists of two segments.  
Distinguished by its 16MW solar panels fixed on the roof, this project sets an impressive sustainability precedent. 
9 years of PM Jhan Dhan Yojana
Tags: GS – 2: Governance (Government Policies and Intervention) 
In News:
The Pradhan Mantri Jan Dhan Yojana (PMJDY) – the National Mission for Financial Inclusion – has completed nine years of successful implementation. 
Pradhan Mantri Jan Dhan Yojana (PMJAY):
It is a National Mission for Financial Inclusion. Financial Inclusion can be defined as the process or provision that ensures access to financial services and credit for vulnerable groups at an affordable cost. 
It was launched in 2014 to ensure universal access to financial services namely, Banking/ Savings & Deposit Accounts, Remittance, Credit, Insurance, Pension in an affordable manner through the use of technology. 
The scheme was launched based upon the following 6 pillars: 

Universal access to banking services 
Basic savings bank accounts with overdraft (OD) facility of Rs. 10,000/- to every household 
Financial Literacy Program– Promoting savings, use of ATMs, getting ready for credit, availing insurance and pensions, using basic mobile phones for banking. 
Creation of Credit Guarantee Fund – To provide banks some guarantee against defaults. 
Insurance – Accident cover up to Rs. 1,00,000 and life cover of Rs. 30,000 on account opened between 15 Aug 2014 to 31 January 2015 
Pension scheme for Unorganized sector. 
Impacts of PMJAY: 
PMJDY has been the foundation stone for people-centric economic initiatives. Whether it is direct benefit transfers, COVID-19 assistance, PM-KISAN, wages under MGNREGA, the first step of all these initiatives is to provide every adult with a bank account, which PMJDY has nearly completed.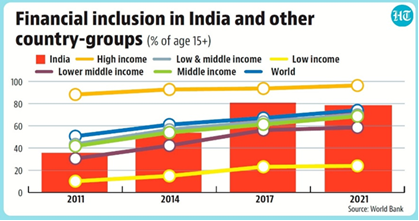 One in 2 accounts opened between March 2014 to March 2020 was a PMJDY account. 
Within 10 days of nationwide lockdown more than about 20 crore women PMJDY accounts were credited with financial assistance of Rs 500 per month for three months through DBT in each women PMJDY account. 
Achievements of PMJAY:
Number of total PMJDY Accounts: 50.09 crore, of which 55.6% account holders are women and 66.7% accounts are in rural and semi-urban areas.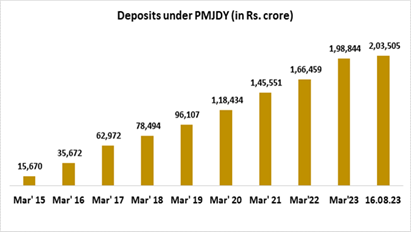 Deposits: Deposits have increased about 13 times which is over Rs 2 lakh crore. Average deposit per account has increased over 3.8 times. Increase in average deposit is another indication of increased usage of accounts and inculcation of saving habits among account holders. 
DBT transactions: About 6.26 crore PMJDY account holders receive direct benefit transfer (DBT) from the Government under various schemes. Digital transactions in India have experienced remarkable growth due to various initiatives: 
The issuance of over 33.98 crore RuPay debit cards through the Pradhan Mantri Jan-Dhan Yojana (PMJDY).
The installation of 79.61 lakh Point of Sale (PoS) and mobile Point of Sale (mPoS) machines.
The introduction of mobile-based payment systems like UPI (Unified Payments Interface).
Jan Dhan Darshak App (JDD App): JDD App is a mobile application which provides a citizen centric platform for locating banking touch points such as bank branches, ATMs, Banking Correspondents (BCs), Indian Post Payment Banks etc in the country.
National e-Vidhan Application
In News:
Recently, the President of India inaugurated the 'National e-Vidhan Application (NeVA) 
About
The National e-Vidhan Application (NeVA) is a significant component of the "Digital India Programme" by the Government of India, encompassing 44 Mission Mode Projects (MMPs).  
Its primary objective is to facilitate the transition of all State Legislatures into a paperless environment, effectively converting them into 'Digital Houses.' 
NeVA is designed as a versatile and member-centric application, agnostic to the type of device used. Its purpose is to empower legislators by providing comprehensive information at their fingertips. 
This information includes member contact details, procedural rules, notices, bills, starred/unstarred questions and answers, committee reports, and more, all accessible via handheld devices or tablets. 
As of the present status, 21 State legislatures have entered into Memorandums of Understanding for the implementation of NeVA, with the project receiving approval from 17 of these legislatures.  
The Nodal Ministry overseeing the NeVA initiative is the Ministry of Parliamentary Affairs.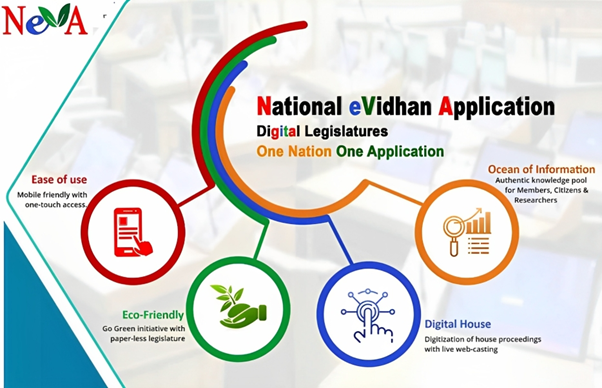 Vishwakarma Scheme
In News:
Recently, Prime Minister Narendra Modi launched the PM Vishwakarma scheme in New Delhi on the occasion of Vishwakarma Jayanti, to give government support to workers engaged in traditional crafts and skills. 
About the Scheme:
The scheme was earlier announced during the speech on Independence Day. 
The scheme focuses on uplifting and empowering people engaged in traditional crafts. 
It has dual purpose: 

Providing financial support to artisans and craftspeople 
Preserving and celebrating India's age-old traditions, culture, and diverse heritage through local products, art, and crafts. 

The scheme is fully funded by the Union Government with an allocation of Rs 13,000-15,000 crore. 
Families associated with 18 such different sectors like Carpenters, Boat Makers, Armourers, Blacksmiths, etc. will be helped. 
The scheme is to help enhance the skills of workers employed in these fields and help them avail loans easily to aid their earnings. 
The Vishwakarma workers will be registered for free through Common Services Centres using the biometric-based PM Vishwakarma portal. 
They will then be provided recognition through the PM Vishwakarma certificate and ID card, given skill upgradation involving basic and advanced training, a toolkit incentive of ₹15,000, collateral-free credit support up to ₹1 lakh (first tranche) and ₹2 lakh (second tranche) at a concessional interest rate of 5%, incentive for digital transactions and marketing support. 
A toolkit booklet has also been released in 12 Indian languages, with accompanying video elements, to aid the knowledge of workers on new technologies in their field. 
Five lakh families will be covered in the first year and 30 lakh families over five years. 
The scheme also aims to ensure that Vishwakarmas are integrated with the domestic and global value chains. 
Significance of the Scheme:
Preservation of traditional skills and practices: It strives to support and maintain a customary family-based practise of transferring knowledge from one generation to the next. This epitomises India's cultural tradition, in which skill and knowledge are passed down through families.
Quality upgradation: By providing skill upgradation, training, and toolkit incentives, it focuses to enhance the quality of products and services offered by artisans.
Integration into Value Chains: The scheme is designed to integrate artisans and craftspeople into both domestic and global value chains. By doing this artisans can sell their products to a broader customer base, potentially increasing their income and sustaining their livelihoods.
Wider Market Access: The scheme focuses on marketing support and incentives for digital transactions helps artisans expand their market reach. It assists them in tapping into domestic and international markets, thereby creating more opportunities for growth and recognition.
Challenges associated with the implementation of the scheme:
Addressing the disparity: Artisans in rural areas may face different challenges compared to those in urban areas. Addressing these disparities and ensuring that all eligible artisans can participate in the scheme is essential. 
Effective monitoring and evaluation mechanisms are critical to prevent misuse of funds and ensure that artisans are not excluded from the scheme. 
Digital Literacy: Providing training and resources for digital literacy is a challenge (particularly for those who may not be familiar with digital technologies) that needs to be addressed to maximize the scheme's impact. 
Source: Indian Express
Gita Mittal Committee
In News:
Recently, The Supreme Court of India has informed petitioners involved in the Manipur ethnic violence case that it cannot oversee the administration of the state and encouraged petitioners to place their trust in the Justice Gita Mittal Committee to address the issues raised in the case. 
About:
The Justice Mittal Committee was constituted by the Supreme Court to intervene and monitor relief and rehabilitation, restoration of homesteads, religious places of worship, etc, in Manipur. 
The committee will look into the issues include: 

The distribution of Aadhaar cards and disability certificates to the displaced people of the State, 
distribution of compensation to the families of the dead,  reconstruction of religious buildings and homes damaged during the violence, handling of bodies, and  the functioning of courts in the state. 
SC judgments regarding Manipur violence:
The State shall appoint a nodal officer in Delhi to guide people who had fled Manipur during the violence by helping them file complaints and petitions with the appropriate authorities in the State.
The video-conferencing facilities shall be installed in district courts of Manipur within a week, and violation of it may bring the case of "contempt of court" against the State.
Foreign Contribution Regulations Act
In News:
Recently, Ministry of Home Affairs (MHA) has amended the rules related to the filing of annual returns by Non-Government Organizations (NGOs) registered under the Foreign Contribution Regulation Act (FCRA). 
About:
These changes involve the requirement for NGOs to provide details about both movable and immovable assets created using foreign funds.
Significance: The amendment aims to enhance transparency and accountability in the utilization of foreign contributions received by NGOs.
Foreign Contribution Regulations Act (FCRA)
FCRA was enacted during the Emergency in 1976 amid apprehensions that foreign powers were interfering in India's affairs by pumping money into the country through independent organisations. 
The law sought to regulate foreign donations to individuals and associations so that they functioned in a manner consistent with the values of a sovereign democratic republic. 
Criteria: 

The FCRA requires every person or NGO seeking to receive foreign donations to be: 

registered under the Act 
to open a bank account for the receipt of foreign funds in the State Bank of India, Delhi 
to utilize those funds only for the purpose for which they have been received and as stipulated in the Act. 

FCRA registrations are granted to individuals or associations that have definite cultural, economic, educational, religious, and social programs. 
FAQs on Monthly Current Affairs – September 2023
Q1: What are monthly current affairs?
A1: Monthly current affairs refer to the latest and most significant events, developments, and news stories that have occurred within a particular month. These events encompass a wide range of topics, including politics, economics, science, technology, culture, and more. They are a reflection of the dynamic nature of our world and provide a snapshot of what's happening globally or within a specific region during a given month.
Q2: Why are monthly current affairs important?
A2: Monthly current affairs are important for several reasons:
Informed Citizenship: Staying updated with monthly current affairs is crucial for informed citizenship. It empowers individuals to make well-informed decisions, including voting in elections, advocating for causes, and engaging in meaningful discussions about societal issues.
Professional Relevance: Professionals, such as journalists, policymakers, and business leaders, need to be aware of current affairs to make strategic decisions, create informed content, and respond to changes in their respective fields.
Academic and Competitive Exams: Many academic institutions and competitive exams assess students' knowledge of current affairs, making it essential for academic and career success.
Cultural Awareness: Understanding current events helps individuals appreciate and understand different cultures, societies, and global interconnections.
Safety and Preparedness: Some current affairs, such as natural disasters or public health emergencies, can directly impact personal safety and require timely awareness and preparedness.
In case you still have your doubts, contact us on 9811333901.
For UPSC Prelims Resources, Click here
For Daily Updates and Study Material:
Join our Telegram Channel – Edukemy for IAS
Visit our YouTube Channel – here