Caste Census in Bihar
Tag: GS-1 Salient Features of Indian Society; Diversity of India GS-2– Government Policies & Interventions
In News:
Recently, the Government of Bihar released findings of the Caste Survey, 2023 which revealed that OBCs and Extremely Backward Classes (EBCs) together constitute 63 % of the 13-crore population, making it the largest caste group in the State.
About the Caste Survey:
The Bihar legislature unanimously passed a resolution agreeing to a caste census, twice: first on February 18, 2019 and then on February 27, 2020.
The Bihar government in June, 2022 issued notification for conducting a caste survey in the State on its own and subsequently allocated Rs. 500 crore from its contingency fund for the exercise.
The survey was carried out in two phases which each had its own criteria and objectives.
1st Phase: January 7 and 21, the number of households was counted. Enumerators were given a set of 17 questions which were to be mandatorily answered by the respondent.
2nd Phase: April 15 and was to be completed in about a month, was intended to collect data on castes, religions, and economic backgrounds, as well as on aspects such as the number of family members living in the state and outside.
Controversy surrounding the Caste Survey:
The process of Caste Survey was halted after several PILs were filed with the Supreme Court over violation of privacy and on the argument that only the Centre had the authority to conduct a "census".
The Supreme Court assigned Patna High Court to look into the issue. The Government of State of Bihar submitted that it was a "survey", and assured that no one's data would be divulged.
Concerns were also raised regarding the modalities of the survey and over several sub-castes not being covered.
Differences between Caste Census and Caste Survey:
Caste census: More precisely Socio Economic caste census was conducted for the first time in Independent India in 2011. However the findings were never made public. The last published data for all castes was done in the 1931 census.
All the personal information given in the SECC is open for use by Government departments to grant and/or restrict benefits to households
Caste Survey: Since only the Union government has the power to conduct a census, several state governments like Bihar and Odisha have been conducting socio economic caste surveys to ascertain the social and economic status of different castes for better policy making.
State governments use the Caste survey data for informed policy making of state policies.
Significance of Caste Survey:
Targeted and effective policy making: Caste census will generate exhaustive data which will allow policymakers to develop effective policies and implementation strategies for marginalised classes.
Reservation based on data: The current policies are based on the last caste census of 1931. The new survey would help in identifying the most benefited section and rationalise their share in the overall reservation.
Better targeting of Government welfare schemes: Caste census data can help to better target government welfare schemes to the most marginalised sections of the community. For example, in Bihar, 22.6 million people are excluded from food subsidies despite being eligible.
Social Justice: The census will help to address unequal distribution of wealth, resources and education in a democratic, scientific and objective manner. This will lead to social justice in the country.
Fulfilment of Constitutional Mandate-  Our Constitution favours conducting a caste census. Article 340 mandates the appointment of a commission to investigate the conditions of socially and educationally backward classes and make recommendations as to the steps that should be taken by governments.
Caste census data for equitable policymaking: Caste survey data can help to fulfil the objectives of various commissions, such as the Sachar Committee and the Justice Rohini Commission, by providing data on the socio-economic and educational status of different castes.
Break the myths associated with castes: Caste survey will reveal the actual data on castes and remove ambiguities associated with the caste. For example, In Karnataka, there were claims that among the castes, the Lingayats are the most numerous.
Disadvantages of Caste Survey:
Caste census-A double-edged sword: Caste census can be used by political parties for narrow gains, encouraging caste-based mobilisation and weakening the notion of caste in India.
Demand for increased reservation: Caste census may increase demand for larger or separate quotas. For instance, Patels, Gujjars, Jats and other castes are demanding reservations. Caste survey may restart the conversations over breaching 50% reservation as determined in Indira Sawhney case.
Potential Stigmatisation: Disclosure of caste identities could lead to individuals being stigmatised or discriminated against based on preconceived notions associated with certain castes.
Caste identity assertion: Caste survey may lead to hardening of caste identities that may hamper growth of national integration.
Demand for caste surveys by other states.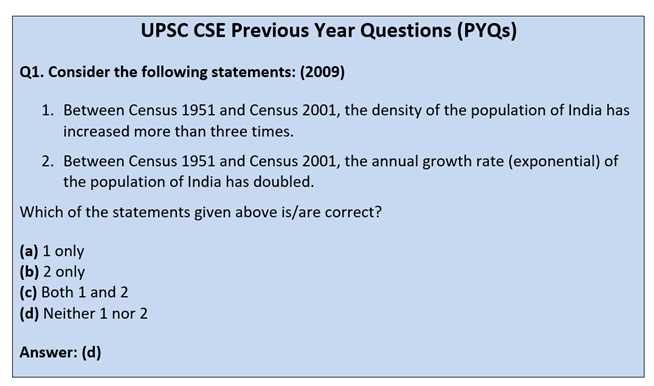 Social Audit of MGNREGA Scheme
Tag: GS-2 Government Policies and Intervention
In News:
MGNREGS social audit unit in a state of paralysis in many States.
About
An essential part of India's social welfare programmes, the Mahatma Gandhi National Rural Employment Guarantee Act (MGNREGA), has been tainted by ongoing worries about a high level of corruption. Despite the program's inclusion of mechanisms like social audit units, recent statistics show that fund recovery and overall effectiveness have suffered.
Recent Statistics
Recent statistics for the fiscal year 2023-24 indicate that social audit units identified misappropriations amounting to ₹27.5 crore under MGNREGA.
After implementing corrective measures, this figure decreased to ₹9.5 crore. However, only a meager ₹1.31 crore, equivalent to 13.8% of the total misappropriated funds, has been successfully recovered.
A similar trend of inefficiency in fund recovery is evident in previous fiscal years:
In 2022-23, the recoverable amount was ₹86.2 crore, but only ₹18 crore, or 20.8% of the total, was recovered.
During the fiscal year 2021-22, ₹171 crore was identified as misappropriated, but only ₹26 crore, representing a mere 15% of the total, was successfully recovered.
These consistently low rates of fund recovery raise significant concerns about the effectiveness of the program in combating corruption. Furthermore, the persistently low recovery rate jeopardizes the credibility of the entire audit process, posing a threat to public trust in the integrity and purpose of MGNREGA.
About Social Audit Mechanism
A social audit is the analysis and evaluation of a programme or scheme that involves the active participation of the public and the comparison of official records with actual ground realities. It is an effective tool for promoting social change, civic engagement, and government transparency.
Social audit is difference from the Financial audit, social audits focus on evaluating a program's effectiveness in achieving its social goals by involving stakeholders, while the financial audits examine financial records to determine an organization's financial health.
Social Audit Mechanism under MGNREGA
The social audit mechanism under the Mahatma Gandhi National Rural Employment Guarantee Act (MGNREGA) is governed by Section 17 of the Act, which mandates the social audit of all projects carried out under MGNREGA.
The procedures and responsibilities related to social audits are detailed in the Audit of Scheme Rules, 2011, also known as the Mahatma Gandhi National Rural Employment Guarantee Audit of Schemes Rules, 2011.
These rules were developed through collaboration between the Ministry of Rural Development and the Comptroller and Auditor General (CAG) of India.
They provide a framework for conducting social audits and delineate the roles and responsibilities of various entities, including the Social Audit Unit (SAU), state governments, and MGNREGA field workers, to be implemented nationwide.
However, several issues have hindered the effectiveness of the social audit mechanism under MGNREGA:
Fund-Starved Units: Social audit units often face financial constraints that impede their ability to function effectively. While the Union government is responsible for providing funds to these units to ensure their independence from state influence, delays in fund allocation have left units in states like Karnataka and Bihar without funds for nearly two years.
Lack of Training: Inadequate training and resources have further hampered the effectiveness of social audit units in identifying malpractice and irregularities. Adequate training is essential for audit personnel to carry out their responsibilities effectively.
Personnel Shortage: Insufficient staffing within social audit units poses a significant challenge. The lack of personnel makes it difficult for these units to conduct thorough audits and investigations, limiting their ability to uncover corruption and mismanagement.
Low Recovery Rate: Some states, including Gujarat, Goa, Meghalaya, Puducherry, and Ladakh, have consistently reported "zero cases" and "zero recoveries" over the past three years, raising questions about the effectiveness of monitoring and accountability mechanisms in these regions. Even states like Telangana, which have active social audit units, struggle with low recovery rates, indicating potential gaps in the system's ability to rectify financial irregularities.
Strategies to enhance the effectiveness of the MGNREGA social audit mechanism:
Engaging Stakeholders: Ensure the active involvement of all stakeholders, including beneficiaries, civil society organizations, government officials, and auditors, in the assessment and redesign of the social audit process.
Investing in Capacity Building: Allocate resources to invest in comprehensive training and capacity-building programs for auditors responsible for conducting social audits. Enhancing their skills and knowledge will enable them to carry out their roles more effectively.
Whistleblower Protection: Establish a robust mechanism for safeguarding whistleblowers who report irregularities or corruption in MGNREGA projects. Create an environment where individuals feel secure coming forward with information, free from the fear of retaliation.
Community Participation: Encourage active engagement of local communities in the audit process. Empower them to monitor project progress, scrutinize fund utilization, and report any discrepancies. Additionally, establish Grievance Redressal Committees at the village level to promptly address issues that arise.
Feedback Mechanism: Implement a feedback loop where audit findings are used to drive improvements within the MGNREGA program. Identify systemic issues and actively work towards continuous enhancement of the program's efficiency and transparency.
UPSC CSE Previous Year's Questions

Q. Among the following who are eligible to benefit from the "Mahatma Gandhi National Rural Employment Guarantee Act"? (2011)
(a) Adult members of only the scheduled caste and scheduled tribe households
(b) Adult members of below poverty line (BPL) households
(c) Adult members of households of all backward communities
(d) Adult members of any household
Answer: (d)
Illicit Trade in India
Tags: GS – 3: Internal Security (Money Laundering, Cyber Crime)
Why in News:
As per a report released by FICCI CASCADE titled 'Hidden Streams: Linkages Between Illicit Markets, Financial Flows, Organised Crime and Terrorism', the illegal economy in India has an overall score of 6.3 in India, which is higher than the average score of 5 of other 122 countries.
FICCI CASCADE
FICCI CASCADE (Committee Against Smuggling and Counterfeiting Activities Destroying Economy), is an initiative by the Federation of Indian Chambers of Commerce and Industry (FICCI).
In order to solve the urgent problem of the illegal trade in counterfeit, pass-off, and smuggled goods in India and throughout the world, it was founded on January 18th, 2011.
Illicit Trade
The unlawful exchange of goods, services, or commodities that evade existing rules, regulations, or controls imposed by governments or international organisations is referred to as illicit trade.
These activities take place outside of the law and frequently entail smuggling, tax evasion, money laundering, counterfeiting, piracy, and other illegal acts.
Key Highlights of the Report
Overview of Illicit Trade in India:

3.5 tonnes of gold, 18 crore cigarette sticks, 140 metric tonnes of Red Sanders, and 90 tonnes of heroin were seized in the Financial Year of 2022-23.
India's score of 4.3 is lower than the average score of 5.2 for 122 nations, indicating that organised crime players are less present but that criminal networks still have a considerable impact.
Value Gap India (2009-2018): Between 2009 and 2018, India lost an estimated total of USD 13 billion in potential income as a result of incorrect import and export invoices. Value-added tax (VAT) that was not collected was USD 3.4 billion, which went towards the revenue shortfall.
Terror and Crimes: In 2021, the cost of combating terrorism and crime in India was estimated to be USD 1170 billion at purchasing power parity (PPP), or nearly 6% of GDP (Gross Domestic Product).

Drug Economy:

Due to its proximity to important drug-producing regions like the Golden Triangle (Myanmar, Laos, and Thailand) and the Golden Crescent (Afghanistan, Pakistan, and Iran), operations that might entail the distribution and transit of controlled drugs have been linked to India.
There has been an increase in the illicit drug trade in India, with 3,172 drug seizure incidents reported from 2014 to 2022 compared to 1,257 occurrences from 2006 to 2013.
India scores significantly higher than the benchmark norm of 5.4 for cannabis, with a score of 7.5. With ratings of 6.5, the trade in synthetic drugs and heroin likewise performs better than the benchmark average.

Organised Crime and Illegal Economy:

India's organised crime players have a low overall score—4.3—compared to the 122-country average of 5.2.
However, the criminal network has a major impact in India and gets a score of 6, which is greater than the global average of 122 nations, which is 5.8.
The total score of the unlawful economy in India is 6.3, which is higher than the average score of 5 among 122 nations.

Role of Government Agencies in Checking Illicit Trade in India:
Central Bureau of Investigation (CBI): It investigates a wide range of criminal activities, including corruption, economic offenses, and cases related to organized crime.
Narcotics Control Bureau (NCB): It coordinates with other law enforcement agencies to address the illicit drug trade and associated criminal activities.
Enforcement Directorate (ED): It investigates economic offenses, including money laundering and illicit financial activities and plays a crucial role in tracking and seizing assets acquired through illicit means.
National Investigation Agency (NIA): It investigates and combats terrorism and offenses that have national and transnational implications.
International conventions against illicit trade which India has signed:
United Nations Single Convention on Narcotics Drugs 1961.
United Nations Convention on Psychotropic Substances, 1971.
United Nations Convention Against Illicit Traffic in Narcotic Drugs and Psychotropic Substances, 1988.
United Nations Convention Against Transnational Organized Crime, 2000.
World Trade Organization Agreement on Trade-Related Aspects of Intellectual Property Rights.
UPSC CSE Previous Years' Questions
Prelims

1. Consider the following statements:
1. The United Nations Convention against Corruption (UNCAC) has a 'Protocol against the Smuggling of Migrants by Land, Sea and Air'.
2. The UNCAC is the ever-first legally binding global anti-corruption instrument.
3. A highlight of the United Nations Convention against Transnational Organized Crime (UNTOC) is the inclusion of a specific chapter aimed at returning assets to their rightful owners from whom they had been taken illicitly.
4. The United Nations Office on Drugs and Crime (UNODC) is mandated by its member States to assist in the implementation of both UNCAC and UNTOC.
Which of the statements given above are correct?
(a) 1 and 3 only
(b) 2, 3 and 4 only
(c) 2 and 4 only
(d) 1, 2, 3 and 4
Answer: (c)

Mains

1. In one of the districts of a frontier state, narcotics menace has been rampant. This has resulted in money laundering, mushrooming of poppy farming, arms smuggling and near stalling of education. The system is on the verge of collapse. The situation has been further worsened by unconfirmed reports that local politicians as well assume senior police officers are providing surreptitious patronage to the drug mafia. At that point of time a woman police officer, known for her skills in handling such situations is appointed as Superintendent of Police to bring the situation to normalcy.
If you are the same police officer, identify the various dimensions of the crisis. Based on your understanding, suggest measures to deal with the crisis. (2019)
Review of Maritime Transport 2023: UNCTAD
Tags: GS – 3: Environment (Green House Gases)
Why in News:
Recently, the United Nations Conference on Trade and Development (UNCTAD) has released the Review of Maritime Transport 2023, highlighting the Issue of Greenhouse Gas (GHG) Emissions from International Shipping and Challenges in Decarbonization.
Key Highlights of the Review:
Emissions from International Shipping: International shipping contributed 20% more greenhouse gas emissions in 2023 than it did ten years earlier. The shipping sector accounts for more than 80% of worldwide commerce volume and around 3% of greenhouse gas emissions.
Shipping Volume rise: In 2022, the amount of marine transport worldwide decreased by 0.4% as a result of Covid-19's impacts on global supply chains. But in 2023, it is anticipated to increase by 2.4%. The containerized trade sector is predicted to expand by 1.2% in 2023 and then by 3% from 2024 to 2028.
Alternative Fuels requirement: Conventional fuels including heavy fuel oil, light fuel oil, and diesel/gas oil are used by 98.8% of the world's fleet. Only 1.2% of vehicles use alternative fuels, mostly LNG, LPG, and methanol, with battery and hybrid vehicles coming in second.
Cost Estimates: The yearly investment needed to decarbonize the world's fleet by 2050 might range from USD 8 billion to USD 90 billion.
UNCTAD's Recommendations for Economic Incentives:
For more recent ships with dual-fuel engines, renewable ammonia and methanol fuels are thought to be a better option.
On a "well-to-wake" basis, sustainable marine fuels should have carbon dioxide equivalent emissions that are zero or almost zero.
UNCTAD supports system-wide coordination, prompt regulatory action, and increased financial support for green technology and fleets.
Economic incentives may boost the competitiveness of alternative fuels and encourage investments in infrastructure that is climate-resilient, such as taxes or contributions based on shipping emissions.
In order to combine environmental objectives with economic requirements, it is important to remember that the cost of inaction surpasses the necessary investments.
In addition to using cleaner fuels, the shipping sector has to move more quickly towards digital technologies like blockchain and artificial intelligence (AI) to increase efficiency and sustainability.
Global Initiatives to Decarbonize International Shipping:
Energy Efficiency Existing Ship Index (EEXI): It limits the technical carbon intensity of the ship by limiting how much carbon dioxide the ship is designed to emit based on its size and ship type, and the Carbon Intensity Indicator (CII), which grades ships from A-E based on their operational carbon intensity, based on how much fuel the ships use each year.
IMO is developing new regulations called Mid-Term Measures, which will include a technical element, most likely a Greenhouse Gas Fuel Standard (GFS), as well as an economic element, such as a carbon levy, a feebate system, or cap-and-trade.
Green Voyage 2050 Project: An initiative to reform the shipping sector towards a future with reduced carbon emissions was started in May 2019 as a cooperation between the Government of Norway and IMO.
International Convention for the Prevention of Pollution from Ships (MARPOL Convention): It is the main international convention covering prevention of pollution of the marine environment by ships from operational or accidental causes. The MARPOL Convention was adopted on 2nd November 1973 at IMO.
India and Argentina Sign Social Security Agreement
Tags: GS –2 Bilateral Groupings & Agreements
Why in news?
Recently, India and Argentina signed a 'Social Security Agreement (SSA)' to ensure legal rights of professionals in each other's domain that will assist in risk-free international mobility.
About:
It ensures that the rights of professionals and workers in both countries are protected against the loss of social security benefits or contributions.
The SSA covers areas related to old-age benefits, survivor's pensions, and permanent, total disability pensions for employed individuals in India.
In Argentina, it applies to contributory benefits provided by the Social Security System.
The agreement ensures that detached workers and their family members, who temporarily work in another country, retain their rights to contributory benefits under local legislation without reduction, modification, suspension, suppression, or retention.
The SSA establishes the legal framework for regulating the insurance period, which includes the period of services credited with contributions, contributory benefits, and their export for detached workers.
This framework also covers crew members of airlines and ships.
It ensures the smooth export of these benefits to the home country of the worker.
South China Sea
Tags: GS –1 Geography
Why in news?
A recent dispute between China and the Philippines over a lagoon in the South China Sea turns the spotlight on simmering tensions in the strategic waters with ramifications to all countries in the Indo-Pacific region, including India.
About:
The South China Sea is bordered by China and Taiwan to the north, the Indo-Chinese peninsula (including Vietnam, Thailand, Malaysia, and Singapore) to the west, Indonesia and Brunei to the south, and the Philippines to the east (referred to as the West Philippine Sea).
It is connected by the Taiwan Strait with the East China Sea and by the Luzon Strait with the Philippine Sea (both marginal seas of the Pacific Ocean).
Comprise three archipelagoes, namely, the Spratly Islands, Paracel Islands, Pratas Islands and Macclesfield's Bank and Scarborough Shoal.
Trade Importance:
Approximately USD 3.37 trillion worth of trade passed through the South China Sea in 2016, making it a crucial global trade route.
According to the Center for Strategic and International Studies (CSIS), 80% of global trade by volume and 70% by value is transported by sea, with 60% of it passing through Asia and one-third of global shipping moving through the South China Sea.
The South China Sea is also a rich fishing ground, providing a vital source of livelihood and food security for millions of people in the region.
Dispute:
China's Nine Dash Line: Defines area claimed by China – by far the largest portion of the Sea.
Scarborough Shoal: Claimed both by the Philippines and China (known as Huangyan Island in China).
Spratlys: Occupied by claimants, which consist of Taiwan, Vietnam, the Philippines, China and Malaysia.
Paracel Islands: Subject of overlapping claims by China, Vietnam, and Taiwan.
Island Chain Strategy: A geographical security concept crafted by the United States in the 1940s to deter China and the Soviet Union's maritime ambitions.
Illicit Trade of Tortoises and Hard-Shell Turtles
Tags: GS –3 Environment, Conservation
Why in news?
A new study has found that Chennai is the highest-ranked node in the tortoise and hard-shell turtle trafficking network fuelling the global pet trade.
About:
It was conducted by experts associated with the Counter Wildlife Trafficking Programme of the Wildlife Conservation Society-India.
Key Highlights of the Report
The study found that the tortoise and hard-shell turtle network had a more extensive geographical scale with more international trafficking links compared to the soft-shell turtle network.
Soft-shell turtle trafficking is primarily domestic in nature. International trafficking of soft-shell turtles to and from India is mostly limited to Bangladesh.
Chennai emerges as the primary node in the tortoise and hard-shell turtle trafficking network.
Mumbai, Kolkata, Bengaluru, Anantapur, Agra, North 24 Parganas (in West Bengal), and Howrah (near the India-Bangladesh border) are also crucial in the network, contributing significantly to the trafficking of tortoises and turtles.
Wild populations of tortoises and freshwater turtles face immense pressure from illegal trade for pets, food, and medicines.
Turtles involved in the illegal trade often arrive dehydrated, starved, and with injuries.
High mortality rates among trafficked turtles highlight the urgency of addressing this issue.
Softshell turtle
Softshell turtles are among the largest freshwater turtles in the world, although many can adapt to life in very brackish areas.
Softshell turtles are a large group of reptiles in the family Trionychidae.
They are called softshells because their shells lack hard scales and are instead leathery and flexible.
They often lie buried in mud, sand, and shallow water.
Commonly found Soft-Shell Turtles in India are Indian Flapshell Turtles, Indian peacock softshell turtles, and Leith's Soft-shelled Turtle.
The Indian softshell turtle, also known as the Gangetic soft turtle, is a freshwater reptile that is restricted to the Ganges, Indus and Mahanadi rivers in northern and eastern India.
Tortoises or hard-shelled turtles
A tortoise shell is usually hard, and like other members of the Cryptodira suborder, they pull their neck and head straight into the shell to protect them.
All tortoises are turtles as they belong to the order Testudines/Chelonia.
Tortoises are distinguished from other turtles by being land-dwelling, while many (though not all) other turtle species are at partly aquatic.
According to the International Union for Conservation of Nature (IUCN) most of the species of turtles and tortoises are vulnerable, endangered or critically endangered.
Indian star tortoise, Olive Ridley Turtle, and Green Turtle are a few examples of Tortoise and Hard-Shell Turtles in India.
R21/Matrix-M Malaria Vaccine
Tags: GS –2, 3 Science & Technology, Health
Why in news?
Recently, The World Health Organization (WHO) has recommended a new vaccine, R21/Matrix-M, for the prevention of malaria in children.
About:
R21 Vaccine is the second malaria vaccine recommended by the WHO, following the RTS, S/AS01 vaccine, which received a WHO recommendation in 2021.
It was developed by the University of Oxford and the Serum Institute of India with support from the European and Developing Countries Clinical Trials Partnership ('EDCTP'), the Wellcome Trust, and the European Investment Bank ('EIB').
The Matrix-M component is a proprietary saponin-based adjuvant developed by Novavax and licensed to the Serum Institute for use in endemic countries.
An adjuvant is an ingredient in a vaccine that enhances the immune system's response to that vaccine.
Matrix-M adjuvant is derived from saponins, naturally occurring compounds found in the bark of the Quillaja saponaria tree in Chile. Saponins have a history of medicinal use.
As of now, the vaccine has been licensed for use in Ghana, Nigeria and Burkina Faso.
It is the first malaria vaccine to reach the WHO's target of 75% efficacy.
Malaria:
It is a life-threatening disease caused by parasites that are transmitted to people through the bites of infected female Anopheles mosquitoes.
There are 5 parasite species that cause malaria in humans, and 2 of these species, Plasmodium falciparum, and Plasmodium vivax, pose the greatest threat.
Malaria is common in tropical areas where it's hot and humid.
Symptoms include Fever, Fatigue, Vomiting, Headaches, and Shaking chills.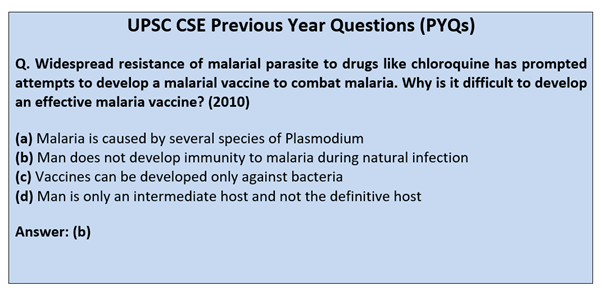 Nagorno-Karabakh Region
Tags: GS –1 Geography
Why in news?
Recently, Azerbaijan launched a military operation in the disputed Nagorno-Karabakh region, resulting in casualties.
About:
Nagorno-Karabakh, known as Artsakh by Armenians, is a landlocked mountainous area in the Caucasus region (the transcontinental region between the Black Sea and the Caspian Sea).
The Nagorno-Karabakh conflict is an ethnic and territorial dispute between Armenia and Azerbaijan.
A ceasefire mediated by Russia in 1994 left the region under Armenian control, though it's still recognized as part of Azerbaijan.
It is internationally recognised as part of Azerbaijan, but its inhabitants are predominantly ethnic Armenians.
The area is now governed by separatist Armenians and called the "Nagorno-Karabakh Autonomous Oblast."
Azerbaijan
It is a former Soviet republic nation and is bounded by the Caspian Sea and Caucasus Mountains, which span Asia and Europe.
It is bordered by Russia, Georgia, Armenia, and Iran.
Its capital, Baku, is famed for its medieval walled Inner City.
Measles
Tags: GS –3 Science and Technolgy, Health, and Disease
Why in news?
Capital is witnessing a significant spike in the number of measles cases along with the number of fatalities.
About:
It is a highly contagious and serious airborne disease and mostly affects children.
Caused by:

It is caused by a single-stranded, enveloped RNA virus with 1 serotype. It is classified as a member of the genus Morbillivirus in the Paramyxoviridae family.

Transmission:

It is spread by coughing and sneezing, close personal contact or direct contact with infected nasal or throat secretions.
The virus infects the respiratory tract, then spreads throughout the body, causing severe disease, complications and even death.
It can cause serious complications, including blindness, encephalitis, severe diarrhoea, ear infection and pneumonia.

Symptoms

The first sign of measles is usually high fever, beginning about 10 to 14 days after exposure to the virus and lasting four to seven days.
A runny nose, cough, red and watery eyes, and small white spots inside the cheeks can develop in the initial stage.
A rash erupts after several days, usually on the face and upper neck. The rash spreads over about three days, eventually reaching the hands and feet, and lasts five to six days before fading.

Treatment:

No specific antiviral treatment exists for measles but there is a vaccine to stay protected from the disease, which is both safe as well as cost effective.
Treatment includes providing comfort measures to relieve symptoms, such as rest, and medications like antibiotics, fever reducers and Vitamin A.
In case you still have your doubts, contact us on 9811333901.
For UPSC Prelims Resources, Click here
For Daily Updates and Study Material:
Join our Telegram Channel – Edukemy for IAS
Visit our YouTube Channel – here