The editorial analysis of "Behind France's violence: A history of colonialism" would likely delve into the historical context that underlies the current situation in France. It may emphasize the enduring impact of colonialism on the socio-economic and cultural fabric of both the former colonies and the colonizing nation itself. The analysis might explore how historical injustices, exploitation, and cultural hegemony have contributed to social inequalities, discrimination, and unrest in contemporary France. Additionally, the editorial might scrutinize the role of policy decisions, both historical and recent, in exacerbating tensions and marginalizing certain communities. Such an analysis could underscore the importance of acknowledging and addressing the deep-rooted issues stemming from colonial history to foster a more inclusive and equitable society.
Tag: GS Paper – 2: Groupings & Agreements Involving India and/or Affecting India's Interests; Effect of Policies & Politics of Countries on India's Interests; The failure of assimilation.
Exam view:
The reality of France; The incident; Discrimination despite diversity; First phase of French colonisation; Second phase of French colonisation; Neo-colonialism: The continuing Francafrique and migration;
Context:
Despite having one of Europe's most ethnically diverse populations, the shadow of colonialism and racism continues to have a pervasive impact on French society, leading to outbursts.
Decoding the editorial: The reality of France
Discrimination despite diversity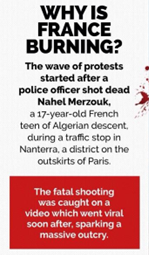 Diversity: A 2022 study by Ined, France's state-run institute for demographic studies, said at least 32 percent of France's population under 60 has at least one immigrant ancestor.
The study also said that 83 percent of people under 18 who have at least one immigrant parent, trace their origins to countries outside Europe, especially Africa.
Algeria, the North African nation to which Nahel's family traces its roots, was once a prized French colony.
Discrimination: According to The Defender of Rights, an advocacy group in France, young men who are Black or perceived to be of North African descent, are 20 times more likely to be subjected to police identity checks than the rest of the population.
Since a 2017 law allowed police to use firearms in case of non-compliance during traffic stops, fatal shootings by officers have shot up, with 2022 witnessing a record 13 such shootings.
As per Reuters, the majority of victims of these shootings since 2017 have been black or of Arab origin.
This treatment has its roots in France's colonial history.
First phase of French colonisation
The formal French presence in Africa began with the capture of Madagascar in 1642 and establishment of a port at Saint-Louis (present-day Senegal) in 1659.
This was primarily fuelled by France's desire to secure access to commodities and for a share in the spoils of the trans-Atlantic slave trade.
France's global empire suffered a setback with defeats at the hands of the British in the early 19th century.
Second phase of French colonisation
It began with the invasion of Algiers in 1830 and was largely focussed on Africa.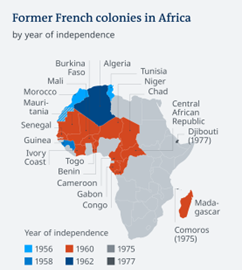 After the end of World War II, nationalist movements swept through the colonies.
Neo-colonialism: The continuing Francafrique and migration
Neo-colonialism is this sum total of modern attempts to perpetuate colonialism while at the same time talking about 'freedom'.
France has repeatedly intervened in the political affairs of its former colonies, and has a considerable military presence in Africa.
An outcome of Africa's continued impoverishment and the allure of European riches and quality of life has been extensive migration from Africa to Europe.
For francophone countries, France has been the preferred destination.
After the War, as France suffered from massive labour shortages, it actively courted cheap labour from its colonies.
Over the decades, this led to a thriving African population in France, many of whom are today naturalised citizens.
The failure of assimilation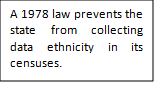 The French state has focussed in "assimilating" its diverse population into the "French ideal" by strictly adhering to political egalitarianism.
Yet, this attempt at assimilation has remained incomplete, leading to deep tensions in French society.
Culturally, the French ideal remains inaccessible to people of colour.
Socially and economically, African immigrants are among the poorest in the country, with the lowest levels of education and the highest levels of unemployment
African diaspora neighborhoods see among the highest rates of crime in France and, in turn, bear the brunt of police violence, accentuated by ingrained racial attitudes.
French Secularism or 'Laïcité' vs Indian Secularism
Relation between state and religion
French Secularism emphasises on a strict separation of religion and state, where as Indian system relies more on the 'Principled Distance approach'.
Right to Religion
French Secularism does not recognize one's Right to Profess Religion while Indian Constitution does.
Religion in the Public sphere
French system considers religion a strictly private matter and prevents any religious expression in the public sphere.
India recognizes individual and community right to practice religion and express their religious identity in the public sphere.
Positive discrimination
Indian model of Secularism, unlike the French model, recognises the need to protect minorities.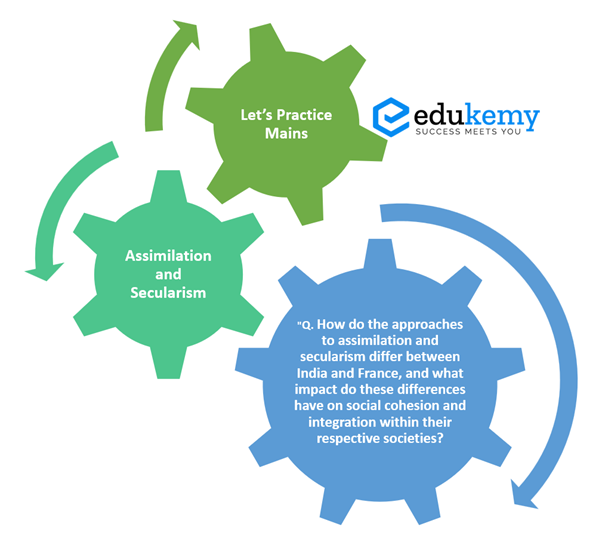 Source: Indian Express
Frequently Asked Questions (FAQs)
Q1: What role does colonial history play in the current violence in France?
A1: Colonial history has played a significant role in shaping the present-day social dynamics in France. The legacy of colonization has left lasting economic, cultural, and political imprints that contribute to social inequalities and tensions, often manifesting in violence.
Q2: How has the history of French colonialism affected marginalized communities in France?
A2: The impact of French colonialism has disproportionately affected marginalized communities in France. Historical injustices, discriminatory policies, and the perpetuation of cultural hierarchies have contributed to the marginalization of certain groups, fostering a sense of frustration and disenchantment.
Q3: Are there specific policies or decisions that link current issues in France to its colonial past?
A3: Yes, certain policies and decisions, both historical and contemporary, can be linked to France's colonial legacy. Issues such as discriminatory practices, unequal economic opportunities, and social exclusion often find their roots in policies influenced by the country's colonial history.
Q4: How can acknowledging the history of colonialism contribute to addressing current social unrest?
A4: Acknowledging the history of colonialism is crucial for understanding the root causes of social unrest in France. By recognizing historical injustices and addressing the structural inequalities inherited from the colonial era, society can work towards fostering inclusivity and social justice.
Q5: Is there a global context to the impact of colonial history on contemporary issues in France?
A5: Yes, the impact of French colonial history extends beyond national borders. Global economic relationships, migration patterns, and cultural exchanges influenced by colonial legacies contribute to the interconnected nature of contemporary issues, making it essential to consider a broader context in addressing these challenges.
In case you still have your doubts, contact us on 9811333901.
For UPSC Prelims Resources, Click here
For Daily Updates and Study Material:
Join our Telegram Channel – Edukemy for IAS
Visit our YouTube Channel – here