In recent times, the world has witnessed a growing concern over the conservation of Earth's majestic felines, the big cats. From the regal tigers of the Indian subcontinent to the elusive leopards of Africa, these charismatic creatures face an array of threats that demand urgent attention. This editorial analysis delves into the complex issues surrounding the conservation of big cats, exploring the factors contributing to their decline, the challenges in protecting their habitats, and the critical role that both local and international efforts play in safeguarding these iconic species. As we confront the grave reality of diminishing big cat populations, it becomes evident that addressing these concerns is not just an environmental imperative, but also a moral obligation to preserve the world's biodiversity.
Tag: GS Paper-3: Conservation
Exam View:
Tiger Survey; Karnataka's tiger population; The growth is skewed; Challenges in Karnataka. 
Context:
Tiger numbers and density are high in Bandipur and Nagarahole in Karnataka. An increase in the tiger population could escalate the man-animal conflict. 
Background: Tiger Survey
The latest survey on tiger population have been published by  
The Karnataka Forest Department, based on camera trap images, and  
The all-India figures published by the National Tiger Conservation Authority (NTCA), based on direct and indirect evidence apart from camera trap images.  
These figures indicate that the number of big cats has grown in Karnataka.  
According to the NTCA status report, Karnataka has the second highest number of tigers (563) after Madhya Pradesh (785).  
Decoding the editorial: Karnataka's tiger population
The growth is skewed
The Bandipur and Nagarahole reserves together account for 290 out of the 563 tigers in the State.
In the Bandipur Tiger Reserve, tigers have been protected ever since the inception of Project Tiger 50 years ago.
Bandipur was brought under protection by the maharajas as early as in 1941 when 800 sq km of forest was designated as the Venugopal Wildlife Park.
Nagarahole, too, has enjoyed such protection since the 1950s.
Challenges in Karnataka
Threat to livestock: There are 136 villages in a radius of 1 km around Bandipur and nearly as many villages around Nagarahole with a large livestock population.  
Livestock are easy prey for tigers lurking in the forest fringes.  
Man-animal conflict: Any further increase in the tiger population may escalate the man-animal conflict, which is especially high in habitats with elephants.  
Local communities in these habitats suffer crop damages (by elephants) and human deaths (due to tiger and elephant attacks). 
High prey base: Some argue that a high prey base will reduce the range of the resident tigers and their propensity to stray into human habitats.  
Experts have cautioned against artificial intervention or habitat manipulation in order to augment the population of tiger prey.  
They say that an increase in tiger density beyond the carrying capacity of the habitat could adversely impact the population of other co-predators such as leopards and dholes, which are equally important to conserve. 
Strengthening corridor: This is another long-term challenge in Karnataka.  
Protecting potential tiger habitats with low densities and strengthening corridor connectivity will facilitate the dispersal of tigers in ranges where the forests are contiguous.  
Case in point: The Malai Mahadeshwara Hills Wildlife Sanctuary 
It is spread over 906.18 sq km and is said to be ideal as a sink to absorb the surplus tiger population.  
This sanctuary was mooted as a tiger reserve.  
The Malai Mahadeshwara Hills Wildlife Sanctuary is linked to the Cauvery Wildlife Sanctuary in Karnataka to its north and east, the Sathyamangalam Tiger Reserve in Tamil Nadu to its south, and the BRT Tiger Reserve in Karnataka to its west. 
It is therefore considered vital for securing the future of tigers in the State.  
The NTCA supported the proposal on the grounds that additional inviolate space could be created for the dispersal of both tigers and prey.  
But political compulsions before the Karnataka Assembly elections forced the Bharatiya Janata Party government to put the proposal on hold. 
Providing a viable wildlife habitat and creating additional space for tigers calls for ensuring strict implementation of Eco Sensitive Zone rules, reducing anthropogenic pressure on existing habitats, taking the local populace into confidence and allaying their fears of displacement. All of this requires both political and administrative will.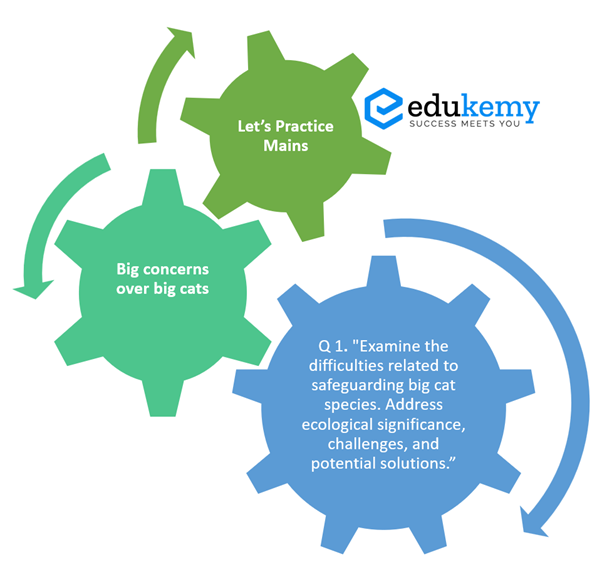 Source: The Hindu
Frequently Asked Questions (FAQs)
Q: Why are big cats facing conservation concerns?
A: Big cats are facing conservation concerns primarily due to habitat loss, poaching, and human-wildlife conflicts. These factors threaten their populations and push several species towards endangerment or extinction.
Q: What is the role of conservation organizations in protecting big cats?
A: Conservation organizations play a vital role in protecting big cats by conducting research, raising awareness, implementing anti-poaching measures, and working with governments to establish protected areas and wildlife corridors for these animals.
Q: How do big cats impact their ecosystems?
A: Big cats are apex predators, and they help regulate prey populations, maintain biodiversity, and influence the structure of ecosystems. Their presence is crucial for a healthy and balanced environment.
Q: What are the challenges in mitigating human-wildlife conflicts involving big cats?
A: Human-wildlife conflicts occur when big cats come into contact with human settlements and livestock. The challenge lies in finding sustainable solutions that protect both the big cats and the livelihoods of local communities without resorting to retaliatory killings.
Q: What can individuals do to contribute to big cat conservation?
A: Individuals can support big cat conservation by raising awareness, donating to reputable conservation organizations, and adopting sustainable practices that reduce human impact on big cat habitats. Responsible tourism and ethical consumer choices also play a significant role in conservation efforts.
In case you still have your doubts, contact us on 9811333901.
For UPSC Prelims Resources, Click here
For Daily Updates and Study Material:
Join our Telegram Channel – Edukemy for IAS
Visit our YouTube Channel – here