The intertwining of climate phenomenon and food security presents a formidable challenge that demands urgent attention. In recent years, the erratic and extreme weather patterns brought about by climate change have disrupted agricultural systems worldwide, making it increasingly difficult for farmers to predict and plan their harvests. These disruptions have not only led to crop failures and decreased yields but have also fueled food price volatility, exacerbating the vulnerability of vulnerable populations to hunger and malnutrition. As the global community grapples with the escalating consequences of climate change, it becomes imperative for governments, organizations, and individuals to work collaboratively to implement sustainable agricultural practices, invest in climate-resilient crop varieties, and ensure equitable access to resources, with the ultimate aim of safeguarding food security for current and future generations. The close link between climate phenomenon and food security underscores the pressing need for comprehensive strategies that address both issues concurrently, recognizing that a holistic approach is vital to ensure a sustainable and nourished world.
Tag: GS-3 Climate Change and Conservation 
Exam View:
El Nino and El Nino Southern Oscillation; El Nino Phase and Climate Change; El Niño and food security; Response to Climate Change phenomenon 
Context:
There has been a series of disruptive weather and climate phenomena in India this year, demonstrating the complexity of our precipitation system. Western disturbance, which usually brings rain and moisture to the western Himalayas parts of northern India during winters, has remained active late into the summer.
About the El Nino and El Nino Southern Oscillation [ENSO]:
El Niño is a climate pattern that describes the unusual warming of surface waters in the eastern tropical Pacific Ocean.
In a normal year, a surface low pressure develops in the region of northern Australia and Indonesia and a high-pressure system over the coast of Peru. As a result, trade winds over the Pacific Ocean move strongly from east to west.
The easterly flow of the trade winds carries warm surface waters westward, bringing convective storms to Indonesia and coastal Australia. Along the coast of Peru, cold bottom cold nutrient-rich water wells up to the surface to replace the warm water that is pulled to the west.
In an El Niño year, air pressure drops over large areas of the central Pacific and along the coast of South America.
There is a weak high in the western Pacific. This change in pressure pattern causes the trade winds to be reduced intensity and sometimes it might even get reversed.
This reduction allows the equatorial counter-current to accumulate warm ocean water along the coastlines of Peru and Ecuador. This prevents upwelling of cold deep ocean water along the coast of Peru and brings drought to Indonesia and Australia along with rains in South America
The formation of an El Niño is linked with the Pacific Ocean circulation pattern known as the southern oscillation. El Nino and Southern Oscillation coincide most of the time hence their combination is called ENSO – El Nino Southern Oscillation.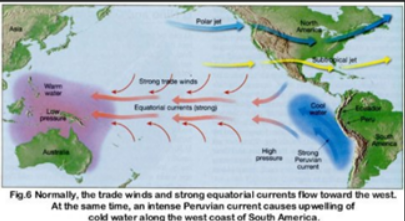 Impact of El Nino Phase on Climate:
Droughts and water scarcity in South East Asia and Australia. It leads to water scarcity in many parts of India and adversely affects agriculture, causing a decrease in crop yields.
Forest fires: During El Niño years, drier conditions may increase the likelihood of forest fires, especially in regions prone to such disasters.
Climate extremes: El Niño can contribute to other climate extremes in India, such as heatwaves and intense cyclones.
Climate induced disasters: Landslides and flooding in the western Himalaya and northern India leads to destruction of infrastructure and loss of life.
Inter annual Variability in rainfall: 65% of the inter-annual variability of the southwest monsoon, over many decades, can be attributed to the combined effects of ENSO and the IOD.
Impact of El Niño on food security:
Affects agricultural processes: El Nino and associated phenomenon affects rain fed agriculture by delaying the start of rains, affecting sowing, hot temperatures negatively influence plant growth and soil moisture.
Unirrigated lands: More than 50% of agricultural land is unirrigated. Thus any delays in monsoon affects crop growth severely.
Erratic Monsoons: Breaks in monsoon, delays in its advent and disproportionate rainfall in different regions affects growth of crops and hampers food security.
Dependence on green water irrigated regions: Even in irrigated areas, many dominant crops require green water (Green water is rain-fed soil moisture tapped by food and cash crops, eventually transpiring into the atmosphere) to different extents. For example, in kharif season, rice paddy under irrigation uses green water to the tune of 35%.
Growth of Rabi crops: Contributions of green water from northeast monsoon in southeast India and Western disturbance in north plays significant roles in determining the fate of Rabi crops.
Impact of El Nino on northeast monsoon:
Central India's highlands, encompassing 36 districts in the states of Madhya Pradesh, Chhattisgarh, and Maharashtra, which are emerging as climate change hotspots critical for our water, food and ecological security.
NE Monsoon feeds headwaters for five of India's 10 major river basins thus playing an important role in India's water security.
Response to Climate Change phenomenon:
Reducing dependence on water-intensive crops: With introduction of millets agriculture is shifting to less water-intensive crops which may reduce vulnerability of our food systems to phenomena like El Niño.
Adaptations and alternative crop strategies like shifting to millets and alternative varieties of dominant cereals and advisories to farmers to switch to crops with shorter growing cycles.
Alternative short-term and long-term management of our dams and reservoirs is required to reduce the risk of dam-based flood disasters and ecological damage to aquatic ecosystems.
Source: The Hindu
Frequently Asked Questions (FAQs)
FAQ: How does climate change impact food security?
Answer: Climate change affects food security by causing extreme weather events, such as droughts and floods, which can lead to crop failures and decreased agricultural productivity. Rising temperatures can also affect the quality and quantity of food produced.
FAQ: What are the regions most vulnerable to the impact of climate phenomenon on food security?
Answer: Regions with a high dependence on agriculture and limited adaptive capacity are the most vulnerable. Sub-Saharan Africa, South Asia, and small island nations are particularly at risk due to their reliance on rain-fed agriculture and limited resources for adaptation.
FAQ: How can we mitigate the effects of climate change on food security?
Answer: Mitigation strategies include reducing greenhouse gas emissions, promoting sustainable farming practices, and investing in climate-resilient crop varieties. Implementing water-saving technologies and improving agricultural infrastructure also play crucial roles in minimizing climate-related food security risks.
FAQ: Are there any short-term solutions to address climate-related food security challenges?
Answer: While long-term strategies are essential, short-term solutions include building climate information systems for farmers to make informed decisions, establishing emergency food reserves, and providing financial support to farmers during climate-related crises.
FAQ: How can individuals contribute to improving food security in the face of climate change?
Answer: Individuals can reduce their carbon footprint through lifestyle changes like eating less meat, conserving water, and minimizing food waste. Supporting sustainable agriculture by buying locally-sourced and seasonal produce and advocating for climate action are other ways individuals can make a positive impact.
In case you still have your doubts, contact us on 9811333901.
For UPSC Prelims Resources, Click here
For Daily Updates and Study Material:
Join our Telegram Channel – Edukemy for IAS
Visit our YouTube Channel – here