The North Atlantic Treaty Organization (NATO), alternatively known as the North Atlantic Alliance, constitutes an intergovernmental military alliance comprising 31 member states, including 29 European nations and two from North America. Its origins trace back to the aftermath of World War II, with the formalization of the North Atlantic Treaty in Washington, D.C., on April 4, 1949. Functioning as a collective security system, NATO's member states commit to mutual defense against external threats. Initially established as a countermeasure during the Cold War era against the Soviet Union, NATO persisted beyond the dissolution of the Soviet Union and the Warsaw Pact. Over the years, it has been actively engaged in military operations across diverse regions such as the Balkans, the Middle East, South Asia, and Africa. The organization adheres to the guiding motto "animus in consulendo liber," translating to 'a mind unfettered in deliberation' in Latin.
Tag: GS Paper-2: Bilateral Groupings and Agreements; Important International Institutions. 
Exam View:
NATO and NATO Plus; India's priorities: Rejecting NATO Plus. 
Context:
The US House Select Committee on the Strategic Competition between the United States and the Chinese Communist Party (CCP) has recommended strengthening the 'NATO-Plus' framework by including India in the grouping. India has rejected the idea. 
Decoding the editorial 
NATO
Origin: 
It is a transatlantic military alliance of 31 countries, with the majority of members from Europe.
After the dissolution of the Soviet Union and the end of the Cold War, many thought that NATO would lose its relevance.
On the contrary, NATO has not only survived but also expanded, with Finland joining as its 31st member (April 2023), and Sweden waiting in the wings.
NATO became a key player in Ukraine's defence against Russia's invasion.
Future: 
With NATO swelling its expanse, some analysts even see the onset of Cold War 2.0. 
While NATO's earlier target was the Soviet Union and now Russia, the focus of NATO Plus is clearly on containing China.  
Therefore, considering its disputes with China, India remains a missing link in the framework.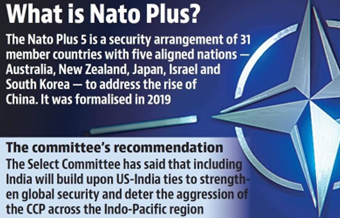 NATO plus
It is meant to enhance "global defence cooperation" and win the "strategic competition with the Chinese Communist Party".  
The term 'NATO Plus' is not an officially recognised or established concept within NATO itself, but has been used in discussions and debates regarding the potential expansion of the alliance.  
Advantages of joining NATO Plus for India 

It could provide India with a security umbrella, with protection and deterrence against potential threats.  
India could also gain access to advanced military technologies, intelligence-sharing platforms, and interoperability with other member-states.  
This could potentially strengthen India's defence capabilities and modernisation efforts. 
India's priorities: Rejecting NATO Plus
It will annoy Russia and China.  
Apart from the robust strategic partnership, Russia has been useful to India in dealing with regional security challenges and, importantly, moderating the stance of China.
Even though Russia is getting over-dependent on China, post the war in Ukraine, Moscow remains a valuable partner for India.
It could prove counterproductive and detrimental.  
Having a military framework will limit India's freedom of action and prevent it from pursuing an independent policy towards China.
India has its own bilateral issues with China and a strategy for the Indo-Pacific.
The Taiwan strategy of the U.S. under NATO Plus will complicate India's security, with the possibility of Chinese justification for further military build-up along the India-China border and frequent intrusion.
It could hamper India's policy of strategic autonomy. 
Joining a NATO framework would require India to align its defence and security policies with the objectives and strategies of the alliance, thereby potentially undermining India's autonomy.  
While the non-aligned policy will get a quick death, it could strain relationships with countries, especially neighbours and regional organisations that value India's independent stance, and could also limit its flexibility in engaging with other regional powers. 
It could disturb India's own regional dynamics. 
It includes a unique set of security challenges such as border disputes, terrorism, and regional conflicts.
While NATO has certain competencies to deal with such issues, its larger geopolitical agenda starting from Eurasia to the Indo-Pacific may divert resources and attention away from these pressing issues and, therefore, will not be of much help to India.
For the time being, India's posturing through the Quad (India, Japan, Australia and the U.S.; the Asian NATO as per China) looks more promising than the NATO Plus bait. 
Source: The Hindu
Frequently Asked Questions (FAQs)
Q1: What is meant by "America's NATO Plus bait"?
A1: "America's NATO Plus bait" refers to the strategic and diplomatic efforts by the United States to expand and strengthen alliances beyond the traditional North Atlantic Treaty Organization (NATO). It suggests a nuanced approach to security partnerships, possibly involving new or enhanced cooperative arrangements.
Q2: Why is the U.S. pursuing alliances beyond NATO?
A2: The U.S. may be pursuing alliances beyond NATO to address evolving global challenges, such as emerging security threats, geopolitical shifts, and the need for flexible partnerships. This approach could be part of a broader strategy to adapt to changing international dynamics.
Q3: What potential benefits could arise from America's NATO Plus approach?
A3: The approach could enhance the collective security framework, foster greater cooperation on shared global issues, and provide a more agile response to diverse challenges. It may also strengthen diplomatic ties and contribute to a more adaptable and resilient international security architecture.
Q4: Are there concerns associated with this strategy?
A4: Some concerns may include the risk of overextension, potential strain on resources, and the delicate balance of managing multiple alliances. Critics might argue that such initiatives could create tensions with existing partners or divert attention from pressing issues within traditional alliances.
Q5: How might "America's NATO Plus bait" impact global geopolitics?
A5: The strategy could influence the geopolitical landscape by reshaping alliances and creating new diplomatic dynamics. Depending on the success and implementation of this approach, it may contribute to a more nuanced and collaborative international order, or conversely, it could lead to increased tensions and competition among various nations.
In case you still have your doubts, contact us on 9811333901.
For UPSC Prelims Resources, Click here
For Daily Updates and Study Material:
Join our Telegram Channel – Edukemy for IAS
Visit our YouTube Channel – here