UPSC Mains General Studies Paper – 1 Mains 2023
UPSC Mains Civil Services IAS Exam Question Paper – 2023
Introduction  
Fjord is a long, narrow valley with steep sides filled with seawater .Formed when a glacier retreats, carving its u-shaped valley, and sea fills the resulting valley floor.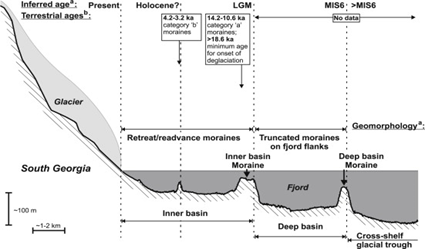 Body 
FORMATION :-Mainly by two ways- 
TECTONIC REASONS- land may subside because of which the water enters and forms a steep sided, narrow valley. E.g. – KHOR ASH SHAM in Oman is formed by subduction of Arabian Tectonic  plate beneath Eurasian plate. 
SEA LEVEL RISE –These are mainly high latitude Fjords associated with post glaciation. E.g. – GEIRANGERFJORD in Norway, SCORESBY SUND in Greenland . 
REASONS FOR PICTURESQUE PRESENCE OF FJORDS:- 
Unique landforms with steep sides, abundant rainfalls etc. creating attractive waterfalls: MILFORD SOUND of New Zealand has the best staggering coastal scenery. 
Unification of mountains, snow, coast, sea, waterfalls and steep slopes creates a mesmerising landscape worth remembering. Ex: GEIRANGERFJORD of Norway is a UNESCO World Heritage Site. 
Biodiversity Presence with rich marine life and Floral Diversity. Ex: DOUBTFUL SOUND of New Zealand famous for its wilderness and wildlife. 
Sheltered water creates beautiful lagoons .
Recreational Activities surrounding these areas make them a place of Leisure and Adventures.
Conclusion     
Hence ,Fjords are virgin areas untouched by anthropogenic activities ,however these are impacted by Climate Change which can lead to its disappearance .With proper conservation efforts these picturesque landforms could be preserved for our  future generations . 
In case you still have your doubts, contact us on 8792740517.
For UPSC Prelims Resources, Click here
For Daily Updates and Study Material:
Join our Telegram Channel – Edukemy for IAS
Visit our YouTube Channel – here