Inclusive growth means economic growth that creates employment opportunities and helps in reducing poverty.
It means having access to essential services in health and education for the poor. It includes providing equality of opportunity and empowering people through education and skill development.
It also encompasses a growth process that is environment-friendly growth, aims for good governance, and helps in the creation of a gender-sensitive society.
Definition Of Inclusive Growth
As per OECD (Organisation for Economic Co-operation and Development), inclusive growth is economic growth that is distributed fairly across society and creates opportunities for all.
"Inclusive Growth refers both to the pace and pattern of growth, which are interlinked and must be addressed together."– World Bank
UNDP has described inclusive growth as "the process and the outcome where all groups of people have participated in the growth and have benefited equitably from it".
Inclusion growth refers to the ongoing process of improving diversity and inclusivity in an organization. It involves creating a work environment that is open and welcoming to individuals from diverse backgrounds and identities and that values their contributions.
To achieve inclusion growth, an organization must make a concerted effort to identify and address any biases or barriers that may prevent certain individuals from feeling included. This may involve implementing policies and practices that promote diversity and inclusivity, such as conducting regular diversity training, creating mentorship or sponsorship programs, and providing accommodations for employees with disabilities.
Inclusion growth also requires an organization to foster a culture of inclusivity, where all employees feel comfortable sharing their perspectives and experiences, and where differences are celebrated rather than stigmatized. This can be achieved by promoting open communication, establishing clear expectations around respectful behavior, and holding leaders and managers accountable for creating an inclusive workplace.
Salient Features Of Inclusive Growth
Inclusive growth refers to a type of economic growth that is broad-based, sustainable, and benefits all members of society, particularly those who are marginalized or disadvantaged. Some of the salient features of inclusive growth include:
Focus on reducing poverty:
Inclusive growth aims to reduce poverty and inequality by ensuring that the benefits of economic growth are distributed more equitably across society.
Promotion of employment:
Inclusive growth focuses on creating more and better job opportunities, particularly for vulnerable groups such as women, youth, and people with disabilities.
Investment in human capital:
Inclusive growth recognizes the importance of investing in education, health, and other social services to improve the capabilities and well-being of individuals and communities.
Protection of natural resources:
Inclusive growth acknowledges the importance of protecting natural resources and the environment, to ensure that future generations can also benefit from economic growth.
Encouragement of innovation:
Inclusive growth promotes innovation and entrepreneurship, to create new and more sustainable sources of economic growth and to provide opportunities for small and medium-sized enterprises.
Support for marginalized groups:
Inclusive growth recognizes the importance of supporting marginalized groups such as women, indigenous peoples, and ethnic minorities, to ensure that they are not left behind in the economic development process.
Emphasis on social inclusion:
Inclusive growth emphasizes social inclusion and the reduction of social exclusion, discrimination, and inequalities in access to services and opportunities.
Reasons For Inequality In India
There are multiple factors that contribute to inequality in India, some of which are:
Historical and structural factors:
India's caste system, which has existed for thousands of years, has historically marginalized certain groups and perpetuated inequality. There are also structural factors such as unequal access to education and healthcare, lack of infrastructure, and poor governance, which have contributed to inequality.
Unequal distribution of resources:
The unequal distribution of resources such as land, water, and other natural resources has led to significant inequality in India. Wealth and income are concentrated in the hands of a few, while the majority of the population struggles to make ends meet.
Gender discrimination:
Women in India face significant discrimination in terms of access to education, employment, and healthcare. The prevalence of child marriage and violence against women further exacerbate gender inequality.
Regional disparities:
There are significant regional disparities in India, with some areas of the country being much more developed and prosperous than others. This leads to unequal opportunities for people in different parts of the country.
Corruption and inefficiency:
Corruption and inefficiency in government institutions and public services perpetuate inequality in India. This affects access to basic services such as healthcare and education, particularly for those who are marginalized or disadvantaged.
Lack of social protection:
The absence of effective social protection systems, such as social security, healthcare, and unemployment benefits, further exacerbates inequality in India, particularly for those who are poor and vulnerable.
Dimensions Of Inclusive Growth
There are multiple dimensions to inclusive growth, some of which are:
Economic dimension:
Inclusive growth aims to promote economic growth that is sustainable, broad-based, and benefits all members of society, particularly those who are marginalized or disadvantaged. This includes creating job opportunities, reducing poverty and inequality, and promoting entrepreneurship and innovation.
Social dimension:
Inclusive growth emphasizes social inclusion and the reduction of social exclusion, discrimination, and inequalities in access to services and opportunities. This includes improving access to education, healthcare, and other social services, supporting marginalized groups, and promoting gender equality.
Environmental dimension:
Inclusive growth recognizes the importance of protecting natural resources and the environment, to ensure that future generations can also benefit from economic growth. This includes promoting sustainable development practices, reducing carbon emissions, and mitigating the impact of climate change.
Political dimension:
Inclusive growth requires good governance and strong institutions that promote accountability, transparency, and participation. This includes promoting democratic processes, reducing corruption, and ensuring that the voices of marginalized groups are heard and represented in decision-making processes.
Measuring Inclusive Growth
Inclusive Development Index (IDI)
In the Inclusive Development Index (IDI) compiled by the World Economic Forum (WEF), India ranked 62nd out of 74 emerging countries and was among the least inclusive countries in the Group of 20 (G-20) countries.
The IDI is based on the idea that most people base their country's growth not on GDP but by their own standard of living.
It gives a measure of inequality based on three parameters:
Growth and development Inclusion
Inter-generational equity and sustainability.
India also did not make it to the top 10 most inclusive emerging and developing economies, where its neighbours Nepal, China, and Sri Lanka made a mark.
India performed its best in terms of "intergenerational equity and sustainability", ranking 44th, for which credit can be attributed to its demographic dividend.
Social Progress Index (SPI)
It is an aggregate index of social and environmental indicators which includes the following:
Basic human need
The foundation of well being
Opportunity
Limitation of other indices:
GDP: It does not include non-market activities- Excludes factors like environment, equality, etc.
Gini Coefficient: Only income inequalities are included and other inequalities like social inequality, equality of opportunities, etc. are ignored.
Gross Happiness Index: Ignores gender neutrality, education, etc.
HDI: The unequal distribution of wealth is ignored.
Benefits of SPI:
SPI measures the outcomes of the government measures rather than money spent. It also takes account of efficiency by which money spent by the government has been used.
It is more comprehensive.
Global Slavery Index
It is released by the Walk Free Foundation of Australia.
Modern Slavery means a situation where one person has taken away another person's freedom, to control their body so that they can be exploited.
Factors responsible for modern slavery:
Absence of rights
Lack of physical safety
Access to necessities such as health care, education, food, etc.
Pattern of Migration
Government actions to reduce modern slavery: India has worked in the right direction by criminalizing trafficking, slavery, forced labour, child prostitution, and child marriage.
Experience Of Indian In Ushering In Inclusive Growth Since Independence
The recognition of the significance of inclusive growth in developing Asia has been generated by a rising concern that the benefits of remarkable economic growth have not been equitably shared.
India set up the Planning Commission in 1950 to oversee the entire range of planning, including resource allocation, implementation and appraisal of five-year plans. The five-year plans were centralized economic and social growth programmes
Developing India experienced rapid economic growth during the last two decades. Asia's rapid growth has led to a dramatic reduction in the level of extreme poverty.
Within the context of India, the Indian economy, which has undergone various phases since the last many decades is currently entering an altogether different path, one marked by a high rate of expansion, combined with 'inclusive growth.'
In the last few years, inclusive growth has been at the vanguard of studies supported by multilateral aid agencies, such as the United Nations, the World Bank, the Asian Development Bank, and several nongovernmental organizations (NGOs).
In India, governments have introduced several projects, such as Jawahar Rozgar Yojna, Integrated Rural Development Program, Rural Housing Scheme, Swarnjayanti Gram Swarozgar Yojana, and Mahatma Gandhi National Rural Employment Guarantee Act to promote inclusive growth.
Measures Taken By India Since Independence To Ensure Inclusive Growth In The Economy
India has taken several measures since independence to ensure inclusive growth in the economy. Here are some of the major ones:
Land reforms:
The government undertook land reforms to redistribute land from large landowners to landless and small farmers. This helped to reduce inequality and promote inclusive growth.
Green Revolution:
The Green Revolution in the 1960s introduced high-yielding crop varieties, modern agricultural techniques and technology, and irrigation facilities. This led to increased agricultural productivity and helped to alleviate poverty in rural areas.
Reservation system:
India has implemented a reservation system for marginalized communities in education and employment. This has helped to promote social inclusion and reduce inequality.
Rural development programs:
The government has implemented various rural development programs like the Jawahar Rozgar Yojana, Integrated Rural Development Program, and Swarnjayanti Gram Swarozgar Yojana to provide employment and income generation opportunities to rural communities.
Mahatma Gandhi National Rural Employment Guarantee Act (MGNREGA):
The MGNREGA guarantees 100 days of wage employment to every rural household in a year. This has helped to promote inclusive growth in rural areas and has led to the creation of assets like roads, canals, and water harvesting structures.
Skill development programs:
The government has implemented various skill development programs to improve the employability of the youth, particularly from marginalized communities.
Financial inclusion:
The government has promoted financial inclusion through initiatives like Jan Dhan Yojana, which aims to provide access to financial services to all households in the country.
Universal health coverage:
The government has implemented Ayushman Bharat, a universal health coverage scheme that aims to provide health insurance to the economically vulnerable sections of society.
Infrastructure development:
The government has invested in infrastructure development, such as roads, railways, ports, and airports, to promote economic growth and create employment opportunities.
India has made significant progress toward achieving inclusive growth in the economy, but there are still some challenges and obstacles that need to be addressed. Some of the reasons why India has not been able to achieve inclusive growth in the economy include:
Schemes For Inclusive Growth:
Financial Inclusion:
Pradhan Mantri Jan Dhan Yojana
Pradhan Mantri Jeevan Jyoti Beema Yojana
Pradhan Mantri Suraksha Beema Yojana
Atal Pension Yojana
Pradhan mantra mudra yojana
Jan Dhan, Aadhaar and Mobile (JAM Trinity)
Employment and inclusive growth:
MGNREGA
Skill Training for Employment Promotion amongst Urban Poor (STEP-UP)
Swaran Jayanti Shahari Rozgar Yojna
Agriculture and inclusive growth:
Pradhan Mantri Krishi Sinchayee Yojana
National Agriculture market
National Food Security Act
Technology and inclusive growth:
Digital India Program:
Skill development and inclusive growth:
National skill development mission:
Pradhan Mantri Kaushal Vikas Yojana (PMKVY)
Deen Dayal Upadhyaya Grameen Kaushalya Yojana (DDU-GKY)
Pradhan Mantri Vidya Lakshmi Karyakram
Self- Employment and Talent Utilisation (SETU) mechanism.
Atal Innovation Mission (AIM)
Reasons Why India Has Not Been Able To Achieve Inclusive Growth In The Economy
India has made significant progress toward achieving inclusive growth in the economy, but there are still some challenges and obstacles that need to be addressed. Some of the reasons why India has not been able to achieve inclusive growth in the economy include:
Concerns with Inclusive Growth Schemes in India:
Despite the high and fast-growing emerging market economy, India has some shocking statistics when it comes to food security.
As per the recent UNICEF report, at least one million children under five die in India due to malnutrition-related issues.
Here, the burden among the scheduled castes, scheduled tribes, other backward castes, and rural communities is highest in terms of acute malnutrition.
Among the states, it is Madhya Pradesh and Rajasthan that have acute problems in terms of malnutrition.
Social enterprises can play a key role in India's agenda of inclusive development. However, just like in many other countries, they are not officially or legally recognised as a sector in India, even while they play an important part in the fight against poverty.
The main reasons for India's failure to achieve inclusive growth and distributive justice are:
The failure of land reform
The wrecking of the well-designed community development programme that aimed at the all-round development of the village
The lack of success in providing adequate employment opportunities at living wages to a rising population
The neglect of school education and the absence of special measures designed to help children of the poor to get a good school education.
Continued dependence of some 60 percent of the workforce on low-productivity agriculture and allied occupations for employment and living.
World Economic Forum on social inclusion and economic growth:
First, countries should increase public and private investment in their citizens' capabilities, which is the most important way they can durably lift their rate of productivity growth.
Second, governments, together with employers' and workers' organizations, should upgrade national rules and institutions relating to work. These influence the quantity and distribution of job opportunities and compensation, and thus the level of purchasing power and aggregate demand within the economy.
Third, countries should increase public and private investment in labor-intensive economic sectors that generate wider benefits for society. These include sustainable water, energy, digital, and transport infrastructure, care sectors, the rural economy, and education and training.
Way Forward:
With the onset of the IT revolution, it has become obligatory for new entrants to acquire even higher levels of skills. Hence it is a matter of urgency to provide adequate facilities for quality school education and impart relevant skills to the disadvantaged.
Education:
The working of existing government schools should be improved as a matter of priority. Hence the need to improve the functioning of government schools without losing more time. There is also a need to expand and modernize teacher-training facilities.
It is also important that growth in developing economies continues to remain more labor-intensive and broad-based, as a generation of production employment opportunities on a large scale is perhaps the best way for including the excluded and marginalized sections of the population.
Agricultural:
research needs to be greatly strengthened both in terms of the resources devoted to it and also by implementing institutional reform along the lines recommended by the Mashelkar Committee and the Swaminathan Committee.
Taxation:
A more progressive tax system in India would help raise capital for expenditure on infrastructure, healthcare, basic services and education.
It is critical to adopt a rights-based approach accepting the citizenship rights of people.
The provision of education, healthcare, and basic infrastructural needs are part of the basic rights of every citizen. A persistent increase in social investments such as education and healthcare are attached with long-term benefits and are part of a macro strategy for improving the productivity of workers and for enhancing aggregate effective demand in the economy.
Gram Sabha should be empowered and made effective, especially in tribal areas and as per FRA their consent should be made mandatory of mining leases.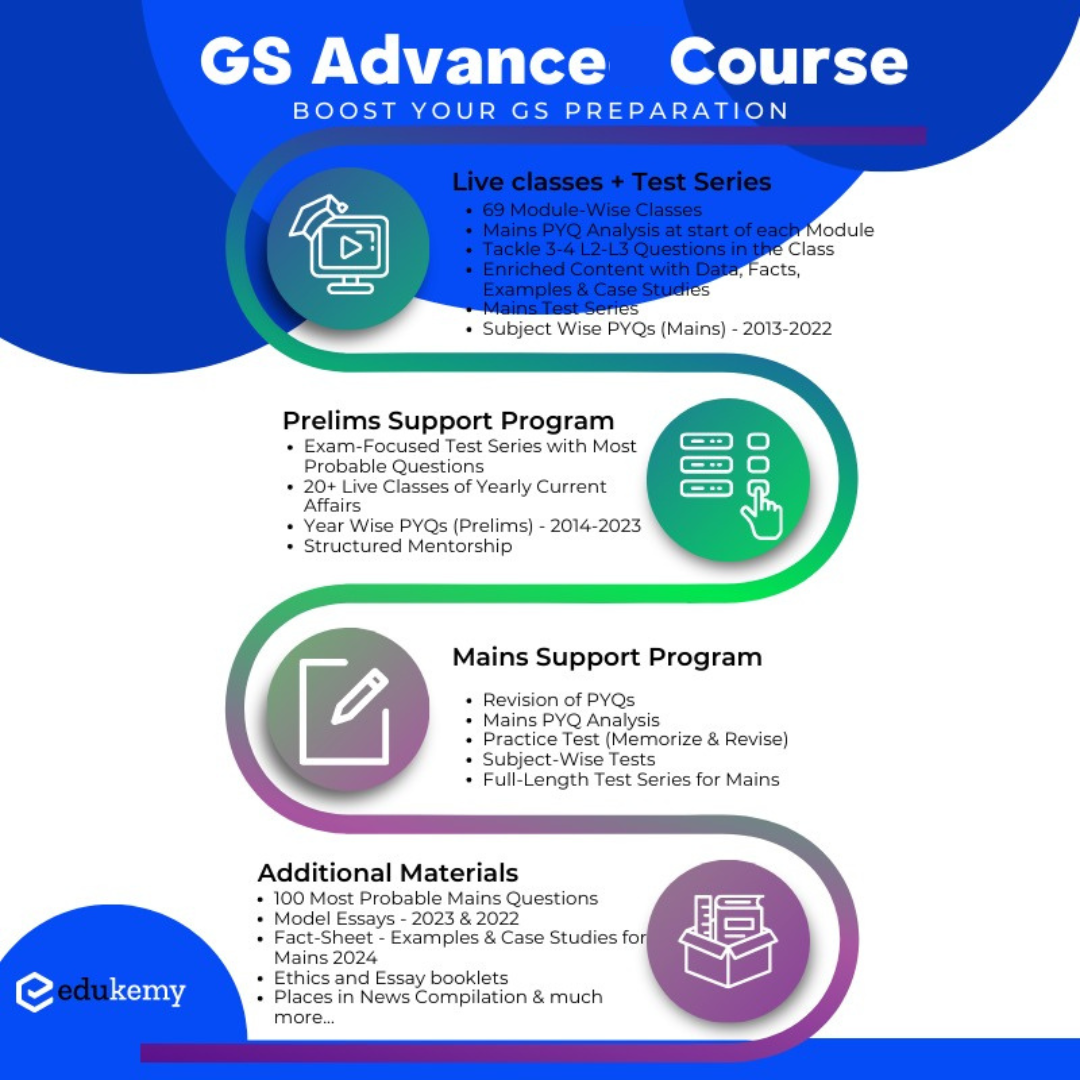 In case you still have your doubts, contact us on 9811333901.
For UPSC Prelims Resources, Click here
For Daily Updates and Study Material:
Join our Telegram Channel – Edukemy for IAS
Visit our YouTube Channel – here