Essay Previous Year Paper 2022- Click Here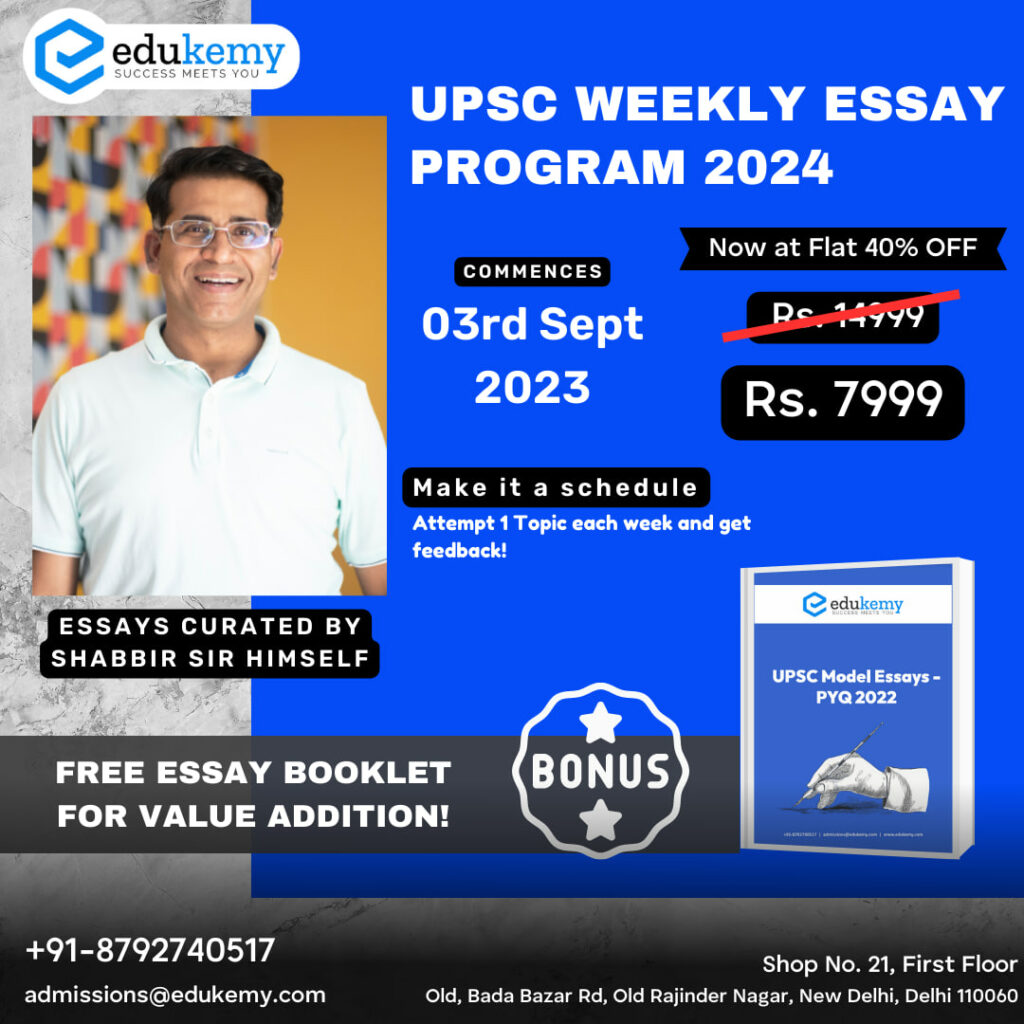 Shelley believed that poets were the true shapers of society, and their works had the power to influence the thoughts and actions of people, even more than the laws enacted by governments or the teachings of religions.
In this essay, we will explore the idea of why poets are considered legislators of the world, what has been their contributions and also look into why they are not acknowledged for their contributions and learn about their role in society.
There are several reasons why poets can be considered legislators of the world.
Firstly, poets can capture and convey human emotions and experiences in a way that can resonate deeply with people.
Through their use of language and imagery, they can create powerful and lasting impressions on their readers or listeners, inspiring them to think, feel and act in new and different ways.
Secondly, poets often tackle social and political issues in their works, and by doing so, they can contribute to public discourse and promote social change. Through their poetry, they can challenge the status quo and offer new perspectives on important issues, helping to shape the way people think about and respond to social and political problems.
Finally, poets often transcend the boundaries of language, culture, and geography, and their works can reach and inspire people across the world. They have the power to create a sense of shared humanity and to connect people from different backgrounds and perspectives through their words.
Power of poetry
Firstly, poetry has always been an integral part of human culture. From ancient times to the present day, poets have expressed the hopes, fears, and aspirations of their societies through their works. The poems of Homer and Virgil, for example, have shaped the values and beliefs of Western civilization for thousands of years.
Secondly, poetry can capture the essence of the human experience in a way that other forms of communication cannot. A well-crafted poem can evoke strong emotions, create a sense of empathy and understanding, and inspire action. For example, Sarfaroshi Ki Tamanna (Desire for Revolution) by Ram Prasad Bismil is one of the most inspiring works of poetry written about Indian freedom. The Urdu ghazal enshrines the drive and spirit of the freedom fighters who fought and sacrificed their lives for the country.
Thirdly, poets often challenge the status quo and provide alternative perspectives on the world. They can critique the actions of those in power, provide a voice for marginalized communities, and offer new solutions to complex problems.
For example, Discovery of India is one of the very famous books written by Pt. Nehru that sheds light on contemporary situational concerns and other associated problems. It facilitated the knowledge-based decision-making policy formulation and enactment of law.
The poet is the leader of the people's parliament.
It is worthy of note that all religious prophets taught their Law through poetry. The Hymns of the Bible have shaped the lives of Christians through the centuries. The Sermon on the Mount gave the law of God. Lord Krishna turned into a poet and his Gita is in poetry. The Gita and the Bible have been a beacon light to guide the conduct of untold millions in a way that no earthly law can be obeyed or treated with reverence.
Similarly, the Vedas are poetry, Guru Granth Sahib is poetry, the Quran is poetry; the gospels of other religions are written in poetry. The Ramayana, written by the poets Valmiki and Tulsidas, gave moral and social laws to billions of people. Manu, 'in his poetry, gave laws to the whole community that have stood the test of thousands of years. Not all the legislators of the world could dream of framing laws that would be zealously obeyed by countless millions.
In the global arena, the poet who has influenced society is Maya Angelou. Angelou's poetry dealt with themes of racism, sexism, and other social injustices that she had experienced firsthand. Through her poetry, she was able to inspire and empower people of all races and genders to stand up against discrimination and inequality. Her poem "Still I Rise" has become an anthem for marginalized communities around the world.
One of the most prominent examples of a poet during the freedom struggle was Rabindranath Tagore. His poem "Where the Mind is Without Fear" is a powerful call to action, urging his compatriots to rise against the British colonial regime. Tagore's work was instrumental in inspiring the Indian independence movement and shaping the national identity of modern India.
Similarly, Sarojini Naidu, the first Indian woman president of the Indian National Congress, used her poetry to advocate for women's rights and to inspire the Indian independence movement. Her poem "The Gift of India," speaks of the sacrifices made by Indian soldiers during World War I.
Unacknowledged artists
Poets have played a vital role in shaping the country's cultural and political identity. However, they have not always been given the recognition they deserve. Poetry has traditionally been considered a lower form of literature compared to other forms like epics or drama. This attitude towards poetry has resulted in a lack of support and appreciation for poets and their works.
Another reason why poets have been unacknowledged historically is that their work often challenges the prevailing power structures of their time. Many poets have used their work to critique the political or social status quo, and this can make them unpopular with those in power. For example, in ancient Greece, poets like Sappho and Pindar challenged the norms of their time by writing about love, sexuality, and social inequality.
One of the most significant examples of unacknowledged Indian poets is Kabir, a 15th-century mystic poet. Kabir's poetry has been influential in Indian culture, and his works continue to be popular even today. However, during his lifetime, Kabir faced criticism and persecution for his unorthodox views on religion and his scathing critique of the caste system. Despite his contribution to Indian literature and culture, he was not always acknowledged or appreciated.
Another example is the Tamil poet Subramania Bharati, whose poetry was instrumental in the Indian independence movement in the early 20th century. Bharati's work focused on themes of patriotism, social justice, and equality, and his stirring words helped inspire a generation of freedom fighters. However, despite his contributions, Bharati remains largely unknown outside of Tamil Nadu, and even there his work is often overlooked in favor of more commercially successful writers.
Today, contemporary Indian poets are struggling to gain recognition and support. They face challenges such as limited access to publishing opportunities, a lack of financial support, and a general lack of appreciation for poetry as an art form. Despite these challenges, Indian poets continue to produce work that speaks to the hearts and minds of people around the world.
The statement "Poets are the unacknowledged legislators of the world" is a powerful reminder of the important role that poets play in shaping our perceptions, values, and attitudes toward the world. Through their words, poets can inspire, challenge, and transform us, making them an essential part of the human experience.
In case you still have your doubts, contact us on 9811333901. 
For UPSC Prelims Resources, Click here
For Daily Updates and Study Material:
Join our Telegram Channel – Edukemy for IAS
Visit our YouTube Channel – here