Essay Previous Year Paper 2022- Click Here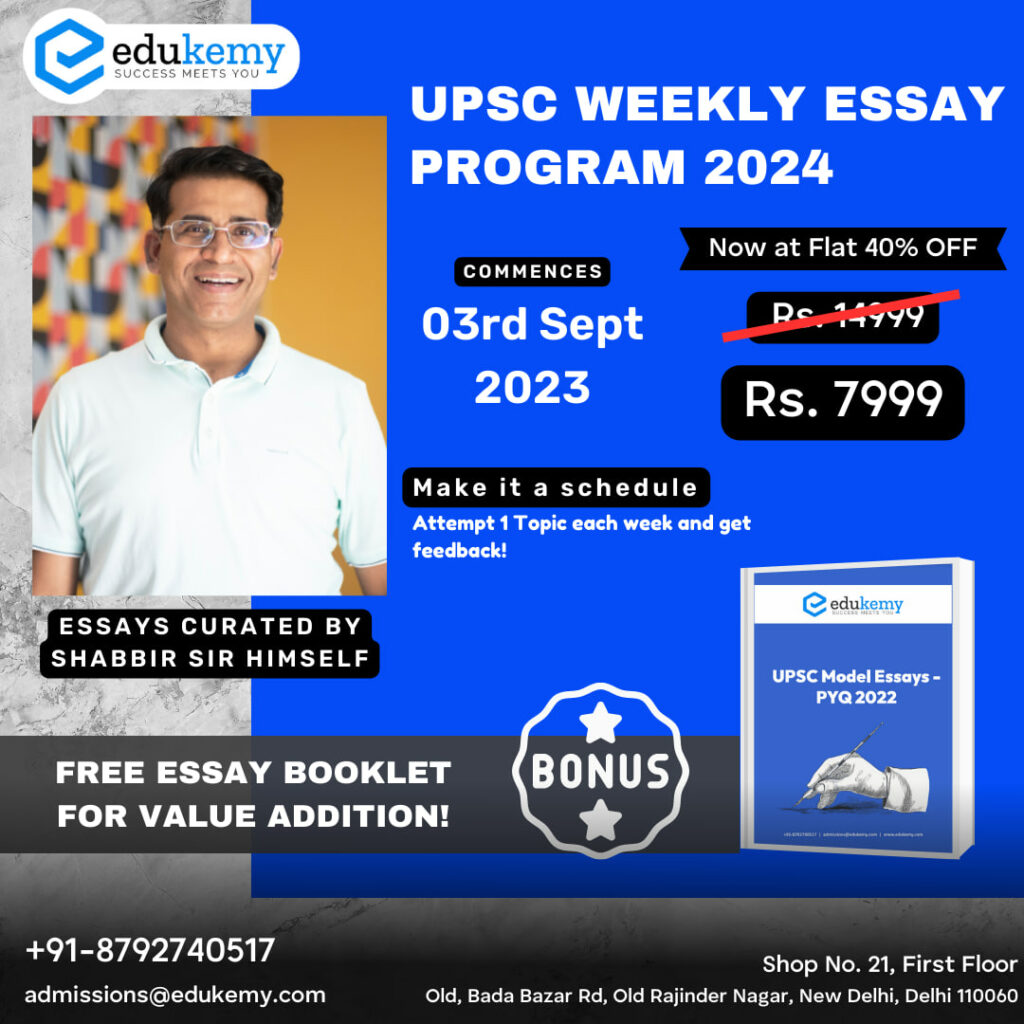 Forests are intricate ecosystems that have evolved over millions of years, thriving on principles that enable their growth, adaptation, and delivery of benefits to the environment and society.
These virtues can serve as a valuable guide for economic systems to flourish, thrive, and yield positive outcomes. This essay explores how economic systems can embody and operate on the virtues that forests possess, along with a few case studies that demonstrate the excellence an economy can achieve by emulating forests
Firstly, forests are characterized by their resilience—the ability to recover and bounce back from challenging situations. For example, forests can withstand catastrophic events such as forest fires, droughts, and floods. Similarly, in the economy, we need to diversify supply chains to increase resilience to supply shocks caused by political shifts or natural disasters. The COVID-19 pandemic has highlighted the importance of robust and resilient programs that play a critical role in economic adaptation and survival during crises and beyond.
Secondly, diversity is another crucial characteristic of forests, encompassing genetic and species diversity. Forests consist of numerous species that interact with each other in complex ways, creating a dynamic ecosystem capable of withstanding external pressures. Higher diversity fosters a healthier natural ecosystem, making forests more productive, stable, and sustainable. Similarly, in the economy, diversity is essential. In rural areas, the focus should shift beyond agriculture to allied areas like fishery, agroforestry, and apiculture.
In urban and suburban areas, emphasis should be placed on small and medium enterprises in addition to heavy industries. Thus, a well-rounded economy should encompass a balanced mix of primary, secondary, and tertiary sectors to ensure sustainability, stability, and productivity.
Another principle of forests is mutual symbiosis, where all organisms in an ecosystem depend on each other directly or indirectly. For instance, bees depend on nectar from flowers, while flowers rely on bees for pollination, benefiting the entire system. Similarly, creating symbiosis in the economy can be advantageous.
For example, establishing agro-processing industries in agricultural areas benefits both farmers by increasing productivity and profit, while sectors gain access to raw materials at a lower cost. Connecting ancillary micro, small, and medium enterprises with larger units is also beneficial. MSMEs require high demand for survivability, while large units acquire the necessary raw materials from them.
Forests demonstrate the principle of adoption, where species adapt to changing temperatures and rainfall patterns. Similarly, in the economy, agricultural methods should adapt to climate change by employing techniques such as micro-irrigation or dryland farming in regions with low rainfall. Manufacturing industries should also upgrade to modern technologies like artificial intelligence and the Internet of Things to address changing demands and better align with needs.
Self-regulation is another important principle of forests. Forest ecosystems possess built-in mechanisms that maintain balance and stability. Predators, for example, help control prey populations, preventing overgrazing and ecological damage. Similarly, economic systems can learn from this principle by developing self-regulating mechanisms that prevent excesses and imbalances. The Reserve Bank of India (RBI) serves as an example of such a mechanism. The RBI regulates the Indian banking system, ensuring banks operate within ethical and financial standards. Its monetary policy framework aims to maintain price stability while supporting economic growth, and preventing harm to society and the economy.
Forests exhibit a long-term perspective, taking decades or even centuries to grow and adapt to changing conditions.
Economic systems can adopt a similar perspective by considering the needs of future generations. Norway's sovereign wealth fund serves as an example of economic excellence achieved through a long-term perspective. Designed to withstand fluctuations in global financial markets, the fund has provided stable revenue for the country's social welfare programs, allowing Norway to weather financial crises successfully.
Several case studies illustrate the importance of aligning economic models with local ecosystems. Just as a species cannot be forced to live in different types of forests, an economic model cannot be applied uniformly across all regions. Instead, localized approaches, such as promoting locally grown or unique crops, ensure sustainability and a stable economy.
Furthermore, invasive species can adversely affect domestic forests, just as unregulated foreign companies can impact domestic economies. Recognizing complementary niches is crucial, as species with identical niches cannot coexist. Similarly, businesses must identify their strengths and weaknesses to develop niche strategies effectively.
Mangroves, acting as buffer zones, protect territorial landmasses from disasters like cyclones. Similarly, countries like India, in the face of a changing global scenario and widespread globalization, need buffers to sustain their markets and navigate unforeseen events such as the COVID-19 pandemic.
Lastly, it is essential to avoid exploiting forests and natural resources beyond their regenerative capacities, as it can lead to the collapse of the forest ecosystem or the economy in the long run. In essence, sustainable development promotes economic growth with justice and environmental conservation, which is urgently needed on both national and global scales. Forests and economies are interconnected, and their elements coexist and maintain balance. The goal is to maintain an economically viable and ecologically sustainable society by embracing the virtues of forests, ultimately achieving the highest forms of economic excellence
In case you still have your doubts, contact us on 9811333901. 
For UPSC Prelims Resources, Click here
For Daily Updates and Study Material:
Join our Telegram Channel – Edukemy for IAS
Visit our YouTube Channel – here