Essay Previous Year Paper 2022- Click Here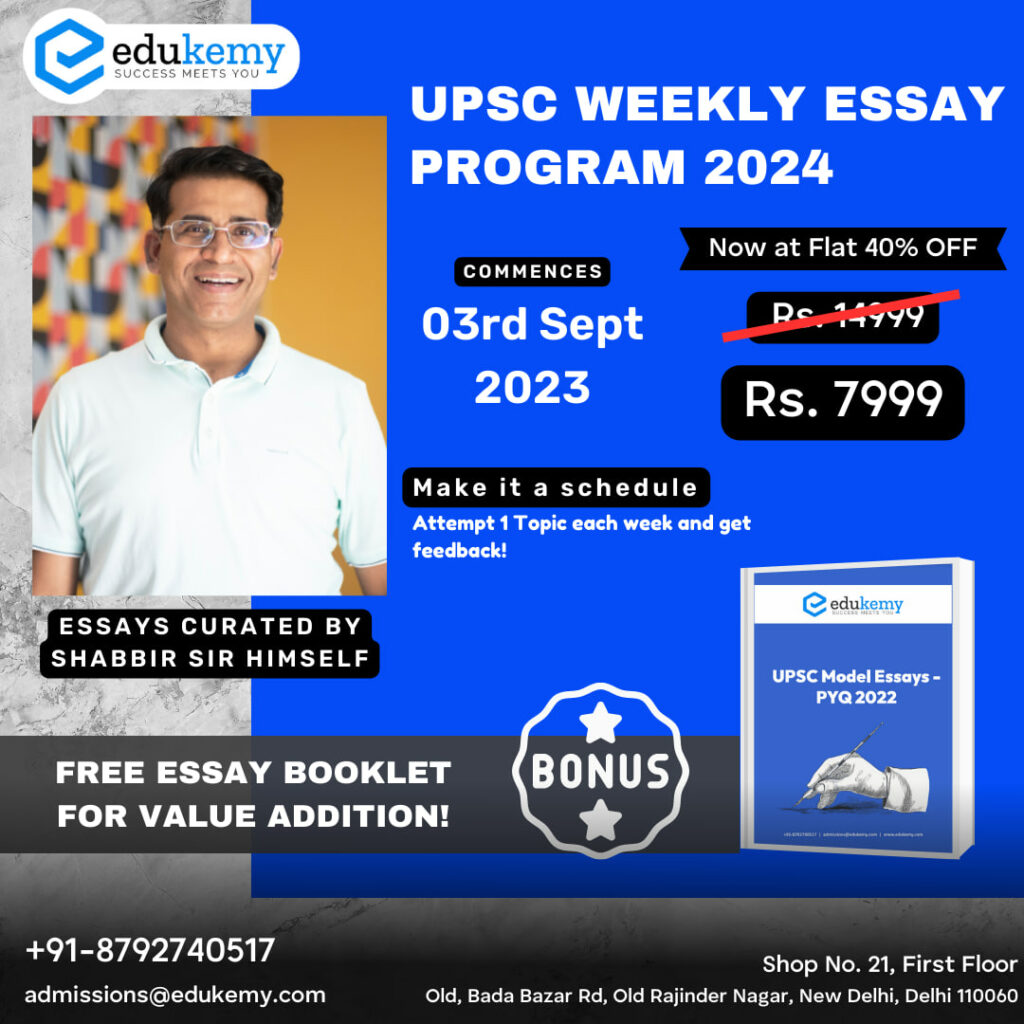 Valmiki, a revered Indian author, crafted the epic Ramayana. Prior to his transformation into a saint, he was involved in acts of robbery and dacoity. However, as time passed, his perspective on the world underwent a profound change, leading him to renounce his criminal ways and embrace a saintly life. The river of time flowed on, altering his perception of the world, much like the transformed person he had become. The river no longer held the same significance for him as it once did.
The renowned Greek philosopher Heraclitus famously stated, "No man ever steps in the same river twice, for it's not the same river and he's not the same man." This seemingly straightforward statement carries profound significance. The river symbolizes life itself, while the act of stepping into the river embodies the notion of change.
The world we inhabit is perpetually in motion. Change is an inherent part of our surroundings, and we cannot impede its progress. People enter and exit our lives, structures rise and fall, and nature undergoes ceaseless metamorphosis. Much like life, a river flows unceasingly, and each moment brings a unique experience. The water we step into is not the same as a mere second ago, and the river itself is not the same as it was only a minute prior.
This notion holds true for every facet of life, encompassing both the external world and our individual existence. We are in a perpetual state of transformation, and the dynamic nature of our surroundings mirrors this evolution. Each encounter we have, every choice we make, and every individual we encounter leaves an indelible mark, shaping our present selves and influencing our future selves. Our perception of the world and our own identity is a fluid process, constantly adapting, and we are unable to revisit the past to alter our previous encounters
This principle is observable across various facets of life. Take, for instance, the sunrise. No two sunrises are identical; each unveils a distinct blend of colors, clouds, and weather conditions. The same principle applies to every day we encounter. Each day holds its own individuality, presenting us with a distinct set of challenges, opportunities, and experiences. Even if we were to attempt to replicate a past day, we would be unable to fully recreate its essence.
Likewise, the seasons undergo a perpetual transformation, with each one showcasing its own splendor and obstacles. We cannot encounter the exact same season twice, for each holds its own distinctiveness and allure. The concept of uniqueness applies to relationships as well. Each relationship we engage in possesses its own distinctiveness, encompassing its dynamics, history, and challenges. Even if we attempt to revive a past relationship, it will never precisely replicate its previous state. We cannot step into the same river of a relationship twice.
In India, the notion of impermanence is deeply woven into its culture and spirituality. For instance, Hinduism espouses the belief that life is in a constant state of flux, emphasizing the importance of adaptability. The concept of "Karma" teaches that every action carries consequences, which are not fixed but subject to perpetual change. India's history also exemplifies this notion. The country boasts a rich and diverse historical narrative shaped by diverse rulers, cultures, and religions. Each period in India's history holds its own distinctiveness, characterized by a unique set of challenges, opportunities, and experiences. For instance, the Mughal era witnessed a harmonious fusion of Indian and Islamic cultures, giving rise to splendid art, music, and architecture. In contrast, the British era ushered in modernization and the introduction of Western ideas, leaving a profound impact on India's social and political fabric.
The adage of not stepping into the same river twice resonates profoundly in the current global scenario. The rapid spread of the virus has compelled many individuals to adapt to remote work, constituting a significant change in their lives. The ensuing isolation has necessitated a reevaluation of approaches to life, prompting a global search for novel means of connection and communication.
So, the question arises: if everything is in a state of flux, how can one harness that to their advantage? In today's dynamic environment, where change occurs at lightning speed, the ability to adapt is crucial. To thrive, it is essential to embrace change and recognize that it brings forth opportunities. The magnitude of the opportunity often aligns with the magnitude of the change.
With a fresh perspective, let's explore how one can approach work with enhanced efficiency and how personal growth can enable a different problem-solving approach. Each day presents a unique experience, and every individual carries a distinct outlook. As the saying goes, "Problems cannot be solved by the same level of thinking that created them." When one elevates their thinking to address challenges, a transformative change occurs.
Take, for example, the freedom movements led by Mahatma Gandhi. Each movement aimed at achieving freedom and self rule, yet they were distinct from one another. The non-cooperation movement, abruptly terminated after the Chauri Chaura incident in 1922, differed from the civil disobedience movement of the 1930s and the Quit India movement in 1942. With each new movement, Gandhi employed different strategies, exhibited stronger determination, and garnered increased mass support, ultimately contributing to the attainment of independence.
However, it is important to acknowledge contrasting viewpoints. Some may argue that this statement holds only partial truth. While it is true that the river is in constant flux, there are certain elements that remain consistent. For instance, the river's general location and structure may endure despite changes in the water flowing through it.
Moreover, one can argue that the assertion "You cannot step twice in the same river" is subjective due to individual perceptions of the same experience. For instance, one person may perceive stepping into the river twice as yielding a distinct encounter, whereas another may perceive it as identical.
Furthermore, the statement can be challenged by the notion that human memory is fallible. This implies that even if someone steps into the same river twice and perceives a difference, it could be attributed to their unreliable recollection of the past experience.
Amidst all these perceptions and transformations, it is essential to recognize that impermanence can bring positive outcomes. Change can serve as a catalyst for growth and development. By embracing change, we open ourselves to new knowledge, connections, and experiences, fostering personal and societal progress.
As the adage suggests, "change is the only constant in this world," and everything is continuously transitioning into something new. Change permeates all aspects of life and remains an unwavering presence. Hence, it becomes crucial for us to acknowledge this reality and actively embrace change in our lives. By doing so, we align ourselves with the rhythm and harmony of this transformative process.
In case you still have your doubts, contact us on 9811333901. 
For UPSC Prelims Resources, Click here
For Daily Updates and Study Material:
Join our Telegram Channel – Edukemy for IAS
Visit our YouTube Channel – here