Essay Previous Year Paper 2022- Click Here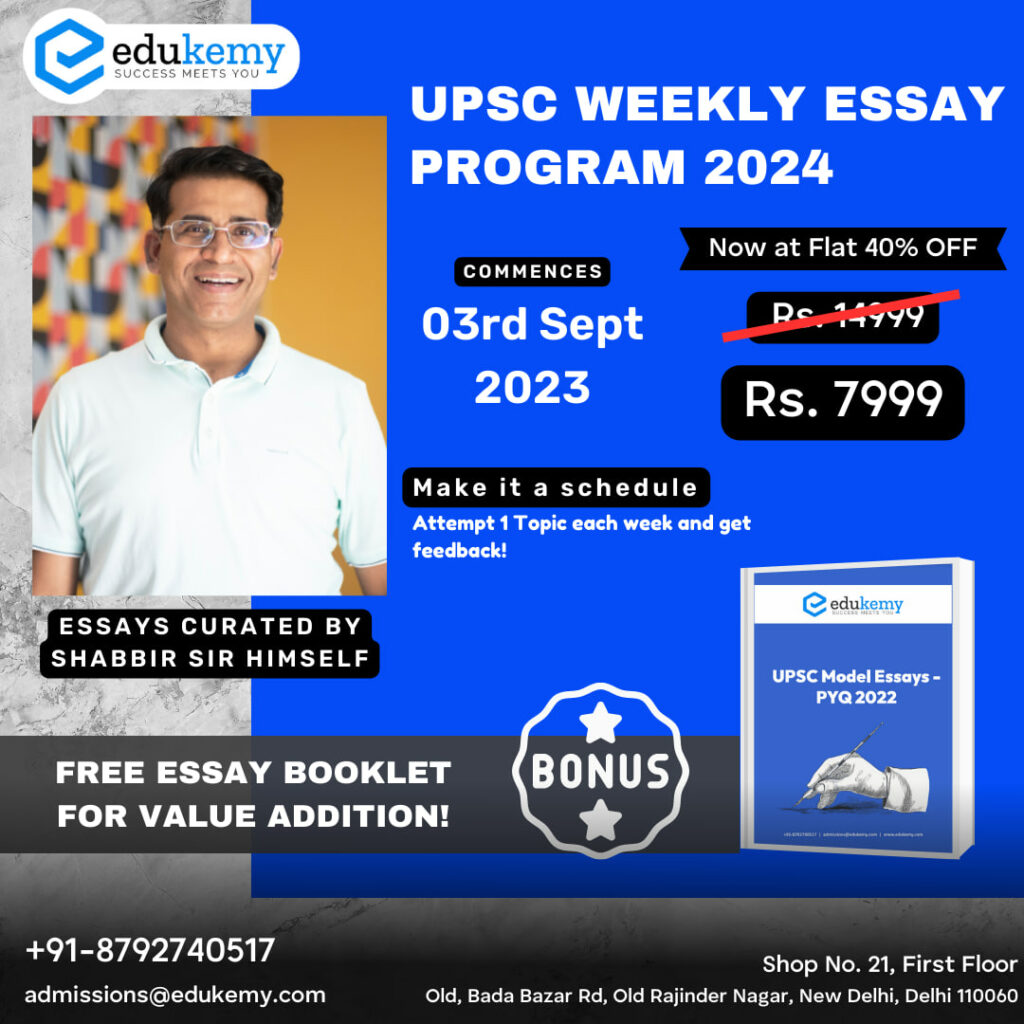 The saying, "A ship in harbor is safe, but that is not what a ship is for," highlights the fact that life is not about playing it safe. The real purpose of life is to take risks, explore the unknown, and live a life full of adventure.
The metaphor of a ship represents our lives, and the harbor represents our comfort zone. While it may be tempting to stay in our comfort zone, we must push beyond it to truly discover what we are capable of. The metaphor of the ship in the harbor is a powerful one that can be applied to many areas of life, from personal growth to organizational development. In personal development, for example, the harbor represents the comfort zone, where individuals feel safe and secure. This can be a place of complacency, where individuals are content with their current circumstances, and are not motivated to take risks or pursue new opportunities. To grow and develop, individuals must venture beyond the harbor, into the unknown, and take risks. This may mean trying new experiences, taking on new challenges, or pursuing a new career. By stepping out of the harbor, individuals can experience growth and achieve their goals, and they will ultimately reach a higher level of success than they would have achieved if they had remained in the harbor.
Similarly, organizations can become stagnant if they remain in the harbor. A company that is content with its current products, services, and market position is likely to become complacent, and may not be motivated to invest in new technologies, new products, or new markets. On the other hand, an organization that is willing to venture beyond the harbor, by taking risks and pursuing new opportunities, is more likely to grow and succeed. For example, Apple Inc. is a company that has demonstrated this principle by taking bold risks and venturing beyond the harbor of traditional personal computer technology. By embracing new technologies, such as the iPod, iPhone, and iPad, Apple has become one of the most innovative and successful companies in the world. So the most successful people in the world have all taken risks and ventured beyond their comfort zone. They didn't let fear hold them back; they embraced the unknown and took chances. They understood that life is short and that the only way to truly experience it is to live it to the fullest. They also understood that failure is not the end of the world, but rather an opportunity to learn and grow.
So when we take risks and explore the unknown, we not only discover what we are capable of, but we also learn about ourselves. We learn what we are passionate about, what makes us happy, and what our strengths and weaknesses are. We also learn that we are resilient and that we can overcome adversity. This self-discovery is essential to personal growth, and it can only happen when we step out of our comfort zone.
In India, we can look at the life of Mahatma Gandhi, who is widely regarded as the Father of the Nation. Gandhi led India's freedom struggle against the British Empire, but he did not always have the support of the people. In fact, he faced immense opposition and criticism. However, he persisted in his struggle for India's independence, even when it was risky and uncomfortable. He stepped out of his comfort zone and became a role model for millions of Indians, who continue to be inspired by his life and work.
Another example from India is the life of Mary Kom, a six-time world champion boxer who hails from Manipur. Despite facing numerous challenges, including poverty and gender bias, she persevered and became a successful boxer. She went beyond her comfort zone to achieve her goals, and her success has inspired many young women to pursue their dreams.
On a global level, we can look at the story of Elon Musk, who founded SpaceX, Tesla, and other successful companies. He has been a visionary leader who has taken many risks and gone beyond his comfort zone to achieve success. He has also faced numerous setbacks, but he has always persisted and continued to pursue his goals.
Similarly, is the life of Malala Yousafzai, a Pakistani activist for female education who survived an assassination attempt by the Taliban. She has become a global icon for human rights and education, and she continues to inspire people around the world to speak up for their rights and pursue their dreams.
Are all risks worth taking?
The above examples demonstrate the value of taking risks and pursuing one's dreams, but it is important to acknowledge that not all risks are worth taking. For example, consider the case of the Fyre Festival, a luxury music festival that was supposed to take place in the Bahamas in 2017.
The festival was heavily promoted on social media, and many people bought tickets based on the promises made in the advertising. However, when attendees arrived at the festival site, they found that the event was poorly organized, with inadequate food and accommodations, and that many of the advertised acts had pulled out. The festival was eventually canceled, leaving attendees stranded on a remote island with no resources or assistance.
The Fyre Festival is an extreme example of the risks and dangers associated with stepping outside one's comfort zone. While it is important to take risks and pursue one's dreams, it is also important to do so in a responsible and thoughtful manner. This requires careful planning, consideration of potential risks and challenges, and willingness to adjust course when things do not go as planned.
Another example of the importance of careful planning and risk management can be found in the world of entrepreneurship. While many successful entrepreneurs have taken significant risks in order to achieve success, they have also done so in a responsible and thoughtful manner.
They have identified potential risks and challenges, developed strategies for mitigating those risks, and maintained flexibility and adaptability in the face of changing circumstances. Life is not about playing it safe. The purpose of life is to take risks, explore the unknown, and live a life full of adventure. We must push beyond our comfort zone to truly discover what we are capable of, but also be prepared for the worst. It is only by taking risks and venturing into uncharted territory that we learn about ourselves, grow, and live life to the fullest. So, let us all take that first step, venture beyond our comfort zone, and see where life takes us.
In case you still have your doubts, contact us on 9811333901. 
For UPSC Prelims Resources, Click here
For Daily Updates and Study Material:
Join our Telegram Channel – Edukemy for IAS
Visit our YouTube Channel – here