UPSC Essay Mains Question Paper 2023 – Click Here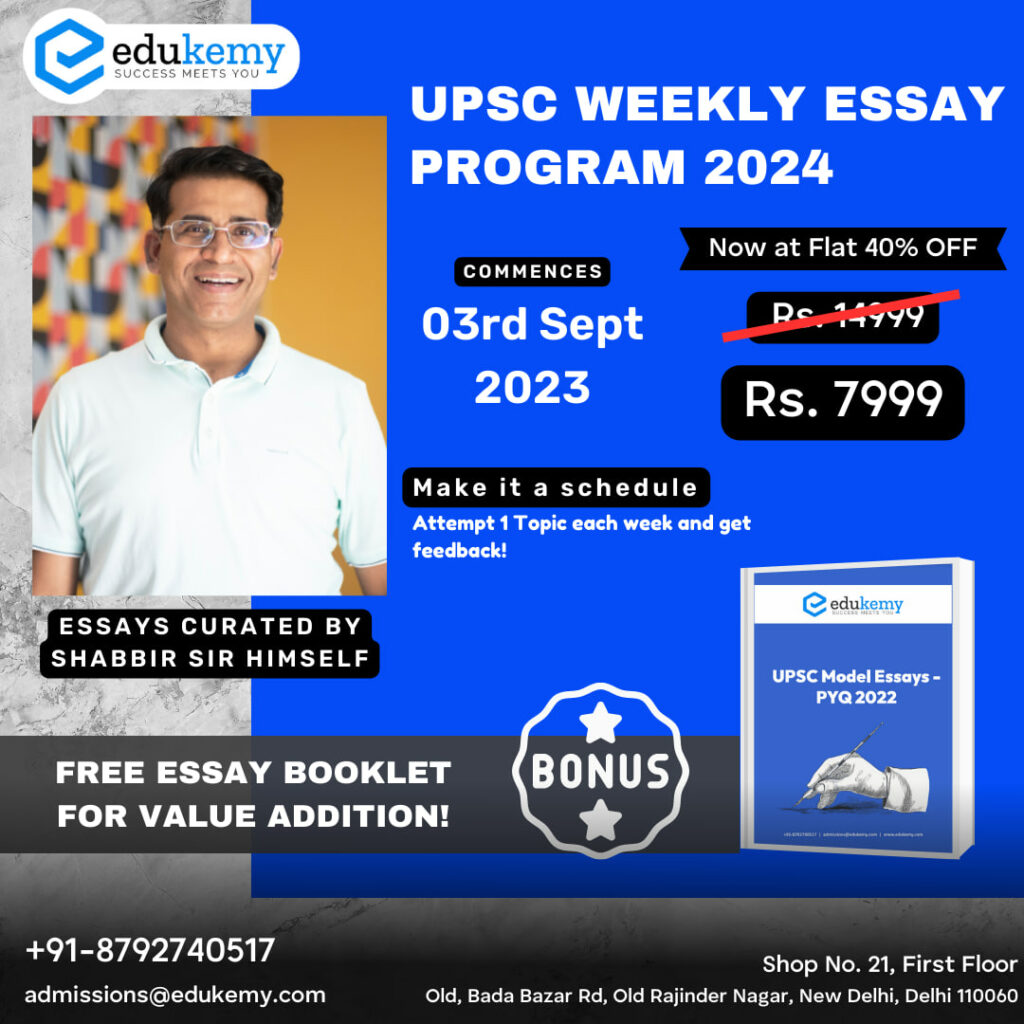 (First of all we will try to identify different keywords given in the topic i.e. inspiration, creativity, magical and the mundane.
Inspiration – the process of finding stimulation
Creativity – the use of imagination to create something; inventiveness
Magical – beautiful in a way that seems removed from everyday life or something not belonging to our planet.
Mundane – lacking interest or excitement; dull
We will move ahead by a general introduction which includes these keywords)
What makes a human being different from other creatures of the earth? It is his creativity. From the times of his birth only, he had an innate desire for creativity that civilizations have been born. Creativity is a tool to express and interpret the world around him. It is the creativity which enables us to see something extraordinary in the ordinary or transforming mundane into the magical.
(here, we will Transition smoothly to the body)
In this essay, we will try to explore how creativity springs from the effort to look for the magical in the mundane.
How do we analyse the magical in the mundane?
'Mundane' refers to the common or everyday experiences that are not heeded to because of their ordinariness. While 'magical' refers to the breathtaking elements that capture our heart and soul. This finding of the magical has the capacity to capture our imaginations. Who would have thought that 2 pebbles hold so much potential that their touch resulted into fire.
And in the present scenario, we all know how significant fire is for us.
Different Sources of Inspiration from the Mundane
We will study different sources that inspire magical from the mundane under the following heads –
From Nature
Once a man sat under an apple tree. Suddenly, an apple fell off the tree. This man got mesmerized by the event and thought why did this apple dropped downwards only and didn't go upwards? After his intense research and analysis, he concluded that earth has gravity due to which the apple fell down. This was the great scientist Newton. How mundane this incident might be to a layman but Newton made this moment magical by inventing what we call today as 'gravity'.
From Everyday Human Interventions
A woman milking cow, a cartwheel running on the footpath of a village and a river passing by it. All these incidents depict the mundane routine of rural life. But even these mundane events spark creativity in artists who portray these on the canvas.
While observing routine chores of our lives, we enrich our understanding of the surroundings. This observation fuels our creative imagination.
From Traditions and Rituals
India is a diverse country having diverse festivities and traditions. Lighting lamps and candles on Diwali might seem mundane but creative mindscapes seek meaning in lights i.e. it is a symbol of victory of good over evil. Creative minds also seek for new innovations in these festivities. They come up with new types of lamps, candles and sceneries inspired by different events related to Diwali festival etc.
Similarly, on the festival of Holi, they come up with organic colours organic Ganesha idols on Ganesha Chaturthi etc. This also shows that our festivals are not dead ones rather they evolve with the evolution of the societies.
Modern Innovations from the Mundane
The idea of inventing something that can fly taking human beings with it to their destinations probably might have come from a bird that flies in the sky. Laymen watch birds flying in the sky and for them this is the mundane event. But the Wright Brothers made it magical by inventing aeroplane.
Also, today we have invented ways of online delivery systems, online payments which show modern Innovations that have come from the mundane.
Advantages of finding magic in the mundane
It fosters a Mindset of Appreciation
We tend to foster a mindset of appreciation by discerning the magical in daily routine things. It is us who should begin to view something interesting in our daily chores. It develops a sense of gratitude for what we have. To find joy, we do need grandeur. But simplicity can also foster joy and contentment. A small cup of tea with our loved ones, going out for window shopping, appreciating home made food etc. can also prove magical.
Stimulating Innovation
Sometimes, or ordinary life events inspire us for innovations. These innovations also get praise and appreciation. There are many ventures who are ready to invest in these mundane creations as they have magical results. For instance, Shark Tank India is one such venture which has funded many innovations.
Preservation of our Cultural Heritage
Recognising the extraordinary in the ordinary has a significant role to play in preservation of our Cultural heritage. By understanding the rootedness of traditions and rituals of our daily lives, we ensure these are passed on to generations undiluted. Moreover, in the age of globalisation it is our duty to preserve our age old recipes, cultures which have the risk of fading away.
(We will now move on discussing the role played by artists, innkvators in creating magical from the mundane)
Role of Artists, Writers and Innovators
Transforming the ordinary into Art
Artists' portrayal of the ordinary have magical effect. What Raja Ravi Varma did? He only portrayed the very essence of Indianness on his canvas. He depicted everyday Indian life i.e. women draped in sarees cartwheels running on village streets, men doing work on fields or some mythological stories. But these mundane portrayals are so powerful that they tend to
attract everyone's attention. These moments from our daily lives underscore the beauty present
in every moment.
Potential of Making Commonplace with Elegance
There have been writers who find literature as a medium to express the ordinary with elegance. They celebrate it. Writers like Raja Rao, R. K Narayan have so wonderfully depicted Indian society that one gets involved in it with heart and soul.
(Now we will discuss the challenges in recognising the magical)
Challenges faced in Recognising the Magical in the Mundane
Technological advancements and the bombardment of information in today's world makes it difficult for us to find some time to appreciate the ordinary. Social media, smartphones have become so ubiquitous that have overshadowed the nuances of everyday beauty. This poses a challenge before us to slow down a bit by disconnecting from the digital world and enjoy the
charms that occupy us.
A new challenge that has occupied us is 'phubbing' i.e. phone+ snubbing. It means that people generally tend to ignore their near and dear ones in lieu of mobile phones. It is because of this that they are bereft of the charms around us.
Overemphasising Grandeur
Seeking extravagance in everything has our a challenge before us. We are in a continuous race of finding magical in the mundane. Societal pressure and an urge to show off or emphasising on lavish weddings are creating a mindset where the subtle and ordinary joys of life seem insignificant.
In this scenario, it becomes of utmost importance for us to shift our focus from the extraordinary to the ordinary and to value subtlety over superficial grandeur.
(Now after discussing all the aspects, we will conclude our Essay. It is a summary of whole of the essay)
Emphasising on what Albert Einstein said, "There are only two ways to live your life. One is as though nothing is a miracle. The other is as though everything is a miracle". So, by embracing the second perspective that everything is a miracle, we find that the essence of life lies not in the grandeur but in everyday rhythms.
Finding the magical in the mundane is not just an artistic pursuit rather it's a viewpoint that fulfils our existence. Thus, we open paths of creativity and appreciation by valuing the ordinary and make it magical.
In case you still have your doubts, contact us on 9811333901. 
For UPSC Prelims Resources, Click here
For Daily Updates and Study Material:
Join our Telegram Channel – Edukemy for IAS
Visit our YouTube Channel – here