Essay Previous Year Paper 2022- Click Here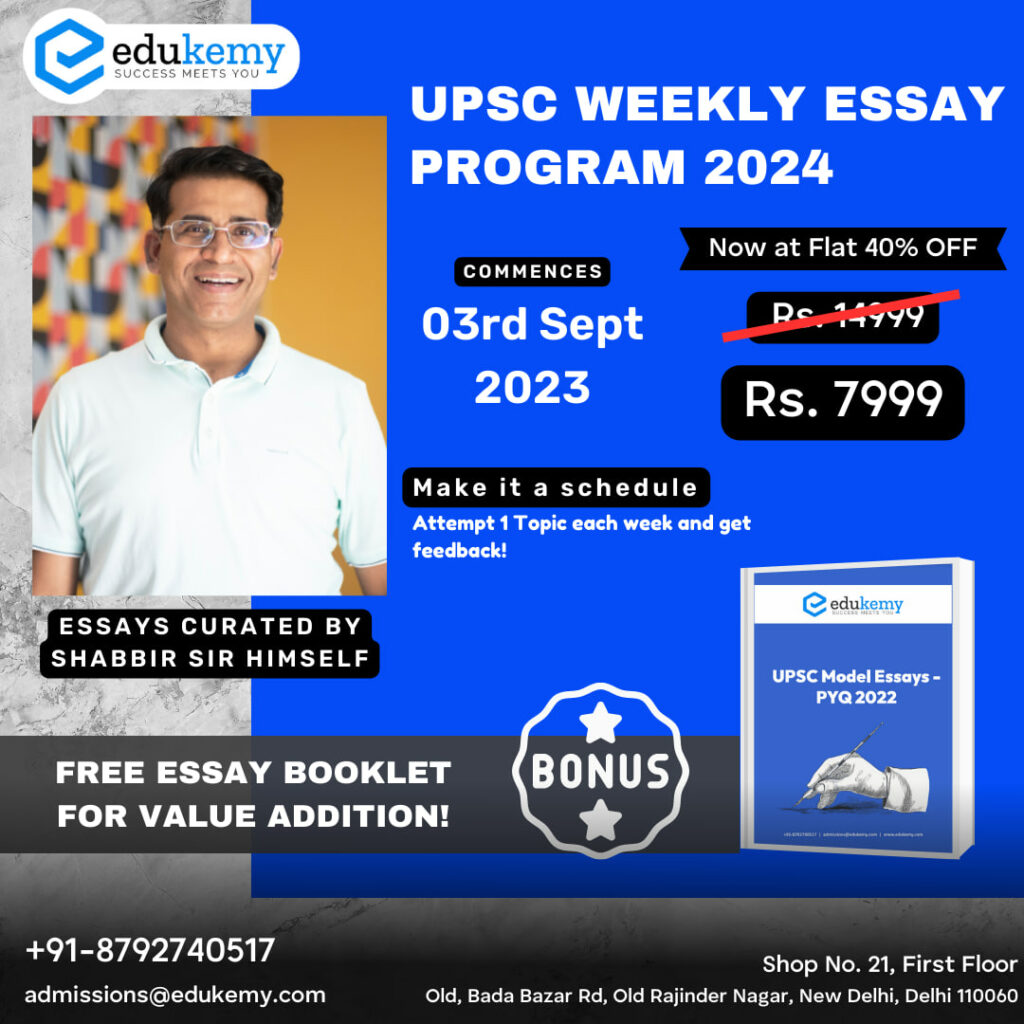 In the 1990s, India faced a balance-of-payment crisis characterized by the depreciation of the Indian rupee, declining productivity in domestic industries, and the depletion of buffer assets. However, India recognized the opportune moment and made the crucial decision to implement LPG reforms in 1991, despite apprehension from some proponents of the socialistic system.
This shift towards a market-based economy proved to be transformative, fostering growth and competitiveness in the Indian domestic sectors. Through market integration and increased foreign direct investments (FDI), India's economic growth surged, propelling the nation to become the world's fifth-largest economy with a thriving three trillion-dollar market. India's proactive approach to addressing its challenges at the right time and seizing the available opportunities has yielded remarkable outcomes.
The story of India illustrates the significance of the proverb "the time to repair the roof is when the sun is shining," highlighting the value of proactive measures and timely action. Essentially, this saying emphasizes the importance of addressing problems while they are still manageable rather than allowing them to escalate into significant issues. The proverb finds relevance in various aspects of life. In personal finance, it emphasizes the advantage of starting to save and invest early, rather than waiting until it becomes harder to catch up. Likewise, in matters of health, it highlights the benefits of adopting healthy habits and preventive measures, such as regular exercise and balanced nutrition, rather than waiting for a severe illness to arise.
When it comes to home repairs, the proverb advises tackling minor roof issues promptly rather than waiting
for extensive damage and leaks to develop. It further suggests that repairs should ideally be undertaken under favorable conditions, such as good weather and a dry roof. By addressing roof problems during favorable weather, repairs can be executed efficiently, minimizing the risk of additional damage caused by unfavorable weather conditions.
The proverb holds a broader meaning applicable to taking action in various situations. In the face of a problem, it is often tempting to procrastinate and avoid confronting it. However, this delay can exacerbate the problem over time, leading to increased difficulty and cost in resolving it. By proactively addressing the issue as soon as it arises, one can prevent it from escalating into a more serious and challenging situation, making it easier to manage.
The proverb also applies to personal health, highlighting the importance of proactive care for both physical and mental well-being. It is crucial to prioritize our health and address any early signs of changes, such as increased stress or anxiety. Taking proactive measures like meditation, regular exercise, or seeking professional support can help prevent the situation from worsening and promote overall well-being. By attending to our health early on, we can maintain good health and mitigate potential complications.
Air pollution is one of the pressing challenges faced by India due to rapid industrialization and urbanization, leading to alarming levels of pollution in major cities. A significant contributor to this problem is the burning of crop residue by farmers after harvest, a practice deeply ingrained over time. While changing this practice overnight is challenging, it is imperative to take proactive steps to address the issue. In 2018, the Indian government introduced the National Clean Air Programme, which aims to achieve a 20-30% reduction in particulate pollution levels across 102 cities by 2024. By initiating action now, prior to further deterioration, the government strives to make a substantial impact in combating air pollution throughout the country.
The COVID-19 pandemic serves as a global example of the importance of proactive measures in addressing a problem before it escalates. In early 2020, countries that swiftly implemented measures such as widespread testing, contact tracing, and social distancing effectively contained the virus and prevented a severe outbreak.
Conversely, countries that delayed their response witnessed rapid virus spread, ultimately resulting in a global pandemic that has impacted millions of lives. The lesson learned is evident: When confronted with a problem, taking immediate action is vital to prevent its escalation.
However, it is important to acknowledge that not everyone may have the means to address issues proactively or repair their roof. In certain cases, individuals or families with limited financial resources may be unable to afford professional roof repairs and must wait until they can afford it, regardless of weather conditions. Furthermore, some problems may remain hidden or unnoticed until it is too late. For instance, a person may have an underlying health condition that does not exhibit symptoms until it has progressed significantly. Similarly, environmental challenges like climate change may not present immediate visible signs, making it difficult to determine the optimal timing for effective action.
In the realm of disaster management, preparedness holds equal importance alongside response, recovery, and mitigation efforts. Solely relying on preparedness may prove insufficient due to its subjective nature and the absence of a definitive scale to measure its completeness. Furthermore, external factors and emerging issues continually arise over time. To ensure a dynamic and comprehensive approach to management, the response phase also plays a significant role. For instance, ethical dilemmas may emerge during recovery programs, such as deciding whom to prioritize for assistance – children or elders.
Hence, while addressing vulnerabilities during favorable circumstances is crucial, the effectiveness of response measures during challenging periods, like the rainy season, also becomes vital.
Mahatma Gandhi's renowned quote, "The future depends on what we do in the present," serves as a poignant reminder of the significance of proactive action before problems escalate into greater challenges. It advocates for a way of life that entails preparing for adversities before they arrive at our doorstep. By timely addressing issues when conditions are favorable, we can minimize suffering. The choice lies within us – whether to embrace pain repeatedly or shield ourselves from its grasp. It is wiser to address concerns when things are stable rather than awaiting an emergency situation
In case you still have your doubts, contact us on 9811333901. 
For UPSC Prelims Resources, Click here
For Daily Updates and Study Material:
Join our Telegram Channel – Edukemy for IAS
Visit our YouTube Channel – here