Essay Previous Year Paper 2022- Click Here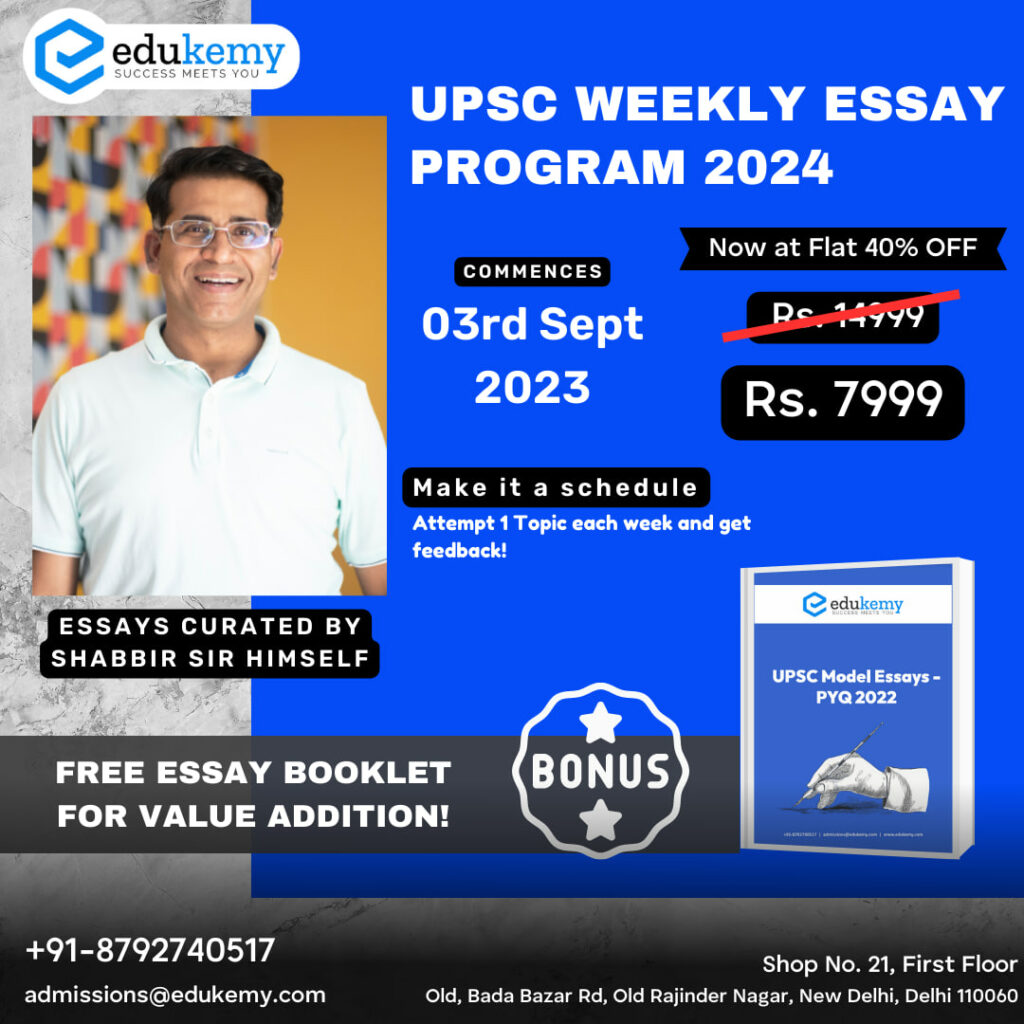 The story of the famous battle of Saraghari resonates as a testament to bravery and sacrifice. In the face of overwhelming odds, 21 Sikh soldiers of the British Indian army stood firm against more than 12,000 Afghans. Their unwavering courage and optimistic outlook exemplify the power of a smile in the midst of challenges. Their selfless actions go beyond the call of duty and serve as a beacon of inspiration.
A smile holds universal significance, transcending barriers of language, culture, and nationality. It signifies more than a mere facial expression; it represents a sense of humor and resilience. When confronted with ambiguity or multiple options, a smile becomes a vehicle for navigating through uncertainties. It is a symbol of our response, allowing us to sail through challenges and find solutions beyond the complexities of life.
This essay delves into the significance of a smile as the chosen vehicle for navigating ambiguities. It explores the impact of smiling, the consequences of not smiling in ambiguous situations, and concludes with strategies for embracing smiles during times of uncertainty.
A smile serves as a universal language, an expression of emotion that surpasses cultural boundaries. With a simple upward curve of the lips and the contraction of eye muscles, a smile communicates a range of feelings such as happiness, joy, friendliness, and even sarcasm. Its power lies in its ability to transcend language and cultural barriers, conveying emotions that words alone may struggle to express.
Why is a smile considered the chosen vehicle for navigating ambiguities?
One reason is that it often serves as a mask for one's true emotions. People frequently smile to conceal their genuine feelings, whether it's to avoid conflict, display politeness, or mask their insecurities. For instance, someone may nervously smile during a job interview, even if they feel anxious or uncertain. In this scenario, the smile becomes a tool to camouflage their true emotions and present a more confident and composed facade.
Another factor contributing to the smile's role as the chosen vehicle is its ability to convey varied meanings depending on the context and the individual offering the smile. A smile can be sincere or insincere, friendly or hostile, genuine or counterfeit. The interpretation of the smile's intent lies with the recipient, who must decipher its true meaning. This ambiguity can prove both advantageous and disadvantageous, depending on the circumstances at hand.
A smile can serve as a powerful tool for establishing rapport and fostering trust in certain situations. Smiling is
often associated with friendliness and approachability, making individuals who smile more appear more likable and trustworthy. This is why many businesses and customer service providers emphasize the importance of smiling and train their employees to utilize their smiles to cultivate positive relationships with customers.
However, the inherent ambiguity of a smile can also be a vulnerability in certain contexts. For instance, a smile can be employed to manipulate or deceive others. An individual aiming to sell a product may use a disingenuous smile to persuade a potential customer to make a purchase, even if it is not in the customer's best interest. Similarly, someone attempting to conceal their true emotions might rely on a smile to divert attention or evade confrontation.
What are the outcomes of smiling?
Smiling is often regarded as a powerful response to adversity and setbacks. It signifies confidence, determination, and optimism in both our thoughts and actions. By wearing a smile, we shift our focus on seeking solutions rather than dwelling on the challenges at hand. Many young individuals around the globe struggle with depression due to various uncertainties they encounter.
Psychologists suggest that practicing smiling can trick the brain into perceiving happiness, ultimately leading to genuine feelings of joy. Hence, smiling can aid us in navigating through difficult situations. Moreover, the physical act of smiling has been found to positively impact our immune system, making a notable difference in our overall well-being.
The act of smiling is universally regarded as a positive and contagious gesture. A genuine smile has the power to brighten a room and create a sense of comfort for those around us. When a friend shares good news or achieves a milestone, a smile naturally emerges as a reflection of our happiness for them.
As Mother Teresa beautifully stated, "Every time you smile at someone, it is an action of love, a gift to that person, a beautiful thing." This emphasizes the profound impact a smile can have on others, conveying warmth, kindness, and generosity.
However, in situations of ambiguity, what happens if we choose not to smile?
It is true that problems persist regardless of our facial expressions. Yet, when faced with challenges, we have a choice between worrying or approaching them with a smile. By opting to smile, we create a positive mindset that can aid in finding solutions to overcome the obstacles we encounter. Lastly, we turn our attention to the question of how we can bring a smile in times of ambiguity.
One solution lies in strengthening our resolve and accepting challenges as they come, while relying on a strong foundation of values. A pertinent example of this can be seen in the education sector, where excessive competition and the rat race often undermine the happiness and emotional well-being of students. To address this, initiatives such as the happiness curriculum introduced in Delhi schools prioritize the holistic well-being of students, encompassing both their mental and physical health. These programs not only nurture important values like empathy, care, and social service but also contribute to the overall development of children, empowering them to face challenges with resilience and a smile. It is crucial to implement similar initiatives across all states to ensure the well-being and happiness of our future generations. In his notable quote, Herman Melville highlights the profound impact of a smile that is often underestimated.
When a person can maintain a smile even during their darkest and most challenging moments, it reveals the strength of their character. This resilience enables them to confront and overcome dilemmas and ambiguities with unwavering determination
In case you still have your doubts, contact us on 9811333901. 
For UPSC Prelims Resources, Click here
For Daily Updates and Study Material:
Join our Telegram Channel – Edukemy for IAS
Visit our YouTube Channel – here