UPSC Essay Mains Question Paper 2023 – Click Here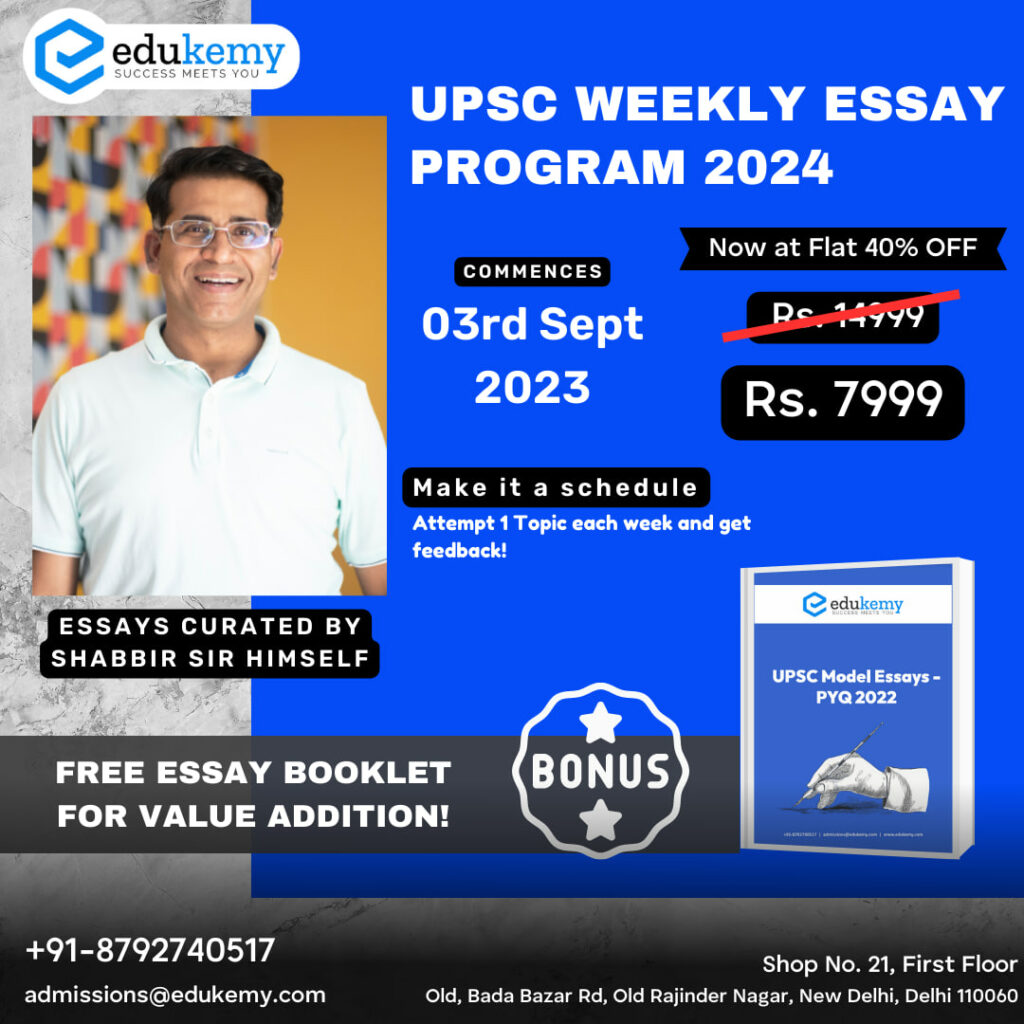 (First of all after reading the topic, we will try to understand meaning of different keywords provided i.e. Visionary decision making, intuition and logic. We will start our essay with some historical event that is a result of Visionary decision making.)
The Indian Constitution provided Universal Adult Franchise to the Indian citizens on the very first go irrespective of their caste, gender, race or ethnicity etc. It was the visionary decision making by our constitution makers. This decision was a culmination of both intuition and logic both. It was their intuition that by doing this Indian society will stride on the paths of progress.
But, they didn't just rely on their gut feelings or intuitive insights. They did mathematical reasoning and on the basis of logical analysis and research based on the constitutions of other countries of the world. Through all this logical analysis, they concluded that by providing Universal Adult Franchise, we ensure equality among all the citizens which will trickle down into eradicating discrimination based on caste, gender, race etc.
(Here is our transition from intro to body. For smooth transitioning, we will set a preface for our line of thought ahead)
This above discussion shows that every phenomenal decision in history have rested upon the intersection of intuition and logic. Decision making is a very significant aspect of our lives. It tends to influence our personal and professional trajectories.
It is the visionary decision making that rescues us from complex and dynamic situations. Visionary decision making requires an intersection of both i.e. intuition and logic. This essay tries to explore the significance of visionary decision making highlighting the roles of intuition and logic. It tends to elaborate how their harmonious interplay leads to groundbreaking and well informed choices.
(Here, we will delve deeper into the topic telling about the nature of Visionary Decision Making and how it is different from Normal Decision Making with example, also bring in the angle of machines i.e. computers and other gadgets which are incapable of making visionary decisions)
The Nature of Visionary Decision Making
Visionary decision making is about going beyond immediate concerns to have far reaching implications. It is an art that is possessed by the visionaries i.e. effective leaders, scholars and intellectuals. Visionaries have the vision to make the best use of future opportunities, identify novel opportunities and also create innovative solutions. To achieve this, they rely on a dynamic interplay of intuition and logic. By their experiences, they have known that they can not rely just on their gut feelings or intuitions but for execution of an idea they need logical analysis of that.
So, it is the amicable merger of intuition and logic that results into groundbreaking decisions that shape our future.
How it is different from Normal Decision Making
Visionary decision making does not just rely on gut feelings while normal decision making does so. Visionary decision making analyses different facts and circumstances and focus on the long term implications. Only visionary leaders hone this art of Visionary decision making an not an ordinary individual can possess it. Remember that a computer is also capable of making
decisions.
But can we call it a visionary decision?
Of course, no. There are robots powered by AI who mimic man in most of the cases.
But can that be equated with a human being? Can it's decision be equated to that of a man? Again it's a no.
Visionary decisions are taken by visionary leaders who are blood and flesh filled with emotions by keeping in mind the dynamics of time and place with an indomitable spirit. And thus, as a result of these decisions we see visible changes on the ground as these decisions impact lives of millions and billions.
(Different examples)
Eg:- Back in 1972, when world leaders met for environmental discourse, it was a visionary decision in the field to protect us from the impending climate change. We can cite one more example that it was a visionary decision by Field Marshal Sam Manekshaw to not attack our enemy on the orders of our late PM. This was his vision that he smelled something wrong and took such a bold decision. And now we all know how his visionary decision made us win.
It is visionary decision by our Parliament to provide 33% reservation to women who will now play significant role in bringing good governance.
(Now we will discuss in detail about the key words i.e. intuition and logic and move ahead)
What is Intuition?
Intuition: Voice of the Inner Soul
An intuition can be defined as an integral inner experience. Integral because it coordinates all the other experiences into a unified whole. It is also integral because all these experiences are integrated into the life of an individual. It is called 'inner' because it taps into our inner wisdom and brings with it experiences and Knowledge that might not be immediately accessible to our conscious minds. It is the 'sixth sense' which doesn't arise from our logical reasoning but from our inherent understanding of the past experiences.
Logic: Basis for implementation of Intuition
Logic provides the structured framework necessary for evaluating and implementing visionary ideas. Logic involves critical thinking, data analysis and systematic reasoning. Logic is of critical help to Visionaries as it helps them in identifying potential challenges that might face us, assessing the feasibility of their intuitive insights and develop a clear roadmap for
execution. Thus, it is a methodical and systematic approach drawn of facts.
(After we have discussed about intuition and logic, we will now discuss their interplay, how intermingling of both of them result in a visionary decision making)
The Interplay of Intuition and Logic
Intuition and logic complement each other in the process of Visionary decision making. The process of Visionary decision making harnesses the strengths of both. Our history stands witness to so many epochal decisions which have taken place at the intersection of both of these.
We can better understand their harmonious interplay through the following heads –
Inspiration from Intuition – It is the gut feeling that guides a visionary towards new and uncharted territories. This intuitive gut feeling may not always be logical or rational. But it is neito provide a creative spark needed to envision a path breaking future. For instance, non – violence was Mahatma Gandhi's intuitive insight but he relied on logic to implement it by looking at the socio–political scenario of the Indian society. And we all are witness to where his intuition and logic has led us to.
Validation through Logic – Once intuition had done it's job, logic steps into to serve its part. Intuition gives an insight about an idea. It provides a creative spark while logic works day in and day out to validate it's potential. Logic works towards implementation of the visionary idea. It involves gathering data, conducting of thorough research and assessing the feasibility and risks associated with the visionary concept. Logic pumps in Oxygen into the intuitive idea. Thus, it provides foundation to an abstract idea so that it can become real.

Who in the present world does not know Elon Musk, the founder of SpaceX? He actualized his intuition of having a private company in the field of space through logical analysis. We need not to elaborate much on his story as the rest is already in the public domain.

Synergy in Decision Making – We need a balance of both i.e. intuition and logic as a visionary decision making lies in the synergy of both of them. Relying on one only can prove myopic and thus we could miss out on forward thinking and innovative solutions.

Intuition provides the creative spark which is required by the logic to turn it into reality.
Thus, this synergy turns out into bold and informed choices. There are some virtues which are embedded in this synergy –
Ability to take Calculated Risks – The synergy between intuition and logic helps visionaries to take calculated risks to enter into uncharted territories.
Comprehensive Understanding – Decisions taken at the confluence of intuition and logic are often more encompassing and considerate leading to a more inclusive society.
(Till now we have tried discussing all the key words and their interplay, now we will move ahead by discussing the various challenges which come in the way of intuition and logic.)
Challenges that come in the way of the confluence of Intuition and Logic
The way towards intersection of intuition and logic is not always rosy. It also has some challenges. Identifying these challenges is essential to harness the potential of their confluence.
Some of them may be considered under the following heads –
Over emphasizing on Intuition – Sometimes, intuition can be marred by personal biases or some inherent past experiences which were not productive enough. Thus, it could result into something unworthy.
Availability of Wrong Data – If the available data is not correct, our outcomes will definitely be wrong even if our logic is correct.
A wrong analysis can lead to Biased Results – Sometimes, our flawed logic results into wrong analysis which leads to biased outcomes.
Cultural Differences – In a world so diverse as ours, there are differences at various levels i.e. cultural, societal or personal. In this scenario, what feels intuitive to one might seem ungrounded for another.
(After discussing everything i.e. definition, positivesand negatives, we will now conclude our essay. Conclusion should include summary of the whole essay.)
Thus, the confluence of intuition and logic is sometimes challenging and at other times complementing. But for sure, a visionary decision making comes into existence at the intersection of intuition and logic. It is potential of the creative power of intuition that forces logic to bring out visions into reality. This is an ever evolving world, where visionary decisions shape the course of industries, societies and the future. This is the intersection of both – the intuition and the logic which leads to innovation and progress.
In case you still have your doubts, contact us on 9811333901. 
For UPSC Prelims Resources, Click here
For Daily Updates and Study Material:
Join our Telegram Channel – Edukemy for IAS
Visit our YouTube Channel – here