UPSC Essay Mains Question Paper 2023 – Click Here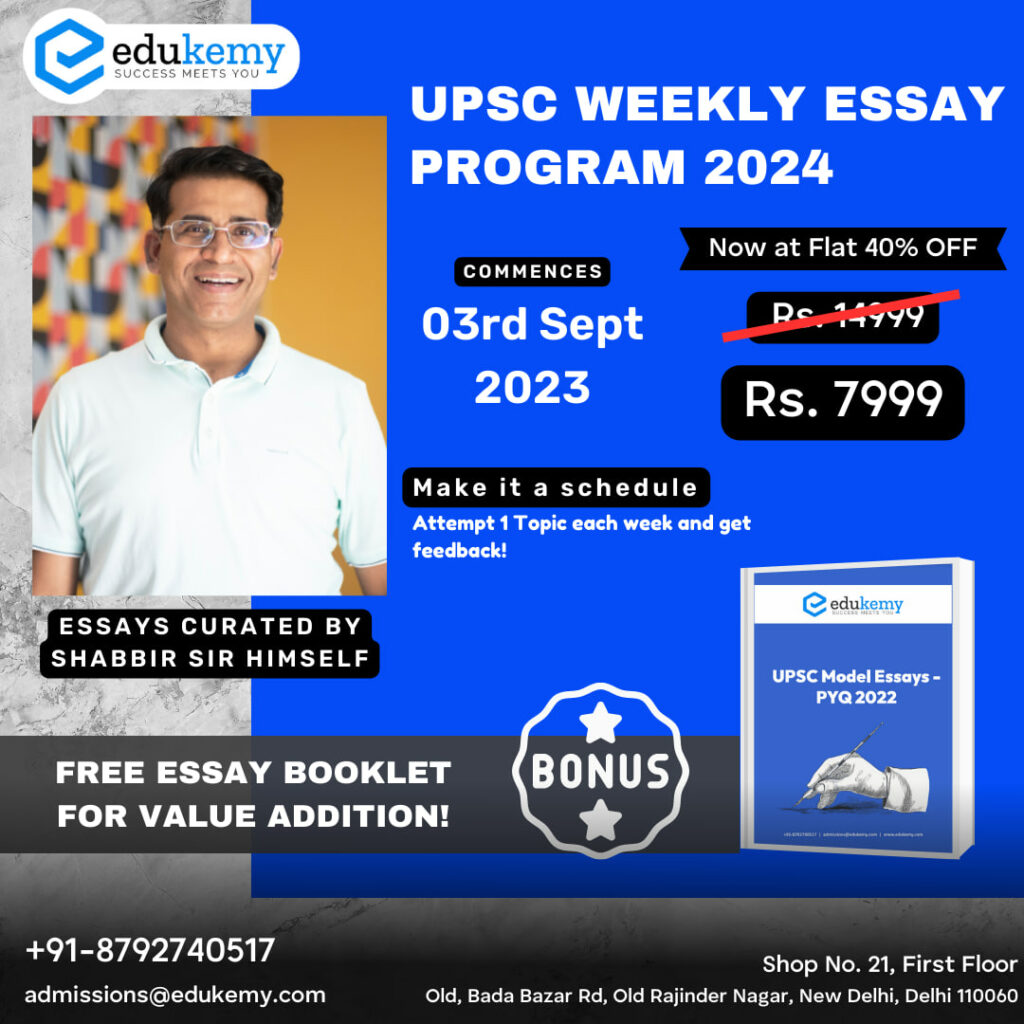 (Focus on the keywords in the topic to be explained, like- thinking, game and opposition. Then explain in the following sequence –
1. What is thinking, how is it equated with the game, what can be the possible forms of oppositions to thought and how do oppositions feed upon one another?
Give some examples of opposition ideas doing good to each other. If possible link it with civilizational events.)
Thinking is the essence of human cognition. This is the thing that makes humans stand out among all other organisms. Thinking is the driving force behind, problem-solving, decision-making, creativity and intellectual growth. It is a dynamic multifaceted process that thrives on the interplay of ideas and perspectives. The compelling notion is that thinking truly flourishes when it encounters opposition.
(How thinking is a game?)
Thinking is, at its core, a mental game. It involves strategizing, planning and maneuvering through the complexities of ideas and concepts. Much like games, thinking has rules goals, and objectives. These objectives might include finding solutions to problems, making informed decisions or understanding complex issues. However, the comparison to a game becomes most apparent when we introduce the concept of an opposition.
For example, the modern 'Plate Tectonics Theory' was reached by opposing the unsolved mysteries of Continental Drift Theory that lacked sound reasoning about the forces at work behind the drifting of the continents.
India as a civilization has always cherished the idea of having a meaningful debate between contrasting viewpoints feeding upon each other's arguments. This idea is famously known as: 'Vaad-Vivad-Samvad or Shashtrarth Parampara'. And such events were organized and appreciated akin to intellectual games.
Be it the legendary Shashtrarth between Advait Vedanta philosopher Adi Shankaracharya and Mandan Mishra, the then renowned Meemansa scholar or in modern-day people debating upon different ideas of India.
In modern times our Parliament serves as a sacred place to materialize thinking into acts. It is the place where all the emerging issues are dealt with and their solutions are sought out. So let us explore the fundamental idea that thinking needs opposition to stimulate critical analysis, foster creativity and deepen understanding.
(Delving deeper into the topic to build up our narration further)
The catalyst for critical thinking: Just as in games, the pressure and challenging situations motivate the players to perform their hearts out, the opposition in form of contrasting view point or conflicting ideas serves as catalyst for critical thinking. When individuals encounter opposition they are compelled to scrutinize their own beliefs and ideas. This process involves evaluating evidences, considering alternative perspectives and assessing the validity of the arguments. In essence opposition invites individuals to engage in a rigorous examination of their own thoughts.
For example, in debate over contentious issues like climate change, environmentalists must confront opposing view points backed by data and research. This confrontation requires them to critically assess the evidences, identify the logical fallacies, and construct well-reasoned arguments. The clash of opposing ideas foster a deeper and more nuanced understanding of the subject matter.
(How the game of thinking helps in solving different problems, how it is beneficial to us)
Enhancing analysis and problem-solving: like teams had to do their SWOT (strength, weakness, opportunities, threats) analysis before presenting themselves in the game situation, the opposition enhances the quality of analysis and problem-solving. When confronted with opposing ideas or solutions, individuals must weigh the merit of each opposition. This process encourages a comprehensive assessment of the problem, considering a wider range of factors and potential outcomes.
In scientific research, opposition is integral to the peer review process. Scientists submit their work to scrutiny by peers who may hold contrasting hypothesis or interpretations. This rigorous scrutiny ensures that only the most robust and well-supported ideas are promoted, contributing to the advancement of knowledge.
Role in Decision Making: Opposition also plays a pivotal role in decision making. When faced with conflicting options, individuals are compelled to carefully evaluate the advantages and disadvantages of each choice. This deliberation results in more informed thoughtful decisions, minimizing the risk of hasty or biased judgment, like in games the leader had to carefully choose the team and the next move in a given situation.
Stimulating Creativity and Innovation: opposition is a powerful catalyst for creativity and innovation. When individuals are confronted with opposing ideas or problems, their minds are prompted to seek novel solutions and perspectives. This creative exploration often involves thinking 'out of the box' and making unexpected connections. Like in a match against Pakistan in 2007 ICC World T-20, when the match was tie and the result was to be decided by bowl-out, Dhoni surprised everyone by picking up slow bowl bowers, and even nonbowlers to evade the effect of swing and we all know the result.
Consider the world of art, where opposition is frequently employed to create powerful compositions. Artists juxtaposing and contrasting colours, shapes, and concepts to evoke emotions and provoke thoughts. The tension between opposites can result in breath-taking works of art that challenge conventional aesthetics.
In the realm of technology and innovation, opposition to the status-quo drives progress. Innovators often challenge existing solutions by proposing disruptive alternatives. This opposition to the established norms fuels technological advancement and societal evolution.
Deepening Understanding and Empathy: Opposition is instrumental in deepening understanding and fostering empathy. When people engage in opposing viewpoints or experiences, they are bound to broaden their perspectives. This expansion of perspective contributes to a more profound comprehension of the complexity of human thoughts and society.
In debates over contentious social issues, the encounter with opposing views can lead to greater empathy and tolerance. It prompts individuals to step into the shoes of others, acknowledging the diversity of human experiences and beliefs. This in turn can pave the ways for constructive dialogues and societal progress.
Conclusion:
Thus, equating the thinking with game, the idea that thinking often benefits from opposition or contrasting view point seems a valid observation. Though such opposition need not to come necessarily from some individual in form of counter view point, but it can be posed in form of any natural phenomenon, unresolved mysteries of the world, urge to innovate some solution ,create something new etc.
Thinking, like a game, thrives on the presence of opposing team in form of contrasting perspectives, arguments and challenges. These opposing teams stimulate critical thinking, foster creativity, innovation and enhance decision making. Embracing the game like nature of thinking, where opposing teams play a pivotal role, can lead to more robust, well-informed and innovative outcomes in our cognitive endeavor.
In case you still have your doubts, contact us on 9811333901. 
For UPSC Prelims Resources, Click here
For Daily Updates and Study Material:
Join our Telegram Channel – Edukemy for IAS
Visit our YouTube Channel – here