Essay Previous Year Paper 2022- Click Here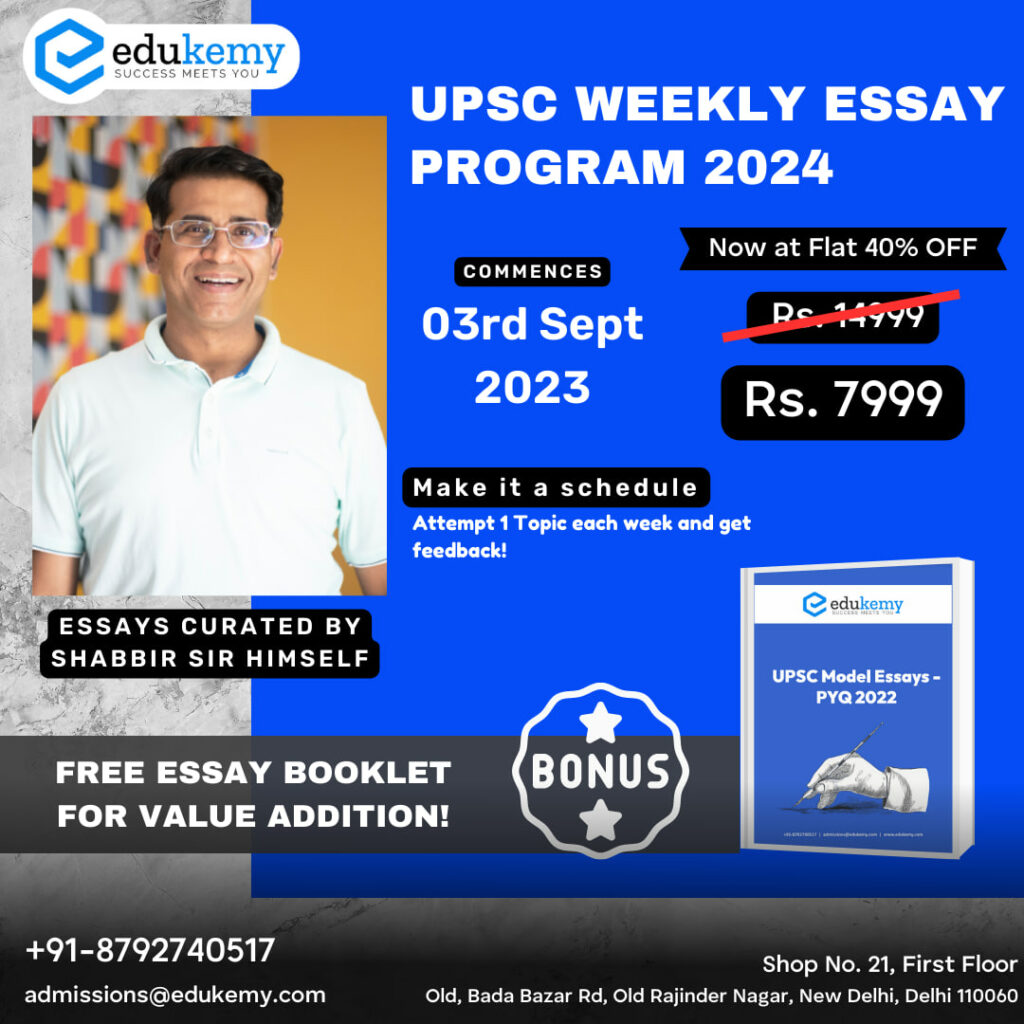 Consider a thought-provoking scenario where a person is faced with a challenging decision while driving a car. They are presented with two choices: continuing on a narrow road where there is a risk of harming four individuals or taking a left turn where they may harm an innocent person. In this situation, evaluating the options reveals that neither choice would absolve the person of fault. This realization highlights the notion that having a choice does not guarantee the selection of the morally right or optimal outcome.
The concept of choice is inherent in our lives, providing us with the ability to shape our paths and determine our own destinies. However, the mere existence of choices does not guarantee their inherent rightness or wrongness. As individuals, we navigate the complexity of the human experience, where multiple choices can hold equal validity or fall into a gray area.
In this essay, we will delve into the nature of choices, their significance for personal well-being, and the impact they have on our lives. We will explore the subjective nature of determining what is right and wrong, acknowledging the diverse perspectives that shape our understanding of morality.
Additionally, we will examine the various factors that influence our decision-making processes and the potential consequences that stem from our choices. Through this exploration, we aim to gain a deeper understanding of the intricacies surrounding choices and their implications on our lives.
The power of choice is a fundamental aspect of human existence, providing individuals with the autonomy to make decisions that align with their well-being. It is a crucial liberty and one of the fundamental rights granted by the Constitution.
For instance, the freedom for girls to choose their educational and professional paths or decide on their marriage empowers them to pursue what is best for their individual growth and happiness. Similarly, the ability to make choices that promote a healthy life and contribute to a sustainable environment empowers individuals to prioritize their well-being and the well-being of the planet. Choice opens up a realm of possibilities, offering individuals various options to explore and discover what resonates with them. In the realm of politics, individuals have the opportunity to exercise their right to choose by participating in elections. The introduction of the "None of the Above" (NOTA) option in our ballot papers further enhances this liberty of choice. Through NOTA, individuals who find the available candidates unsatisfactory can express their discontent and exercise their right to voice their displeasure. It serves as an important instrument for people to make a statement and show their dissatisfaction with the choices presented.
However, counterarguments suggest that while the "None of the Above" (NOTA) option provides a choice, its effectiveness in bringing about significant change may be questionable. It can be viewed as a symbol of dissatisfaction with the available candidates, but it may not necessarily lead to substantial alterations in the final results. Similarly, the Right to Information (RTI) can be rendered ineffective when certain institutions and individuals are shielded from providing the necessary information, thus undermining the purpose of the tool.
Nevertheless, it is important to recognize the significance of meaningful choices in promoting well-being and making a positive impact on one's life. For instance, let us consider the case of Emperor Ashoka, who is remembered as a beacon of peace in Indian history. After witnessing the devastating Kalinga war, he faced a pivotal choice. He could have chosen to continue expanding his empire through warfare, but instead, he opted for peace, prioritizing humanity and working toward the betterment of his people. This choice not only prevented further loss of life but also contributed to a legacy of peace and compassion.
Similarly, another noteworthy individual, Baba Amte, had a transformative experience that altered the course of his life. Born into a privileged family, his perspective changed when he visited a leprosy center. Faced with a critical decision, he had the choice to continue living a luxurious life or to dedicate himself to serving and assisting those affected by leprosy. He made the courageous choice to become a caregiver for leprosy patients and established Anandvan, a community that brought new hope and purpose to their lives.
Conversely, General Dyer, infamous for his role in the Jallianwala Bagh massacre, also had a significant choice to make. He had the option to spare or provide a warning to the innocent gathering that had congregated during a festival, despite lacking any weapons, and allow them to disperse. Alternatively, he chose to unleash violence upon the unarmed crowd, causing immense tragedy. In this case, he prioritized aggression over peace. These contrasting choices highlight how our decisions shape not only our own character but also the society in which we reside.
The concept of "right" and "wrong" is inherently subjective, as it varies from person to person and is influenced by cultural, societal, and historical factors. What was once considered acceptable or even normal in the past may be viewed as illegal or wrong in the present day. This highlights the fluid nature of morality and the evolving understanding of what is right or wrong.
For instance, the practice of devadasi, which involved dedicating young girls to serve in temples, was once widely accepted in ancient times. However, as societal norms and values changed over time, this practice is now considered illegal and morally wrong. It exemplifies how perceptions of right and wrong can shift as societies progress and develop new understandings.
Moreover, the context in which a choice is made can greatly influence the perception of what is right or wrong. What may be deemed appropriate in one situation or culture may be seen as unacceptable in another. This subjectivity highlights the complexity of moral decision-making and the importance of considering different perspectives.
Moreover, our choices are often influenced by a multitude of factors such as our personal beliefs, societal norms, cultural values, and life experiences. These factors can shape our perceptions of what is right and wrong and can make it difficult to objectively determine the "correct" choice. For example, a person who grew up in a conservative family may believe that getting married and having children is the only "right" choice, while another person who values independence and career success may see things differently.
Another aspect to consider is that our choices have consequences, both positive and negative. It is impossible to predict with certainty what the outcome of a choice will be, and even choices that seem "right" can have unforeseen negative consequences. Conversely, choices that may seem "wrong" at the time can lead to unexpected positive outcomes. For instance, investing in cryptocurrency may seem profitable given recent price increases and its growing acceptance, but considering its volatility, the consequences can be uncertain and potentially both positive and negative.
Moreover, the burden of making the "right" choice can be overwhelming. The fear of making a wrong decision or facing judgment from others can immobilize us, leading to indecisiveness and a lack of action. This is particularly true when faced with significant life choices, like selecting a career or ending a long-term relationship. The notion that there is only a single "right" path can be paralyzing, hindering our ability to move forward and take necessary steps.
Renowned poet Robert Frost's poem, "The Road Not Taken," beautifully captures the notion that the consequences of our choices often elude predictability. The speaker in the poem embarks on the less-traveled path, unaware of its ultimate destination. Similarly, in our own lives, we make decisions based on the available information, only to encounter unforeseen external circumstances that shape the outcome. Nonetheless, we can take solace in the fact that we acted to the best of our abilities given the knowledge we possessed. Sometimes, venturing onto the less-explored path can lead us to unexpected and fulfilling destinations. While we may not have control over the results of our choices, we retain agency in how we respond to them and the wisdom we extract from the journey.
In case you still have your doubts, contact us on 9811333901. 
For UPSC Prelims Resources, Click here
For Daily Updates and Study Material:
Join our Telegram Channel – Edukemy for IAS
Visit our YouTube Channel – here