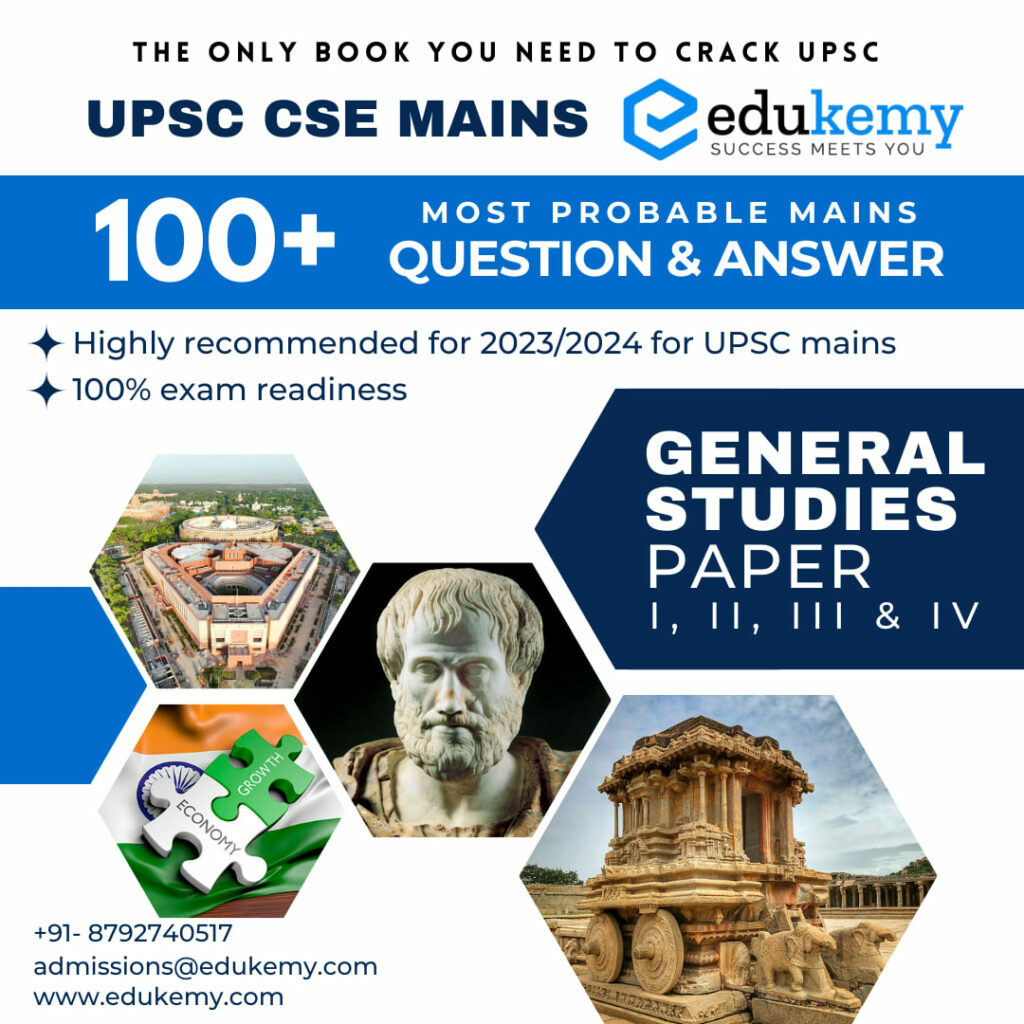 In the dynamic landscape of the UPSC examinations, the Sociology Optional Topic has emerged as a crucial area of study, particularly within the domain of Politics and Society. Spanning the years from 2013 to 2023, the UPSC Mains has continually posed insightful and multifaceted questions that delve into the intricate relationship between politics and society, elucidating the intersection of power dynamics, governance, and societal structures.
These questions not only assess the candidates' knowledge of sociological concepts but also demand a nuanced understanding of the complex interplay between the political realm and the fabric of society. Exploring this chronology of inquiries provides a profound glimpse into the evolution of the sociopolitical landscape, highlighting the enduring relevance of sociological perspectives in comprehending the forces that shape our society and its governance.
From scrutinizing power relations and state structures to dissecting the impact of social movements on policy-making, the UPSC Sociology Optional Topic delves into a spectrum of issues that underscore the intricate tapestry of politics and society. The examination's persistence in addressing questions that probe the sociological underpinnings of governance reflects the significance of understanding societal dynamics in the broader context of political decision-making.
By analyzing the trends and patterns of the questions posed from 2013 to 2023, one can discern the evolving focus areas and emerging concerns that have marked the interface between politics and society. Delving into these insightful inquiries not only equips aspirants with a comprehensive understanding of societal mechanisms but also underscores the critical role that sociological perspectives play in fostering a deeper comprehension of the complex dynamics inherent in the governance of modern societies.
Politics and Society – Previous Year Questions (UPSC CSE Mains Sociology Optional)
1. Examine different understandings of secularisation in India. (2022)
2. Bring out the various issues involved in Dalit movements in India. (2022)
3. Does regionalism essentially lead to decentralization of power? Substantiate your answer with relevant examples. (2021)
4. Is social democracy a precondition for political democracy? Comment. (2021)
5. 'Secularism was an outcome of 20th century humanistic radicalism.' Comment on this statement. (2020)
6. Analyze the issues related to the citizenship in contemporary India. Give suitable illustrations. (2020)
7. What do you understand by democratic federalism? How does it promote decentralization of power in India? (2020)
8. Comment on the changing democratic profile of India. (2019)
9. Discuss the implications of 'Swachha Bharat Abhiyan'. Do you think that civil society has a role to play here? Substantiate your answer with examples. (2019)
10. Media is the fourth pillar of democracy. Discuss, (2018)
11. Elaborate various forms of Dalit assertions in contemporary India? What are its implications on the Indian political system (2018)
12. With increase in education and economic development is Indian society becoming more secular? (2018)
13. Explain the concepts of 'dominant caste' and 'vote bank', giving examples from specific regions. (2017)
14. Give an account of the problems relating to the "creamy layer". (2017)
15. To what extent does nation building depend on strengthening of pluralities in Indian society. (2017)
16. Comment on the increasing significance of caste in politics. (2016)
17. Write short notes with a sociological perspective on the following in about 150 words : Gandhi's efforts on communal harmony. (2014)
18. Who are the elites ? Discuss their roles in bringing social transformation. (2014)
19. Write short note with a sociological perspective on the following : Regional political elites and the democratic process (2012)
20. Critically examine the concepts of nation and citizenship in the context of globalization. (2012)
21. "Protective discrimination not only protects but also discriminates." Comment. (2011)
22. Distinguish between 'secularism' and 'secularisation'. Analyse the nature and extent of secularisation in contemporary India (2011)
23. Write short note on Factors responsible for increasing demands for the formation of separate states. (2010)
24. Identify the reasons for the resilience of democratic system in India. (2010)
25. Write short note on New rural elite and leadership. (2009)
26. Write short note : Regionalism. (2007)
27. Discuss the social base of political parties in India. What has been its impact on Indian democracy ? (2005)
28. Write short note : Pluralism and national unity. (2005)
29. "The 73rd and the 74th constitutional amendments have motivated social mobilisation in rural India." – Discuss. (2004)
30. Differentiate between pressure groups and interest groups. Describe the role of some prominent pressure groups in contemporary Indian politics. (2003)
31. Write short note : Regionalism. (2003)
32. Write short note : Reservation and Panchayat Raj institutions. (2002)
33. Elaborate the concept of political elite. Explain how social structural origins of political elites influence their political orientations. (2001)
34. What is meant by democratic decentralization? Assess the working of Panchayati Raj in India. (2001)
35. What have been the functions of democracy in India ? Has democracy been successful in eliminating some of the traditional social inequalities ? (2000)
36. Discuss 73rd and 74th Constitutional Amendments with reference to decentralization of power. (1999)
37. Write short note : National Unity. (1999)
38. Write short note : Implications of emergence of regional political parties. (1998)
39. Describe the socio-cultural background of the political elites of contemporary India. What has been the influence of the background on their political orientations? (1997)
40. Write short note : Pluralism and national unity. (1997)
41. Describe the traditional power structure in rural India. Discuss the factors that have contributed to its changing pattern in recent years. (1996)
42. Write short note : Role of pressure groups in Indian politics. (1996)
43. Write short note : Changing social origins of political elites in India. (1995)
44. It is often alleged that the social situation in India is not conducive to the efficient functioning of a democratic polity. Comment. (1995)
45. Evaluate the role of state in social and economic reconstruction of Indian Society since independence. (1994)
46. Write short note : Decentralisation of power and local development. (1994)
47. Write short note : Panchayati Raj and rural leadership. (1993)
48. Write short note : Pressure groups in Indian politics. (1993)
49. Discuss the executive measures and peoples' participation in implementing various development programmes at the village level in India. (1993)
50. Explain how emerging rural-urban nexuses are reshaping the character of Indian political elite and functioning of political institutions. (1992)
51. Is legitimacy of key political institutions declining in India ? Discuss this issue in the context of the process of nation building. (1991)
52. Write short note : Social responsibility of political elites. (1991)
53. Write short note : Electoral Reform in India. (1989)
54. Write short note : Democratic Decentralisation. (1988)
55. Discuss the role of the State in restructuring Indian Society since Independence. Examine the effectiveness of such interventions. (1988)
56. Write short note : The emerging pattern of rural leadership. (1986)
57. Write short note : Protective discrimination : its sociology and politics. (1985)
FAQs on Politics and Society
Q. What is the relationship between Politics and Society?
Ans. The relationship between politics and society refers to the intricate interplay between the governance of a nation and its social structures. Politics influences societal norms, values, and institutions, while societal dynamics often shape the political landscape and decision-making processes.
Q. How do political institutions impact society?
Ans. Political institutions influence society by shaping policies, laws, and regulations that can have a direct impact on various social aspects, including education, healthcare, and welfare. They also affect the distribution of resources, power dynamics, and the overall functioning of societal structures.
Q. What is the role of social movements in shaping politics?
Ans. Social movements play a crucial role in shaping politics by advocating for specific social or political changes. They often highlight societal issues, mobilize public opinion, and exert pressure on political authorities to address grievances and implement reforms.
Q. How does political participation impact society?
Ans. Political participation, such as voting, activism, and engagement in policy advocacy, empowers individuals and communities to influence political decision-making processes. It allows for the expression of diverse societal interests and contributes to the formation of inclusive and representative governance structures.
Q. What is the impact of globalization on Politics and Society?
Ans. Globalization has transformed the political and societal landscape by fostering interconnectedness and interdependence among nations. It has led to the integration of economies, cultural exchange, and the emergence of transnational issues, influencing governance structures, policies, and societal values.
In case you still have your doubts, contact us on 9811333901.
For UPSC Prelims Resources, Click here
For Daily Updates and Study Material:
Join our Telegram Channel – Edukemy for IAS
Visit our YouTube Channel – here