In today's daily current affairs briefing for UPSC aspirants, we explore the latest developments that hold relevance for the upcoming civil services examination. Our focus today includes a critical analysis of recent policy changes, international affairs, and national developments, all of which play a pivotal role in shaping the socio-political and economic landscape of India. Stay informed and stay ahead in your UPSC preparations with our daily current affairs updates, as we provide you with concise, well-researched insights to help you connect the dots between contemporary events and the broader canvas of the civil services syllabus.
Financial inclusion to reduce inequality and fasten growth
Tag: GS-3, Economy 
In News:
Recently, G20 deliberations identified three policy pillars with priority themes aimed at achieving inclusion 
About
Financial inclusion means that individuals and businesses have access to useful and affordable financial products and services that meet their needs – transactions, payments, savings, credit, and insurance – delivered in a responsible and sustainable way.
Financial inclusion has been identified as an enabler for 7 of the 17 Sustainable Development Goals.   
The G20 committed to advancing financial inclusion worldwide and reaffirmed its commitment to implement the G20 High-Level Principles for Digital Financial Inclusion.  
The World Bank Group considers financial inclusion a key enabler to reduce extreme poverty and boost shared prosperity. 
Financial Inclusion helps strengthen the livelihoods of those at the bottom of the economic pyramid and also contributes to global economic growth.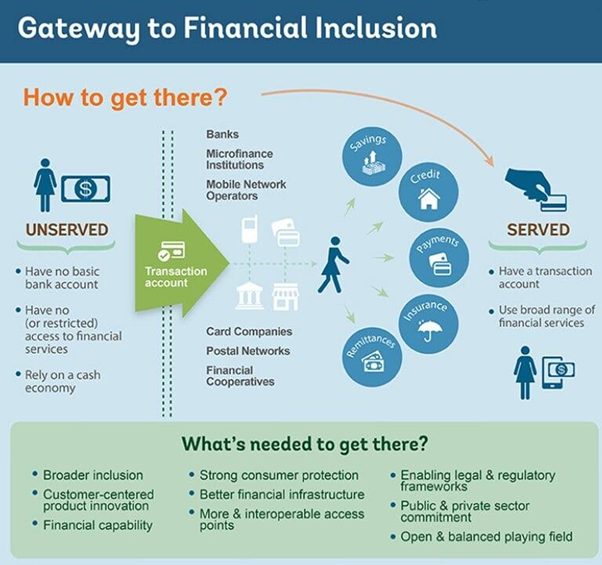 Challenges in Promoting Financial Inclusion 
Limited Financial Access: Approximately 24% of adults worldwide do not have access to formal financial accounts, which impedes their participation in the financial system. 
Low Savings and Borrowing Rates: Globally, only 29% of adults deposit their savings in financial institutions, and a mere 28% borrow from formal financial institutions. 
Disparities in MSME Financing: Micro-enterprises in developing countries often encounter obstacles, such as loan rejections or unfavourable loan terms, affecting 21% of them. Small and medium-sized enterprises face even greater barriers, with 30% experiencing difficulties accessing financing. 
Gender Disparities: Women face unique challenges in financial inclusion due to restrictive social norms, limited mobility, and lower financial literacy. This gender gap is particularly pronounced in low-income and developing countries, leading to disparities in bank account ownership. 
Limited Adoption of Digital Payments: In developing nations, men with bank accounts are more likely to utilize digital payment methods, creating a 6-percentage-point gap compared to women. This further excludes women from accessing digital financial services. 
Limited Access to Emergency Funds: Women in developing countries encounter more significant difficulties in accessing emergency funds, with only 50% reporting consistent access, compared to 59% of men.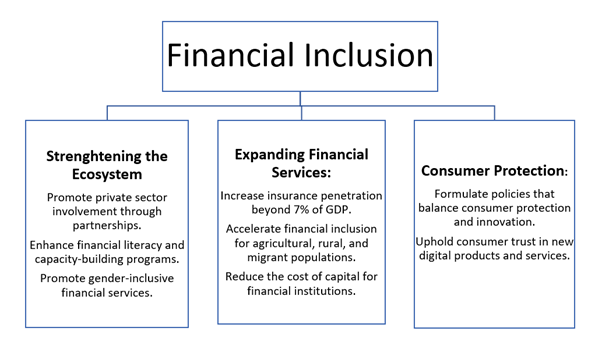 Source: Livemint
Amended Forest (Conservation) Act imperils the Northeast
Tags: GS – 3: Environment and Ecology (Conservation of Environment) 
Why in News:
Recently, the Mizoram Assembly has passed a resolution opposing the Forest (Conservation) Amendment Act (FCA), 2023, highlighting the ongoing challenges in forest conservation and tribal rights in Northeast India. 
Key Provisions of the Forest (Conservation) Amendment Act (FCA), 2023:
It amends the Forest (Conservation) Act, 1980.
It allows for the diversion of forest land for various projects, including roads, railways, and strategic national security projects, within 100 km of India's international borders.
It expanded to include check posts, fencing, bridges, zoos and safaris under the Wild Life (Protection) Act, 1972; eco-tourism facilities; and silvicultural operations (enhancing forest growth), etc.
Provisions for the Protection of forests in North-Eastern India:
Article 371A and 371G: 

Special Constitutional protections in Article 371A (Nagaland) and 371G (Mizoram) prohibit the application of laws that impinge on tribal customary law, land ownership, and transfer without the State Legislative Assemblies' resolutions. 
Mizoram, unlike Nagaland, falls under the purview of FCA due to its status as a State. The amendment affects 84.53% of its forest areas. 

Scheduled Tribes and Other Traditional Forest Dwellers (Recognition of Forest Rights) Act (FRA) 2006: 

Forest Land includes unclassified forests, un-demarcated forests, existing or deemed forests, protected forests, reserved forests, Sanctuaries, and National Parks. 
This complied with the 1996 Supreme Court redefinition. 

Forest Rights Act (FRA) 2006: 

It recognizes traditional forest rights in various forest types, including unclassed forests, providing an additional layer of protection for tribal communities. 
The potential benefits, most North-eastern states, except Assam and Tripura, have not implemented FRA, citing reasons such as land ownership patterns and lack of forest-dependent communities. 
Concerns raised by the North-Eastern States:
FCA allows for forest land diversion for projects located within 100 km of India's international borders without requiring forest clearance. Most of Northeast India falls within the 100 km range, raising concerns about the environmental impact and infringement on tribal rights. 
Areas not officially classified as forests in government records, even if they are standing forests, won't be protected from commercial exploitation or diversion. A substantial portion of North-eastern forests is privately owned, including unclassed forests, which may not be covered by the Act unless included in government records. 
More than 50% of the Recorded Forest Areas (RFA) in the North East falls under "unclassed forests" – forests which are not notified under any law. 97.3% of RFA in Nagaland, 88.2% in Meghalaya, 76% in Manipur, 53% in Arunachal Pradesh, 43% in Tripura, 33% in Assam, and 15.5% of Mizoram fall under unclassed forests category. 
Mizoram and Tripura have passed resolutions opposing the amendment, expressing their commitment to protecting the rights and interests of their people. 
Nagaland faces demands to follow suit, and Sikkim has also opposed the 100 km exemption clause. 
Source: The Hindu
India's Falling Cotton Production
Tags: GS – 1: Indian Geography (Cotton Production in India), GS – 3: Science and Technology (GM Crops) 
In News:
While Bt-Cotton gave a huge impetus to production during the first decade-and-a-half of this century, the yield gains from it have been somewhat eroded by the emergence of new dominant pests, especially Pink Bollworm (PBW). 
Significance of Cotton in India:
Cotton, like coconut, is a source of all the three Fs: Food, Feed and Fibre.
It constitutes only about 36% of kapas (raw cotton), the rest is seed (62%) and wastes (2%) separated from the lint during ginning.
Cotton seed contains 13% oil used for cooking and frying. The 85% residual cake, after extraction of oil from the seed and 2% processing losses, is a protein-rich feed ingredient for livestock and poultry.
Cotton has a roughly two-thirds share in India's total textile fibre consumption.
The cottonseed is the country's third largest domestically-produced vegetable oil (after mustard and soya bean) and its second biggest feed cake/meal (after soya bean).
Bt – Cotton Production:
From 2002, Indian farmers began planting genetically-modified (GM) cotton hybrids incorporating genes isolated from a soil bacterium Bacillus thuringiensis or Bt. 
The Bt genes coded for proteins toxic to the deadly Helicoverpa armigera or American bollworm insect pest. 
As the share of Bt hybrids in the country's area sown under cotton touched 95%, average per-hectare lint yields more than doubled from 278 kg in 2000-01 to 566 kg in 2013-14. 
However, the gains didn't last. The production and yields falling after 2013-14, to 343.5 lakh bales and 447 kg/hectare in 2022-23.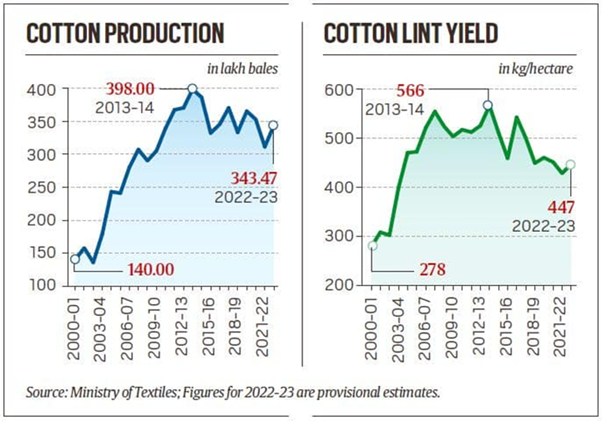 Reasons for fall in Production and yield:
The Bt toxins were originally supposed to provide protection against both the Helicoverpa and PBW caterpillars that burrow into the bolls or fruits of the cotton plant in which the lint and seeds grow.
Helicoverpa that is polyphagous, with alternative hosts from arhar (pigeon pea), jowar (sorghum) and maize to tomato, chana (chickpea) and lobiya (cowpea).
Pectinophora gossypiella or Pink Bollworm (PBW) is a monophagous pest that feeds mainly on cotton.
Being monophagous enabled the PBW larvae to develop resistance to Bt proteins over time.
The PBW population that became resistant from continuously feeding on Bt hybrids, therefore, gradually overtook and replaced the ones that were susceptible.
Bt cotton has retained its effectiveness against the American bollworm.
But in 2014, an unusually large survival of PBW larvae was detected on cotton flowers at 60-70 days after sowing in Gujarat.
In the 2015 season thereafter every 25-30 days – PBW survivals were reported from Andhra Pradesh, Telangana and Maharashtra too.
In 2021, even Punjab, Haryana and northern Rajasthan saw heavy infestation of the pest for the first time.
Controlling the Pest:
The conventional route of spraying insecticides has had limited efficacy against the PBW larvae. These feed on the cotton bolls as well as the squares (buds) and tender flowers, affecting lint quality and yields. 
Mating Disruption: 

It involves deploying Gossyplure, a pheromone signaling chemical that is secreted by female PBW moths to attract male adults. 
The pheromone is artificially synthesised and filled into pipes or lures. The male adult moths are, then, attracted towards the lures and do not mate with females during their 7-10 days' time. 
In the event, eggs aren't laid and they don't grow into larvae (which feed on the cotton plant parts). 
The Central Insecticides Board & Registration Committee under the Agriculture Ministry has approved two mating disruption products – PBKnot and SPLAT for controlling PBW. 

PBKnot: 

PBKnot is a dispenser having a 20-cm hollow polyethylene pipe, into which 140-160 mg of Gossyplure is impregnated. 
Each such "rope" that is tied to a cotton plant can release the pheromone over a 25 square-metre area. It translates into roughly 165 PBKnot-tagged plants every acre. 
South Asia Biotechnology Centre (SABC) has been conducting field experiments of PBKnot technology – sourced by the Gurugram-based PI Industries Ltd from Japan's Shin-Etsu Chemical Company – during the last three seasons from 2021. 

SPLAT: 

SPLAT-PBW, a flowable emulsion formulation technology for delivering Gossyplure, has been developed by ISCA Technologies in Riverside (California) and introduced in India by ATGC Biotech Pvt. Ltd, Hyderabad. 
Source: Indian Express
Shiva's Nataraja form
Tags: GS – 1 Art & Culture 
Why in news?
Recently, the 27-feet-tall 'Nataraja' statue made of 'Ashtadhatu' is installed at the Bharat Mandapam where the G20 summit held.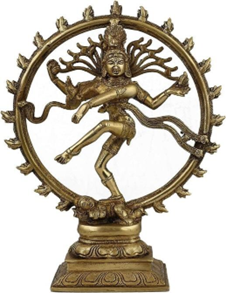 About: 
This magnificent statue made of 'Ashtadhatu' (eight-metal alloy) was crafted by sculptors from Swamimalai in Tamil Nadu, India, and is inspired by three revered Nataraja idols from Chola temples. 
Weighing about 18 tonnes, it was hauled across the country on a 36-wheel trailer. 
The design of the Nataraja statue draws inspiration from three revered Nataraja idols in prominent South Indian temples: 

Thillai Nataraja Temple in Chidambaram. 
Uma Maheswarar Temple in Konerirajapuram. 
Brihadeeswara (Big) Temple in Thanjavur, a UNESCO World Heritage Site. 
Nataraja form of Shiva:
The Nataraja form of Shiva, as a cosmic dancer, became iconic under the Cholas and is renowned for its intricate bronze sculptures. 
Shiva's dance represents the cosmic cycle of creation, preservation, and destruction (Srishti, Sthiti, and Samhara). 
The dance also signifies the passage of time, from creation to dissolution. 
The rhythm of the dance symbolizes the heartbeat of the universe. 
The Nataraja image is encircled by a flaming halo and has four arms.  
The upper right hand holds the damaru (a small drum) symbolizing the rhythm of creation. 
The upper left hand holds the fire (or a flame), symbolizing destruction and transformation. 
The lower right hand is in the abhaya mudra (a gesture of fearlessness). 
The lower left-hand points towards the raised left foot, symbolizing liberation. 
Under his foot, there's a dwarf-like figure representing illusion, which he crushes, guiding humanity away from delusion. 
Nataraja's raised feet and gestures also symbolize protection and reassurance, all while he wears a smiling expression. 
More Information:
The sculpture was crafted using the traditional 'lost wax' casting method, a technique that dates back thousands of years and was perfected by the Cholas. 
In this method, a detailed wax model is covered with alluvial soil, which, when heated, melts the wax away, leaving a hollow mould for casting molten metal. 
The Cholas, who ruled much of peninsular India from the 9th to the 11th centuries AD, were great patrons of art and culture. They were devout Shaivites, known for constructing elaborate Shiva temples across their territories. 
Source: Indian Express
ASEAN summit
Tags: GS –2 International Relations 
Why in news?
Recently, Prime Minister attended the 20th ASEAN-India Summit and the 18th East Asia Summit (EAS) in Jakarta. 
About:
ASEAN was established in 1967 with the signing of the Bangkok Declaration.
It initially consisted of five member states: Indonesia, Malaysia, the Philippines, Singapore, and Thailand.
Over the years, it expanded to include Brunei Darussalam, Lao PDR, Cambodia, Myanmar, and Vietnam.
ASEAN's core principles include regional cooperation in various fields, promotion of regional peace and stability, and adherence to the principles of the United Nations Charter.
The chairmanship of the ASEAN Summit and Ministerial Conferences has rotated annually in alphabetical order between member states.
ASEAN Secretariat: Indonesia, Jakarta.
Highlights of 20th ASEAN-India summit:
Theme: 'ASEAN Matters: Epicentrum of Growth' 
KeyPoints of PM's address: 

ASEAN is the central pillar of India's Act East Policy. 
India supports ASEAN's outlook on ASEAN-India centrality and Indo-Pacific. 
The progress of a free and open Indo-Pacific and elevating the voice of the Global South is in the common interest of all. 
More Information:
India is part of the ASEAN Plus Six grouping, which includes China, Japan, South Korea, New Zealand, and Australia. 
Source: The Hindu
New UPI features
Tags: GS – 3, Economy
Why in news?
Recently, the National Payments Corporation of India (NPCI) has introduced new features for the Unified Payments Interface (UPI) with the goal of achieving 100 billion monthly transactions. 
About:
UPI is a system that powers multiple bank accounts into a single mobile application (of any participating bank), merging several banking features, seamless fund routing & merchant payments into one hood.
National Payments Corporation of India (NPCI) launched UPI with 21 member banks in 2016.
New UPI features:
The latest offerings by NPCI encompass a credit line on UPI, a conversational payment mode known as 'Hello UPI,' BillPay Connect, UPI Tap & Pay, and UPI Lite X. 
The credit line on UPI allows users to make purchases by scanning a QR code with their UPI-linked app, choosing their bank, entering the transaction amount, and opting for the credit line as the payment option. 
'Hello UPI' is a conversational payment mode that can understand spoken language and silence, convert text to numerical values, and offer text-to-speech capabilities. 
UPI Tap & Pay involves small cards with NFC chips linked to a user's QR code and UPI ID.  
Users can obtain these cards from partner banks, personalize them, and attach them to their mobile phones for convenient tap-based payments. 
UPI Lite X enables peer-to-peer transactions without an internet connection, using near-field communication (NFC) functionality on compatible phones. 
Source: Livemint
Human embryo
Tags: GS – 3 Science and Technology 
Why in news?
Scientists have successfully grown a "human embryo" in the lab without using an egg or sperm. 
About:
Instead of a sperm and egg, Scientists used a combination of stem cells, which can differentiate into various cell types, and chemicals to create an embryo-like structure that mimics the molecular characteristics of an early human embryo. 
Stem cells as the "master cells" in your body. They are special because they can turn into different types of cells that make up your body, like skin cells, muscle cells, or blood cells. 
The process involved a mixture of stem cells and chemicals, with only 1% of the mixture spontaneously forming different types of cells needed for foetal development, including those providing nutrients, those guiding body development, and cells responsible for structures like the placenta and umbilical cord.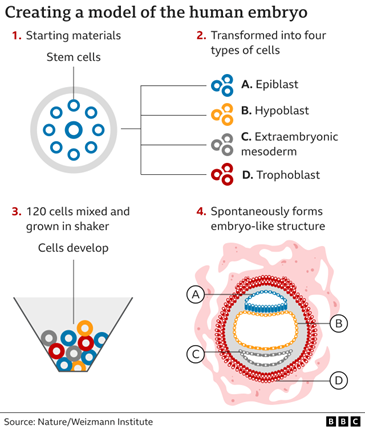 The embryo models were allowed to grow and develop until they were comparable to an embryo 14 days after fertilization. 
In many countries, this is the legal cut-off for normal embryo research. 
Importance:
Studying the initial stages is crucial because the majority of miscarriages and birth defects occur during this period.
Understanding why some embryos develop normally and others do not can enhance IVF success rates and shed light on genetic and inherited diseases.
Embryo-like models allow scientists to explore genetic, epigenetic, and environmental influences on development.
Limitations
These lab-grown embryo-like models cannot be used for pregnancy, and they are typically destroyed after 14 days of study, in line with legal and ethical regulations in many countries.
The 14-day limit on embryo research corresponds to the point when embryos naturally complete implantation and become individuals.
14-day limit on embryo research:
The limit was first proposed by a committee in the UK in 1979 after the birth of the first test tube baby Louise Brown demonstrated that embryos could be kept alive in laboratories.  
Source: Indian Express
'Atlantification' of the Arctic Ocean
Tags: GS – 1 Geography, GS – 3 Climate Change 
Why in news?
Recently, Researchers have discovered the cause of the Arctic Ocean Sea ice decrease since 2007. 
About: 

The study, published in the journal Science, explores the ecosystem responses to the Arctic dipole and its impact on the Arctic Ocean climate, a phenomenon referred to as Atlantification. 
Atlantification is the increasing influence of Atlantic water in the Arctic. Warmer and saltier Atlantic water is extending its reach northward into the Arctic Ocean. 
Key highlights of the Study
Researchers found that the periodic reversal of an atmospheric phenomenon known as the Arctic dipole plays a significant role in driving drops in sea ice. 
The Arctic dipole follows a roughly 15-year cycle, and data spanning several decades suggest that it is approaching the end of its current regime. 
In the Arctic dipole's present "positive" regime, which has been in place since 2007, high pressure is centered over the Canadian sector of the Arctic and produces clockwise winds. 
Low pressure is centered over the Siberian Arctic and features counterclockwise winds. This wind pattern drives upper ocean currents, with year-round effects on: 

regional air temperatures, 
atmosphere-ice-ocean heat exchanges, 
sea-ice drift and exports, and 
ecological consequences. 

The study highlights the importance of water exchanges between the Nordic seas and the Arctic Ocean for the Arctic climate system, with sea ice decline serving as a significant indicator of climate change. 
Researchers observed changes in Atlantic water flow into the Arctic Ocean, including decreased flow through the Fram Strait and increased flow into the Barents Sea, which they referred to as a "switchgear mechanism" driven by the Arctic dipole. 
This change in water flow has had a significant impact on sea ice loss, slowing it down from 2007 to 2021. 
The study also notes that these changes in water inflow have profound effects on marine life, creating more favourable conditions for sub-Arctic boreal species in certain areas. 
Arctic Dipole
The Arctic Dipole, also known as the Dipole Anomaly, is a climatic pattern characterized by variations in atmospheric pressure in the Arctic region. The positive phase of the Arctic Dipole is characterized by high pressure centered over the Canadian sector of the Arctic producing clockwise winds, and low pressure over the Siberian Arctic, with counterclockwise winds. The negative phase of the Arctic Dipole is characterized by low atmospheric pressure over the Canadian Arctic and high atmospheric pressure over the Siberian Arctic.
Source: The Print
Siang River 
Tags: GS – 1 Indian Geography 
Why in news?
Recently, The Centre has proposed to construct a large barrage on the Siang River to protect it from potential hazards posed by the massive Chinese dam being built on river Tsangpo in Tibet. 
About:
The Tsangpo flows through Tibet before entering Arunachal Pradesh as the Dihang or Siang. It becomes the Brahmaputra in Assam and the Jamuna in Bangladesh before it empties into the Bay of Bengal. 
It originates at Angsi Glacier in western Tibet, southeast of Mount Kailash and Lake Manasarovar. 
It is the longest river in Tibet and the fifth longest in China. 
The river forms the world's largest and deepest canyon, YarlungTsangpo Grand Canyon. 
The YarlungTsangpo River is the highest major river in the world. 
Its longest tributary is the Nyang River.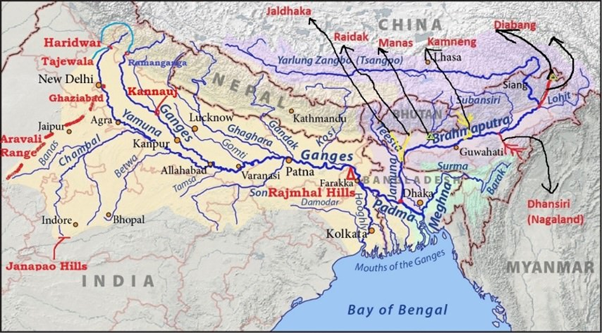 In India, its main tributaries are:
Main tributaries on the North are: namely Subansiri, Ronganadi, Dikrong, Buroi, Borgong, Jiabharali, Dhansiri (North) Puthimari, Manas, Beki, Aie, Sonkoshare. 
Main tributaries on the south are: Noadehing, Buridehing, Desang, Dikhow, Bhogdoi, Dhansiri (South), Kopilli, Kulsi, Krishnai, Dhdhnoi, Jinjiran.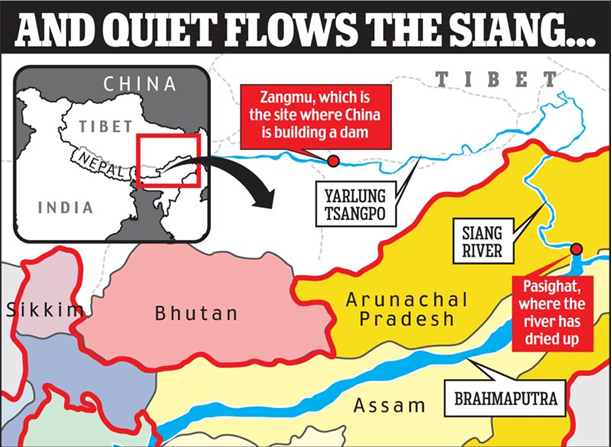 More Information:
The Chinese government is planning to build a dam over the Siang River with a capacity of around 60,000 MW on the Tibet side. 
It is expected to produce triple the electricity produced by the Three Gorges – the world's largest power station. 
Source: Outlook India
Frequently Asked Questions (FAQs)
Q: What are daily current affairs?
A: Daily current affairs refer to the most recent and relevant events, developments, and news stories that are happening around the world on a day-to-day basis. These can encompass a wide range of topics, including politics, economics, science, technology, sports, and more.
Q: Why is it important to stay updated with daily current affairs?
A: Staying updated with daily current affairs is crucial because it helps individuals make informed decisions in their personal and professional lives. It enables people to understand the world around them, stay aware of significant events, and engage in informed discussions about important issues.
Q: Where can I access daily current affairs information?
A: There are various sources for daily current affairs, including newspapers, news websites, television news broadcasts, radio programs, and dedicated apps or newsletters. Social media platforms are also widely used to share and access current affairs information.
Q: How can I effectively incorporate daily current affairs into my routine?
A: To incorporate daily current affairs into your routine, consider setting aside specific times each day to read or watch news updates. You can also subscribe to newsletters or follow news apps to receive curated content. Engaging in discussions with peers or participating in online forums can further enhance your understanding of current events.
Q: What are some tips for critical analysis of daily current affairs?
A: When analyzing daily current affairs, it's essential to cross-reference information from multiple sources to ensure accuracy. Additionally, consider the source's credibility and bias, if any. Develop the ability to identify the main points and implications of news stories, and critically evaluate the significance and impact of the events reported.
In case you still have your doubts, contact us on 9811333901.
For UPSC Prelims Resources, Click here
For Daily Updates and Study Material:
Join our Telegram Channel – Edukemy for IAS
Visit our YouTube Channel – here