The demographic transition, marked by shifts in birth and death rates, has profound implications for societal structures and individual lives. In the context of women's lives, this transition can be a catalyst for transformative change. As a society moves from high to low mortality and fertility rates, there is often an accompanying evolution in gender roles and expectations. Historically, women have borne the primary responsibility for child-rearing in high-fertility societies. However, as mortality rates decline and family sizes shrink, women often gain greater opportunities for education, employment, and participation in public life. This demographic shift can empower women to make choices beyond traditional domestic roles, contributing to a more inclusive and equitable society. Nevertheless, the realization of these positive outcomes hinges on supportive policies and cultural attitudes that recognize and foster women's agency in the evolving demographic landscape. Thus, the relationship between demographic transition and women's lives underscores the importance of addressing both structural and cultural factors to ensure that the dividends of this transition are equitably distributed.
Tag: GS Paper-1: Role of women; Social empowerment; Issues related to women. 
Exam View:
India's population status; Changes for Indian women; Harnessing gender dividend. 
Context:
Women's childhood, adulthood, and old age have all been transformed in India's demographic journey. 
Background: India's population status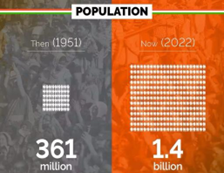 Today, life expectancy for men is 69 years, and nearly 50% live to see the ripe old age of 75.  
In 1941, male life expectancy was about 56 years; only 50% of boys survived to age 28.  
The Total Fertility Rate fell from 5.7 in 1950 to 2.1 in 2019 because the rapid decline in mortality took parents by surprise, who no longer needed to have four children to ensure that at least two would survive.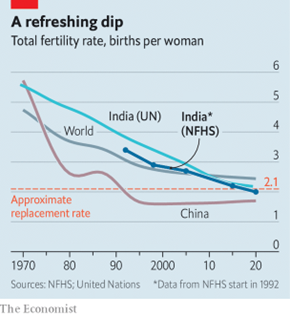 Women's childhood, adulthood, and old age have been transformed over the course of demographic transition, sometimes positively, sometimes negatively. 
Decoding the editorial: Changes for Indian women
Birth and Meta son preference:  
With four children, the chance of not having a son was barely 6%, but with two children, it grew to 25%.  
Social norms and patrilocal kinship patterns combined with lack of financial security reinforce a preference for sons.  
The India Human Development Survey (IHDS) found that 85% of women respondents expected to rely on their sons for old age support, while only 11% expected support from their daughters.  
Hence, parents who want to ensure that they have at least one son among their one or two child families, resort to sex-selective abortion, and, in some cases, the neglect of sick daughters.  
Consequently, the number of girls per 100 boys, ages under five dropped from 96 to 91 between 1950 and 2019. 
Education: 
With a fertility decline, active mothering occupies a smaller proportion of women's lives, creating space for education and employment.  
The number of years women spend caring for children under five declined from 14 years in 1992-93 to eight in 2018-20; the years spent caring for children ages six to 15 dropped from 20 to 14 years.  
However, early marriage and childbearing still remain the predominant forces defining women's lives despite women's educational attainment. 
The average age at first birth was about 20 for women born in the 1940s and still remains well below 22 years for those born in the 1980s. 
Labour force participation: 
Early motherhood explains why lower fertility does not translate into higher labour force participation for women.
By the time peak childcare demands end, they miss the window for occupations that require specific skills, leaving only unskilled work open to them.
Life expectancy: 
With rising life expectancy, the proportion of the female population aged 65 and above increased from 5% to 11% between 1950 and 2022, and is projected to reach 21% by 2050. It has unique implications.  
Women generally marry men who are older and are more likely to outlive their husbands.  
The 2011 Census shows that while only 18% of men above age 65 are widowed, about 55% of the women are widowed.  
For widowed women, the lack of access to savings and property results in dependence on children, mainly sons, bringing the vicious cycle of son preference to full circle. 
Harnessing gender dividend
Enhancing women's access to employment and assets  
It will reduce their reliance on sons and could break the vicious cycle of gendered disadvantage, stretching from childhood to old age.
Access to safe and affordable childcare. 
A World Bank evaluation based on a randomised controlled trial in Madhya Pradesh found that the expansion of Anganwadis to include a crèche led to an increase in the work participation of mothers.
Making staffing crèche an acceptable form of work under the National Rural Employment Guarantee Scheme (NREGS) could help with childcare.
The burgeoning self-help group movement can be harnessed to set up neighbourhood child-care centres in urban and rural areas.
Obtaining the much hoped for demographic dividend cannot be done without fully harnessing the gender dividend.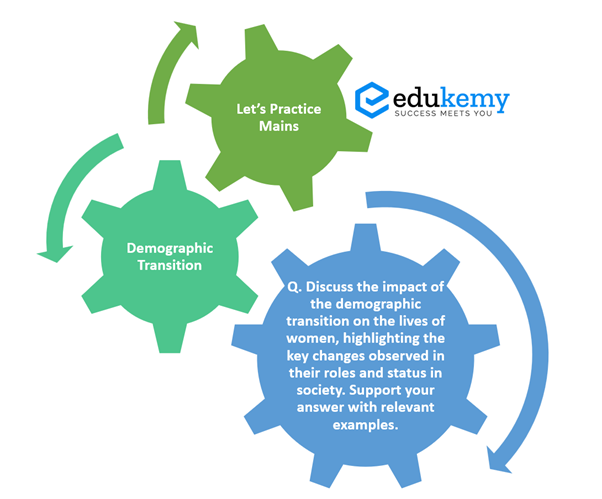 Source: The Hindu
Frequently Asked Questions (FAQs)
FAQ: How does demographic transition impact women's roles in society?
Answer: Demographic transition can significantly alter women's roles by influencing birth rates, mortality rates, and family structures. As societies move from high to low fertility, women often gain increased opportunities for education, employment, and broader participation in public life.
FAQ: Does demographic transition lead to improved gender equality?
Answer: While demographic transition creates opportunities for women's empowerment, its impact on gender equality depends on accompanying social and policy changes. Supportive measures, such as education and workplace policies, are crucial to ensure that women can fully benefit from the evolving demographic landscape.
FAQ: Are there challenges associated with demographic transition for women?
Answer: Yes, challenges can arise. For instance, as family sizes decrease, there may be increased expectations on women to balance work and caregiving responsibilities. Addressing these challenges requires a comprehensive approach, including policies that support work-life balance and gender-inclusive practices.
FAQ: Can demographic transition lead to improvements in women's health?
Answer: Yes, demographic transition is often associated with improved maternal and child health. As fertility rates decline, women generally have fewer pregnancies, reducing the health risks associated with high parity. However, access to healthcare services remains critical to ensure positive health outcomes for women.
FAQ: How can policymakers harness demographic transition for women's empowerment?
Answer: Policymakers play a crucial role in leveraging demographic transition for women's empowerment. This includes implementing gender-sensitive policies in education and employment, ensuring access to healthcare, and challenging cultural norms that may hinder women's full participation in societal development. Creating an enabling environment is essential for maximizing the benefits of demographic transition for women.
In case you still have your doubts, contact us on 9811333901.
For UPSC Prelims Resources, Click here
For Daily Updates and Study Material:
Join our Telegram Channel – Edukemy for IAS
Visit our YouTube Channel – here