Introduction
Geography is a diverse and multi-disciplinary field of study that encompasses a range of topics related to the physical and human aspects of the earth's surface. It is a popular optional subject for the Civil Services Examination in India, as it provides a comprehensive understanding of various geospatial concepts and their applications.
The geography optional paper for the Civil Services Examination consists of two parts, each of 250 marks, for a total of 500 marks. Part I focuses on physical geography and covers topics such as geomorphology, climatology, oceanography, and biogeography. Part II focuses on human geography and covers topics such as population geography, economic geography, settlement geography, and regional planning.
The Paper II of the Geography Optional for the Civil Services Examination in India covers a comprehensive syllabus on Indian Geography. The syllabus includes topics on the physical setting of India, resources, agriculture, industry, transport and communication, cultural setting, settlements, regional development and planning, political aspects, and contemporary issues. It covers the physical geography of India, including its relief features, climate, natural vegetation, drainage systems, and monsoons. It also covers the human geography of India, including population, demographics, economic activities, regional development, and cultural regions. The syllabus also touches upon issues such as the energy crisis, agricultural productivity, industrial regionalization, urbanization, and environmental degradation. Aspirants preparing for the exam need to have a comprehensive understanding of these topics to perform well in the exam.
In order to prepare for the geography optional, it is important to have a strong foundation in the fundamental concepts and principles of geography. This includes a good understanding of geography as a subject and the various sub-disciplines within it, as well as a comprehensive knowledge of the earth's physical and human systems and their interactions. Additionally, it is important to have strong analytical and problem-solving skills, as well as the ability to apply geographic concepts to real-world situations.
Why choose Geography as your Optional?
Why should an aspirant choose Geography Optional? We have some data-driven strong reasons for you!
Geography Optional is one of the highest scoring optional in the UPSC CSE Exam. We don't say this, but the toppers over the years have proved this year after year.
Look at the toppers in recent times along with their marks:
Geography Optional Toppers
| | | |
| --- | --- | --- |
| Topper | Rank | Marks |
| Ira Singhal | Rank 1 – 2014 | 306 |
| Shweta Chauhan | Rank 8 – 2016 | 326 |
| Pratham Kaushik | Rank 5 – 2017 | 327 |
| Junaid Ahmed | Rank 3 – 2018 | 321 |
| Yasharth Shekha | Rank 12 – 2021 | 306 |
Apart from the above reason, the most important reason why Geography Optional should be chosen is the overlap with UPSC GS Syllabus!
In Prelims Exam
In the UPSC Prelims Exam, we get at least 20-25 questions combined from Geography & Environment. That's a whopping 25% of the marks!
In Mains Exam
In the UPSC Mains Exam, we get
7-8 Questions on Indian Society in GS 1 which can be answered with help from Geography Optional
8 Questions on Geography in GS 1 which can be answered with help from Geography Optional
4 Questions on Agriculture in GS 3 which can be answered with help from Geography Optional
3-4 Questions on Environment & Ecology in GS 3 which can be answered with the help of Geography Optional.
Apart from the 500 marks in Geography Optional, we have around 300-350 Marks which can be answered in GS 1 & 3 using Geography as an Optional!
In Essays
Apart from Prelims and Mains, the Essays papers might also include topics which is related to Geography Optional. Some of the examples include –
Urbanization is a blessing in disguise. (1997)
Protection of ecology and environment is essential for sustained economic development. (2006)
Urbanisation and its hazards. (2008)
Should a moratorium be imposed on all fresh mining in tribal areas of the country? (2010)
We may brave human laws but cannot resist natural laws. (2017)
This is apart from various dimensions which can be pulled in Essays. Think of the number of marks you can gather just by looking at this analysis!
Why Geography Optional with Edukemy?
So, the next question to be asked is, where should you study your Geography Optional from?
Before we answer that, let's try and understand the most basic requirements before choosing an optional
Scoring: As you can see from the examples above, toppers like Ira Singhal and Yasharth Shekhar prove how Geography Optional has the capability of helping you score more than 300 marks! Imagine the amount of practice and time that you would have to give time for if your Optional was Mathematics.
Overlap with GS: Around 25% marks in Prelims, and 300+ marks apart from Optionals in GS – Need we say more?
Student's abilities: Like all learnings, studying Geography Optional would also require the abilities of the student. If you are Engineer or from a technical field, and think that memorization is not your forte – rather building your understanding around concepts is, than Geography Optional is the subject for you! Unlike optionals like Philosophy and Anthropology, Geography Optional syllabus might be vast, but the amount of time you would require to MEMORIZE other optionals would be less than (or equivalent to) the time you would spend the time LEARNING CONCEPTS in Geography.
Length of Syllabus: Should the length of the syllabus be a concern? If it is, then let us tell you – as stated in the previous point, the amount of time you would require to MEMORIZE other optionals would be less than (or equivalent to) the time you would spend the time LEARNING CONCEPTS in Geography.
Sources of Information/Study: We have exactly defined areas from where you need to study. No doubt our Booklist of Geography Optional is the most loved content piece by the new students!
Dynamism: We have a carefully curated KOSMOS Magazine helping you solve this requirement of being dynamic in your optionals!
FACULTY – Which brings us to our next point
About Faculty
Shabbir A Bashir is one of the co-founders of Edukemy and the industry's most lauded professor in UPSC preparation.
If you have 10 toppers from Geography Optional, we can guarantee you that at least 7 of them would have gone through either of our Notes, our KOSMOS Magazine, or gone through our Foundation and Enrichment Classes/Test Series.
He has been in the industry for over 21 years now, guiding aspirants with his immense knowledge of Geography and the Environment. Throughout his career, he has ensured that every UPSC aspirant gains exceptional guidance.
Prior to co-founding Edukemy, he worked as a senior faculty member with Vajiram and Ravi for 17 years.
So, if you have planned on joining Optionals for Geography, who better than to study it from Shabbir sir?
Our beloved Shabbir sir is not only a master of Geography Optionals producing toppers year after year, but he is also a mentor for UPSC, whose methods have helped people in managing their General Studies as well.
Ask our students (Check it on our Google Reviews) and you would know why Geography Optional by Shabbir sir is the best bet you have!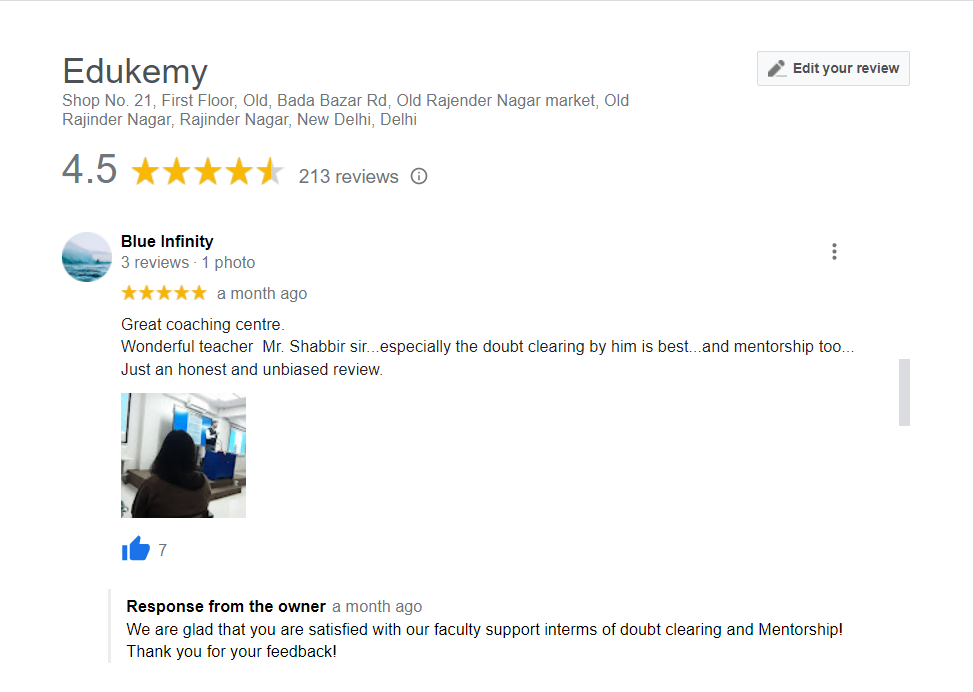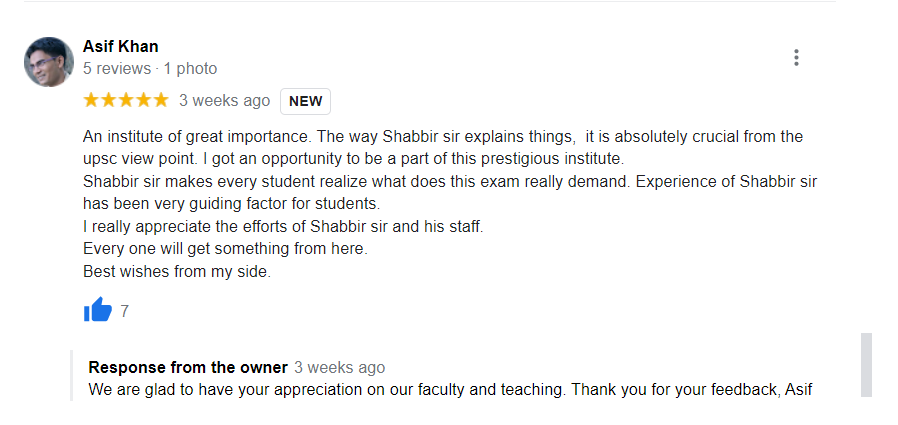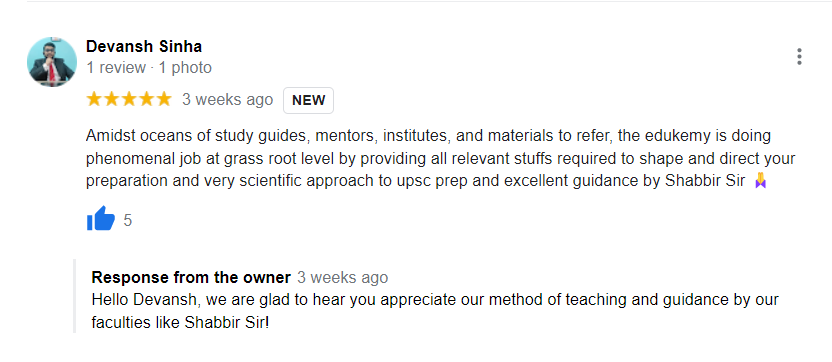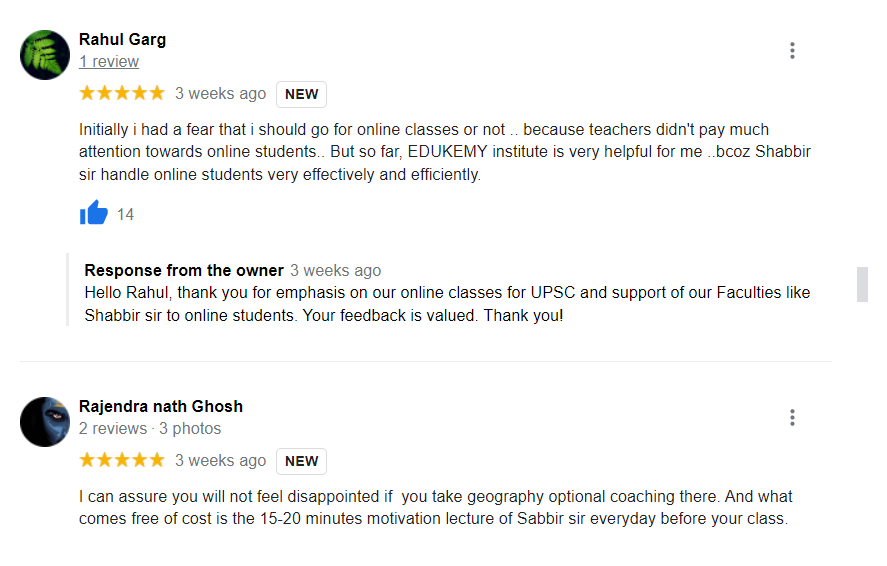 The feedback by students is itself a testimony of why Shabbir sir is the best faculty for Geography Optional!
Edukemy's Geography Optional Course Structure
Here is how things would progress in case you join the Geography Optional Integrated Course with Shabbir sir
Geography Optional Basic to Advanced
We have recorded these important lectures. When students started coming to study the Optionals, the students without a background feared how would they START studying the course.
Hence, we build a short course of 18 lectures, where we highlight and teach all the important themes and concepts that would appear during the Foundation Course. It is, in a way, a pre-taste to what is going to come next.
Foundation Classes
We would then start with the Foundation Classes for Geography Optional.
There would be a total of 150 Live Classes
Mapping Videos with 44 Lectures would be given access to
Class Summaries after each class
Structured Mentorship!
Now, what is this Structured Mentorship?
We have highly qualified UPSC Mentorships specifically working in the Geography Optional team, who would be tracking your progress based on data.
How do they get this data?
We divide the whole course structure into weeks
Each Week, we would give an assignment – where we would give you a question on Monday of 15-30 marks. You have to write the answer which would be reviewed by the mentors.
Each day of the week, we'd guide you with some examples, where you can create a synopsis of the class
The synopsis is a half-page version of whatever you've studied in class. This would be the basic material that you keep on revising over the time of your preparations.
Each synopsis would be for 10 marks, for each mark would be allocated by the Mentor.
Shabbir sir gives you a 1-2 question every week for you to write an answer on. You would again be evaluated on a total of 10-20 marks.
Based on the above, each student would be given marks scored out of the total marks – a cumulative of the activities done in the week. This way, we would exactly know how are you progressing over the time of the course.
Foundation done – now what?
The Foundation Course would help you answer Level 1-2 Questions at best. But can Level 3 questions be answered from the Foundation Course. We can try – after all, nothing is impossible, but it would help you get the 300 marks if you do it alone.
Hence, we focus not just on a test series based on Previous Year Analysis, we rather have Enrichment Classes to complement your Test Series.
A set of 38 Lectures based on Question-Answer and concept discussion
Based on the lectures for each module, we will have a total of 9 tests
A total of 180+ Questions just in the test series would be complemented with Model Answers
7 Tests would be evaluated.
Be it Naman Goyal, Anjali Shrotiya or Dheenah Dastagir, everyone has benefitted from this approach!
Conclusion
While the decision of choosing Geography Optional is your own, we can surely guarantee that as a guide, mentor, or institution, we would certainly help you come out with flying colors.
But before you make a decision, we would certainly want you to consider us to serve you the best for your Optionals.
Some resources which might help you with Geography Optional:
For UPSC Prelims Resources, Click here
For Daily Updates and Study Material:
Join our Telegram Channel – Edukemy for IAS
Visit our YouTube Channel – here
For Admissions, talk to our Mentor – 9811333901, 9811333782