India's role in democratising space has garnered international attention as the nation continues to make significant strides in its space exploration endeavors. With the successful Mars Orbiter Mission, India showcased its cost-effective and efficient approach to space exploration, challenging the notion that only major global powers could participate in interplanetary missions. This achievement not only demonstrated India's technical prowess but also its commitment to making space exploration more inclusive. Through collaborations with other countries and its willingness to share space-related technologies, India is fostering a global atmosphere of cooperation and knowledge-sharing in the pursuit of a more democratized and accessible space domain. As India's space program continues to evolve and expand, it not only enhances its own capabilities but also acts as an inspirational force for emerging spacefaring nations, helping to reshape the future of space exploration.
Tag: GS Paper – 2: Government Policies & Interventions; Effect of Policies & Politics of Countries on India's Interests. 

GS Paper – 3: Scientific Innovations & Discoveries; Space Technology. 
Exam View:
Is Outer Space a "Global common"?; Space Race; India's role.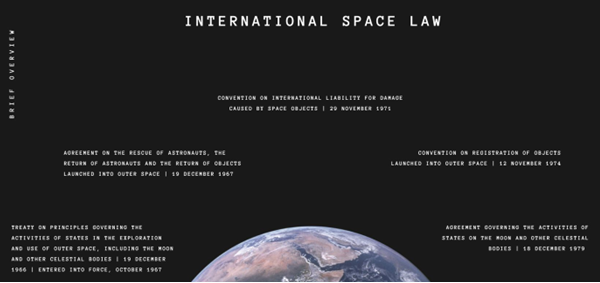 Context:
With the success of Chandrayaan 3, India must pursue contributing towards the framing of an international space resource-management framework that balances competing objectives in pursuit of the exploration and use of outer space for peaceful purposes. 
Decoding the editorial: Is Outer Space a "Global common"?
"Global commons" is a concept built upon the legacy of Grotius's idea of mare liberum (free sea), an idea that aimed to preserve the freedom of access and benefit of all.  
The term is used typically to describe supra-national and global resource domains in which common-pool resources are found.  
The UN identifies four "global commons", namely  

the high seas,  
the atmosphere,  
Antarctica and  
outer space.  

When rooted in geopolitical or military relevance, "global common" is generally viewed as an enabling concept.  

Security establishments across the world recognise domains beyond the national jurisdictions as vital connecting channels for the international order.  
Others recognise outer space as a vital operational domain for keeping their nation safe while upholding international law.  
If outer space as a "global common" were rejected, high seas would not continue to be regarded as one.  
A collective regional security initiative like the QUAD would be unable to continue its call for the freedom of navigation. 

When rooted in economic and commercial implications of shared resources, "global common" is generally seen as a constraining concept.  

"Commons" is seen as constraining because it is associated with notions of shared ownership, public governance or limitations on use. 

"Commons" is sometimes also associated with the "common heritage of mankind" (CHM) concept. 

It has been expressed in the Moon Agreement, 1979.  
CHM was a new concept that created a territorial status in which the Moon and celestial bodies are themselves not subject to national appropriation, but the fruits and resources of which are also deemed to be the property of mankind at large. 
CHM is not limited to outer space.  
The 1970 UN General Assembly passed a non-binding resolution that "the seabed and ocean floor, and the subsoil thereof, beyond the limits of national jurisdiction, as well as the resources of the area are the common heritage of mankind."  
After the Moon Agreement, this principle was codified as Article 136 of the United Convention on Law of the Seas, 1982.  
Space Race
In 1957, after Sputnik was launched, geopolitical expediency led the only space-faring superpowers, the US and the USSR to ensure the adoption of UN General Assembly Resolutions 1721 A&B (XVI).  
All space-faring nations have continued to conform and adhere to that settled precedent.  
Over decades of consistent state practice, the principles of the Outer Space Treaty, 1967, have transformed into rules of customary international law.  
Today, outer space is a democratised domain.  
Over 80 countries access outer space, deriving benefits from space-based satellite services for every aspect of their national life, even though there are only 11 space-faring nations (including ESA).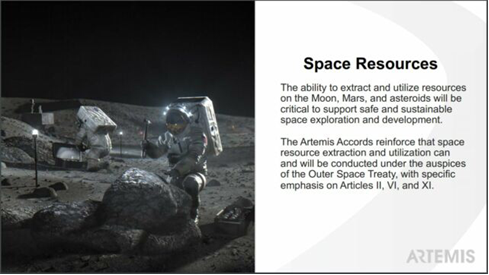 India's role 
India's successes in 2023 

India is now a signatory to the US Artemis Accords. 
The deepening of US-India engagements, particularly iCET. 
The establishment of the US-India Civil Space and Commercial Space Working Groups has met with excitement and expectations. 
The Chandrayaan 3 landing.  

India can play a significant part in determining the content and contours of a future international framework for the management of space resources.  
It must necessarily involve a close examination of the Moon Agreement 1979 (MA) which came into force in 1984.  
It will require a comprehensive understanding of the range of directly and indirectly applicable international law and other frameworks.  
It will also require the participation of all government institutions.  
India has had and continues to have robust international cooperation space programmes, including multilateral and bilateral engagements with advanced space powers, and with those looking forward to advancing theirs.
Source: Indian Express
Frequently Asked Questions (FAQs)
Q: What is India's role in democratising space?
A: India's role in democratising space involves making space exploration more accessible and inclusive. It achieves this by demonstrating cost-effective approaches, sharing technology, and fostering global cooperation in space research.
Q: How has India contributed to the democratization of space exploration?
A: India has contributed by successfully conducting missions like the Mars Orbiter Mission at a lower cost than other nations, which showcases the possibility of achieving interplanetary missions with limited resources. This challenges the conventional notion that only major global powers can participate in such endeavors.
Q: What collaborative initiatives has India undertaken to promote democratization in space exploration?
A: India has engaged in international collaborations, such as joint missions and technology-sharing agreements with various countries, demonstrating its commitment to making space exploration a collective effort rather than a competitive one.
Q: How does India's space program inspire other nations in the context of space democratisation?
A: India's space program serves as an inspiration to emerging spacefaring nations by showcasing that dedication, innovation, and collaboration can open the doors to space exploration, encouraging other countries to invest in their space programs and participate in the democratization of space.
Q: What are the potential long-term benefits of India's role in space democratization?
A: The long-term benefits include a more diverse and cooperative space community, increased scientific knowledge sharing, and cost-effective solutions that can make space exploration more sustainable and accessible to a broader range of countries, ultimately advancing humanity's understanding of the cosmos.
In case you still have your doubts, contact us on 9811333901.
For UPSC Prelims Resources, Click here
For Daily Updates and Study Material:
Join our Telegram Channel – Edukemy for IAS
Visit our YouTube Channel –