India-France ties are robust and multifaceted, rooted in historical connections, shared democratic values, and strategic interests. The relationship has strengthened over the years, marked by mutual respect and cooperation in various domains. Both nations have a history of diplomatic engagements dating back to the pre-independence era, fostering cultural exchanges and people-to-people connections. In the contemporary geopolitical landscape, India and France find common ground in addressing global challenges, including climate change, terrorism, and the promotion of a rules-based international order. Additionally, defense and security cooperation, exemplified by defense agreements and joint military exercises, further solidify the strategic dimension of their partnership. Economic collaboration, innovation, and technological exchange contribute to the depth of their ties, making the India-France relationship a significant and enduring partnership in the Indo-Pacific region and beyond.
Tag: GS Paper-2: Bilateral, regional and global groupings and agreements involving India and/or affecting India's interests 
Exam View:
A special partnership; Strategic; Defence and tech; Climate change and tech. 
Context:
France is India's oldest strategic partner, and the relationship has almost no friction points. The defence relationship is robust, and is set to get stronger. 

Decoding the editorial: A special partnership
Strategic
Civil nuclear energy: 
France was the first country to recognise the strategic importance of India after the nuclear tests in 1998.  
At critical points, France has stood by India, including during the civil nuclear negotiations with the US. 
Strategic autonomy: 
The partnership with France is India's most important strategic partnership in Europe. This partnership is marked by total convergence. 
They act as "mirror images of each other" in their common quest for strategic autonomy in the midst of big power play. 
After a state visit to Beijing, President Emmanuel Macron told the accompanying media that Europe must not get entangled in America's confrontation with China and preserve its "strategic autonomy". 
Europe's security dependence on the US and the "extraterritoriality of the dollar" could turn European states into "vassals" if the US-China confrontation escalated.  
The two countries have had a tradition of not commenting on each other's internal issues. 
Multipolar world: 
Both India and France pursue independence in their foreign policies, and seek a multipolar world, even as both acknowledge the place and importance of the US in the world order.
Russia-Ukraine war: 
As India's foremost partner in Europe, France, has a better appreciation than other European states of New Delhi's position on the war, including that the world has to make serious diplomatic efforts to restore peace.
India understands that if at all there has to be a rapprochement between Europe and Russia, it will have to be led by France.
Indo-Pacific: 
As the only EU state with territories in the Indo-Pacific, France could be an important partner for building maritime domain awareness and keep an eye on China's presence in the region, augmenting New Delhi's participation in the Quad. 
However, France has a different relationship with China. In its trade and commercial relationship with China, the French may not be able to even de-risk, let alone decouple.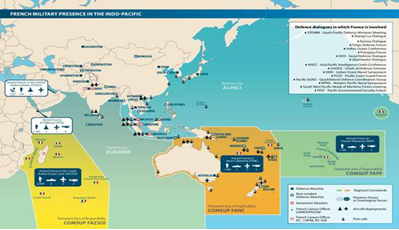 The industrial agreement in 2018 to build six European pressurised water reactors (EPR) at the Jaitapur site is directly linked to this partnership. 
Defence and tech
The defence relationship, a critical element in ties, is marked by trust and reliability.  
While defence deals with the US are dogged by unpredictability due to Congressional interventions and export control regimes, the French deals come with no strings attached.  
The PM's visit is likely to see agreements or announcements on the acquisition of 26 Rafale-M (the marine version) fighters for the Indian Navy, and co-production of three more Scorpene class submarines at the public sector Mazagon Dock Shipbuilders Ltd. 
While the US-India deal on technology transfer for the GE F414 jet engine for the Tejas Light Combat Aircraft does not include the transfer of a critical part of the technology, the French offered their own Safran engine with 100 percent technology transfer and they would be fully made in India. 
Climate change and tech
The two sides also cooperate closely on climate change initiatives.  
In 2022, they signed  
A Road Map on Green Hydrogen, which aims to bring the French and Indian hydrogen ecosystems together to establish a reliable and sustainable value chain for a global supply of decarbonised hydrogen; and  
A Road Map on the Blue Economy and Ocean Governance. 
Another roadmap on digital technology co-operation may be on the cards for 6G, artificial intelligence, and quantum computing. An MoU signed last month between NPCI International Payments Limited (NIPL) and Lyra, a France-based payment services provider, may be implemented soon to enable UPI and RuPay payments in Europe. 
Both nations value their strategic autonomy, independent foreign policies, and seek a multipolar world.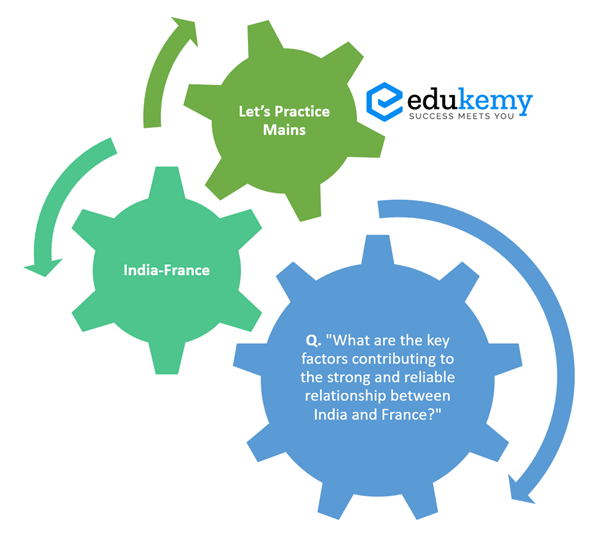 Source: Indian Express
Frequently Asked Questions (FAQs)
1. Q: What historical factors contribute to the strength of India-France ties?
A: India and France share a longstanding history of diplomatic relations, marked by cultural exchanges and mutual respect dating back to the pre-independence era. These historical connections have laid the foundation for a strong and enduring partnership.
2. Q: How do shared democratic values contribute to the strength of India-France relations?
A: Both India and France are vibrant democracies with a commitment to democratic principles, human rights, and the rule of law. This shared value system forms a strong basis for cooperation and understanding between the two nations.
3. Q: What role does strategic alignment play in the India-France relationship?
A: India and France are strategically aligned in addressing global challenges such as climate change, terrorism, and the promotion of a rules-based international order. This alignment fosters collaboration on key issues, reinforcing the strategic dimension of their bilateral ties.
4. Q: How does defense and security cooperation contribute to the strength of the India-France partnership?
A: The India-France relationship is fortified by robust defense and security cooperation, evident in defense agreements, joint military exercises, and intelligence-sharing mechanisms. This collaboration enhances both nations' security capabilities and strengthens their strategic alliance.
5. Q: In what ways do economic collaboration and technological exchange contribute to the depth of India-France ties?
A: Economic collaboration and technological exchange play a pivotal role in the strength of India-France relations. Both countries engage in partnerships across various sectors, fostering innovation, trade, and investment, thereby enhancing the depth and resilience of their bilateral relationship.
In case you still have your doubts, contact us on 9811333901.
For UPSC Prelims Resources, Click here
For Daily Updates and Study Material:
Join our Telegram Channel – Edukemy for IAS
Visit our YouTube Channel – here