In the dynamic landscape of rural India, a shifting narrative has emerged, one that encapsulates both hope and challenges. The reduction in rural poverty has been a notable accomplishment, signaling progress in various aspects of socio-economic development. However, as rural areas experience economic growth and improved living conditions, a new set of concerns has surfaced in the form of lifestyle issues. This editorial analysis delves into the dual phenomenon of declining rural poverty and the emerging lifestyle issues, shedding light on the need for a comprehensive approach to address the changing dynamics of rural life.
Tag: GS Paper-2: Human Resource.

GS Paper-3: Poverty; Growth & Development; Inclusive growth.
Exam View:
NITI Aayog's Multidimensional Poverty Index (MPI); Points of concern.
Context:
The rural economy is looking up, but substance abuse, addiction to social media and waste disposal have become areas of concern.
NITI Aayog's Multidimensional Poverty Index (MPI)
It captures the progress of the country in three equally weighted dimensions

health,
education and
standard of living.

The Progress Review 2023 reveals a steep decline in the proportion of population in multidimensional poverty, from 24.85 percent to 14.96 percent between 2015-16 and 2019-21.
This means that about 135.5 million persons have exited poverty between 2015-16 and 2019-21.
The Intensity of Poverty (extreme poverty in common parlance) has also reduced from 47.14 percent to 44.39 percent.
Scenes from aspirational villages of Bundelkhand region of Uttar Pradesh
In rural areas, the number of 'pucca' or semi-pucca houses has increased manifold.
Almost everyone has a cellphone, mostly smart ones.
Motorbike, and not the bicycle, is the most common means of transport.
Village shops are well stocked with consumer goods of various brands.
Girls are going to schools, and no marriage happens without DJ systems and videography.
These changes are welcome and corroborate the facts pointed out in the Review, that the incidence of poverty fell from 32.59 percent to 19.28 percent in rural areas between 2015-16 and 2019-21.
However, there are certain concerns which need deliberations.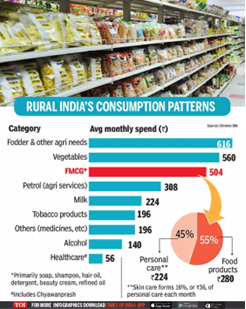 Points of concern
Acute shortage of labour.
Large scale migration from rural areas to urban or semi-urban areas is creating ghost villages.

Farming, especially vegetable cultivation, takes a hit because of labour shortage.
Farmers seem to be losing interest in agriculture and more and more land is coming under 'lease' arrangement, which often results in lesser investment and hence, lesser productivity.

Addiction to tobacco/gutka/liquor is on rise.

Unfortunately, there are hardly any villages where liquor is not available, legally or illegally.
This is having an adverse impact on people's ability to work.

Addiction to the 'phone'.

People of all ages are spending a huge part of their day on various social media apps.
It is taking a serious toll on physical and mental health of the rural populace, damaging the social fabric in villages and resulting in crimes against women and Scheduled Castes.
This is also leading to various misinformation campaigns and spreading of 'afwaah' at times.

Cleanliness and hygiene.

The Swacch Bharat Mission has resulted in the building of toilets in homes, but filth and squalor in common areas of villages continue to be an issue.
Disposal of waste is still at a nascent stage in villages.
More employment opportunities near villages, curbing the availability of tobacco products and liquor, awareness campaigns on the ill-effects of spending too much time on the Internet, and launching of Swachh Abhiyan 2.0 with focus on waste management at the village level could be the way forward. It is time to move forward on the social front also and work on personal lifestyle aspects of the people to make economic upliftment more wholesome and meaningful.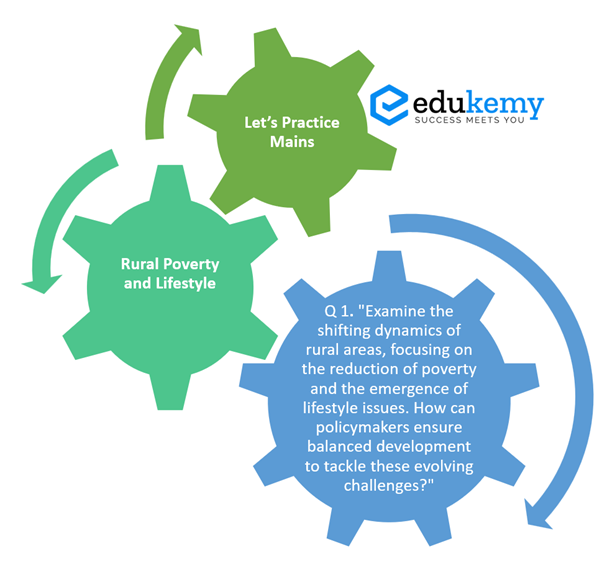 Source: The Hindu
Frequently Asked Questions (FAQs)
1. Why is rural poverty declining in some areas of India?
Answer: Rural poverty is declining due to various factors, including improved access to education and healthcare, increased job opportunities in non-agricultural sectors, government welfare programs, and infrastructure development. These factors have collectively contributed to raising the standard of living in many rural regions.
2. What are the lifestyle issues emerging in rural areas despite the reduction in poverty?
Answer: Lifestyle issues in rural areas are emerging as a consequence of rapid urbanization and modernization. These issues include changing dietary habits, increased stress levels, and health problems such as obesity and lifestyle diseases. Access to technology and its impact on social dynamics are also becoming prevalent concerns.
3. How can policymakers address the emerging lifestyle issues in rural areas?
Answer: Policymakers can address these issues by implementing holistic development programs that focus on improving education, healthcare, and infrastructure, while also promoting awareness of healthy lifestyles. Encouraging sustainable agriculture and providing vocational training can help diversify income sources and mitigate lifestyle problems.
4. Are there any regional variations in the decline of rural poverty and the emergence of lifestyle issues?
Answer: Yes, there are regional variations. Some states and districts may have experienced more rapid declines in poverty and different lifestyle issues based on their unique socio-economic and cultural contexts. Understanding these variations is crucial for targeted interventions.
5. How can communities and individuals in rural areas adapt to these changing lifestyle challenges?
Answer: Communities and individuals can adapt by embracing education and awareness programs, promoting traditional and sustainable practices, and actively participating in local governance to voice their concerns. Encouraging community-based initiatives for healthcare, nutrition, and social support can also make a significant difference.
In case you still have your doubts, contact us on 9811333901.
For UPSC Prelims Resources, Click here
For Daily Updates and Study Material:
Join our Telegram Channel – Edukemy for IAS
Visit our YouTube Channel – here